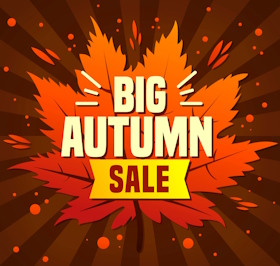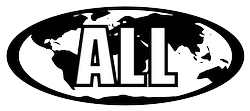 Our DVDs are "all regions"
and will play in any DVD player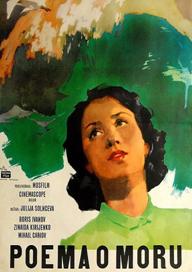 POEM OF THE SEA (1958) * with switchable English subtitles *
Returning after a long separation to places dear to his heart, General Fedorchenko recalls how, many years ago, he left his native village. His mother and the chairman of the collective farm tried to persuade him to stay, but the young man was attracted by others. In the same way, despite the admonitions of relatives, his former classmates rushed to study and work in big cities. The way home lies through Novaya Kakhovka - a young city living with the upcoming launch of the Kakhovka hydroelectric power station. Arriving in the village, Fedorchenko learns that the construction of the hydroelectric power station left the collective farm without labor: almost all the graduates of the local school went to a large construction site. The next discovery for the general was the news that at the same time people who had not been here for several decades began to come to the village. Among them - a famous architect, polar explorer, pilot, writer, deputy minister, six colonels. Over the years, they do not immediately recognize each other; everyone is excited about the meeting. This congress of fellow countrymen is not accidental. Gathering all those who arrived at the square, the chairman of the collective farm Savva Zarudny announces that the village, which has a long and rich history, is living out its last days. Once in the flooded zone, it will sink to the bottom with the launch of the station. Whitewashed huts, cherry orchards, a club, a school, the graves of grandfathers and great-grandfathers will disappear. The sea will appear in their place. In order for people to see their homes for the last time, Zarudny wrote dozens of letters and summoned those who had once left it to the village.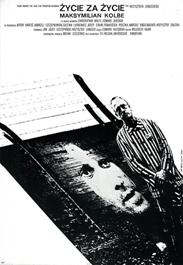 A LIFE FOR A LIFE (1991) * with switchable English subtitles *
Oświęcim, 1941. A landslide takes place in the camp's gravel pit. The unexpected event gives one of the prisoners, Jan, a chance to escape. The man takes advantage of it and, thanks to the help of people of good will, ends up at the monastery in Alwernia. He finds refuge there and is informed about what happens in the camp after his escape. Using his escape as an excuse, the Nazis sentence ten, randomly selected companions of Jan to death by starvation in the Bunker. A Franciscan, Father Maksymilian Kolbe, volunteers to be one of the executed after witnessing another of the condemned break down in tears. Jan is shocked. He leaves for the convent in Niepokalanów, where Father Kolbe was the superior. Through contact with people who know the religious, he wants to know the reasons for Kolbe's decision.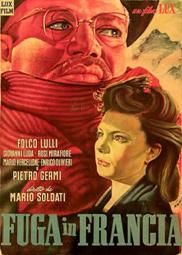 FUGA IN FRANCIA (1948) * with switchable English subtitles *
Riccardo Torre, a former fascist bigwig sentenced to death in Italy for war crimes, tries to flee to France to escape Italian justice. After an unsuccessful attempt to reach France by plane, he plans to enter it clandestinely through a pass in the upper Val di Susa. The man is hunted: the newspaper reports his escape on their front page and is accompanied by photos and information of a huge bounty of 1 million lire for useful information that leads to his capture. Disguised as a priest, he goes to the "Carlo Alberto" boarding school in Moncalieri to ask for money and civilian clothes from the rector, his childhood friend. However, he is recognized by his son Fabrizio, a child of about 10 years, a pupil of the boarding school, who asks his father to take him with him. The man agrees, believing the presence of a child will reduce the suspicions lone traveler could arouse.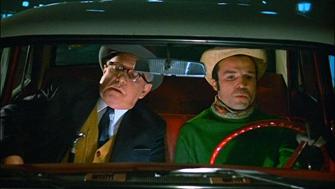 THE LION IS READY TO JUMP (1969) * with switchable English subtitles *
An extremely effective, biological weapon, developed by a Nazi war criminal and hidden away for twenty years, while he languished in prison, is now actively pursued by neo-Nazis, Yugoslavian police, and a bunch of 60s weirdos.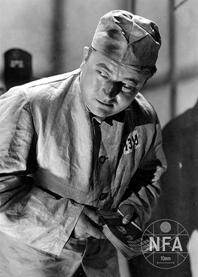 U NAS V KOCOURKOVE (1934) * with switchable English subtitles *
In the town of Kocourkov, the town council debates whether they should spend money on the grand welcome of a man, who left the town many years ago and became the supreme commander of an army in some rather insignificant country. He's coming home, so let's use the opportunity to boost the image of the leadership before the coming elections. The downside is that he's the son of the poacher Jalovec, who is in prison. In the prison in Prague, Jalovec is released and a fraudster, Ferdinand Kaplan, escapes. Jalovec arrives in Kocourkov and tells the mayor that his son is not coming. But it's too late, so the mayor decides to go ahead with the celebration anyway. People wouldn't know the difference. At the festively decorated Kocourkov railway station, Kaplan, who's changed into high-class civilian clothimg, arrives. He very quickly gets into his new role. When he is elected mayor thanks to his irresistible eloquence, good things start happening in Kocourkov, mostly with the aim of attracting tourists to the town.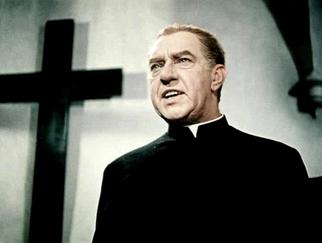 PRED MATURITOU (1932) * with switchable English subtitles *
The story of high school students Jan and Karel, the latter of whom has a problem with math. This leads to big problems with the pedantic mathematics professor Klec, who joins them on a school trip and unleashes a conflict between the two friends.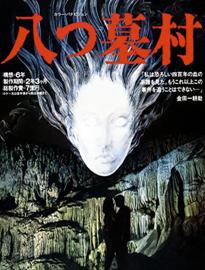 VILLAGE OF EIGHT GRAVESTONES (1977) * with switchable English and German subtitles *
Following the death of his grandfather, a young airport worker named Tatsuya returns to his family home in a remote valley and discovers that a curse has been placed on the village by the leader of a band of samurai warriors, who were brutally murdered there 400 years earlier. As the bodies begin to pile up, fearful villagers blame Tatsuya for the deaths, while an attractive widow named Miyako and a private detective called Kindachi help Tatsuya uncover the truth.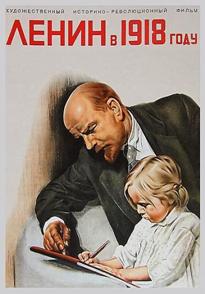 LENIN IN 1918 (1939) * with switchable English subtitles *
Idealized historical/biographic film about Lenin and the struggles of the Bolsheviks in the first year of the Russian Civil War. Lenin is shown as hard-working, caring, supportive and the indispensable backbone of the workers' and peasants' liberation movement. His enemies - especially the Socialist Revolutionaries and Mensheviks - cruel, ruthless and opportunistic. The part of Sverdlov in history is overexaggerated; the role of Trotsky in guaranteeing the military victory of the Bolsheviks completely absent. Nor are the crimes against millions of people opposing Bolshevism ever brought up. The Chekists are vigilant, but historically whitewashed; Dzerzhinski is almost likeable as the stern, but fair, mass murderer that he was. At times, the film is unbearably sycophantic, but ultimately revealing on how the Soviets viewed their early history and achievements ... in public discussion, anyway.
LENIN IN OCTOBER (1937) * with switchable English subtitles *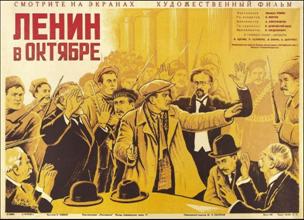 The events of the October Revolution of 1917, and the role of Lenin in organizing the rebellion of the Bolsheviks, is shown in this "historical" film, which Stalin demanded be rushed together in time for the 20th anniversary of their assumption of power. In Petrograd, there is unrest among the workers, who seem to have been left to their sad fate by the Provisional Government. Lenin secretly arrives at Petrograd rail station and is sneaked through a military cordon looking for him by a bodyguard - the worker Vasiliy. Soon, an underground meeting of the Central Committee of the Bolshevik Party begins, where an uprising is prepared.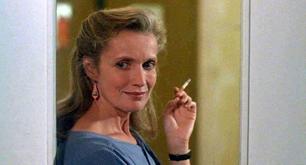 LE JUPON ROUGE (1987) * with hard-encoded English subtitles *
Bacha is a human rights activist and concentration camp survivor who is involved with younger fashion designer Manuela. But when Manuela becomes drawn to the even younger Claude, Bracha's overwhelmed with jealousy and Manuela is torn by her feelings for both women.
Socialite Anatol Spencer, finding his relationship with his wife Vivian lackluster, goes in search of excitement. After bumping into old flame Emilie Dixon at a nightclub, Anatol promises to "rescue" her from her soulless city lifestyle, which lecherous theatrical backer Gordon Bronson has enabled. Anatol convinces Emilie to discard the jewelry that Bronson has given her, but refuses to give up his wife in turn (for Emilie has fallen in love with him). Emilie invites Bronson and others to a party at the apartment. When Anatol finds out, he trashes the room and leaves Emilie to her fate: marriage to Bronson.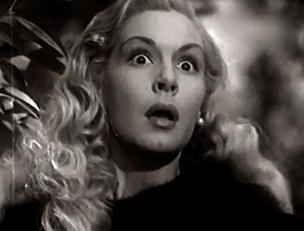 LA TRAMPA (The Trap) (1949) * with switchable English subtitles *
After reading an ad in the paper, a lonely woman meets a man and marries him soon after. But after falling into the love trap, her new husband pursues the secret purpose of stealing her fortune.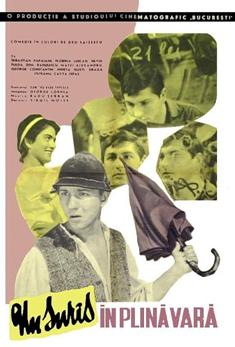 A MIDSUMMER DAY'S SMILE (1963) * with switchable English subtitles *
In this comedic version of crude, communist propaganda, the hero of the film tries numerous gimmicks to get rich, only to fail at all of them. Eventually, he's persuaded that the road to happiness is through the village collective.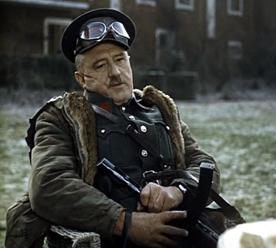 ADELHEID (1969) * with switchable English and Spanish subtitles *
In the aftermath of World War II, a former Czech soldier takes charge of a manor formerly owned by a German family. He falls in love with the daughter, who is now a maid, and is forced to confront the tension between his love and his conscience when he discovers the girl has a deadly secret.
SPRING IN A SMALL TOWN (1948) * with switchable English subtitles *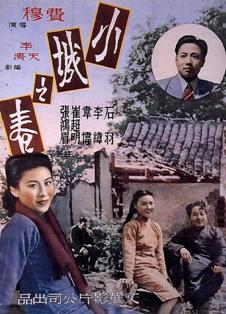 At the end of the Japanese invasion of China, the once prosperous Dai family finds their surroundings and their lives in utter ruin. Wei Wei is a lonely woman. Her husband, Liyan, is ill and wallows in self-pity. Both his illness and depression has led to a loveless marriage, but the couple's devotion to one another is steadfast. The seeming stability of the marriage is challenged by an unexpected visit from Liyan's childhood friend Zhang Zhichen, a doctor from Shanghai. Wei Wei becomes conflicted between her budding love for the visitor and her husband. Nevertheless, she initiates a series of events, which will lead to everyone involved deciding whom should be with whom.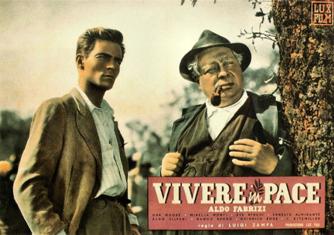 VIVERE IN PACE (1947) * with switchable English subtitles *
Neorealism takes the form of a goodhearted comedy that revisits tragic events (which took place a mere two to three years before the film was put out), moving from the city to an idyllic rural world, but one that has its dark side too. In a village in the Apennines at the end of the War, Uncle Tigna, a farmer, hides two American soldiers in his home, one of whom is black. The old man helps the two fugitives, not for the sake of justice or freedom, but because they "have a family". He finds himself caught between the suspicions of a fascist official; the cautious support of a socialist doctor; and the cautious parish priest.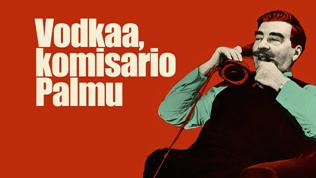 VODKAA, KOMISARIO PALMU (1969) * with switchable English subtitles *
An important agreement on a tunnel building project is being held between Finland and the Soviet Union in secrecy over fears of the political effects. When the press catches wind that the meeting is held at the foreign minister's manor, the talks are hastily moved. A reporter for the Finnish Broadcasting Company is murdered on the grounds of the manor and his cameraman is caught by the guards. The police and the Finnish Broadcasting Company can't come to an agreement over how to handle the investigation, as the police want to keep the details of the talks a secret. The Finnish Broadcasting Company then turns to Palmu to help the company discover the truth behind the murder. This greatly upsets Inspector Virta, who asks Palmu to stay away from the case.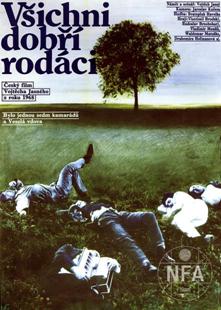 ALL MY COMPATRIOTS (1968) * with switchable English and Spanish subtitles *
The film begins in 1945 and traces the seasonal or annual changes that a small Moravian village undergoes until sometime after 1958. The first part establishes the innocence and camaraderie of a village amidst the backdrop of a postwar landscape in 1948. Children play with guns and a landmine is discovered while ploughing the fields. A group of villagers detonate it and end the night dancing and drinking in the local pub. They leave at dawn as the sun rises on a beautiful, idyllic landscape and stop to sleep beneath a tree after taking in the view. In 1948, It is just months after the Communists have taken power in February. Loudspeakers blare propaganda and announce rations while the farmer František works. Four village notables have already joined the Communists.
In June 1837, 18-year-old Victoria ascends the throne following the death of her uncle, King William IV. She soon shows her independence from the influence of her German mother, the Duchess of Kent, and her Belgian advisor, Baron Stockmar. Lord Melbourne, her trusted Prime Minister, tells her he is growing old and she needs an advisor. He suggests she marry her German cousin Albert. Victoria considers Albert too straitlaced and serious, while he thinks she is frivolous, self-willed, overly talkative (and too fond of dancing). Victoria decides to postpone inviting Albert and his older brother Ernest to visit, but when Melbourne informs her that Albert does not want to come, she immediately changes her mind and insists he come. Britain does not make a favourable first impression on Albert and Ernest; their passage across the English Channel is rough and rain-drenched. When they are first presented to the Queen, Albert is not very friendly. Later, at a ball, Albert tells Ernest they are returning home the next day, but after a waltz with Victoria (the orchestra conducted by Johann Strauss), he cancels that plan. In the meantime, Victoria has decided to marry Albert, but he cannot propose to a sovereign, so she must do it herself.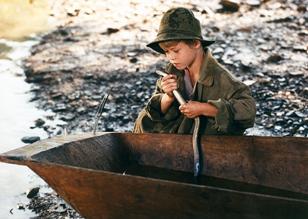 GOLDEN EELS (1979) * with switchable English subtitles *
A family flees Prague after the German annexation of Czechoslovakia and settles in the countryside, hoping to escape the horrors of city life under occupation. While there, the boy becomes friends with a local poacher and learns how to catch prized, golden eels. An idyllic situation, which won't stay idyllic for long.
PORT OF SHADOWS (1938) * with switchable English subtitles *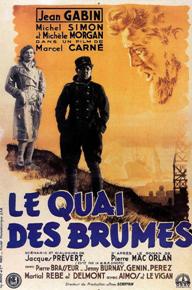 On a foggy night, Jean, an army deserter, catches a ride to the port city of Le Havre. Hoping to start over, Jean finds himself in a lonely bar at the far edge of town. However, while getting a good meal and civilian clothes, Jean meets Nelly, a 17-year-old, who has run away from her godfather, Zabel, with whom she lives. Jean and Nelly spend time together over the following days, but they are often interrupted by Zabel, who is also in love with her, and by Lucien, a gangster who is looking for Nelly's ex-boyfriend, Maurice, who has recently gone missing.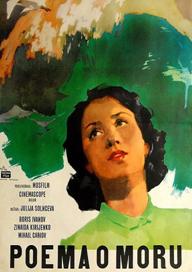 POEM OF THE SEA (1958) * with switchable English subtitles *
Returning after a long separation to places dear to his heart, General Fedorchenko recalls how, many years ago, he left his native village. His mother and the chairman of the collective farm tried to persuade him to stay, but the young man was attracted by others. In the same way, despite the admonitions of relatives, his former classmates rushed to study and work in big cities. The way home lies through Novaya Kakhovka - a young city living with the upcoming launch of the Kakhovka hydroelectric power station. Arriving in the village, Fedorchenko learns that the construction of the hydroelectric power station left the collective farm without labor: almost all the graduates of the local school went to a large construction site. The next discovery for the general was the news that at the same time people who had not been here for several decades began to come to the village. Among them - a famous architect, polar explorer, pilot, writer, deputy minister, six colonels. Over the years, they do not immediately recognize each other; everyone is excited about the meeting. This congress of fellow countrymen is not accidental. Gathering all those who arrived at the square, the chairman of the collective farm Savva Zarudny announces that the village, which has a long and rich history, is living out its last days. Once in the flooded zone, it will sink to the bottom with the launch of the station. Whitewashed huts, cherry orchards, a club, a school, the graves of grandfathers and great-grandfathers will disappear. The sea will appear in their place. In order for people to see their homes for the last time, Zarudny wrote dozens of letters and summoned those who had once left it to the village.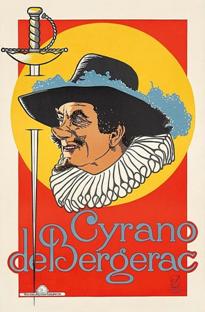 CYRANO DE BERGERAC (1923) * with switchable English subtitles *
Cyrano de Begerac is joyous, witty, a poet, a leader and filled with plenty of charisma and bravado in 17th Century France. He has only one flaw: an unusually long nose which makes him unattractive to any woman. Thus, he cannot have the woman he loves, his cousin Roxanne. Roxanne loves an officer in his army who gets tongue-tied in front of women. Who will Roxanne love? Will Cyrano ever find love? Or will he find happiness in helping the officer woo Roxanne? This is a story of split personalities, human frailty and unrequited love.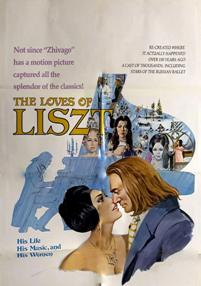 THE LOVES OF LISZT (1970) * with switchable English subtitles *
Virtuoso pianist and equally talented composer Franz Liszt tours Europe and is an instant hit everywhere. In Imperial Russia, the Czar is so impressed with Liszt's playing, he even managed to shut up for the duration of the composer's concert. Women pursue him with abandon and Liszt is not immune to their charms. Eventually, he falls for Princess Carolyne in Russia and she leaves her husband for him. She is to be his final love (of many). He composes Dream of Love and dedicates it to her. The Church, however, prevents his marriage to Caroline, because she is unable to formally terminate her marriage to the man she left behind in Russia. This, however, is just an anecdote for Liszt's continual struggle in life: he is beloved, but is never really happy in his personal life. Only through his music is he able to express himself.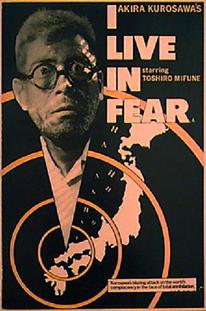 I LIVE IN FEAR (1955) * with switchable English subtitles *
Kiichi Nakajima, an elderly foundry owner, is so frightened and obsessed with the idea of nuclear extermination, that his family decides to have him ruled incompetent. Nakajima's fervent wish is for his family to join him in escaping from Japan to the relative safety of South America. Harada, a civil volunteer in the case, sympathizes with Nakajima's conviction, but the old man's irrational behavior prevents the court from taking his fears seriously.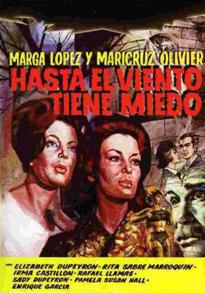 EVEN THE WIND IS AFRAID (1968) * with switchable English subtitles *
Claudia is a young girl who's suffering from horrible and terrifying nightmares at her all girl boarding school. They involve the voice of a mysterious girl calling her name at all hours of the night. When Claudia and her friends break the rules by trespassing a tower that was forbidden to go into, the harsh Head Mistress, Miss Bernarda punishes them by making them stay at the school during Spring Break. Miss Lucia, a good teacher feels the punishment has been too severe since a similar incident happened 5 years before when a student received the same punishment with horrendous and tragic consequences, and she is afraid it might happen again. But the tragedy from five years ago will reap the consequences now, as a tormented and restless spirit will enact her revenge.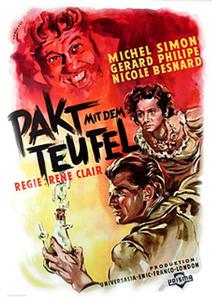 LA BEAUTE DU DIABLE (1950) * with switchable English and Spanish subtitles *
An elderly alchemist by the name of Henri Faust retires from teaching at a university, disappointed that, even after fifty years of diligent study, he is no closer to discovering the secrets of nature than when he started a half century before. Enter Mephistopholes, Satan's agent, who appears to Faust one evening and offers him the chance to relive his life and "try again". Faust is justifiably reluctant to accept the offer, but then finds himself transformed into a young man. Although delighted with his newfound youth, Henri still refuses to sign the expected pact with the Devil, which will eventually take his soul. But, in the end, will Faust's morality and virtues prevail, or will Mephistopheles' offers prove too tempting to resist?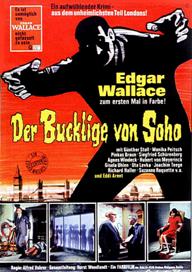 DER BUCKLIGE VON SOHO (1966) * with switchable English subtitles *
Scotland Yard boss Sir John is beside himself. Several prostitutes were cruelly strangled. Inspector Hopkins, who is supposed to solve the case, is puzzled. Meanwhile, the attractive Wanda Merville from New York arrives at the extremely short-sighted attorney Harold Stone's office in London. She has come to take on the inheritance of her late father, Lord Donald Perkins. Before Wanda can receive the money, she is kidnapped into the dark walls of Castlewood Castle, the seat of the Perkins family. Sir John, of all people, is friends with the bizarre lord of the castle. General Perkins, brother of the late Lord Donald, has been reenacting the battle of Tobruk in a kind of sandpit with his butler Anthony for years. His wife, Lady Marjorie, runs a home in Castlewood Castle for girls, who have strayed from the right path. Complaints about the unreasonable conditions and the hard work in the in-house laundry are rigorously rejected by the responsible superior, the administrator Alan Davis and Reverend David. Anyone who wants to flee, like the desperate Jane, is eliminated by an eerie figure, the "hunchback".
Scotland-Yard-Chef Sir John ist außer sich. Mehrere Prostituierte wurden auf grausame Weise erwürgt. Inspektor Hopkins, der den Fall lösen soll, steht vor einem Rätsel. Unterdessen trifft die attraktive Wanda Merville aus New York bei dem äußerst kurzsichtigen Anwalt Harold Stone in London ein. Sie ist angereist, um das Erbe ihres verstorbenen Vaters Lord Donald Perkins anzutreten. Noch bevor Wanda das Geld in Empfang nehmen kann, wird sie in die finsteren Gemäuer von Schloss Castlewood entführt, dem Sitz der Familie Perkins. Ausgerechnet Sir John ist mit dem skurrilen Schlossherren befreundet. General Perkins, Bruder des verstorbenen Lord Donald, spielt mit seinem Butler Anthony seit Jahren Tag für Tag die Schlacht um Tobruk in einer Art Sandkasten nach. Seine Gemahlin Lady Marjorie betreibt in Schloss Castlewood ein Heim für Mädchen, die vom rechten Weg abgekommen sind. Beschwerden über die unzumutbaren Zustände und die harte Arbeit in der hauseigenen Wäscherei werden von der zuständigen Oberin, dem Verwalter Alan Davis und Reverend David rigoros abgewiesen. Wer flüchten will, wie die verzweifelte Jane, wird von einer unheimlichen Gestalt, dem "Buckligen", beseitigt.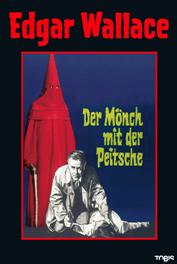 DER MONCH MIT DER PEITSCHE (1967) * with switchable English subtitles *
The scientist Dr. Cabble develops an odorless poison gas on behalf of an unknown person. Winston Robson, Cabble's all-too-curious assistant, is the deadly material's first victim. After Dr. Cabble ands over the poison and a book prepared with it, he is murdered with a whip by a red-clad monk. Pickpocket and cardsharp Frank Keeney is transferred to the cell of a certain Cress Bartling in a London penitentiary. Bartling offers Keeney £1,000 to do a job outside the prison walls. With the help of jailer Carrington and the kitchen staff, Keeney actually gets outside. On a country road, he is handed over to a man named Greaves, the driver of a Rolls-Royce. This brings Keeney to a dilapidated villa in which a mysterious man behind resides between crocodiles and aquariums. He hires Keeney to get a hymn book from boarding school student Pam Walsbury in a village church. Little does he know that it has been prepared with the poison gas. When the girl opens the book and dies on the spot, Keeny is taken back to prison.
Der Wissenschaftler Dr. Cabble entwickelt im Auftrag eines Unbekannten ein geruchloses Giftgas. Winston Robson, Cabbles allzu neugieriger Assistent, ist das erste Opfer des tödlichen Stoffes. Nachdem Dr. Cabble seinem Auftraggeber, der einen noblen Rolls-Royce fährt, das Gift und ein damit präpariertes Buch aushändigt, wird er von einem rot gekleideten Mönch mit einer Peitsche ermordet. In einem Londoner Zuchthaus wird der Taschendieb und Falschspieler Frank Keeney in die Zelle eines gewissen Cress Bartling verlegt. Bartling bietet Keeney 1.000 Pfund für die Erledigung eines Auftrags, der außerhalb der Gefängnismauern stattfinden soll. Mit Hilfe des Gefängniswärters Carrington und des Küchenpersonals gelangt Keeney tatsächlich nach draußen. An einer Landstraße wird er einem Mann namens Greaves, dem Chauffeur eines Rolls-Royce, übergeben. Dieser bringt Keeney zu einer verfallenen Villa, in der zwischen Krokodilen und Aquarien ein geheimnisvoller Hintermann residiert. Er beauftragt Keeney, der Internatsschülerin Pam Walsbury in einer Dorfkirche ein Gesangbuch unterzujubeln. Er ahnt nicht, dass es mit dem Giftgas präpariert ist. Als das Mädchen das Buch öffnet und auf der Stelle stirbt, wird Keeny in das Gefängnis zurückgebracht.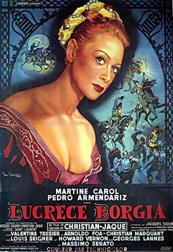 LUCRECE BORGIA (1953) * with switchable English and Spanish subtitles *
In papal Rome, at the end of the Fifteenth Century, César Borgia uses and abuses his influence over his sister, Lucretia, a voluptuous creature, for political ends. In line with his ambitions, he marries off Lucretia to solidify alliances. Sforza eliminated, she must now marry Alphonse d'Aragon. She submits and joyfully recognizes in her future husband the stranger, whom she showered with his favors one carnival evening. The disgust of the Duke of Aragon soon gives way to love. Alas, Caesar dreams of a new alliance. He has Alphonse assassinated. Resigned, painfully passive, Lucretia will have to marry the Duke of Este.
In this version of the well-known film of the 1920s, the character of Gwynplaine is renamed Angelo. His disfigurement is represented by a single broad slash across his mouth; crude, yet convincing. While he deals with this, he also falls for a beautiful girl named Dea. The story has the disfigured acrobat being seduced by a noblewoman and, in so doing, becomes a henchman for the Borgias. Meanwhile, Dea miraculously acquires her eyesight and falls in love with a young nobleman. This nobleman is marked for death not just by Angelo's employers, but by Angelo as well because of the loss of Dea.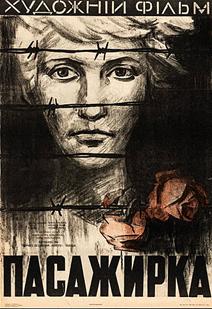 THE PASSENGER (Pasazerka) (1963) * with switchable English subtitles *
The film begins with a series of stills, during which the voiceover representing the film crew pays tribute to the tragically deceased Andrzej Munk and explains the method adopted by the crew when editing The Passenger. The action of the film takes place in two time planes: today and during a flashback to the Nazi concentration camp at Auschwitz-Birkenau. On board the transatlantic passenger ship, among the tourists, is a German couple: Walter and Liza, who are returning to Europe from self-imposed exile abroad. During a stop at an English port, a woman who looks like a former Polish political prisoner at the camp, Marta, comes onboard the ship, which triggers memories for the German woman: camp dogs; corpses; patrols; and the tedious work of the prisoners. Walter is concerned about Liza's behavior, so she justifies herself to her husband about her dark past, but selects the truth about herself.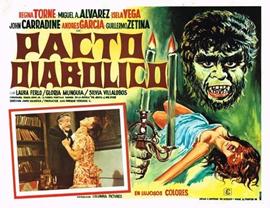 PACTO DIABOLICO (1969) * with switchable English subtitles *
Cuckoo doctor gets carried away with toy chemistry set in a search for a serum, which will yield eternal youth and instead makes life miserable for everyone in his path. Something to think about the next time you buy your kids that educational birthday present.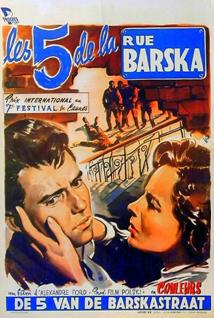 FIVE FROM BARSKA STREET (Piatka z ulicy Barskiej) (1954) * with switchable English and Spanish subtitles *
Propaganda piece extolling the "new man" in postwar, socialist Poland. Warsaw, 1947: young people, depraved by the brutalities of the Second World War and Nazi occupation, are unable to find their place in the New Poland. Instead, they drift toward a life of crime and parasitism. They appear in court, accused of theft. Each of them receives a two year suspended prison sentence and they're placed under the supervision of a court appointed probation officer. Wojciechowski. But their re-education is hindered by the activities of other youths and their adult wire-pullers, who represent the old, reactionary Poland, hoping for an American invasion to overthrow the benevolent Soviet rule.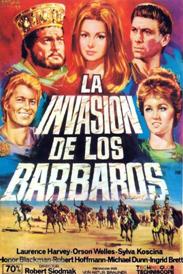 2 DVD SET: KAMPF UM ROM (The Last Roman) * with switchable English subtitles *
After the fall of the Western Roman Empire, the Ostrogoths occupy Italy under their King Theodoric the Great. From his residence in Ravenna, he rules a peaceful empire, in which the Goths and Romans coexist. But after Theodoric's death, a power struggle for his kingdom begins between his daughters Amalaswintha and Mataswintha, who are each supported by two factions of Gothic princes. According to Theodoric's last will, the royal council is to decide in favor of Amalaswintha as regent for her young son, which Mataswintha does not want to accept. At the same time, the leading Ostrogoths meet near Ravenna to discuss the threatened future of the Ostrogoth Empire. Generals Witichis, Aligern and Teja are against the reconciliation policy initiated by Amalaswintha between Rome and the Goths, which they believe is detrimental to the future of the Goths in Italy.
The city prefect of Rome, ambitious Cethegus, is striving to establish an independent Italy, which he himself wants to rule from Rome. To ensure this, he goes to the court of the Eastern Roman emperor in Constantinople. First, Cethegus negotiates with the almighty Eastern Roman minister Narses, who is just as cunning, but who is unpopular with Empress Theodora. Through Empress Theodora, with whom he has already had a love affair in earlier times, Cethegus is able to convince powerful Emperor Justinian to send an Eastern Roman army under army commander Belisarius against the Goths in southern Italy.
Nach dem Untergang des Weströmischen Reiches haben die Ostgoten unter ihrem König Theoderich dem Großen Italien besetzt. Von seiner Residenz Ravenna aus regiert er ein friedliches Reich, in dem Goten und Römer ausgleichend koexistieren. Nach dem Tod Theoderichs beginnt ein Machtkampf um sein Erbe zwischen seinen Töchtern Amalaswintha und Mataswintha, welche von jeweils der Hälfte der Gotenfürsten gestützt werden. Der königliche Rat entscheidet sich nach Theoderichs letztem Willen für Amalaswintha als Regentin für ihren noch jungen Sohn, was Mataswintha nicht akzeptieren will. Gleichzeitig treffen die führenden Ostgoten um den alten Waffenmeister des Gotenkönigs, Hildebrand, unweit von Ravenna zusammen, um über die bedrohte Zukunft des Ostgotenreiches zu beraten. Die Feldherren Witichis, Aligern und Teja sind gegen die von Amalaswintha initiierte Aussöhnungspolitik zwischen Römern und Goten, die ihrer Ansicht nach schädlich für die Zukunft der Goten in Italien ist.
Der Stadtpräfekt von Rom, der ehrgeizige patricius Cethegus, strebt unterdessen die Errichtung eines unabhängigen Italien an, das er selbst von Rom aus beherrschen will. Um sich für den geplanten Abfall von den Ostgoten zu versichern, begibt er sich an den Hof des oströmischen Kaisers nach Konstantinopel. Zuerst führt Cethegus Verhandlungen mit dem allmächtigen oströmischen Minister Narses, welcher dem Römer an List gleichkommt, der aber bei der Kaiserin Theodora unbeliebt ist. Cethegus kann über Kaiserin Theodora, mit welcher er in früheren Zeiten bereits eine Liebschaft geführt hatte, den mächtigen Kaiser Justinian gewinnen, eine oströmische Armee unter dem Heermeister Belisar gegen die Goten nach Unteritalien zu schicken.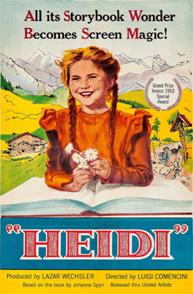 HEIDI (1952) * with switchable English subtitles *
On a mountain in the middle of the Swiss Alps, Heidi lives with her grandfather. For Heidi --- whose parents are no longer alive --- her grandfather is the best daddy in the world! But because he's constantly feuding with the villagers, Heidi is unable to go to school. One day, Heidi's aunt shows up and, out of concern for the girl, takes the girl back to Frankfurt with her. But city life is an experience Heidi would gladly forego.

Auf einer Alm inmitten beeindruckend schöner Bergland schaften lebt Heidi bei ihrem Großvater. Für Heidi, deren Eltern beide nicht mehr leben, ist der bisweilen griesgrämige Alm-Öhi der beste Opa! Weil er mit dem Dorf und seinen Bewohnern auf Kriegsfuß steht, muss Heidi nicht zur Schule gehen. Eines Tages steht ihre Tante vor der Tür, die das Sorgerecht für Heidi hat, und will sie mit nach Frankfurt nehmen. Die weit enfernte Stadt hält ein ganz anderes Leben für Heidi bereit.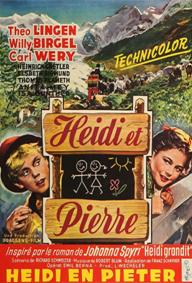 HEIDI UND PETER (1955) * with switchable English subtitles *
Two years have passed and Heidi and Klara are no longer together under the same roof. Klara would like to visit Heidi, but her plans to do so always seem to go awry. Unfortunately, since Heidi's departure, Klara has not gotten any better; in fact, she's gotten much worse. She's once again using her wheelchair. For her part, Heidi is doing quite well in school; Peter, on the other hand, would rather spend his time on sleigh rides. Alp-hi then comes up with an idea to change all that: disguised as St. Nicholas, he visits the village school and scares Peter so much, that the boy wants nothing more than to study. However, Peter still has a problem learning to read. Only when Heidi helps him is the boy able to do what the teacher couldn't: Peter quickly learns how to read. In the meantime, thanks to her grandmother, Klara is able to travel to Switzerland. Peter lost the letter she wrote announcing her arrival, so Heidi's only able to find out in the last moment that her old friend is coming to see her.
Zwei Jahre sind vergangen, seit Heidi und Klara sich getrennt haben. Immer wieder scheiterte Klaras Plan, Heidi zu besuchen. Seit Heidis Abreise hat Klaras Genesung keine weiteren Fortschritte, sondern vielmehr Rückschritte gemacht. Sie ist zeitweise wieder auf den Rollstuhl angewiesen. Heidi ist recht fleissig in der Schule, Peter verbringt seine Zeit lieber mit Schlittenfahren. Da ersinnt der Alp-Oehi eine List: Als Nikolaus verkleidet jagt er Peter am 6. Dezember so viel Angst ein, dass der Bub sich mehr auf die Schule konzentrieren will. Doch das Lesenlernen will nicht so recht klappen. Erst als Heidi ihm hilft, tritt das ein, was der Lehrer nicht geschafft hat; Peter lernt fliessend lesen. Klara kann, nachdem es erst so aussieht, als würde es wieder nicht klappen, dank ihrer Grossmutter doch noch in die Schweiz reisen. Den Brief, in dem sie den Zeitpunkt ihrer Ankunft mitteilt, hat Peter verbummelt, sodass Heidi erst im letzten Augenblick davon erfährt, dass Klara kommt.
L'ENFANT DE PARIS (The Child of Paris) (1913) * with switchable English subtitles *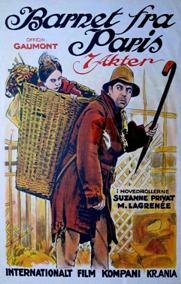 Marie-Laure de Valen is kidnapped by a gang of criminals. An alcoholic cobbler holds her captive at the home of a hard-working teenager, Le Bosco. Thanks to the brotherly devotion of the young boy, she is released and joins her father who was believed to have died while at war.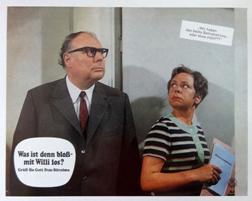 WAS IST DENN BLOSS MIT WILLI LOS (1970)
Willi Winzig ist a small-time finance official with a big heart. He always manages to misplace the files of citizens unable to pay their tax bills. But shortly before he's about to retire, the drawer where he's been hiding the paperwork has become so full, that he's forced to discard the file of a near-bankrupt taxpayer in a wastepaper basket. That promptly leads to the discovery of his misdeeds and he's threatened with the ultimate punishment: dishonorable discharge from state service. Fortunately, his good friend and colleague Felix Klein knows, that if Willi were declared mentally incompetent, he couldn't be held responsible for his actions. Thus, it doesn't take Willi long to literally start acting like a nut. He causes such chaos at his place of work, that his very much unloved boss really starts to think he's lost his mind. The plan seems to be working.
Willi Winzig ist ein kleiner Finanzbeamter mit großem Herz. Die Steuerakten seiner zahlungsunfähigen Mitbürger lässt er schon mal im Luftschacht verschwinden. Doch kurz vor seiner Pensionierung ist der Schacht so voll gestopft, dass Willi die Akte eines mittellosen Steuerzahlers im Papierkorb entsorgen muss. Prompt fliegt der Schwindel auf, und Willi droht eine saftige Strafe - ja sogar die unehrenhafte Entlassung aus dem Staatsdienst. Zum Glück weiß Freund und Kollege Felix Klein Rat: Wenn Willi für unzurechnungsfähig erklärt würde, könnte man ihn nicht zur Verantwortung ziehen. Kurzerhand spielt Willi buchstäblich verrückt: Er mischt das Büro seines ungeliebten Vorgesetzten auf, der ihn nun tatsächlich für völlig irre hält. Der Plan scheint aufzugehen.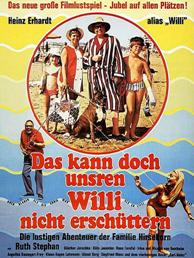 DAS KANN DOCH UNSREN WILLI NICHT ERSCHUTTERN (1970)
Willi Hirsekorn from Castrop-Rauxel is constantly banging heads with his neighbors. When his bitchy neighbor "Mitzy" Buntje proudly brags about her family's planned vacation to Italy, that's the straw that breaks the proud family man's back! Willi just can't let the cow get away with her boasting. And so, a short time later, the bags are packed: it's off to the same destination in Italy, too, complete with wife Sieglinde, daught Lotti and son Kuno. But it doesn't take long for the journey south to turn into a total fiasco. When both families make it to their destination in Italy, they find out, to their horror, that they're both staying at the same hotel! The town has also been set up with vacationing Germans in mind. There's German beer on every corner; hearty Bratwurst ... and total, unending stress. Willi can't even find any rest on the beach! His children are constantly playing pranks.
Willi Hirsekorn aus Castrop-Rauxel hat ständig Streit mit seinen Nachbarn. Als die zickige "Mizzi" Buntje von nebenan auch noch stolz von ihrem geplanten Italienurlaub erzählt, platzt dem liebenswerten Familienvater der Kragen. Diese Prahlerei kann Willi unmöglich auf sich sitzen lassen! Kurzerhand werden die Koffer gepackt - los geht's mit Frau Sieglinde, Tochter Lotti und Sohn Kuno. Doch schon die Fahrt in den Süden entwickelt sich zum Fiasko. Als schließlich beide Familien am Ziel ihrer Urlaubsträume eintreffen, stellen sie mit Entsetzen fest, dass sie im gleichen Hotel gelandet sind. Der Ort selbst ist bestens auf die Touristenhorden aus Deutschland vorbereitet. An jeder Ecke gibt es deutsches Bier, eine zünftige Bratwurst - und puren Urlaubsstress. Auch am Strand findet Willi keine Erholung: Ständig hecken seine Kinder Streiche aus.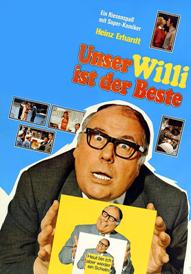 UNSER WILLI IST DER BESTE (1971)
Willi Winzig is about to take a well-deserved perpetual rest into retirement. To make sure he's got enough money for the future, he former finance official looks for a side-job. When his broke sister Heideline shows up with her twin children, grandpa and a parrot asking to be put up, then it's even more obvious that he needs to find money. So, rather than sending out his more-than-able sister to pay her way, Willi says bye-bye to retirement and hits the road selling appliances. And you know, he appears to have a talent for the thing: an old lady regularly buys his wares ... until it's discovered she's not quite all there. Then Willi allows his next customer to pay for his purchases with a 12-year installment plan, much to the annoyance of his boss. But the final straw comes when good-hearted Willi gives a poor boy one of his tools for free. That earns him an immediate dismissal. Now, Willi's stuck with a bunch of kitchen utensils; a mountain of debt; and able-bodied relatives eating his food and watching his TV and contributing zero to the household. But soon, Willi comes up with a Million-Dollar Idea that so excites his former boss, that he gets his job back and things start going great again ... until his invention decides to explode during a TV commercial.
Willi Winzig geht in den wohlverdienten Ruhestand. Um den schmalen Geldbeutel aufzubessern, bemüht sich der ehemalige Finanzbeamte um einen Nebenjob. Als dann auch noch seine abgebrannte Schwester Heidelinde mit ihren Zwillingsjungen, Tochter Biggi, dem Opa und einem Papagei um Asyl bittet, ist die Sache klar: Geld muss her! Also übt sich Willi als Vertreter für Haushaltsgeräte. Und er scheint ein echtes Verkaufstalent zu sein: Eine alte Dame kauft ihm reihenweise Geräte ab - bis sich herausstellt, dass sie unzurechnungsfähig ist. Seiner nächsten Kundin gewährt Willi eine Ratenzahlung über zwölf Jahre - zum Ärger seines Chefs. Als der herzensgute Vertreter schließlich einem armen Jungen ein Gerät schenkt, erhält er postwendend die Kündigung. Jetzt sitzt Willi auf seinen Küchengeräten und einem Berg voller Schulden.

You may have missed these titles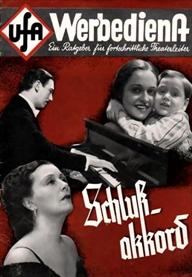 SCHLUSSAKKORD (1936) * with switchable English subtitles; German and Spanish audio *
Insurance fraud has forced Hanna and her husband to flee Germany. They find a new home in America; but the uncertainty of what awaited them in their new homeland led them to decide to leave their child behind in Germany. After the death of her husband, Hanna returns to Germany, firmly determined to find her abandoned child. She discovers, that he's been taken in as a foster child by the well-off Garvenbergs. The conductor Garvenberg hopes to save his marriage through the child. But the couple's fighting has not ceased with Peter's appearance. Hanna manages to get a position as a nanny in Garvenberg's home. No one suspects, who she really is.
Ein Versicherungsbetrug hatte Hanna und ihren Mann gezwungen, aus Deutschland zu fliehen. In Amerika fanden sie eine neue Heimat, ihr Kind jedoch mussten sie damals zurücklassen. Zu groß war die Ungewissheit, die sie in dem fernen Land erwartete. Nach dem Tod ihres Mannes kehrt Hanna nun in ihre Heimat zurück, fest entschlossen, ihren Sohn Peter ausfindig zu machen. Sie erfährt, dass er von der wohlhabenden Familie Garvenberg als Pflegekind aufgenommen wurde. Der Dirigent Garvenberg hoffte, durch ein Kind seine Ehe retten zu können. Aber an den Streitereien der Eheleute hat sich auch durch Peter nichts geändert. Hanna bewirbt sich erfolgreich als Kinderpflegerin im Hause Garvenberg; dort ahnt man nicht, wer sie ist.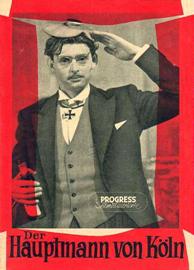 DER HAUPTMANN VON KOLN (1956) * with switchable English subtitles *
East German film about an unemployed waiter who's mistaken for a former captain of the Wehrmacht during the Adenauer Era and is able to make a career out of it in the secretly pro-Nazi West Germany. He becomes a director of a factory, a member of the Bundestag, and seems on the path to becoming the son-in-law of a very wealthy West German industrialist. The real captain is standing in the wings, however, ready to bring down the impostor … but not before ensuring the phony pushes through an amnesty law for "U-Boat Captains" in the senate; for the real captain is on the list as a wanted war criminal.
In den 50er Jahren wird der arbeitslose Kellner Albert Hauptmann durch eine Verwechslung für den aus Argentinien zurückgekehrten Hauptmann Albert der deutschen Wehrmacht gehalten. "Alte Kameraden" feiern ihn wie einen Helden und ebnen ihm den Weg zu einer glänzenden Karriere. Der kleine Kellner nutzt diese Chance. Er wird Direktor der Montan AG und Mitglied des Bundestages. Aber es gibt auch den echten Hauptmann, der wegen seiner Kriegsverbrechen unter dem Namen Karjanke lebt. Er beschwatzt den "Hauptmann von Köln", im Bundestag ein Amnestie-Gesetz einzubringen. Nun kann Karjanke sein Inkognito lüften. Den Kellner Albert Hauptmann bringt er als Hochstapler vor Gericht.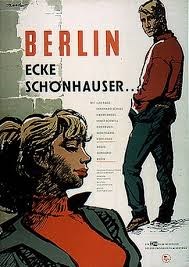 BERLIN – ECKE SCHONHAUSER (1957) * available in German with no subtitles or in German with hard-encoded English subtitles *
The Fifties in Berlin: A time of petticoats and rock 'n' roll. The boundaries between the Sectors are still open, but the Cold War has already started casting its shadows on the metropolis. This goes for the two friends Dieter and Kohle, who flee into the West after an accident on Schonhauser Allee. They experience dubious care in a detention center there, which, eventually, will cost the life of one of them.
50er Jahre in Berlin, die Zeit von Petticoat und Rock 'n' Roll. Noch sind die Sektorengrenzen offen, doch der kalte Krieg wirft bereits seine Schatten auf die Millionenstadt. Auch auf die beiden Freunde Dieter und Kohle, die nach einem Unfall aus der Schönhauser Allee in den Westen fliehen. In einem Auffanglager erleben sie dort eine zweifelhafte Fürsorge, die einen der beiden das Leben kostet.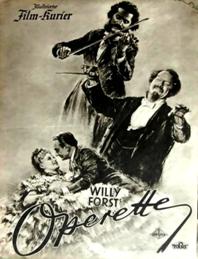 OPERETTE (1940) * with switchable English subtitles; improved audio and video *
The young actor Franz Jauner receives a commission to direct a work at Theater an der Wien thanks to the director Marie Geistinger. In spite of their working well together, they get into a fight and Jauner moves to the Carl Theater, where he is celebrated for his triumphs with operettas. His carerr leads him to the court opera and then to the Ringtheater. After a fire breaks out at his first premiere at the Ringtheater, he is sentenced to serve a few months in prison and tries in vain to enter the theater world again after his release. Once again, it is Marie Geistinger, who gives him his chance.
Der junge Schauspieler Franz Jauner bekommt durch die Direktorin Marie Geistinger ein Engagement als Regisseur am Theater an der Wien. Trotz erfolgreicher Zusammenarbeit zerstreiten sie sich und Jauner geht ans Carl-Theater, wo er mit Operetten Triumphe feiert. Seine Karriere führt ihn an die Hofoper und danach ans Ringtheater, das er auch erwirbt. Nach einem Brand bei seiner ersten Premiere am Ringtheater muss er für einige Monate ins Gefängnis und versucht anschließend vergeblich, wieder im Theaterbetrieb unterzukommen. Wieder ist es Marie Geistinger, die ihm eine Chance gibt.
THE LADY IS A BIT CRACKED (1938) * with switchable English subtitles *
Bimbi, that is, "Klara Takacs", is unemployed. She lives in an apartment, but has no idea how she's going to be able to pay the rent in the future. Fortunately, the landlord remembers that a previous tenant left some letters of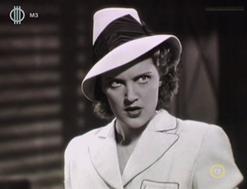 recommendation around addressed to the director of the Tormassy Works. Since the woman has since found employment and no longer needs them, the landlord suggests Bimbi use them instead. What Bimbi doesn't know, however, is that the letters do indeed praise "her", but also state she's a bit eccentric (i.e., one sandwich short of a picnic). If you don't upset her, she won't go postal. Armed with this information, the director reluctantly hires her, only because the company owes the writer of the letters a lot of favors; but he wisely decides to exile her to the company basement. Eventually, she gets impatient and demands to know why everyone's avoiding her like yesterday's stale goulash. The director decides to forego a tranquilizer dart and instead sends her off to his son as a typist. His son, by the way, lives in the countryside in self-imposed exile, because, after finding out women only want him for daddy's money, he's come to hate everything and anything to do with the fair sex. But because his son is such a miserable farmer and will take advice from no one ("Green Acres" anyone?), all the women sent there to type up his delusional treatise on poultry farming leave after a day, because he -- and his farm -- are Hell-on-Earth. If history can repeat itself with Ms. Looney Tunes 1938, maybe the director can get her to quit. Oh, how little he knows her!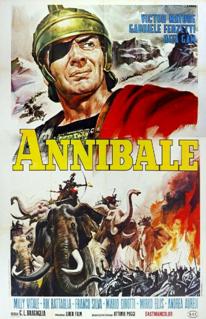 HANNIBAL (1959) * with switchable English subtitles *
After heroically crossing the Alps, using elephants to transport supplies and troops, Hannibal marches on Rome to wreak vengeance on the people who invaded his land. During the advance, he captures Sylvia, niece of the Roman senator Fabius Maximus. But instead of holding her prisoner, he takes her on a tour of his camp, showing her his powerful army and herds of elephants. He then sets her free, asking her to deliver a message to her uncle: that Carthage only wishes to live in peace ... but not as a Roman province. Convinced that she'll also mention how big his forces are, thus spreading panic and fear, he then goes on to defeat the Romans at the Battle of Terbbia and sends a message to the girl that he's coming to Rome next. Well, how could a girl not succumb to the charms of such a message? In short order, she goes to Hannibal to plead for Rome; falls in love with him; goes back to Rome to convince everyone he wants peace; and then flees back to Hannibal to be his concubine. Hannibal himself is open to the beauty and whirlwind romance of the Italian, but little things keep interfering with their mutual passion ... like the matter of a small war, which will mean life or death for Carthage.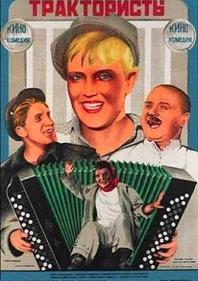 TRAKTORISTY (1939) * with switchable English subtitles *
A demobilized Red Army man, returning to western Ukraine after fighting the Japanese in Mongolia, is looking for a kolkhoz to settle down on and work the fields as a mechanic. He gets more than he bargains for when he arrives at just such a place and falls immediately for one of the women laborers. Unbeknownst to him, however, she has enlisted the help of a stocky oaf to play the part of her fiancee to scare off the multitudes of love-sick Soviets wanting to bed her down. The deception works well; too well, as she, too, falls for the Red Army man, but can't seem to snare him thanks to his belief that she's tied to the loudmouthed braggart. Eventually, time and good Soviet labor overcomes all obstacles and they marry - an ideal, communist marriage between two equal members of the proletariat.
Billed as a "comedy", Traktoristy is more a reflection of the ideals of society in Stalinist Ukraine. The film was shortly made after the Soviet trouncing of the Japanese at Khalkin Gol. There's not only a number of references to this victory in the movie; there are also outright statements about how the Germans are once again salivating over the thought of conquering Soviet lands and destroying the Workers' Paradise. The men and women of the collective farm are admonished in song to be as equal on the battlefield as they are on the fields of the kolkhoz, and they sing, that "when the time of trial comes, Comrade Stalin will order us into battle." Within months of this film being made, the Soviets and Nazi Germany signed a non-aggression pact. Thereafter, Traktoristy was quickly pulled out of circulation and the Polish-ruled western Ukraine was annexed to the Soviet Union as part of the pact between Molotov and Ribbentrop.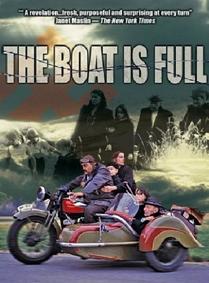 DAS BOOT IST VOLL (1981) * with switchable English, French, and Italian subtitles *
''The Boat Is Full,'' which is set during World War II, begins as a small band of refugees crosses the German border into Switzerland. The refugees find an inn, and persuade the proprietress to sell them a meal. They are terrified of deportation, and soon the stolid proprietress is willing to help them stay. It seems, for a while, as if they can pose as a family, even though most of them were unacquainted when the journey began. Refugee families with children under 6 are allowed to remain in Switzerland, and this group is lucky enough to include a tiny boy -even though the adults are all German and the child, unless he is carefully silenced, speaks French. The refugees shift through one ploy after another, in a story that remains suspenseful to the very end. The principal emphasis, though, is on the Swiss community into which the refugees have stumbled. The Swiss cannot exactly be accused of unkindness; murderous fastidiousness is closer to the truth. Their ostensible concern is for abiding by the rules, whatever those rules may be. And so the reaction of many of the townsfolk to these newcomers is not one of overt anti-Semitism; it's more like a disdain for lawbreakers. When Judith Kruger, the young woman in the refugee group, offers her most desperate lie, two guards shake their heads in disbelief. ''They'll try anything,'' the guards say contemptuously of the refugees.
Einer zufällig zusammengewürfelten Gruppe von Flüchtlingen ist während des letzten Krieges der heimliche Grenzübertritt in die Schweiz gelungen. Sie alle können nicht wissen, dass diese Zuflucht trügerisch ist, dass Flüchtlinge «nur aus Rassengründen» kein Anrecht auf Asyl haben und dass seit einiger Zeit die Grenzen für Fremde verschlossen sind. Halbherzig von Schweizern aufgenommen und halb wieder verraten, sind die Flüchtlinge sogar bereit, sich selber preiszugeben um sich zu retten. Sie formieren sich zu einer grotesken Familie, um so die polizeilichen Voraussetzungen zu erfüllen.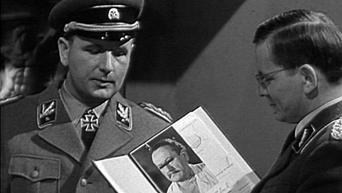 GEHEIMARCHIV AN DER ELBE (1963) * with German and Russian audio tracks *
The closing months of the Second World War. SS-Gruppenfuehrer Upitz is negotiations with the OSS (forerunner to the CIA) to hand over the secret archive of the SS, which contains information regarding the Gestapo's web of agents from the Balkans to the Baltic. Upitz hopes to thus secure a safe and lucrative position in the new Germany after the War. Only, he hadn't reckoned on the GRU, the Soviet military's intelligence service, which also wishes to have the files. Supposedly, they're being stored in a rock vault on the Elbe River.
Die letzten Monate vor Ende des Zweiten Weltkriegs. SS-Gruppenführer Upitz steht in Verhandlungen mit dem amerikanischen Geheimdienst, um diesem das SS-Geheimarchiv, das das gesamte Gestapo-Agentennetz vom Balkan bis zum Baltikum enthält, zu übergeben. Upitz will sich so für die Nachkriegszeit absichern. Nur hat er nicht mit dem sowjetischen Abwehrdienst gerechnet, der auch großes Interesse an den Akten hat, die sich angeblich in einem Felsverlies an der Elbe befinden sollen.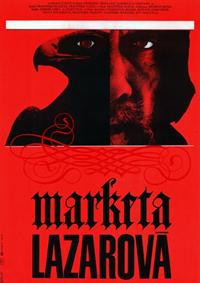 MARKETA LAZAROVA (1967) * with switchable English subtitles *
Kozlik, the overbearing and tyrannical father of Mikolas and Adam, sends his sons out to plunder unsuspecting travelers. In the course of doing so, they end up with a young German hostage, whose father manages to escape to the King with news of the robbery and kidnapping. Kozlik knows it'll only be a matter of time before the King's men arrive to wreak vengeance, so he sends Mikolas to pressure his neighbor, Lazar, to join him in a war against the royal house. When Mikolas is unsuccessful in convincing Lazar to do so, he abducts his daughter, Marketa, just as she's to join a convent. The King does indeed send an army and Lazar is once again called upon to war, this time against Kozlik.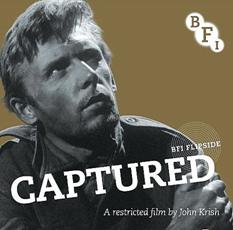 CAPTURED (1959) *with switchable English and Spanish subs *
In 1959, the British Army commissioned filmmaker John Krish to put together a training film to prepare British troops on what to expect if they were captured by the enemy. The result was Captured, the material for which came from army reports about interrogation and brainwashing techniques used by the Chinese and North Koreans during the Korean War. Rather than make a dry documentary, Krish convinced the army brass to let him turn the project into a short narrative feature, which, he felt, would better engage the viewer. Unfortunately, Krish did too good a job detailing Chinese-style interrogation methods: Horrified of the potential effect the film might have on morale, the British Army classified the film as "secret" and kept it under lock-and-key for 45 years!
The film tells the story of a squadron of British soldiers captured by the North Koreans. It shows how subtle manipulation and subterfuge by the prison camp's commander cause rifts to develop between the individual prisoners, until one soldier is easily picked out from the crowd and coerced into providing details on an intelligence officer recently captured from behind the front line. Once that information is in hand, the commander then applies it to breaking the intelligence officer with a combination of deception, mind games and physical torture.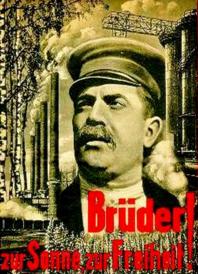 BRUDER (1929) * with switchable English and Spanish subtitles *
By the end of the 1920s, the political and social situation in Germany had polarized to the point that Communists, Social Democrats and Nazis were daily battling one another in vicious street-fights, which, more often than not, swept innocent bystanders into the turmoil. It was a life-and-death struggle for the mind and soul of a defeated and demoralized people and each ideology promised a utopian path out of the country's misery.
Co-produced by the Social Democratic Party and the dockers' labor union, Bruder attempted to show the prevailing misery not with a contemporary story, but by means of a pseudo-documentary allegory based on an event that took place in Hamburg's harbor in 1896 (namely, a massive strike of the harbor workers there). The film tells of the long hours and oppressive work of the proletariat, who spent almost their entire waking moments at their jobs for very little renumeration. While the SPD had little interest in being affiliated with the radical upheavals in Russia which began a mere ten years earlier, the style of this film is decidedly "Soviet revolutionary", with amazing parallels to similar films made in the USSR in the 1920s. While communist ideology in Germany in the 1920s called for an overthrow of the existing social system, there is no such call for that in this film. There is, however, a call for a unified social consciousness to combat exploitation of the masses and to strive for a betterment of the lives of working class people. This, no doubt, better served the propaganda of the Communist Party than that of "moderate" parties like the SPD, which didn't stand a chance in the radical atmosphere of constant and violent social upheavals in Weimar Germany.
SO EIN FLEGEL (1934) * with switchable English subtitles *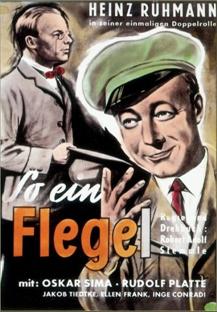 The playwright Hans Pfeiffer has problems finishing his latest work, because he never attended college, but that's exactly the setting for his play. For that reason, he convinces his twin brother Eric, who just happens to be a college student, to trade places with him. Somewhat similar to Spoerl's Feuerzangenbowle, which was put onto film ten years later, also starring Heinz Ruhmann.
Der Schriftsteller Hans Pfeiffer hat Probleme, sein Bühnenstück fertigzustellen, da er niemals ein Gymnasium besucht hat, sein Stück aber in einer Oberprima spielt. Aus diesem Grund überredet er seinen Bruder Erich, der gerade in der Abschlußklasse ist, die Rollen mit ihm zu tauschen. Frei nach Spoerls Feuerzangenbowle die zehn Jahre später originalgetreuer verfilmt wurde.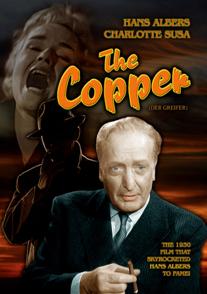 DER GREIFER (1958) * with switchable English subtitles *
Chief Detective Otto-Friedrich Dennert got the nickname "flatfoot" from his hard and sometimes unusual methods of investigating. And just as he's hot on the heels of a murderer in the Ruhr region, he's forced into retirement. His son Harry, likewise a police-detective, is put on the case in Dennert's place. But putting the old cop out to pasture isn't as easy as everyone thinks it'll be and in no time at all, he's back on the killer's trail using his reliable, old methods again. That, however, is going to prove to be a very dangerous undertaking.
Seine harten, teilweise ungewöhnlichen Ermittlungsmethoden haben Kriminal-Oberkommissar Otto-Friedrich Dennert den Spitznamen "Der Greifer" eingebracht. Gerade als er einem Mord im Ruhrgebiet nachgehen will, wird er in Pension geschickt. Ausgerechnet sein Sohn Harry übernimmt den Fall. Doch Dennert lässt sich nicht so einfach abschieben und ermittelt mit seinen bewährten Methoden auf eigene Faust weiter. Ein äußerst gefährliches Unterfangen.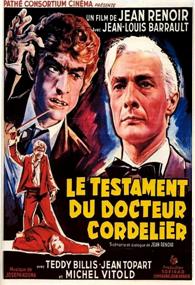 DAS TESTAMENT DES DR. CORDELIER (1959) * with switchable English subtitles *
Dr. Cordelier, a well-known doctor and scientist, is hiding a dark secret: he's been abusing anesthetized patients, because he's been incapable of having normal relationships ever since his dreamy adolescence. And for that reason, he's been working on a serum, which is supposed to make the human soul visible. However, an experiment on himself reveals not the soul, but rather man in his purest, uncivilized form. Cordelier turns into a being capable only of following its instincts and indulging in its inner desires. Thus freed from every moral and societal restriction, Opale --- as he calls himself --- terrorizes all Paris. The beast doesn't even shrink from murder. When Cordelier tries to revert back to his former self, however, he discovers to his horror, that he's a prisoner in his own body.
Der in der Öffentlichkeit angesehene Arzt und Wissenschaftler Dr. Cordelier birgt ein düsteres Geheimnis: Er vergeht sich an betäubten Patientinnen, da er seit seiner traumtischen Kindheit zu keiner normalen Beziehung fähig ist. Der Mediziner arbeitet an einem Serum, welches die menschliche Seele sichtbar machen soll. Ein Selbstversuch offenbart jedoch, daß nicht die Seele, sondern der Mensch in seinem ureigensten Wesen zum Vorschein kommt. Cordelier verwandelt sich in einen Menschen, der nur seinen Instinkten folgt und seinen Gelüsten frönt. Losgelöst von allen gesellschaftlichen Zwängen terrorisiert Opale, wie er sich selbst nennt, ganz Paris. Durch das Fehlen jedweder Gewissensbisse schreckt Opale auch vor Mord nicht zurück. Als Cordelier versucht, sich selbst wieder unter Kontrolle zu bekommen, muß er mit Entsetzen feststellen, daß er nur noch ein Gefangener im eigenen Körper ist.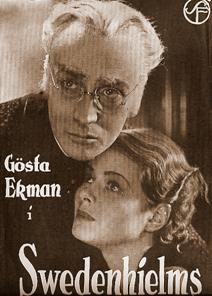 SWEDENHIELMS (1935) * with switchable English subtitles *
The Swedenhielms are an old aristocratic family. The head of the family is Professor Rolf Swedenhielm. His three children Bo, Julia and Rolf Jr. also live in the house. They also have an excellent house maid, Boman. Because of the family's extravagance, they are heading for bankruptcy. But perhaps their problems would be solved if Rolf was awarded the Nobel Prize?
A marriage is in big trouble, because easily-excited Philine believes she keeps hearing the voice of her beloved --- but very dead --- first husband, Leo. Naturally, her second husband Fritz, a schnapps manufacturer, is having just a teeny-weeny hard time not being offended by all of this. And because this isn't much of a plot, we've got to include happy-go-lucky Susanne in the picture, who, for some reason, needs the attention of a down-and-out musical genius by the name of Paul Theodor. Then, there's the charming Margot, who, together with the rundown musician, employs sometimes over-the-top slapstick to keep the comedy going. But if that's not enough, then get to know Isolde, a duck, who's used over and over again in an attempt to tickle your funnybone. (Oh, did I mention Hans Albers is in the movie? That's okay: he didn't mention it much afterwards either).
Eine Ehe gerät in die Krise, weil die leicht überkandidelte Philine immer öfter die Stimme ihres seligen ersten Mannes Leo zu hören glaubt, was natürlich ihren zweiten Gatten, den Schnapsfabrikanten Fritz ziemlich heftig auf die Palme bringt. Weil das alles ein wenig dürftig ist, müssen die fröhliche Susanne, das etwas herunter gekommene Musikgenie Paul Theodor sowie die charmante Margot mit ihren Auftritten den verworrenen Ulk mit oftmals übertriebener Situationskomik retten. Eine entsprechende Rolle spielt dabei auch die Ente Isolde, die immer wieder eingesetzt wird, um die Lachmuskeln irgendwie zu reizen.
.
.
.
THE INDIAN TOMB – PART I: THE MISSION OF THE YOGI (1921)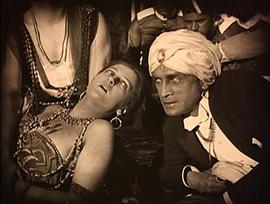 The powerful Maharajah of Eschnapur has lost his beloved Princess Savitri to handsome British officer MacAllan. Determined to get revenge, he constructs a massive tomb in which to imprison Savitri for eternity. But when the Maharajah ignores the warnings of doom from the yogi Ramigani, he seals his own fate.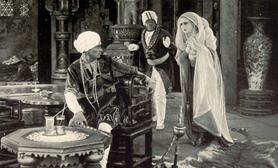 THE INDIAN TOMB – PART II: THE TIGER OF BENGAL (1921)
Howard is infected with leprosy, Mac Allen is captured by the Maharadsha, who offers Irene a deal: spend the night with him and she'll be allowed to heal Howard. She accepts, but when she tries to commit suicide, he lets her go. Mac Allen's eaten by the tigers and finally, the Maharani dies.
Captain Hardt, a World War I German U-boat commander, is ordered to lead a mission to attack the British Fleet at Scapa Flow. He sneaks ashore on the Orkney Islands to meet his contact, Fräulein Tiel. Tiel has taken over the identity of local schoolteacher, Miss Anne Burnett, who had been kidnapped by German agents. Hardt finds himself attracted to her, but Tiel shows no interest. The Germans are aided by a disgraced Royal Navy officer, the former Commander Ashington, who, according to Tiel, has agreed to aid the Germans after losing his command due to drunkenness. Tiel implies that she has slept with Ashington to obtain his cooperation. Now equipped with the crucial information he needs about the fleet movements, Hardt makes rendezvous with his submarine to arrange the attack. Returning to the house, and confident that all is going to plan, Hardt make advances to Tiel, but she rebuffs him. She leaves the house, believing she has locked Hardt in, but he gets out and secretly follows her, discovering that she has gone out to meet Ashington. Hardt overhears them talking and learns the truth - the British are fully aware of his presence and his mission, and his 'contacts' are really British double-agents.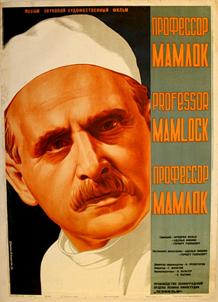 PROFESSOR MAMLOCK (1961) * switchable English subtitles *
Germany, New Year's Eve, 1932/33. Professor Mamlock belongs to those German intellectuals, for whom the state is something absolute, unchangeable and holy. But these views apply to more than just the state: of irreplaceable value to him are the family, knowledge and justice. And for that reason, he finds it incomprehensible that he is no longer considered a German after the Nazis seize power. Now as before, he has faith in his friends, who have now compromised with the Nazis and believe, that "it can't get that bad". His son Rolf, a student of medicine, recognizes the dangers of Fascism and understands what he must do: not to make a pact with the Nazis, but rather to fight them. His father kicks him out. Mamlock even refuses to believe his daughter when she tell him that she's been kicked out of school for being one of the chosen people. The professor only wants to practice medicine; for him, there are only doctors and patients. His collision with the events happening outside of the operating room will lead to the collapse of his illusions ... and his world. When Professor Mamlock is dismissed from the hospital for being a Jew and realizes that his friends have betrayed or abandoned him, he finally comes to the conclusion that Fascism can have nothing in common with humanity. And he realizes, too, that the way to the people who could've helped him --- his son's friends and political colleagues --- was ignored by him when it mattered. Having finally realized the tragedy of the entire situation, he chooses to take his own life as the final answer --- and solution --- to the New Order.
Deutschland, Silvester 1932/33. Professor Mamlock gehört zu den deutschen Intellektuellen, für die der Staat etwas Absolutes, Unwandelbares und Heiliges ist. Aber nicht bloß der Staat, auch die Familie, die Wissenschaft, die Gerechtigkeit sind für ihn ewige Werte. Aus diesem Grund glaubt er nicht, dass er nach der Machtergreifung der Nazis als Jude nicht mehr Deutscher sein darf. Nach wie vor vertraut er seinen Freunden, die mit den Nazis einen Kompromiss geschlossen haben: "Es kann so schlimm nicht werden". Sein Sohn Rolf, Student der Medizin, erkennt die Gefahren des Faschismus und zieht daraus die Konsequenz: Nicht mit den Nazis paktieren, sondern gegen sie kämpfen. Sein Vater weist ihm die Tür. Auch seiner Tochter Ruth glaubt Mamlock nicht, dass man sie als Jüdin aus der Schule gejagt hat. Der Professor will nur Arzt sein, für ihn gibt es nur Kranke und Ärzte. Das Zusammentreffen mit den Geschehnissen außerhalb des Krankenhauses und seiner Familie bewirken den Zusammenbruch seiner Welt. Die Entlassung des Juden Professor Mamlock und der damit in Zusammenhang stehende Verrat seiner Freunde lassen ihn erkennen, dass es unter dem Faschismus keine Humanität geben kann. Und er erkennt, dass er den Weg zu den Menschen, die ihm hätten helfen können, zu den Freunden seines Sohnes, nicht gefunden hat. Diese Tragik begreifend, sieht er für sich nur im Freitod einen Ausweg.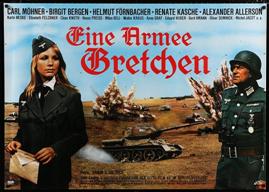 SHE DEVILS OF THE SS (1973) * English & German audio tracks *
They were drafted into military service at way too young an age - als nurses or as messengers, the so-called Blitzmadchen. Many of them have volunteered for service in the occupied countries of Europe, where they're still able to meet real men: Heroes in Uniform. And these uniforms have so strong an erotic appeal to these girls, that they just lose all restraint and have to bed these guys down ... all with the motto, "Don't wait! Tomorrow may be too late!"
Blutjung wurden Sie zum Kriegsdienst gepresst. Als Krankenschwestern oder Nachrichten Helferinnen - als sogenannte "Blitzmädchen". Viele melden sich für den Dienst im Ausland, wo sie noch echte Männer antreffen - Helden in Uniform. Und diese Uniformen über einen so starken erotischen Reiz auf die Mädchen aus, dass sie mit den Trägern hemmungslos ins Bett gehen, nach dem Motto - Morgen könnte es zu spät sein.
TRANSPORT Z RAJE (Transport from Paradise) (1963) * with switchable English subtitles *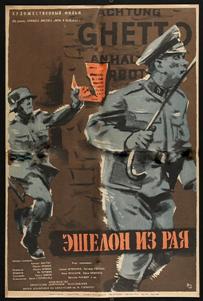 In the Theresienstadt Ghetto, a high-ranking SS officer has arrived to inspect preparations for a possible visit from the International Red Cross. In the ghetto, the world-renown director Kurt Gerron is supervising a film, which will show the world how well the Jews are being treated in this "paradise ghetto". But in the meantime, there are plots and plans by some of the ghetto's residents to let the real story of the ghetto reach the ears of the world. The Germans decide that one of the best ways to deal with these potential annoyances is to organize another transport out of Theresienstadt to German "factories" at Birkenau.
Closely based on historical fact, the obvious manipulations of the names of certain historical figures (especially those of the Judenrat) do not detract from this pseudo-documentary about Theresienstadt.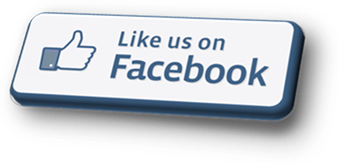 Thank you and the best to all of you,
RAREFILMSANDMORE.COM