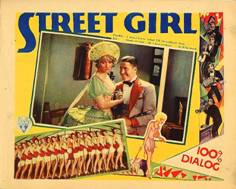 TWO FILM DVD: STREET GIRL (1929) + SEVEN FOOTPRINTS TO SATAN (1929)
STREET GIRL (1929):
The Four Seasons are a very good jazz quartet, but they perform in a New York City cafe for only $100 a week, forcing them to share a small, rundown apartment. The quartet consists of Joe Spring on clarinet, Pete Summer on accordion and guitar, Mike Fall on piano and trumpet, and an ever-pessimistic Happy Winter on violin. On his way home one night, Mike drives off a man accosting a young blonde named Frederika Joyzelle. When she tells him she has not eaten in two days, he persuades her to share the group's dinner. She tells them that back in her homeland, she was a violinist. The highlight of her career was a command performance for her homeland's ruler, Prince Nicholaus of Aregon. Mike convinces his bandmates to allow "Freddie" to room with them for two weeks, after they discover she has no place to go.
SEVEN FOOTPRINTS TO SATAN (1929):
Jim and his fiancee Eve, a young society couple, are kidnapped on the eve of Jim's departure for Africa and brought to a mansion that is home to a strange and glamorous cult with a hooded leader called "Satan." Jim is put through a number of strange adventures in the old house and tries to maintain his courage. During the course of the film, Jim encounters an old witch, a dwarf, a gorilla and a strange shaggy creature called "The Spider". In the end, he is confronted by Satan himself who puts him to a final test.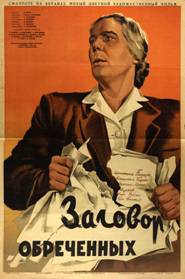 CONSPIRACY OF THE DOOMED (1950) * with switchable English subtitles *
In an invented Eastern European country --- variably hinted at as being near Yugoslavia; as having signs printed in Polish; having Latvian flags at protests; Ukrainian peasantry; and a strong Catholic identity --- which only recently has been liberated from Fascism by the Soviet Army, there's a conspiracy in the works. The American ambassador, MacHill, interested in seeing the country as America's "49th state", is behind making this happen. His puppets are government ministers; the leader of the Catholic Party; the head of the Social Democrats; as well as the Vatican, whose policies are made clear by their influential cardinal in the country. An American journalist from Chicago serves as the lynchpin between the American and British governments and the local conspirators. With the connivance of the maverick government in Belgrade, the nationalists and Catholics will cause a famine and put the blame on food exports to the Soviet Union. Of course, the People aren't fooled by the offer of American "aid", recognizing it for what it is: a way of making them dependent on Washington and the eventual slaves of its landowners and cannon-fodder for the crusade against their Soviet brothers.
Turbulentes Agentenabenteuer: Im Hotel Danieli in Venedig steigt ein gewisser Herr Gran ab. Das ist natürlich nicht sein wirklicher Name, denn er ist ein Geheimagent, der den Auftrag hat, geraubte Papiere wiederbeschaffen, hinter denen auch Hauptmann Gordon von der Gegenseite her ist. Gordon ist in Viola Dolleen verliebt, die steinreiche Nichte eines bekannten Reeders. So gelingt es Gran mithilfe Violas, Gordon für drei Tage auszuschalten und an seiner Stelle in Rom den skrupellosen Kunsthändler Tschernikoff zu treffen, in dessen Besitz sich die Papiere befinden. Tschernikoffs Frau Bianca, eine Freundin Violas, liebt heimlich den jungen Maler Pietro, der ein verfängliches Porträt von ihr gemalt hat. Gran hilft Bianca, jagt Tschernikoff die Geheimpapiere ab und erobert die Frau, die er liebt.
A turbulent adventure about secret agents: A certain Mr. Gran arrives at the Hotel Daniele in Venice. Of course, that's not his real name. He's a secret agent, whose mission is to recover stolen papers, also being chased after byCaptain Gordon, who works for the other side. Gordon is in love with Viola Dolleen, the immensely rich niece of a famous shipowner. With Viola's help, Gran is able to distract Gordon for three days and take his place in Rome, where he's to meet Chernikoff, an unscrupulous art dealer, who has the stolen papers and thinks, he's meeting Gordon. Meanwhile, Chernikoff's wife Bianca, a friend of Viola, secretly loves the painter Pietro, who's painted a portrait of her. Gran helps Bianca; steals back the stolen papers from Chernikoff and conquers the woman he loves.
The jeweler Mueller --- a good-hearted man, if not a bit of a fool --- inherits an ancient car from his family. At first, he wants nothing more than to sell the disaster, but then decides to hold onto it. It soon turns out that not only does the car have its own soul, but becomes the reason for lots of mischief.
Juwelier Müller, ein herzensguter, wenngleich leicht vertrottelter Familienvater, erbt mit seiner Familie ein uraltes Auto. Zuerst will er es sofort wieder verkaufen, aber dann behält er es doch. Es erweist sich nicht nur als Auto mit Seele, sondern auch als Ursache zahlreichen Unfugs.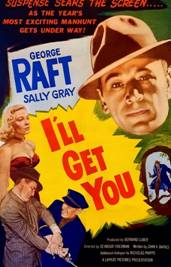 I'LL GET YOU (Escape Route) (1952)
After nuclear scientists are kidnapped in West Berlin and smuggled behind the Iron Curtain, an FBI man and a British agent are assigned to catch the kidnappers.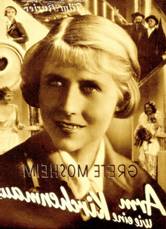 ARM WIE EINE KIRCHENMAUS (1931) * with switchable English subtitles *
Having returned from a trip to America, Baron Ullrich, the general director of a large Viennese bank, wants to teach his employees how to do business at "an American pace". He hires the cheeky little stenotypist Susi, whom he likes and whose work-enthusiasm infects everyone and ends up creating chaos at the bank. After the conclusion of a big business deal in Paris, Susi falls in love with her boss, who is extraordinarily successful at warding off all female attention from him. When the Baron makes clear, however, that he's looking for a little adventure with his former secretary Olly, who has journeyed to Paris in search of him, Susi finds a way to keep him from seeing Olly and instead sends the Baron on a boring adventure with businesss buddies. Finally, the Baron fires Susi.
Zurückgekehrt von einer Amerikareise, will Baron Ullrich, der Generaldirektor einer großen Wiener Bank seinem Unternehmen amerikanisches Tempo beibringen. Er stellt die freche, kleine Stenotypistin Susi an, die ihm gefällt und die mit ihrem Arbeitsfieber alle ansteckt und die ganze Bank ordentlich auf den Kopf stellt. Beim Abschluss eines großen Geschäfts in Paris verliebt Susi sich in ihren Chef und hält gekonnt sämtliche weibliche Bekanntschaft von ihm fern. Als der Baron ihr zu verstehen gibt, dass er ein kleines Abenteuer mit seiner früheren Sekretärin Olly suche, die ihm nach Paris nachgereist ist, sagt Susi die Verabredung mit Olly ab und bestellt stattdessen den Baron auf ein langweiliges Treffen mit Geschäftsfreunden. Schließlich entlässt der Baron Susi.
There is a revolution in heaven. The angels don't want to wear their boring robes anymore; they want fancy clothes like the humans. So angel Angelika is sent to Earth to look around at the fashion world in Vienna. When the king of Viennese fashion sees Angelika, he is appalled at the unimaginativeness of her angel costume and accidentally rips off one of her wings. Now, she cannot go back to heaven unless she does a good deed. She meets the young composer Hans Lieven, who is so taken with her voice that he gets her a job at the theater. She is so successful that Lieven is asked to compose a waltz for her next performance.
Im Himmel herrscht Revolution. Die Engel wollen ihre langweiligen Gewänder nicht mehr tragen, sie wollen schicke Kleider, wie die Menschen. So wird der Engel Angelika auf die Erde entsandt, um sich in Wien beim Modekönig Clemens Maria Weidenauer umzusehen. Als dieser Angelika sieht, ist er entsetzt über die Einfallslosigkeit ihres Engelskostüms und reißt ihr aus Versehen einen Flügel ab. Nun kann sie nicht mehr in den Himmel zurück, es sei denn, sie begeht eine gute Tat. Da begegnet sie dem jungen Komponisten Hans Lieven, der von ihrer Stimme so angetan ist, dass er ihr ein Engagement am Theater verschafft. Sie hat großen Erfolg, so dass Lieven für ihren nächsten Auftritt einen Walzer komponieren soll.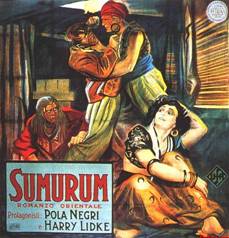 SUMURUN (1920) * with switchable English subtitles *
A company of travelling performers arrive at a fictional oriental city. Among them is the beautiful dancer Yannaia; the hunchback clown Yeggar, who is lovesick for Yannaia; and the Old Lady who loves Yeggar. The slave trader Achmed wants to sell Yannaia to the Sheik for his harem. At the palace, the Sheik finds out that his favorite, Sumurun, is in love with Nur-Al Din, the handsome clothes merchant. He wants to condemn her to death but his son obtains her pardon. After seeing Yannaia dancing, the Sheik is keen to buy her. Yeggar is desperate and takes a magic pill which makes him look dead. His body is hidden in a chest.
Das mittelalterliche Bagdad: Der Bucklige verehrt die schöne Tänzerin. Zusammen ziehen sie mit einem Theaterwagen durchs Land und treten in kleinen Dörfern auf. Sklavenhändler Achmed sieht die Tänzerin und schlägt dem Buckligen vor, sie dem alten Scheich für seinen Harem vorzustellen. Der jagt ihn davon. Im Harem des Scheichs sind die Frauen derweil begeistert, da der junge Stoffhändler Nur-al-Din vor dem Tor des Palastes den Palast-Eunuchen seine Waren anbietet. Vor allem Sumurun, die Lieblingsfrau des Scheichs ist vom Stoffhändler hingerissen und wird bei ihrer Schwärmerei vom alten Scheich erwischt. Inzwischen steht vorm Fenster jedoch dessen Sohn und wirft Sumurun Kusshände zu – diese lehnt ihn zwar ab, doch ist der alte Scheich eifersüchtig.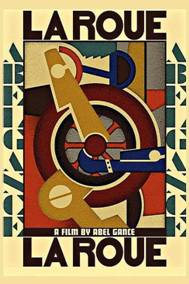 2 DVD SET: LA ROUE (1923) * with switchable English and German subtitles *
Railroad engineer Sisif rescues a small orphan, whose name is Norma. He raises the little girl as his own, along with his son Elie, whose mother died during childbirth. In time, Norma becomes a lively and playful young woman. Her greatest joy is time spent with Elie, by now a handsome violin maker, whom she believes to be her natural brother. But Sisif, to his horror, finds himself falling in love with his adopted daughter. Sisif confesses to a wealthy colleague, Hersan, Norma's origin and that he is attracted to her. Hersan threatens Sisif with blackmail if he does not consent to give Norma to him in marriage. Norma herself is reluctant, but is moved by the prospect of greater prosperity. Sisif reluctantly agrees to the marriage, and himself drives the train that will deliver Norma to her husband. Distraught, he drives recklessly, and nearly wrecks the train. After some months of marriage, Norma writes to say that it is unhappy. Elie discovers the truth about Norma's origin and reproaches his father for keeping it secret, thereby preventing Elie from marrying her before she married Hersan.
Paris im Jahr 1883. Gräfin Oktavia Obardi gehört zur besseren Gesellschaft. Ihren Wohlstand hat sie käuflicher Liebe zu verdanken, den Titel selbst verliehen. Ihre Tochter Yvette lässt sie, um ihr einen besseren Lebenswandel zu erlauben, in einem Kloster erziehen. Als Yvette zurück zu ihrer Mutter kommt, verliebt sich der junge Ingenieur Jean Servigny in sie, jedoch hält er Yvette durch verschiedene Missverständnisse für eine ebensolche Dirne wie ihre Mutter. Tief gekränkt will Yvette sich das Leben nehmen.
Paris, 1883: The Countess Oktavia Obardi belongs to High Society. Her position is possible because of the love she has charged for from former clients. She sends her daughter Yvette to a cloister to be better educated. When Yvette returns to her mother, the young engineer Jean Servigny falls in love with her, but through a number of misunderstandings, thinks Yvette is as big a whore as her mother. Deeply wounded, Yvette wants to kill herself.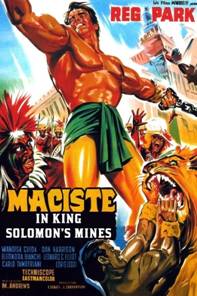 MACISTE IN KING SOLOMON'S MINES (1964) * with multiple switchable subtitles *
This time, Maciste is in darkest Africa. King Namar has built a temple on the site of Solomon's mines. Unfortunately for Namar, some of his nobles are a tad disloyal and they overthrow him in a coup with the intention of converting the temple back into mines. Lest you think they have popular support for their actions, be advised they've enslaved their own population and are forcing them to work down below. Fortunately, someone has Maciste's number and he comes by between protein shake breaks to depose the tyrants and put Namar back on the throne. Does he succeed? Hey, this is Maciste we're talking about!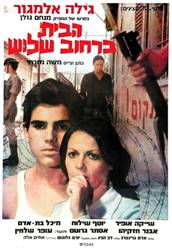 THE HOUSE ON CHELOUCHE STREET (1973) * with switchable English subtitles *
In 1947, after the death of her husband, Clara and her family --- Egyptian Jews --- settle into a crowded, one-room apartment in Tel Aviv. Her son, Sami, is bright and has a fondness for reading, but is so upset over his mother working as a maid, that he drops out of school to find factory work and help support the family. He soon finds himself swept up in a strike and embraces his newfound role as an activist, even though it could mean his arrest by the occupying British police.
..
.
Zenobia, Queen of Palmira, revolts against Rome and defeats the Roman troops under the command of consul Marcus Valerius. Forced into slavery and tortured on the cross, Marcus manages to escape and comes to the queen, offering her his services. They fall in love, which complicates his task, and his loyalty towards Rome. Marcus will help the Romans to conquer her territory, but he will also save her life from a coup led by the treacherous Zemanzius.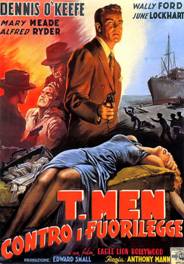 T-MEN (1947) * with switchable English subtitles *
When the U.S. Treasury Department discovers a gang in Los Angeles is making counterfeit dollar bills, agents Dennis O'Brien and Tony Genaro are assigned to investigate the crooks using the identities of Vannie Harrigan and Tony Galvani. Along the way, they join the gang of mobsters to discover who the boss behind the scheme is.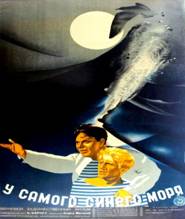 BY THE BLUEST OF SEAS (1935) * with switchable English subtitles *
Yussuf and Aliosha are two shipwrecked sailor on an island in the Caspian Sea. They start working as sailor and mechanic for the fishboats of the "Lights of the Communism" kolkhoz. Here the two friends will fall in love with the beautiful Misha.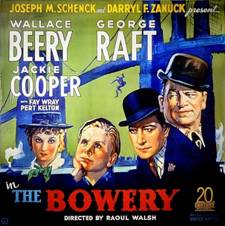 TWO FILM DVD: THE BOWERY (1933) + BROKEN DREAMS (1933)
THE BOWERY (1933):
In turn-of-the century New York City, Bowery bar owner Chuck and thrill-seeker Steve enjoy finding new ways to insult, prank and outdo one another, their antics typically revolving around some kind of wager. But when both toughs lay eyes on the lovely but luckless Lucy, their game of one-upmanship turns serious. Chuck dares Steve to make a death-defying leap from the Brooklyn Bridge, with the former's bar and the latter's life on the line.
BROKEN DREAMS (1933):
Medical intern Robert is distraught after his wife dies in childbirth. He's resentful of his new son and wants nothing to do with him. He leaves the child with his aunt and uncle and heads off to Europe to pursue medicine.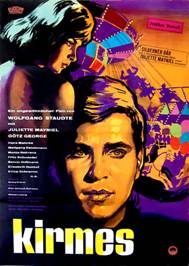 KIRMES (1960) * with or without switchable English subtitles *
Wolfgang Staudte's work tells the sad story of a soldier at the end of the Second World War. During the construction of a carousel for a fair in 1959, a performer discovers a skeleton. It turns out to be the remains of the soldier Robert Mertens. Shortly before the end of the Second World War, he deserted and fled to his home village in the Eifel. But no one in his hometown had the courage to help him, not even his own family.
In "Kirmes" erzählt Wolfgang Staudte erzählt die traurige Geschichte eines Soldaten am Ende des Zweiten Weltkrieges. Beim Aufbau eines Karussells für eine Kirmes entdeckt ein Schausteller im Jahr 1959 ein Skelett eines menschen. Es stellt sich heraus, daß es sich um das Skelett des Soldaten Robert Mertens handelt. Er war kurz vor dem Ende des Zweiten Weltkrieges desertiert und in sein Heimatdorf in der Eifel geflohen. Hier hatte aber niemand der Mut, ihm zu helfen – noch nicht einmal seine eigene Familie.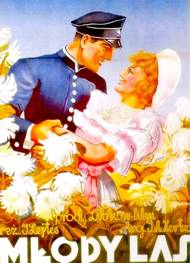 MLODY LAS (1934) * with hard-encoded English subtitles *
The film tells about the school strikes that took place in 1905 and which shocked public opinion in Russian Poland. The protagonists of the film are students of one of Warsaw's junior high schools, who are subjected to Russification. Jan Walczak, from a poor family, rebels against the history teacher, when he introduces General Suvorov as a great leader. His schoolmates and students of other Russian schools express solidarity with Walczak, who is at risk of being expelled from school.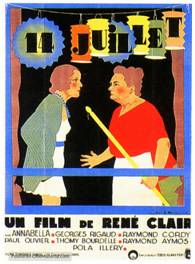 BASTILLE DAY (1933) * with switchable English subtitles *
Anna, a flower-girl, is in love with Jean, a young taxi driver. Jean doesn't have the same feelings for Anna, as he still thinks about Pola, who dumped him. Eventually, Jean asks Anna for a dance at the ball; but all hell breaks loose, when Pola shows up with two men who will stop at nothing to disturb this newly arising love.
Anna, fleuriste, et Jean, chauffeur de taxi, se font des serments un soir de bal du 14 juillet à Paris. Jean succombe malgré tout à l'enjôleuse Pola, qui le délaissera vite elle-même. Sans amour, Jean sombre dans la délinquance.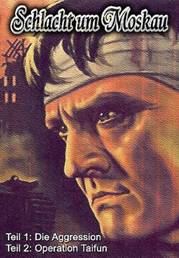 2 DVD SET: SCHLACHT UM MOSKAU (1985) * with switchable English subtitles *
Yuriy Ozerov's monumental 1985 work about the Battle of Moscow is much less dramatic and more "historical" than his equally massive "Liberation", made more than a decade earlier. Somewhat freed from the censorship of earlier years, Ozerov was able to address a topic hitherto rarely covered in Soviet works: the opening phase of Operation Barbarossa from the German invasion on 22 June 1941 up to the climactic days of the Soviet counteroffensive before the gates of Moscow.
While still heavily influenced by the official version of events, the film unflinchingly covers the disastrous policies and inefficiencies, which allowed the Germans to rapidly advance and take the newly incorporated lands of Byelorussia and Ukraine into their hands, as well as large portions of western Russia and Ukrainian lands east of the "old border". Nevertheless, it is painfully skewed in its portrayal of Stalin and those around him: Stalin is benevolent; wise; heeds the advice of his cronies in the Supreme Soviet and allows his generals to make the final decisions when the chips are down. Apparently, Ozerov didn't get the message that the cult of Stalinism pretty much came to an end in 1956; and even though Brezhnev was a Stalinist, no one in the USSR at that time had any illusions about how Stalin treated those around him. Zhukov is likewise, but justifiably, praised for his accomplishments (something Stalin didn't take kindly to in the postwar period and promptly banished him to a secondary command in the boondocks to remove any competition for the laurels of victory). The rest of the generals in the film are either grudgingly acknowledged or treated as borderline traitors and incompetent morons (yet any mention of the Great Purge, which decimated the officer corps of many of its finest officers, is an outright non-event in the film).
Nevertheless, the film is entertaining, if not typically long for Ozerov's docudramas, and is the first of its kind to portray and explain how the disasters of the early days of the War almost resulted in a very different Europe.
Am 22. Juni 1941 überfiel Hitlerdeutschland die Sowjetunion. Kurz vor der Toren Moskaus war der Blitzkrieg nicht mehr zu gewinnen und die Völker der UDSSR leiteten die Gegenoffensive ein. Im Zweiteiler »Schlacht um Moskau« wird mit einer Montage von Spielfilmszenen und Dokumentarmaterial ausführlich die Vorbereitung der faschistischen Aggression geschildert. Als historische Chronik widerspiegelt das monumentale Werk in der Regie von Juri Oserow den Kampf der roten Armee gegen die Wehrmacht und das Scheitern der Blitzkriegstrategie.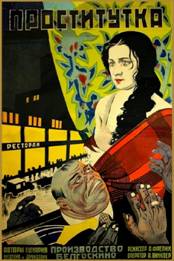 PROSTITUTKA (1926) * with hard-encoded English intertitles *
The film is set in Moscow during the mid 1920s. Some live the high life, while others barely survive. A young girl, Lyuba, lives with her elderly aunt Barbara. Barbara takes advantage of and abuses the girl, and later, "sells" her to a neighbor, kicking her out of the house. But Lyuba does not stay in the street for long: she is sheltered by a random friend, who turns out to be a brothel madam. She also pimps out the girl. Next to Aunt Barbara lives the Tyrkin family. Pyotr Tyrkin works for the businessman-butcher Kondratiev. Pyotr's everyday life is well-adjusted. His wife Vera keeps house and raises two young children. Work brings in a regular income.However, Pyotr ends up getting killed while drunk. Left without a livelihood, Vera is forced by the situation to get together with the butcher and sell her body. On the street, she meets seasoned prostitute Manka, who tells about her fate. When Manka worked as a maid, she was seduced by the son of the mistress. After getting kicked out of the house by the mistress for having relations with her son, she became homeless. On the street, she came to work at a whorehouse and got a venereal disease, which she is still recovering from. Vera is not able to earn money from prostitution. Both of her children fall seriously ill one after another. In desperation, she tries to commit suicide by throwing herself into an ice-hole. But she does not succeed with the attempt and gets rescued.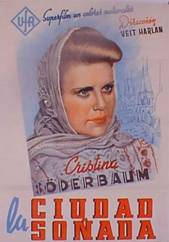 DIE GOLDENE STADT (1942) * with switchable English and Spanish subtitles *
Anna Jobst is the daughter of a rich, conservative farmer. Living on the bank of the Moldau, she wishes nothing more than to follow the river to Prague, the "Golden City". When her father makes a journey, she actually breaks away against his declared will. In Prague, she stays with her aunt, soon to be seduced by her degenerate cousin. This cousin, however, loses interest in her, when news reaches the city that her father has disinherited her. Pregnant and desperate, Anna decides to return home, but is turned away.
In Veit Harlans Blut-und-Boden-Melodram wird ein Bauernmädchen dafür bestraft, dass es die Scholle verlässt und den Verlockungen der sündigen slawischen Großstadt erliegt. Anna lebt mit ihrem Vater auf einem Gut an der Moldau; ihre Mutter hat sich einst im Moor ertränkt. Sie soll den Knecht Thomas heiraten und auf dem Hof bleiben, träumt jedoch von der "goldenen" Großstadt, aus der auch ihre Mutter stammt. Tatsächlich reist sie nach Prag und trifft dort ihren Vetter Toni, von dem sie prompt verführt und geschwängert wird. Er hat es nur auf den Familienbesitz abgesehen und verlässt sie, als ihr Vater sie des Treuebruchs wegen enterbt. Auch eine reuige Heimkehr zum Hof bleibt der enttäuschten und verzweifelten Anna verwehrt, da ihr Vater sich neu verheiratet hat. So folgt sie ihrer Mutter ins Moor.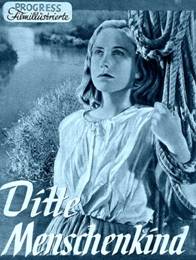 DITTE, CHILD OF MAN (1946) * with switchable English subtitles *
Ditte, born illegitimately, is deserted as a young girl by her alcoholic mother. She moves in with her grandparents, but after her grandfather dies, it is Ditte who becomes the old woman's only support. It is the small girl's deepest sorrow that she has no father, so she is pleased when she hears that Lars Peter will marry the mother who dumped her and they will all live together. However, it is Ditte who becomes like a mother to Lars Peter's three small children.
After having lived in the tropics for five years, Peter Asfeld returns to Amsterdam and wants to marry his childhood sweetheart Julia Vermehren. The problem is his future father-in-law read in a horoscope that Peter will one day commit a robbery and he demands that he do this before the wedding takes place (okaaaay). Peter now can't escape from thinking about this and even in his dreams, he's committing all kinds of crimes. Inspired by all of these phantasies, the next day he robs Julia, his future wife.
Nachdem er fünf Jahre in den Tropen gelebt hat, kommt Peter Asfeld nach Amsterdam zurück und will seine Jugendfreundin Julia Vermehren heiraten. Nun hat sein zukünftiger Schwiegervater aber im Horoskop gelesen, dass Peter einmal einen Diebstahl begehen werde und verlangt, dass er das noch vor der Hochzeit tut. Der Gedanke lässt Peter nun nicht mehr los, und selbst im Traum begeht er die allerlei Straftaten. Beflügelt von so viel Phantasie raubt er am nächsten Tag Julia, seine Zukünftige.
The story traces the history of a marriage from the wedding night in 1890 to the death of the wife in the 1930s; all crucial scenes are acted out in the couple's boudoir near the fourposter bed they received as a wedding present. The passing years, and the triumphs and tragedies of the couple, are wittily represented by transitional animation sequences.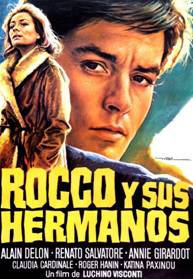 ROCCO AND HIS BROTHERS (1960) * with switchable English subtitles *
Covering several years, this is the story of a southern Italian peasant family, the Perondis, and their traditions of a family first mentality at any cost as fostered by the family matriarch. The story has five segments in chronological order with each segment focusing on a different Parondi brother in order of age. Vincenzo's segment begins when their just widowed mother, Rosaria, brings her four younger offspring to Milan - where oldest Vincenzo has been living - in order for her sons to eke out a more promising future than what they could on their unproductive piece of farmland. Their arrival disrupts Vincenzo's life, he, as the oldest, who is expected to figure out how they will survive without jobs or a place to live. Simone's segment describes how the change to big city life affects him the most of the brothers. He shows natural ability as a boxer, but despite some promising results, does not cultivate this promise due to self-doubt. He begins a relationship with a prostitute named Nadia, who entered the Parondi's life soon after their arrival in the city.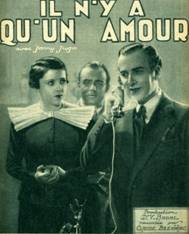 ES GIBT NUR EINE LIEBE (1933) * with hard-encoded Dutch subtitles *
The classical singer Sir Henry Goodwin and ballet master Blattner need a vacation. The two decide to take a break in the mountains together. At the same time, the shorthand typist Dolores is on business there with her boss. Due to a warning from the local police, which states that crooks are currently up to mischief there, she and her boss are particularly careful. The two business travelers meet the two vacationers. Through Godwin's impressive singing, Dolores, who is particularly blessed with romantic feelings, falls in love with him and follows the two of them every step of the way. Since she also thinks she has come across the two crooks she warned the police about, the situation has an additional, special appeal for her, because now she thinks that she is on the run with the two suspected crooks the police are after.
Der Kammersänger Sir Henry Godwin und der Ballettmeister Blattner brauchen Urlaub. Die beiden beschließen, gemeinsam eine Auszeit in den Bergen zu nehmen. Zeitgleich ist dort die Stenotypistin Dolores mit ihrem Chef geschäftlich unterwegs. Durch eine Warnung der örtlichen Polizei, die besagt, dass aktuell Ganoven dort ihr Unwesen treiben, sind sie und ihr Chef besonders vorsichtig. Durch einen Umstand treffen die beiden Geschäftsreisenden die beiden Urlauber Godwin und Blattner. Durch den beeindruckenden Gesang Godwins, verliebt sich die mit romantischen Gefühlen besonders gesegnete Dolores in ihn und folgt den beiden nun auf Schritt und Tritt. Da sie zudem denkt, auf die beiden Ganoven gestoßen zu sein, vor denen sie die Polizei gewarnt hat, erfährt die Situation für sie einen zusätzlichen, besonderen Reiz, denn nun denkt sie, dass sie mit den beiden mutmaßlichen Ganoven, gemeinsam auf der Flucht vor der Polizei ist.
Three Scottish officers, including Sir Archi, murder Sir Arne and his household for a coffin filled with gold. The only survivor is Elsalill, who moves to relatives in Marstrand. There she meets a charming young officer - Sir Archi, and she soon understands that he was one of the murderers. She is in a classic dilemma between her love for Sir Archi and justice.
Rittmeister von Brenken was severely wounded in the First World War as an officer in the German Army. Since then, he's been lame. His dream is to ride horses again and to win a national championship, at any price. With iron will, he begins a hard training and it pays off in the end. He makes a stunning comeback as a sportsrider with his horse Harro. In addition, his friends also help him to save his estate from being auctioned off and he later ends up taking the Grand Prize for riding in Geneva.
Nationalistisches Drama, dass das wiedererstarkte Deutschland nach dem Ersten Weltkrieg feiert und in der Urfassung mit antisemitischen Tendenzen durchsetzt ist. Rittmeister von Brenken wurde als Offizier im Ersten Weltkrieg schwer verwundet und ist seither gelähmt. Dass sein Gut hoch verschuldet ist, kümmert ihn weniger: Er will wieder reiten, Turniersiege erringen, um jeden Preis. Mit eisernem Willen beginnt er ein hartes Training, und der Erfolg gibt ihm recht. Auf seinem Pferd Harro gelingt ihm ein glänzendes Comeback als Springreiter. Freunde helfen ihm, das Gut vor der Versteigerung zu retten, und von Brenken gewinnt den Großen Preis von Genf .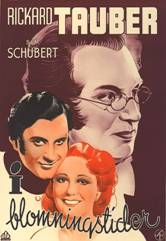 TWO FILM DVD: BLOSSOM TIME (1934) + MOULIN ROUGE (1934)
BLOSSOM TIME (1934): The film spotlights famed composer Franz Schubert, who loves a woman from afar. He stands by in quiet desperation, as his beloved is married to a dashing military officer, then pours his sorrow (and his love) into his work.
MOULIN ROUGE (1934): A singer marries a famous composer and after a while, she gets the itch to go back onto the stage. However, her husband won't let her. When she hears that a popular French singer named "Raquel" is coming to New York, she decides to go to Raquel with a plan (but unbeknownst to her husband, "Raquel" is actually her sister, and her plan is for them to switch places so she can fulfill her dream of returning to the theater). However, things don't go quite as planned.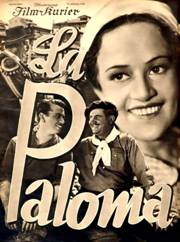 LA PALOMA – EIN LIED DER KAMERADSCHAFT (1934)
The sailor Fernando returns to his Spanish home after three years at sea and discovers, that the love of his life is now engaged to one of his friends, Alfredo, who, in turn, risks his life to save Fernando during a blasting operation. As thanks and in memory of their past friendship, Fernando decides to forego his personal happiness and returns to the sea once more.
Der Matrose Fernando kehrt nach drei Jahren in seinen spanischen Heimatort zurück und muss erfahren, dass seine Jugendliebe mit einem Freund von ihm, Alfredo, verlobt ist, der wiederum Fernando unter Einsatz seines Lebens während einer Sprengung rettet. Als Dank und aus alter Freundschaft verzichtet Fernando auf sein persönliches Glück und zieht wieder aufs Meer hinaus.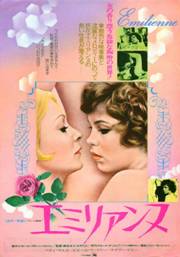 EMILIENNE (1975) * with switchable English subtitles *
A female artist is having an affair with a married man. He won't leave his wife, so she decides to meet her. However, she ends up liking and seducing the introverted wife, so they enter a ménage à trois. The wife explores her lesbian side.
Simon Gigl wins the gold medal at the Neukirchen village festival for his breeding bull "Herodes". Nevertheless, he isn't happy. He's long been interested in charming Urschi, but she's married to Lorenz Holler. Luckily, Alisi Resch will help things along. She gets Simon and Lorenz drunk to bring about an exchange: Urschi will spend eight days cooking for Simon; and Lorenz will get the prize-winning bull. (It's a toss-up as to who got the better part of the bargain).
Simon Gigl gewinnt auf dem Neukirchener Dorffest für seinen Zuchtstier "Herodes" die goldene Medaille. Glücklich ist er dennoch nicht. Er hat schon lange ein Auge auf die bezaubernde Urschi geworfen, doch diese ist ja leider mit Lorenz Holler verheiratet. Die schlitzohrige Alisi Resch hilft dem Schicksal nach. Sie macht Simon und Lorenz betrunken, um sie zu einem Tauschhandel zu überreden. Während Urschi für Simon acht Tage kochen soll, bekommt Lorenz indes den preisgekrönten Bullen.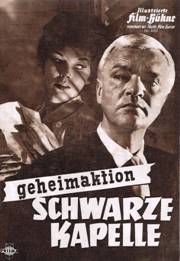 GEHEIMAKTION SCHWARZE KAPELLE (1959) * with switchable English subtitles *
A secret group of Germans make contact with the Vatican in 1940 in the hope of preventing a widening of the conflict in Europe. The middleman is the journalist Golder. The Nazis get wind of the plan and send a pretty agent to keep an eye on Golder.
Ein deutscher Geheimbund versucht 1940 durch Kontakte zum Vatikan, die Ausweitung des Zweiten Weltkriegs zu verhindern. Mittelsmann ist der Journalist Golder. Die Nazis kriegen Wind von der Sache und setzen eine schöne Agentin auf Golder an.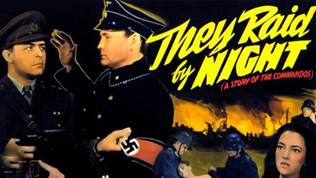 TWO FILM DVD: ON APPROVAL (1944) + THEY RAID BY NIGHT (1942)
ON APPROVAL (1944): Two wealthy Victorian widows are courted tentatively by two impoverished British aristocrats. When one of the dowagers suggests that her beau go away with her for a month to see if they are compatible, the fireworks begin.
THEY RAID BY NIGHT (1942): British Commando Bob Owen is sent to Norway to lay the groundwork for a raid. His mission also includes freeing General Hedenwho is being held by the Nazis. His aides include Eric Falken and Harry. Inga, a Norwegian girl to whom Falken was once engaged but who has become the sweetheart of Oberst Von Ritter, is going to be more than a handful during this dangerous mission.
A young man gathers a group of friends and adventurers to help battle an evil sultan.
.
.
..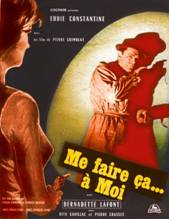 ME FAIRE CA A MOI (1961) * with dubbed English *
Eddie MacAvoy is contacted by the security services for a delicate mission. He knows it's risky; but the $5,000,000 he's been offered, as well as the opportunity to rehabilitate himself, is not negligible. His latest story has given him a notorious reputation both in gangster as well as police circles. He'll have to work hard to go unnoticed as he finds a safe place for the microfilm he's got hidden in a cigarette. On a boat in pursuit of his mission, he's already being closely monitored. Fortunately, he's able to find some solace from charming Annie, who also seems to be the object of pursuit by these mysterious characters.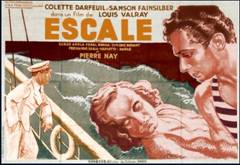 TWO FILM DVD: ESCALE (1935) + MURDER ON A HONEYMOON (1935)
ESCALE (1935):
An officer of a passenger ship falls in love with the mistress of a Marseille racketeer, with unexpected results.
MURDER ON A HONEYMOON (1935):
Hildegarde Withers flies to Catalina for a holiday, but on reaching the Island one of the passengers is found to have been murdered. She wires Inspector Piper in New York for assistance and together they attempt to solve the mystery.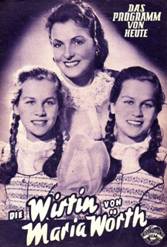 DIE WIRTIN VON MARIA WORTH (1952)
A mysterious stranger by the name of Fred Miller arrives at Lake Worthersee. He's supposedly looking for a girl --- on behalf of his boss, no less --- who best resembles Venus de Milo's dimensions. It's decided to hold a beauty contest to net the victim; but before this can happen, Fred falls head over heels with the pretty landlady, Franzi.
Ein geheimnisvoller Fremder namens Fred Miller kommt an den Wörthersee. Er soll ein Mädel finden, das den Maßen der Venus von Milo am ehesten entspricht, für seinen amerikanischen Chef. Bevor es jedoch zum entscheidenden Schönheitswettbewerb kommt, verliebt sich Fred in die hübsche Dorfwirtin Franzi.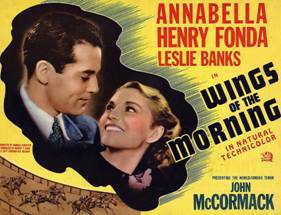 TWO FILM DVD: DON'T TURN 'EM LOOSE (1936) + WINGS OF THE MORNING (1937)
DON'T TURN 'EM LOOSE (1936): A conscientious attorney who is a member of the State Parole Board, finds his own son, using an alias, up for parole and makes the decision to cast the approving vote. This turns out to cause many problems for the family, and the father has to make another hard decision.
WINGS OF THE MORNING (1937): The story begins in 1889 with the impetuous love of an Irish nobleman for a fiery Romany Gypsy princess, Maria. The couple marry against social conventions in both communities, but he dies shortly afterward in a riding accident. Maria leaves the estate and goes to Spain with a Gypsy caravan. The story continues 50 years later when Maria and her granddaughter return to Ireland.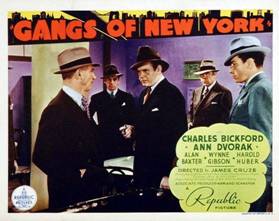 TWO FILM DVD: THE HOLY TERROR (1937) + GANGS OF NEW YORK (1938)
THE HOLY TERROR (1937): Jane is the daughter of an officer in the Naval Air Service who, while putting on musical shows for the troops, uncovers a group of spies.
GANGS OF NEW YORK (1928): Undercover cop Rocky Thorpe infiltrates a crime syndicate being run by incarcerated mob boss John Franklin. Franklin conducts his business via a short-wave radio concealed in his cell. One day, Franklin is caught and placed in solitary confinement. Thorpe, Franklin's physical double, takes his place. Soon changes in the gang's activities are subtly made. Thorpe orders the mob to keep careful records of their activities, to gather enough evidence to convict them all. Trouble ensues when Franklin escapes from jail.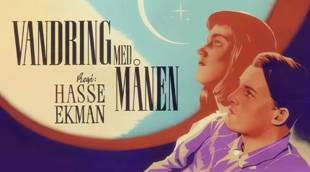 WANDERING WITH THE MOON (1945) * with switchable English and Swedish subtitles *
A young man, Dan, leaves his home after a quarrel with his father. He starts to wander along a country road. During his walk, he meets a travelling theatre company and falls in love with a young actress, Pia. Together they leave the theatre company, meeting a string of different people while they ponder over life and love together.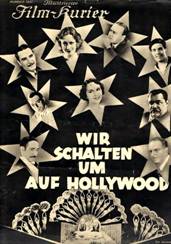 WIR SCHALTEN UM AUF HOLLYWOOD (1931)
We're off to Hollywood is a revue film from the year 1931. It was produced by MGM specifically for the German market and uses passages from The Hollywood Revue of 1928 as well as surviving fragments of the film The March of Time. Paul Morgan is the inventor of the first acoustic-optical, wireless pocket transmitter and goes to Hollywood to test the invention as a kind of radio report to Europe. But since he can't speak a word of English, he's thrilled to make the acquaintance of Grand Duke Karl Peter Friedrich zu Weidlingau-Hadersbachen, who is an extra in MGM films. He becomes his constant companion. The two of them interview various celebrities and eavesdrop on a few biggies at work in Culver City.
Wir schalten um auf Hollywood ist ein Revuefilm aus dem Jahr 1931. Er wurde von MGM speziell für den deutschsprachigen Markt produziert und verwendet Passagen aus The Hollywood Revue of 1929 sowie dem fragmentarisch gebliebenen Film The March of Time. Paul Morgan kommt als Erfinder des ersten akustisch-optischen, drahtlosen Taschensenders nach Hollywood, um damit von hier eine Reportage nach Europa zu senden. Da er kein Wort Englisch spricht, ist er froh, die Bekanntschaft des Großherzogs Karl Peter Friedrich zu Weidlingau-Hadersbach zu machen, der bei Metro-Goldwyn-Mayer Statist ist. Er wird dessen ständiger Begleiter. So interviewen beide verschiedene Prominente und belauschen einige Größen bei ihrer Arbeit in Culver City.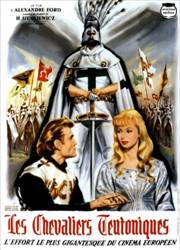 KRZYZACY (1960) * with switchable English subtitles *
Knights of the Teutonic Order is based on the novel Krzyżacy by Henryk Sienkiewicz and is faithfully reproduced on film with only minor changes to the story. Juranda of Spychow is treacherously attacked by the Teutonic Knights from Szczystno, led by the cruel commander Siegfried de Lowe. Parallel to this story is the romance between Zbyszko and Danusia Jagienka. The film's climax is the Battle of Grunwald, which led to the humiliating defeat of the Teutonic Order. Juranda, for his part, isn't exactly having a fun time of it all: he's already lost an eye in the battles with the Knights for his own land; during their treacherous attack on Spychow, he also loses his wife. To protect his daughter Danusia from a similar fate, he sends her to the court of the Duke of Mazovia.
Aging coach drive Gustav Hartmann finds himself pushed aside by the newly invented automobile and decides to drive his coach from Berlin to Paris. Neither weather nor sickness can stop him. Accompanied by a reporter, he soon becomes a celebrity. Cities and villages give him an enthusiastic welcome. But when he gets to Paris, it seems no one can be bothered to acknowledge his existence anymore. Why? Because the transatlantic flier Lindbergh has just landed and France and is now the toast of the continent.
Der alternde Droschkenkutscher Gustav Hartmann sieht sich durch die neuen Automobile ins Abseits gedrängt und beschließt, mit seiner Kutsche von Berlin nach Paris zu fahren. Weder Wetter noch Krankheit können ihn aufhalten. Begleitet von einem Reporter wird er langsam zur Berühmtheit. Städte und Dörfer bereiten ihm einen begeisterten Empfang. Als er jedoch in Paris ankommt, scheint sich niemand mehr für ihn zu interessieren. Alles redet nur noch von dem Atlantikflieger Lindbergh, der gerade gelandet ist.
Princess Christine zu Schenckenburg-Nurtlingen is to become engaged to the Reichsgraf von Hohenegg in line with familial advice. This arrangement came into being thanks to Archbishop Benedict, who was friends with the princess' mother in earlier times. And it is for this purpose, that the princess now travels with her mother to Bad Ischl, where her designated husband is whiling away the time with the Archduke, who is to open the annual "Emperor's Ball" on behalf of His Majesty. However, the princess ends up falling in love with the Prussian Count Nicolaus von der Grzen, a close friend of Reichsgraf von Hohenegg, who likewise is whiling away the time in Bad Ischl with one of his buddies . And just as Christine falls in love with Count von der Gorzen, so the Reichsgraf falls in love with another woman … a common seamstress from Vienna.
Prinzessin Christine zu Schenckenberg-Nürtlingen soll sich gemäß dem Familienrat mit dem Reichsgraf von Hohenegg verloben, eine Verbindung, welche durch Vermittlung des Erzherzogs Benedikt zustande gekommen ist, der in früherer Zeit mit der Mutter der Prinzessin befreundet war. Zu diesem Zweck reist sie mit ihrer Mutter nach Bad Ischl, wo ihr designierter Ehemann mit dem Erzherzog weilt, da dieser in Vertretung für seine Majestät den jährlichen "Kaiserball" eröffnen soll. Allerdings verliebt sie sich dort in den preußischen Grafen Nicolaus von der Görzen, der mit seinen Freunden ebenfalls in Ischl weilt und ein enger Freund des Reichsgrafen von Hohenegg ist. So wie sich Christine in den Grafen von der Görzen verliebt, so verliebt sich auch der Reichsgraf in eine andere Frau - in eine Näherin aus Wien.
Thank you and the best to all of you,
RAREFILMSANDMORE.COM