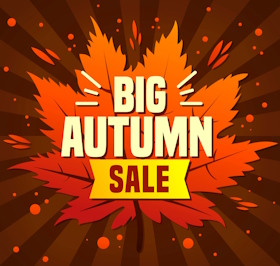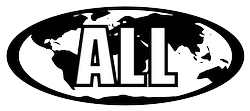 Our DVDs are "all regions"
and will play in any DVD player

FRESH TITLES ARE HIGHLIGHTED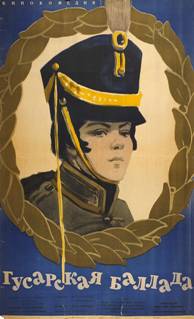 HUSSAR BALLAD (1962) * with hard-encoded English subtitles *
A young girl decides to join a Husar squadron and fight against Napoleon. Dressed as a man, she has a hard time adjusting to the rude and crude lifestyle of her fellow soldiers.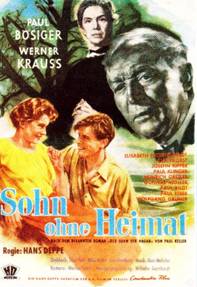 SOHN OHNE HEIMAT (1955) * with switchable English subtitles *
Poor, itinerant musician Robert was born out of wedlock, his mother dying as she gave birth to him. When he takes up work at the farmer Hartmann's place, he discovers that the man is his father. Because Robert's mother was chased off the farm when the boy was born, the absentee father now wants to make things right and decides to make the boy his sole heir. But when Hartmann drops dead, Robert turns over the farm to his half-brother, so that he --- also the father of a bastard --- can marry the mother of the child and raise it in its own home.
Der arme Wandermusikant Robert wurde unehelich geboren, seine Mutter starb bei der Geburt. Als er eines Tages an den Hof des Bauern Hartmann kommt, um dort zu arbeiten, erfährt er zu seiner Überraschung, dass Hartmann sein leiblicher Vater ist. Da Roberts Mutter damals vom Hof gejagt wurde, möchte der Vater das begangene Unrecht wiedergutmachen und setzt Robert als seinen Alleinerben ein. Als Hartmann tatsächlich stirbt, verzichtet Robert jedoch zugunsten des Stiefbruders auf sein Erbe, damit dieser, der ebenfalls Vater eines unehelichen Kindes ist, die Mutter heiraten kann.
In 1220, a small band of English crusaders arrives at Samarkand in Central Asia, just as the city and its ruling princess are being threatened by the hordes of Genghis Khan. Lovely Princess Shalimar hopes to thwart the conqueror by guile, while Sir Guy wants to put up a brave (if ultimately hopeless) fight. Despite a mutual attraction, their conflicting projects threaten any hope of success either might have had alone.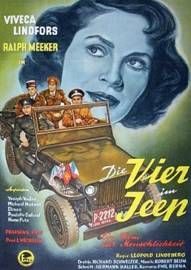 In post-war Vienna, occupied by the Allies, four sergeants representing each of the occupying nations (USA, England, France, Soviet Union) patrol in the same Jeep. One day, they are given the mission to capture a man who has run away from a Soviet POW camp. But when they learn the truth about Karl, the runaway, and Franziska, his wife, they decide to help him instead. The Soviet sergeant in the group, however, is held on a short leash by his superiors. He has strict orders not to let the fugitive slip away and he comes into conflict with his fellow military policemen. In these conditions, will Karl and Franziska be reunited and live free again?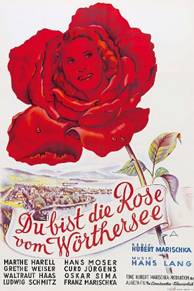 DU BIST DIE ROSE VOM WORTHERSEE (1952)
Jack Long is a successful Broadway composer. The dancer Kate will be playing the main role in his latest show. The two of them get to know one another and fall in love. While exchanging information, they find out they're both from Austria. Plagued by homesickness, they decide to leave the United States and return to Corinthia. They won't be able to leave together, however, as Jack must first go to Germany on business, and Kate has to visit her widowed sister at Lake Worther. The sister runs a hotel there, The Karawankenblick. And when Kate decides to introduce Jack as her fiancee, the excrement hits the fan! Wouldn't you just know that the sister was once in a relationship with him and daddy hated his guts?
Jack Long ist ein erfolgreicher Musiker am Broadway; die Tänzerin Kate spielt in seiner neuen Show die Hauptrolle. Sie lernen sich kennen und lieben, wobei sich herausstellt, dass beide aus Österreich stammen. Geplagt von Heimweh verlassen sie die USA, um gemeinsam in ihre Kärntner Heimat zurückzukehren. Dann trennen sich ihre Wege jedoch vorerst, da Jack geschäftlich nach Deutschland reist und Kate zu ihrer verwitweten Schwester Rose an den Wörthersee. Rose betreibt dort das Hotel "Karawankenblick". Als Kate einige Tage später ihrer Familie Jack als Verlobten vorstellt, ist der Skandal perfekt. Es stellt sich heraus, dass Jack einst mit Rose liert war und von ihrem Vater Ferdinand nicht geduldet wurde.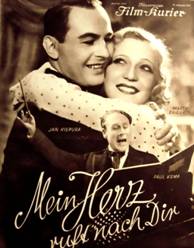 MEIN HERZ RUFT NACH DIR (1934) * with switchable English subtitles *
This is the first film, in which the future married couple Jan Kiepura and Marta Eggerth starred together: Director Rose is traveling with his operatic ensemble from South America to Monte Carlo by ship. During the voyage over, the young tenor Mario Delmonti discovers the stowaway Carla. Without further ado, he decides to use his singing voice to gather enough money together to get her a ticket. While Mario and Carla get closer, Rose gets a telegram cancelling the troupe's performance in Monte Carlo. After arriving there, however, Delmonti and Rose try to convince the director, Arvelle, to change his mind about cancelling their appearance. In the end, the entire ensemble will appear outside the city's opera house and perform its own version of "Tosca". When the paying guests desert the same opera being performed inside the opera house to hear Delmonti sing outside on the street, Arvelle gives in. The group is hired and Carla and Mario fall happily into each other's arms.
Der erste gemeinsame Film der späteren Ehepaars Jan Kiepura und Marta Eggerth: Direktor Rosé reist mit seinem Opernensemble per Schiff von Südamerika nach Monte Carlo. Während der Überfahrt entdeckt sein junger Tenor Mario Delmonti die blinde Passagierin Carla. Kurzerhand entschließt er sich, mit seinem Gesang Geld für eine Fahrkarte zu sammeln. Während Mario und Carla sich näher kommen, erhält Rosé eine telegrafische Absage des Engagements. In Monte Carlo angekommen, versuchen Delmonti und Rosé, den Intendanten Arvelle umzustimmen. Schließlich tritt das gesamte Ensemble vor dem Opernhaus auf und inszeniert seine Version von "Tosca". Als die zahlenden Gäste in Scharen die laufende Vorstellung verlassen, um auf der Straße Delmontis Stimme zu hören, gibt Arvelle nach. Die Gruppe wird engagiert, und Carla und Mario fallen sich glücklich in die Arme.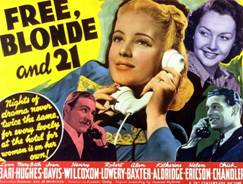 TWO FILM DVD: THREE SILENT MEN (1940) + FREE, BLONDE, AND 21 (1940)
THREE SILENT MEN (1940): Foreign scientist is selling a secret weapon to the British. He is badly injured in a car accident and is operated on by a surgeon, after the operation he dies mysteriously. An investigation follows.
FREE, BLONDE, AND 21 (1940): Jerry Daily and Carol Northrup are residents of a New York City hotel for women. Jerry fakes a suicide because her married lover spurned her. At the hospital, administrator Dr. Hugh Mayberry takes a liking to Carol, while young surgeon Dr. Steve Greig falls for Jerry. Carol and Hugh hit it off and end up marrying. Jerry, however, two-times Steve with a gangster, Mickey Ryan, who robs and murders a tavern owner and is wounded in the process.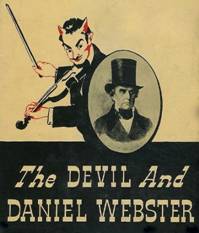 THE DEVIL AND DANIEL WEBSTER (1941) * with switchable English subtitles *
A nineteenth-century New Hampshire farmer makes a pact with Satan for economic success, then enlists famed orator Daniel Webster to extract him from his contract.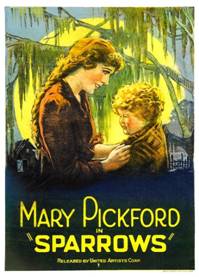 Evil Mr.Grimes keeps a rag-tag bunch orphans on his farm deep in a swamp in the US South. He forces them to work in his garden and treats them like slaves. They are watched over by the eldest, Molly. A gang in league with Mr. Grimes kidnaps Doris, the beautiful little daughter of a rich man, and hides her out on Grimes' farm, awaiting ransom. When the police close in, and Mr. Grimes threatens to throw Doris into the bottomless mire, Molly must lead her little flock out through the alligator-infested swamp.
Wiesneck is an employee of a chemical factory and, along with his friend Tim, is trying to discover the secret behind a new invention. For that reason, he visits the lab technician Inge Flint one evening. While they're talking, a woman is murdered near his apartment. Wiesneck is suspected of the crime, but can't provide an alibi. The police find the murderer: a man, who wanted to dump his lover. But in doing so, the police also manage to discover Wiesneck and Tim's machinations and the two are convicted of espionage.

Wiesneck, Angestellter einer chemischen Fabrik, versucht mit seinem Freund Timm hinter die Geheimnisse einer neuen Erfindung zu kommen. Aus diesem Grund besucht ihn am Abend die Laborantin Inge Flint. Während sie sich unterhalten, wird in der Nähe seiner Wohnung eine Frau ermordet. Wiesneck wird verdächtigt, kann sich aber entlasten. Die Polizei findet den Mörder: einen Mann, der seine Geliebte loswerden wollte. Gleichzeitig kommt die Polizei aber auch hinter die Machenschaften von Wiesneck und Timm, und beide werden der Werkspionage überführt.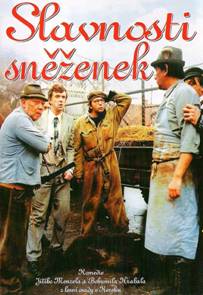 THE SNOWDROP FESTIVITIES (1983) * with switchable English subtitles *
An insight into the many ordinary and eccentric lives of the villagers of Kersko and the visitors from nearby Prague who escape city life there on the weekends. The movie begins with a group of men on their bicycles leaving the local pub. They are drunk and happy, singing songs as they leave together to their houses. On the road, they come across the local policeman who removes the valves from their cycles and asks them to walk home as they are drunk. Their happiness disappears, the singing stops and they walk home. Morning we see a hungover guy who is bossed around by his wife and daughter. He doesn't feel like staying home and wants to go out. He never speaks against them, but always murmurs when he is told to do something. There is a group of people who seem very polished and educated. They stand out from the rest of the characters with their philosophical thoughts and discussions. The local inn keepers, a couple, can't seem to keep their hands off of each other. But the story really comes to life when two young men who work in the fields see a pig and try to hunt it down.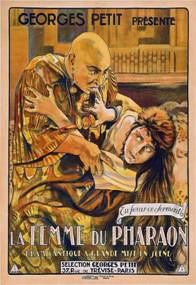 THE LOVES OF PHARAOH (1922) * with hard-encoded English subtitles *
The Ethiopian King Samlak offers his daughter Makeda to the powerful Pharaoh Amenes, in order to secure peace between the two countries. What was intended as a political move ends as a debacle. Instead of Makeda, Amenes chooses Samlak's beautiful slave girl, Theonis. Nevertheless, Amenes cannot secure the love of Theonis, as she is in love with a young Egyptian, Ramphis. Having suffered humiliation, the Ethiopians declare war on Egypt. Amenes is injured in a battle and perishes - but only seemingly. The happy union between Theonis and Ramphis is in peril when Pharaoh Amenes returns to claim his wife and his throne.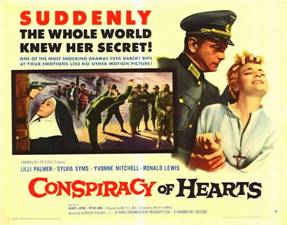 CONSPIRACY OF HEARTS (1960) * with switchable Spanish subtitles *
1943, Italy: Jewish children have used the chaos of the Allied invasion of Italy to escape from a concentration camp. To forestall the Allied advance, the Germans have marched into Italy and the camp is now run by a Wehrmacht colonel and his sadistic lieutenant. When the colonel and lieutenant threaten to execute some of the nuns, including Mother Katharine, for helping the Jewish children, it will be seen whether faith can save all involved.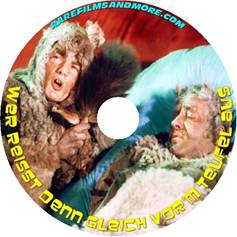 THE DEVIL'S THREE GOLDEN HAIRS (1977) * with switchable English subtitles *
Jakob is a klutz! He's completely useless as a blacksmith's apprentice and constantly trips over his own two feet. He even manages to stumble into and disrespect the village tax collector, who's robbing the peasants blind of their last coins for a robber tax (even though anyone has yet to see a robber anywhere!). The peasants thus decide, that if the king insists there are robbers, he's going to get them, because the peasants are going to start robbing. The king pays a visit to the village and is met by thrown stones. In the meantime, the blacksmith tells Jakob to go to Hell, because he's not good for anything else. As he walks through the forest after leaving town, Jakob runs into the royal party and almost sets their tents on fire. The drunk king decides Jakob must be one of the dangerous robbers and appoints him "royal messenger" to bring a message to the castle. While on his way to the castle, Jakob runs into the robbers, who take the royal message from him. When Jakob doesn't know is that the message states he's a dangerous robber, who should be hanged. The robbers, however, alter the letter ... to read that Jakob should marry the king's daughter!
Jakob ist ein Tollpatsch: Als Schmiedgehilfe taugt er nichts und fällt sogar über seine eigenen Beine, tritt dem Steuereintreiber seines Dorfes jedoch respektlos-unbekümmert entgegen. Der presst die letzten Gelder aus den Bauern und deklariert die Abgabe als Räuberschutzgeld, obwohl niemand je Räuber gesehen hat. Die Bauern entscheiden daher kurzerhand, das Fach zu wechseln und von nun an als Räuber unterwegs zu sein. Den König, der seine Untertanen im Dorf besucht, empfangen sie mit Steinwürfen. Jakob hingegen schicken sie zum Teufel, da er sie mit seiner Ungeschicktheit verrückt macht. Im Wald wiederum fällt Jakob dem König unangenehm auf, weil er unter anderem schusselig Teile des Waldes in Brand steckt. Der stets betrunkene König schickt Jakob, in dem er einen gefährlichen Räuber vermutet, als "königlichen Postboten" mit einer Nachricht zum Schloss. Jakob trifft unterwegs auf die Bauern, die inzwischen Räuber sind und ihm seinen Brief abnehmen. Der besagt, dass Jakob unverzüglich als gemeingefährlicher Räuber erhängt werden soll – die Räuber schreiben ihn kurzerhand um, sodass Jakob nun zum zukünftigen Ehemann der Prinzessin bestimmt wird.
What is the difference between a "broiler" and a small hen? Why is it called so "over there"? And how did it make it past the Iron Curtain into the stomachs of the Genossen? And what were those comrades thinking of with the names "Ketwurst" and "Grilletta"? Why was the coffee-mix popularly known as "Erichs Kroenung"? A matter of state security? And why did the best bananas go to the politicians and the monkeys in the zoos? This DVD answers such burning questions and other delicate BRD-DDR questions (or should that be "delicatessen?"). The authorities of the DDR were only somewhat successful in providing full tables for its citizens; but somehow, the simple people in East Germany always seemed to know where to go to get food and when. Or if even certain foods could be had: like tropical fruit and real coffee, for example: real rarities. In this DVD, people from all walks of life remember what food was like through four generations of socialism on German soil. How did they eat? Or did "social equality" exist only in talk, with the hungry socialist man looking yearningly to the Golden West for that Weissewurst and Beer?
In his wanderlust, Joe Cullen moves from the US to South America to work in a mining camp, leaving behind his wife Julie and their infant daughter, Ellen Mary. After Joe stops writing and sending money, Julie, not expecting Joe ever to return, files for divorce, and moves with Ellen Mary to the town of Howard to start life anew. Among the people she meets and befriends coworker Frank Richards. The friendship with him slowly blossoms into romance. Despite some opposition from his parents, especially his father, Frank and Julie get married. After Julie and Frank have a child of their own, Joe, four years after his departure, returns, wanting to reestablish a relationship of sorts with his daughter. After Joe sees Julie's new life, he to sue for full custody of their child. And given whom she's married, Joe is convinced he'll easily win custody.
ANCORA DOLLARI PER I MACGREGOR (1970)
A homicidal bounty hunter jeopardizes the safety of his wife to use her as a decoy to distract wanted felons.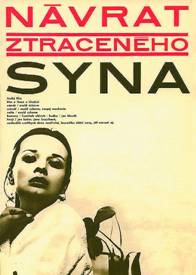 THE RETURN OF THE PRODIGAL SON (1967) * with switchable English subtitles *
Engineer Jan Sebek is undergoing treatment in a mental home after his unsuccessful attempt to commit suicide. His therapist, via discussions both with the patient and with people who know him, tries to find out what made the young and seemingly satisfied man decide to end his own life. Jan's pretty wife Jana claims not to know anything, but she is conducting an affair with a family friend, almost publicly, and with the blessing of her parents.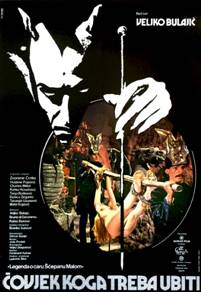 THE MAN TO DESTROY (1979) * with switchable English subtitles *
After the murder of the Russian Emperor Peter III, who was succeeded by Empress Catherine, Satan decides that the balance between good and evil on Earth has been destabilized. In order to set things right, he sends his representative to Earth - the teacher Farfa, who bears an unusual resemblance to Peter III. His mission is to seize power from the old Duke of Montenegro, and then to take back the Russian throne as Peter III. The people of Montenegro accept Farfa as their new leader, and he proclaims himself the new Emperor, Scepan Mali.
LA NAVE BIANCA (1941) * with switchable English subtitles *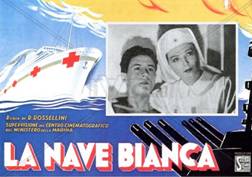 During the Second World War, the sailors onboard a battleship of the Royal Italian Navy maintain a regular correspondence with female penpals. The stoker Augusto Basso exchanges his letters with a young woman named Elena, a teacher in an elementary school. Elena has split a medal into two halves, keeping hers and sending one to the young seaman. The two are to meet for the first time at a train station in Taranto; but just as Augusto is to go on leave, the ship suddenly sails off to take part in the naval battles at Calabria and Capo Teulada. During the battle, many sailors are wounded, including Augusto, who must undergo surgery. He is transferred to the hospital ship "Arno" and entrusted to the care of volunteer nurses ... one of whom just happens to be Elena.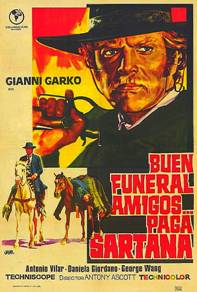 HAVE A GOOD FUNERAL, MY FRIEND. SARTANA WILL PAY (1970) * with switchable English subtitles *
After witnessing the massacre of Joe Benson and his band of prospectors, Sartana is ready to do some investigating as to why the murders happened. However, since almost everyone in the town of Indian Creek is eager to buy up the dead men's lands, there's a long list of suspects, including the town banker, a female saloon owner and the owner of the local casino. Even the local sheriff and the dead prospector's niece, who now owns the land, can't be ruled out; and the closer Sartana gets to the truth, the more attempts are made on his life.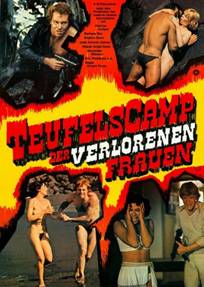 THE ANGEL AND THE BEASTS (1978)
Tom takes a scenic flight with his nymphomaniac lover. What seems like a nice trip to dizzying heights is, however, merely a prelude to a common crime - an attempted murder. That's because Tom wants to get rid of Susi and has monkeyed around with her parachute. Flying over an island, Tom fakes an engine failure. He gives Susi the rigged parachute and throws her out of the plane, hoping to kill her that way. But he gave her the wrong parachute! Hers opens properly and the young woman lands safely on a fantastically beautiful beach. But as soon as she arrives on land, she is captured by four fugitve gangsters, who promptly take her prisonere. These people, two women and two men, are kidnappers who are holding a banker's son for ransom.
Tom macht mit seiner nymphoman veranlagten Geliebten einen Rundflug. Was wie ein hübscher Ausflug in luftige Höhen anmutet, ist jedoch lediglich das Präludium zu einem gemeinen Verbrechen, einem Mordversuch. Denn Tom will Susi loswerden und hat deshalb ihren Fallschirm manipuliert. Als man über eine Insel fliegt, täuscht Tom einen Motorschaden vor. Er gibt Susi den manipulierten Fallschirm und wirft sie aus dem Flugzeug, in der Hoffnung, sie so umbringen zu können. Doch der Schurke hat ihr den falschen Schirm umgeschnallt. Ihrer öffnet sich jedenfalls ordnungsgemäß, sodass das junge Mädchen heil auf der Erde an einem traumhaft schönen Strand landet. Doch dies nützt ihr nicht viel, denn kaum unten angekommen, gerät sie in die Fänge von vier flüchtenden Gangstern, die sie prompt als Geisel nehmen. Diese Personen, zwei Frauen und zwei Männer, sind Kidnapper, die den Sohn eines Bankiers festhalten, um Lösegeld zu erpressen.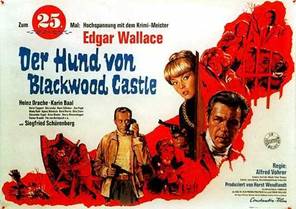 DER HUND VON BLACKWOOD CASTLE (1968) * with switchable English subtitles *
Blackwood Castle, a rundown burg in the foggy swamps near London. Here, Captain Wilson, master of the castle, has croaked. His daughter Jane arrives at the estate to claim her inheritance, but things just ain't right at the ol' pile of rocks. The attorney handling the estate is acting bizarre, even for a lawyer. He wants Jane to sign some document to sell the castle without even giving her a chance to take her coat off! Then other strange people show up and it seems they're all searching for something. But, one by one, they all fall victim to some unseen, vicious dog, which "hounds" the guests of the local inn late at night. Jane calls Sir John of Scotland Yard for help. And in spite of the fact the detective can't find his way out of a paper bag, he makes some interesting discoveries in the spooky citadel (or, to be more accurate, his secretary --- playing the amateur sleuth --- shows the veteran detective how it's done).
Blackwood Castle, ein Schloß in der nebeligen Moorlandschaft nahe London. Hier ist der Hausherr Kapitän Wilson gestorben. Seine Tochter Jane reist an, um ihr Erbe anzutreten, doch es geht auf dem Schloß nicht mit rechten Dingen zu. Der Anwalt des Kapitäns verhält sich sehr verdächtig. Jane soll undurchsichtige Dokumente unterschreiben. Andere seltsame Bekannte tauchen auf und scheinen etwas Bestimmtes zu suchen. Sie werden das Opfer eines blutrünstigen Riesenhundes, der nachts auf Menschenjagd geht. Jane ruft Sir John von Scotland Yard zur Hilfe, der eine interessante Entdeckung macht.
Chung Yao, a martial arts expert, has long been on the run from his stepbrother, whom he caught trying to rape his wife on their wedding night. His brother has never given up the chase however, and Chung Yao lives in constant fear that the vengeful stepbrother will murder him and his wife.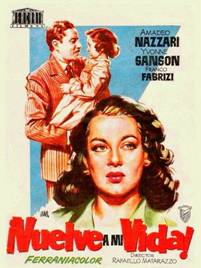 TORNA (1954) * with switchable English subtitles *
Cousins James and Robert are in love with Susanna. When Robert and Susanna announce their engagement, James vows to ruin their happiness.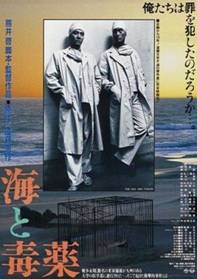 THE SEA AND POISON (1986) * with switchable English subtitles *
The movie (sometimes graphically) describes the use of eight downed American fliers as subjects of experimental surgical techniques at Kyushu University's medical school and hospital in the summer of 1945, in the course of which all eight prisoners were murdered. Rather than deal with the surgeons involved, the movie focuses on two interns and two nurses. Suguro is the younger intern and the most self-flagellated of the group, eventually so horrified that he can't continue to participate once the operation begins. Toda is a more hardened intern and more cynical about both the war and about medical practice in general. Ueda is a young nurse who decides to join for complex personal reasons, while the head nurse Oba holds to the idea that, for a nurse, the doctors can do no wrong.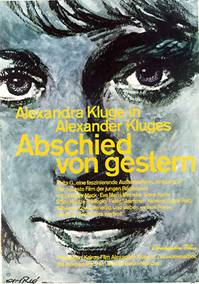 ABSCHIED VON GESTERN (1966) * with switchable English and Spanish subtitles *
Anita G., Jüdin, ist von "drüben" in den Westen gekommen. Mit ihrem Koffer in der Hand lernt sie bei Begegnungen mit seltsamen Menschen ein seltsames Land kennen: die BRD des Jahres 1966. Der "Abschied von gestern", den Alexander Kluges Spielfilmdebut formuliert, ist historisch keine leichte Sache, selbst wenn man an die "Stunde Null", die "Gnade der späten Geburt" oder das "Wirtschaftswunder" glaubt. Anita G. aus der DDR, ist die Personifikation dieser verdrängten Vergangenheit, weshalb ihr die Vorraussetzungen fehlen, sich erfolgreich in die bundesdeutsche Gesellschaft einzugliedern. Daß sie aneckt, ist nicht ihre Schuld. Wie sie aneckt, zeigt Abschied von gestern anhand fast schon dokumentar-ischer Szenen, die von einem souveränen Gespür für die grotesken Momente des Alltags zeugen.
Anita G., a Jewess from "over there", has arrived in the West. With suitcase in hand, she has encounters with strange people in a strange land: the Bundesrepublik Deutschland of 1966. "Farewell from Yesterday", Alexander Kluge's film debut, is no easy matter historically, even if one believes in "Zero Hour", the "Mercy of Being Born later" or the "Economic Miracle". Anita G. of the DDR is the personification of this repressed past; a life "over there" which has led to an absence of the required prerequisites to successfully blend into West German society. That she offends isn't her fault. How she offends is shown in almost documentary-like scenes, which testify to the grotesque moments of everyday life in the BRD ... and everywhere else.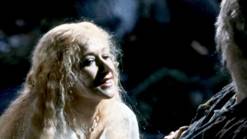 A MIDSUMMER NIGHT'S DREAM (1981) * with switchable English subtitles *
This BBC television production tells the story of the adventures of four young lovers, a group of amateur actors, and their interactions with fairies come to light in a moonlit forest.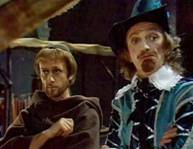 MEASURE FOR MEASURE (1979) * with switchable English subtitles *
When the Duke of Vienna takes a mysterious leave of absence and leaves the strict Angelo in charge, things couldn't be worse for Claudio, who is sentenced to death for premarital sex. His sister, Isabella (a nun-in-training), however, is a very persuasive pleader. She goes to Angelo, but instead of freeing her brother, she gets an offer from Angelo to save Claudio's life if Isabella sleeps with him. The only sympathetic friend Isabella has is a priest who, in actuality, is the Duke in disguise...and he has a plan.
DIE FLEDERMAUS (1946) * In German with no subtitles OR with hard-encoded English subtitles *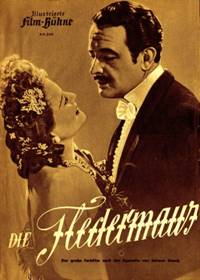 Filmed in the closing days of the Second World War, this 1945 treatment of Johann Strauss' Die Fledermaus is nothing less than a tribute to the technical and innovative genius of the German film industry. While the film is doubtless entertaining, I do not speak of the genius of its director or the actors, but the actual quality of the film: the colors are incredibly vibrant and spectacular; and that is no mean feat for an industry, which -- though often given preferential treatment by Goebbels' Ministry of Propaganda -- was just as much subject to wartime shortages of material as anyone else. Fans of this operetta will not at all be disappointed by the transfer of this story onto film; but even if you're not a fan, the sharpness, clarity and vividness of the production's color photography will satisfy you for sure.
Theaterdirektor Dr. Michael Falke sinnt auf Rache: Der Gefängnisdirektor Frank und Falkes alter Freund Gabriel von Eisenstein hatten ihm während der Fastnacht einen üblen Streich gespielt; dies will er ihnen nun heimzahlen. Gelegenheit dazu bietet ihm der Ball des Prinzen Orlofsky, dessen Feiern wegen der zahlreichen schönen Frauen bei der Männerwelt überaus beliebt sind. Falke lässt Frank und von Eisenstein Karten für den Ball zukommen, wo er schon alles für eine gewitzte Verwicklung vorbereitet hat. Eisensteins Frau nämlich erscheint auf dem Ball in der Maske einer rothaarigen Ungarin, und genau ihr macht Eisenstein unermüdlich den Hof, nicht ahnend, wen er vor sich hat ... Als aber der Bühnenvorhang hochgeht und die neueste Operette von Johann Strauß, "Die Fledermaus", aufgeführt wird, erkennt Eisenstein, dass auf der Bühne fast haargenau die Ereignisse seines bisherigen Abends vorgeführt werden. Während Eisenstein noch über der Lösung dieser rätselhaften Duplizität grübelt, heckt Falke schon den nächsten Streich aus. Dabei geht er allerdings fast zu weit, denn schon bald fordert Eisenstein den Prinzen Orlofsky zum Duell.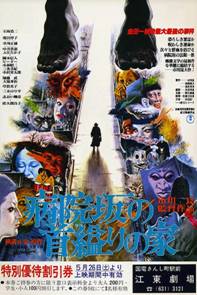 THE HOUSE OF HANGING (1979) * with switchable English subtitles *
Kousuke investigates a murder in a hospital. The murderer leaves misleading evidence to divert Kousuke's attention on the case. Suspicion and doubt clouds Kousuke's mind.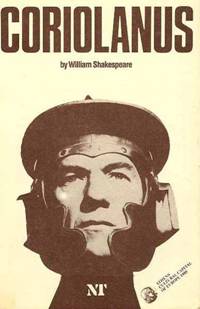 THE TRAGEDY OF CORIOLANUS (1984) * with switchable English subtitles *
The BBC television production tells the story of a banished hero of Rome, who allies himself with a sworn enemy to take his revenge on the city.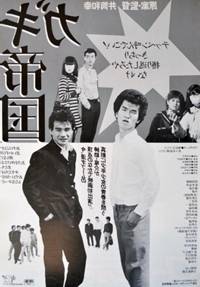 EMPIRE OF KIDS (1981) * with switchable English subtitles *
Following a stint in reform school, Ryu returns to his home, the Minami area of Osaka, accompanied by his friend Ko. He's greeted by his friends, Chabo and Ken. They seek to forge their own path through a multitude of rival gangs.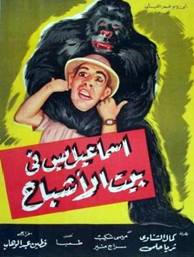 THE HAUNTED HOUSE (1952) * with switchable English subtitles *
In this rarely seen Egyptian comedy classic, Ismail Yassin and his relatives have to spend a month living in a haunted house in order to collect their inheritance. They encounter Gu-Gu the goofy gorilla and an assortment of odd characters and strange occurrences, not to mention the obligatory belly dance routine. Also seen under the international English title 'House of Ghosts,' and directed by Fatin Abdel Wahab, who helmed several other Ismail Yassin films.

BUILD A HOUSE, PLANT A TREE (1980) * with switchable English and Slovak subtitles *
Story about an unconventional man, Jozef Matús. He arrives in a small village in eastern Slovakia to settle down and start a family. He is ready to subordinate everything to that goal. It starts with him stealing building material and ends with him disregarding those close to him to a point where his ambitions are turning against him.
Harold Hall, a young man with little or no acting ability, desperately wants to be in the movies. After a mix-up with his application photograph, he gets an offer to have a screen-test, and goes off to Hollywood. At the studio, he does everything wrong and causes all sorts of trouble. But he catches the fancy of a beautiful actress, and eventually the studio owner recognizes him as a comic genius.
.
.
.
.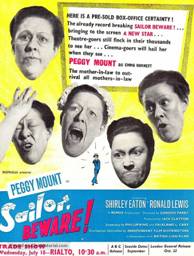 TWO FILM DVD: SAILOR BEWARE (1956) + GHOSTS OF ROME (1961)
SAILOR BEWARE (1956):
Sailor Beware follows the story of a sailor betrothed to be married, but wary that home-life may echo that of her parents: a hen-pecked husband and battle-axe mother.
GHOSTS OF ROME (1961):
Count di Roviano refuses to sell his palace to a developer, despite having no money. He lives with ghosts: Ronaldo, a lady's man; Bartholomew, a friar; Flora, who died in love; and a five year old boy. The Count is blown up by his water heater and joins the ghosts. His nephew Federico inherits the castle and moves in with his girlfriend Eileen, intending to sell it. The ghosts call in an artist friend, Caparra, and try to get him to finish a painting, so the castle is declared a national monument.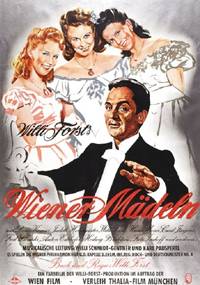 WIENER MADELN (1945) * with switchable English subtitles *
The musician and composer Carl Michael Ziehrer, who by day works in his father's hat shop, gets the opportunity to conduct one of his works in the Diana-Saelen in Vienna. The young siblings Munk and Mizzi make sure there's loud applause. The next evening, he composes the waltz "Wiener Maedeln" and dedicates the work to the ladies. By chance, Ziehrer delivers a hat to Munk's house and meets the oldest sister Klara there for the first time. Ziehrer immediately falls in love with her, but is rejected. At a ball, Ziehrer is supposed to introduce one of his compositions, supported by Klara's singing. Klara shortly announces thereafter that she is engaged to Count Lechenberg.

Der Musiker und Komponist Carl Michael Ziehrer, welcher tagsüber im Hutgeschäft seines Vaters arbeitet, erhält eines Abends Gelegenheit in den Diana-Sälen in Wien seine Kompositionen zu dirigieren. Die jungen Geschwister Munk, allen voran Mizzi, sorgen für einen enormen Applaus. In der folgenden Nacht komponiert er den Walzer Wiener Mädeln (Weaner Mad'ln) und widmet das Werk den Damen. Zufällig muss Ziehrer am nächsten Tag im Hause Munk einen Hut abliefern und begegnet dort erstmals der ältesten Schwester Klara. Ziehrer ist sofort verliebt, wird aber abgewiesen. Bei einem Ball soll er, unterstützt mit Klaras Gesang, eine Komposition vorführen, weigert sich aber nach "Rosen aus dem Süden" von Johann Strauß (Sohn) zu spielen. Klara gibt daraufhin kurzerhand ihrer Verlobung mit Graf Lechenberg bekannt.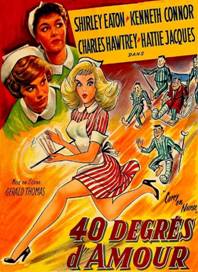 TWO FILM DVD: THE COOL MIKADO (1963) + CARRY ON NURSE (1959)
THE COOL MIKADO (1963):
Hank, the son of American judge Herbert Mikado, refuses to marry Katie Shaw, whom his father wishes him to marry, and so joins the army. He is stationed in Japan where he falls in love with a Tokyo art student, Yum-Yum. However, her fiancée, Ko-Ko, an American gangster operating in Japan, is determined to keep Hank and Yum-Yum apart.
CARRY ON NURSE (1959):
An idiosyncratic group of patients wreak havoc in the men's surgical ward of Haven Hospital. They decide to take their revenge on the frosty Matron, and there is even a spot of do-it-yourself surgery.
TWO FILM DVD: THE BOLDEST JOB IN THE WEST (1972) + PASSION (1954)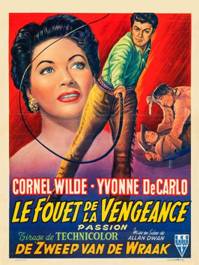 THE BOLDEST JOB IN THE WEST (1972):
A bandit gang successfully executes a complicated bank heist, but disagreements arise in the aftermath and mass gunplay unfolds.
PASSION (1954):
A greedy land baron stakes claim to the property of Gaspar Melo, sending hired guns to seize control. A rancher, Juan Obreon, learns that Melo's granddaughter Rosa has given birth to a baby. Juan is the child's father and intends to marry Rosa, but she is forced to hide her new son before hired gun Sandro shoots her. Rosa has a sister, Tonya, who flees before Sandro.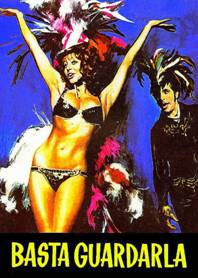 BASTA GUARDARLA (1970) * with switchable English subtitles *
The story of a simple peasant girl from the country who moves to the city to work in a variety show.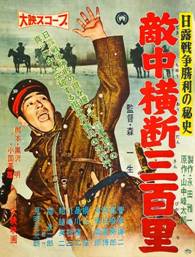 ADVANCE PATROL (1957) * with switchable English subtitles *
January 1905, Manchuria: The Russo-Japanese War has been going on for nearly a year. The Japanese have just dealt the Russians a notable blow by capturing Port Arthur. The end seems to be in sight, but the Japanese themselves are on the brink of collapse, as their manpower and resources are stretched to the full. Preparing for a final showdown with the Russians, the Japanese send Lieutenant Tatekawa and five soldiers on a recon mission. They are to go behind Russian lines and discover what the Russians' next step will be.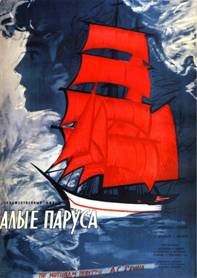 SCARLET SAILS (1961) * with switchable English subtitles *
A little girl names Assol meets an older gentlemen, who foretells her future: "It will be a fine, sunny day, when a beautiful ship under scarlet sail comes and a noble prince will take you away from here. He'll take you to the world of your dreams, where you will be loved and happy." Assol is the butt of jokes (no pun intended) by her neighbors and their children; but this does not deter her from waiting for the unknown prince.
Ein kleines Mädchen namens Assol wartet seit Jahren auf den Prinzen, der sie vor den Nachbarn rettet, die sie immer nur ärgern und aufziehen, nachdem ein Zauberer ihr prophezeit hatte, dass ein Schiff mit purpurroten Segeln an einem sonnigen Tag ankommen würde und der Prinz an Bord sie fort von hier bringen würde, an einen Ort, an dem ihre Träume war werden und sie glücklich und geliebt sein wird.
Thank you and the best to all of you,
RAREFILMSANDMORE.COM