FRESH TITLES ARE HIGHLIGHTED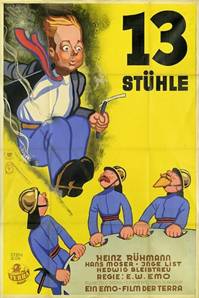 13 STUHLE (1938) * with hard-encoded English subtitles *
.
Rabe travels to Vienna in hope of a great inheritance from his aunt. But there are only 13 chairs waiting for him, which he sells. Then he finds a letter from the aunt announcing that she has hidden her money in one of the chairs.
Der Friseurladenbesitzer Felix Rabe reist nach Wien, um das Erbe seiner verstorbenen Tante Barbara anzutreten. Die Tante hinterlässt ihm aber nur 13 Stühle. Um sich die Rückfahrkarte leisten zu können, verkauft er den Nachlass an den Trödler Alois Hofbauer. Als er die Nacht in der Wohnung seiner verstorbenen Tante verbringt, findet er einen Brief, aus dem hervorgeht, dass ihr ganzes Vermögen von 100.000 Mark in einen dieser Stühle eingenäht ist.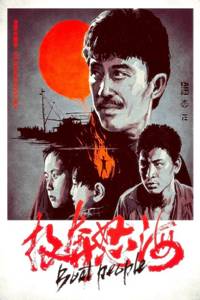 BOAT PEOPLE (1982) * with switchable Spanish and English subtitles *
The film is shown through the point of view of a Japanese photojournalist named Shiomi Akutagawa. Three years after covering Danang during the communist takeover, Akutagawa is invited back to Vietnam to report on life after the war. He is guided by a government minder to a New Economic Zone near Danang and is shown a group of schoolchildren happily playing, singing songs praising Ho Chi Minh. The scene that he sees is actually staged to deceive the foreign press. In Danang, he witnesses a fire and is beaten by the police for taking photos without permission. He also sees the police beating up a "reactionary". Later he sees a family being forced to leave the city to a New Economic Zone and wonders why they would not want to go there, recalling the happy children that he saw. In the city, he meets Cam Nuong and her family. Her mother secretly works as a prostitute to raise her children. She has two younger brothers, the older one, Nhac, is a street-smart boy, who is conversant in American slang, while the younger boy, Lang, was fathered by a Korean that her mother serviced. From Cam Nuong, Akutagawa learns the grisly details of life under communism in Danang, including children searching for valuables on freshly executed corpses at the "chicken farm".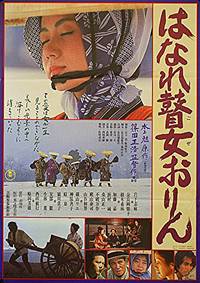 BALLAD OF ORIN (1977) * with hard-encoded English subtitles *
A blind traveling musician is abused and oppressed while she tours the country, even though the modern world imposes changes on people's behavior.
FUN IN THE BARRACKS (1932) * with switchable English, German, and French subtitles *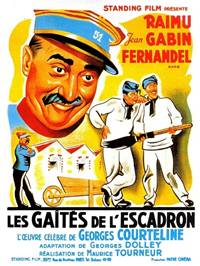 1885. A mix of regular soldiers and reservists show their different responses to their daily military routines. However, a crisis emerges when a general pays a visit while two deserters are on the lam.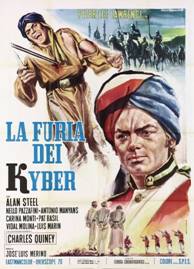 SLAUGHTER ON THE KHYBER PASS (1970)
Soldiers on a mission from a fort on the Northwest Frontier of British-Raj India argue over tactics, as they seek to deal with reports of a native uprising.
In North Africa during World War II, Sergeant Larry Nevins is blinded by a German sniper's bullet. Rehabilitation at the military hospital presents many challenges, but accepting his disability also proves to be difficult for others.
Laura Sinrok, a rich and despotic woman who dominates her husband, pretends to commit suicide to prevent him from leaving. Then the unexpected happens.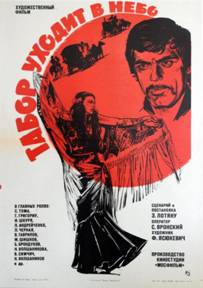 GYPSIES ARE FOUND NEAR HEAVEN (1976) * with hard-encoded English subtitles *
This sensual melodrama, based on early stories by Maxim Gorky, tells the fatal love story between the beautiful and rebellious girl Rada and the handsome horse thief Zobar. The story is set in early 20th century Bessarabia, which was then part of the Austro-Hungarian Empire.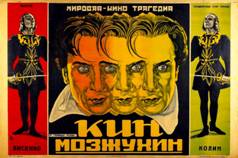 switchable English subtitles *
When a famous Shakespearean actor falls in love with a woman above his station, his professional and personal life begin to crumble.
MADCHEN, DIE NACH MUNCHEN KOMMEN (1972)
Thousands of young women come every year to Munich in search of adventure. They have everything: hot bodies, sensuality and humor. But, ach, Munich's sweet life costs money … But this softcore film limits itself to life in the Bavarian large city – very much different from the genre of the usual Lederhosen-films, which Franz Marischka was going to make the following year.
Tausende junger Mädchen kommen jedes Jahr nach München und suchen das Abenteuer. Sie haben alles: Knackige Körper, Sinnlichkeit und Witz. Aber, ach, das Münchner süße Leben kostet Geld ... Doch der Softsexfilm beschränkte sich auf das bayerische Großstadtleben - ganz anders als das Genre des Lederhosenfilms, das Franz Marischka im folgenden Jahr begründen sollte.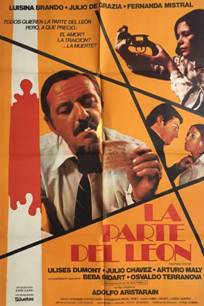 THE LION'S SHARE (1978) * with switchable English subtitles *
.
By chance an ordinary man, Bruno Di Toro, finds, on the roof of the hotel where he's staying, money stolen from a bank. This event arouses great hope: he thinks he will find in that money the road to restore his marriage, which is on the edge of divorce. Now in his possession, Di Toro realizes that the money is marked, and that all the media have announced their numbers. But this is not the only problem: those responsible for the theft are dangerous subjects, with a psychopathic personality. They deduce, correctly, that if the money was stolen from the hotel roof, one of the guests has it.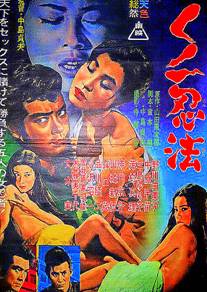 FEMALE NINJA MAGIC (1964) * with switchable English subtitles *
In Osaka during the Edo period, ruler Sanada Yukimura was in losing position. Fearing Toyotomi's blood descendants will become extinct, he impregnates one Shinano female ninja with the seed of Toyotomi, in hopes of continuing the bloodline.
.
.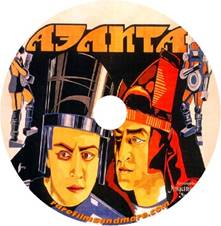 AELITA – THE QUEEN OF MARS (1924)
A mysterious radio message is beamed around the world, and among the engineers who receive it are Los, the hero, and his colleague Spiridonov. Los is an individualist dreamer. Aelita is the daughter of Tuskub, the ruler of a totalitarian state on Mars in which the working class are put into cold storage when they are not needed. With a telescope, Aelita is able to watch Los. As if by telepathy, Los obsesses about being watched by her. After some hugger-mugger involving the murder of his wife and a pursuing detective, Los takes the identity of Spiridonov and builds a spaceship. With the revolutionary Gusev, he travels to Mars, but the Earthlings and Aelita are thrown into prison by the dictator.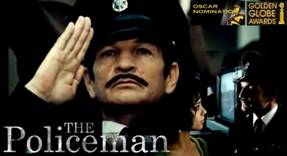 THE POLICEMAN (1971) * with switchable English subtitles *
Constable Abraham Azulai of the Jaffa Police Department, is at the end of his contract and hoping for a renewal and promotion. His superiors, not caring in the slightest about his soft heart and kindness, only see his incompetence in nearly everything. When Azulai stops a driver for a traffic violation and writes him a ticket, it's not the driver who ends up paying the fine, but Azulai himself.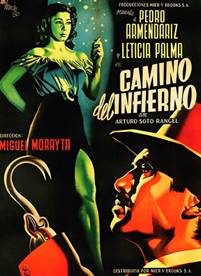 CAMINO DEL INFIERNO (1951) * with switchable English subtitles *
When a robbery goes wrong, the thief takes a singer as hostage. They fall in love and try to rebuild their lives, but tragedy surges in the most unexpected way.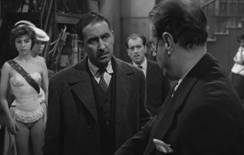 DE ESPALDA A LA PUERTA (1959) * with switchable English subtitles *
Fleeing from her home after disagreements with her parents, Patricia arrives in Madrid. There she finds work as a dancer in a place called The Golden Mouse Trap, where the pianist, Tonio, a former lover, plays. One day, Patricia appears seriously injured in her dressing room. The chief inspector, Enrique Simón, directs the investigations. Meanwhile, the young woman has to be operated on in the same dressing room, because she cannot be taken to the hospital. For the police, there are several suspects: Lola, another dancer who beat up Patricia and threatened her with death; and Tonio, her old boyfriend.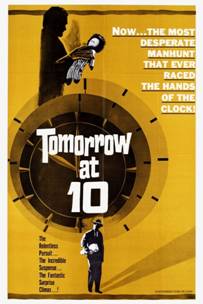 TOMORROW AT TEN (1962) * with English and Spanish Audio Tracks *
A man calling himself Marlow kidnaps Jonathan Chester, the young son of wealthy industrialist Anthony Chester, and locks him in a rented house with a golliwog containing a time bomb. He then goes to see the boy's father and announces that he will only reveal his whereabouts once he has been paid £50,000 and is safely in Brazil. The boy's nanny alerts the police and Inspector Parnell arrives to discourage Chester from paying up lest it encourages giving in to blackmailers' demands. Marlow then reveals that the time bomb will go off at 10 a.m. the next day, killing Jonathan.
A massive, 6+ hour biopic of Napoleon, tracing his career from his schooldays (where a snowball fight is staged like a military campaign); his flight from Corsica; through the French Revolution and the Terror; culminating in his triumphant invasion of Italy in 1797. The film's legendary reputation is due to the astonishing range of techniques that Gance uses to tell his story, culminating in the final twenty-minute triptych sequence, which alternates widescreen panoramas with complex multiple- image montages projected simultaneously on three screens.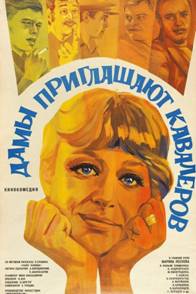 LADIES INVITE GENTLEMEN (1980) * with hard-encoded English subtitles *
A romantic comedy about a young woman, Anya, who is desperate to find true love. One day, she goes on vacation to the seashore - and here everything begins.
During the First World War, German intelligence sends a team of saboteurs and a female spy to Scotland to kill Lord Kitchener. The Germans also send another team of spies to Allied headquarters in Belgium to steal the Allied defense plans. A German spy, known as Fraulein Doktor, is tasked with stealing the new mustard gas formula from its French inventor (who just happens to be a lesbian hot for the German agent). The German army plans to use the new French mustard gas on the battlefield during the upcoming German offensive against the Allied armies.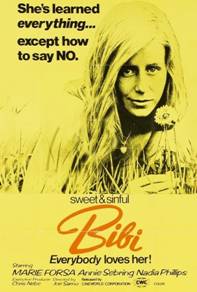 BIBI: CONFESSIONS OF SWEET SIXTEEN (1974)
Free spirited Bibi arrives at her aunt's boarding house in Munich and quickly falls into the local swinger's scene. But after she seduces and discards a shy, insecure woman, Bibi is forced to confront the people she's harmed with her games.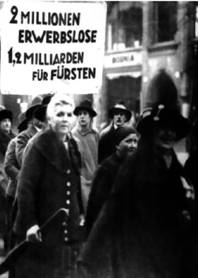 POLITICAL FILMS OF THE REICH X (2012) * with switchable English subtitles *
ERWERBSLOSE KOCHEN FUR ERWERBSLOSE (1932); CONSTRUCTION OF THE 05001 BORSIG (1934); ERNSTES LERNEN – FREUDIGES SCHAFFEN (1937); GESUNDE FRAU – GESUNDES VOLK (1937); PRIVATE FILMS FROM THE REICH (1934 – 1942) ; LEON DEGRELL; WIR LEBEN IN DEUTSCHLAND (1943)
ABSCHIED VON DEN WOLKEN (1959)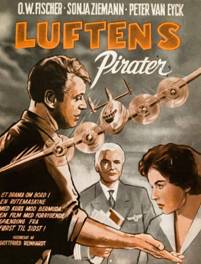 Former pilot Peter van Houten is being deported as persona non grata from a dictatorial country. Without further ado, a passenger plane is forced to land so it can take him out of the country. The ex-pilot's flight to freedom won't be an easy one, however: gangsters, technical mishaps, and a typhoon are seriously threatening the onboard passengers. If that weren't enough, the man piloting the plane gets injured in all the banging around and it's up to the alcoholic ex-pilot to save everyone's life. Sort of an early cross between Airplane and a flight any day of the week on Southwest Airlines.
Der Ex-Pilot Peter van Houten soll als unliebsame Person aus einem fiktiven diktatorischen Staat abgeschoben werden. Kurzerhand wird eine Passagiermaschine zur Landung gezwungen, um ihn außer Landes zu bringen. Der Flug in die Freiheit gestaltet sich jedoch schwierig, weil Gangster, technische Pannen und ein Taifun die Sicherheit an Bord ernsthaft bedrohen. Da verletzt sich der Pilot während des Sturms zu allem Überfluss noch schwer. Es liegt nun an Van Houten, die Maschine sicher zu landen.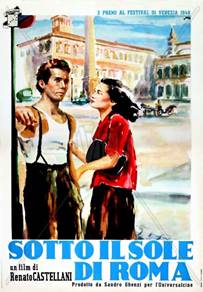 SOTTO IL SOLE DIE ROMA (1948) * with switchable English and Spanish subtitles *
Ciro, a young man growing up in a Roman suburb during the Second World War, would rather go swimming with his buddies than look for a job to help support his family. His father, a night watchman, who works long hours, does his best to provide for the family. He buys Ciro a new pair of shoes, but Ciro carelessly loses them. So Ciro and his friends plot to steal a replacement pair; but stupidly end up stealing two left shoes. His neighbor, Iris, is in love with Ciro and ends up paying for a new pair of shoes. This doesn't stop Ciro from treating her badly, however. Finally, when the War ends, Ciro doesn't change his ways at all and becomes a ne'er-do-well ... that is until something happens, which makes Ciro finally grow up.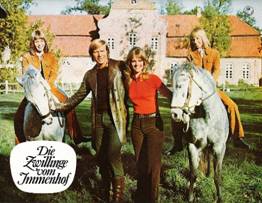 DIE ZWILLINGE VOM IMMENHOF (1973)
Thing have changed a lot since Dick and Dalli came to Immenhof. Now, twins Bobby and Billy live there and for them, nothing could be nicer. Too bad their father's lease has been terminated and just then, Dalli shows up again.
Es hat sich viel verändert, seit Dick und Dalli auf dem Immenhof unterwegs waren. Nun leben dort die Zwillinge Bobby und Billy und für beide gibt es nichts Schöneres. Doch der Pachtvertrag ihres Vaters wurde gekündigt und just zu diesem Zeitpunkt kehrt Dalli zurück.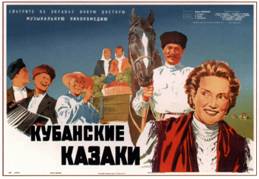 COSSACKS OF THE KUBAN (1950) * with hard-encoded English subtitles *
In the steppes of the Kuban, love is born on two collective farms, while wheat is enthusiastically gathered. Galina, the energetic chairwoman of one of the two kolkhozes, vies with her male counterpart for the best harvest. At the same time Gordei, her rival, a former soldier, is (and has been for ages) in love with her. For her part, Dasha, a collective farm worker, has the hots for a young technician at the competing kolkhoz.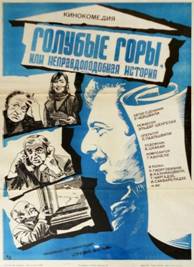 BLUE MOUNTAINS OR UNBELIEVABLE STORY (1983) * with multiple, switchable subtitles *
An author - a passive young man - enters the Soviet-controlled bureaucracy of Georgia attempting to get his novel published, only to be neglected and compartmentalized at every turn.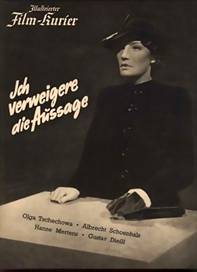 ICH VERWEIGERE DIE AUSSAGE (1939)
Nora, the wife of the architect Heinz Ottendorf, feels neglected by her husband. He is getting more and more engrossed in his work, but Nora, apparently a stranger to hard work, suspects that the real reason for her husband's diverted attention must naturally be another woman. Robert, the cousin of Nora's friend Marianne, has long been in love with Nora and sees an opportunity to win her hand. Heinz, for all his distractions in his work and the phantom lover he doesn't have, isn't quite ready to let Nora go. While he may be married to his work, his work is a fickle mistress: he makes a career error and this leads to near financial ruin. He begs Nora to be patient with him. Marianne, who for her part is in love with Heinz, spins a web of deceit and intrigue, which leads to Robert taking a potshot at Heinz and then eventually causing Robert to kill himself. In the meantime, Heinz has been wounded in the attack and this leads Nora to come to the conclusion that she belongs to her husband. Huh? Next time, just have a foursome and spare everyone the drama!
Nora, die Frau des Architekten Heinz Ottendorf, fühlt sich von ihrem Mann vernachlässigt. Er vertieft sich immer mehr in seine Arbeit, und Nora hat den Verdacht, dass er eine Affäre mit einer anderen Frau hat. Robert, der Vetter von Noras Freundin Marianne, ist schon lange in Nora verliebt und will sie für sich gewinnen. Doch Heinz ist nicht bereit, Nora aufzugeben. Er ist durch einen beruflichen Fehler in große finanzielle Schwierigkeiten geraten und bittet Nora um Geduld. Marianne, die ihrerseits in Heinz verliebt ist, spinnt eine Intrige, die dazu führt, dass Robert auf Heinz schießt und anschließend Selbstmord begeht. Heinz überlebt den Anschlag, und schließlich erkennt Nora, dass sie zu ihrem Mann gehört.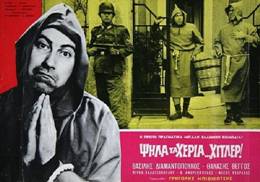 HANDS UP, HITLER (1962) * with switchable English subtitles *
As war-torn Greece and its long-suffering people struggle to find their feet after the dark years of the devastating second world war, a delightful excursion to the countryside will lead to an unexpected encounter. Amid death, destruction, and extreme poverty in Nazi-occupied Athens, two bosom friends, Panagis and Anestis, fight tooth and nail to survive, nurturing the dangerous hope of escaping to Egypt. However, an unforeseen complication in the person of the wounded Resistance fighter, Pericles, and an insurmountable roadblock by the Waffen SS will separate the pair. Now, after years of absence, the two friends, who presumed each other dead, reunite under fortuitous circumstances with tears of joy. Is this the beginning of a bright future?
MONTPI (1957) * with switchable English subtitles *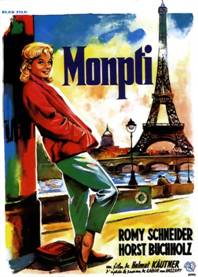 Monpti is better known by its English-language title, Love From Paris. Romy Schneider stars as Anne Claire, a seamstress, who pretends to be wealthy in order to crash society. In this guise, she meets and falls in love with starving artist Monpti (Horst Buchholz), who has no time for women of wealth. Sensing a challenge, Anne pursues Monpti, keeping her true identity a secret. What starts as a light-hearted romp unexpectedly deepens into tragedy. The film is narrated by a wry, all-knowing Parisian who, at closer inspection, turns out to be director Helmut Kautner.
Als die hübsche Anne-Claire von einem jungen ungarischen Maler angesprochen wird, ist es um sie geschehen. Um ihn zu beeindrucken, verschweigt sie ihm ihre armselige Herkunft und gibt sich als Tochter wohlhabender Eltern aus. Sie verbringen eine wundervolle Zeit zusammen Er ist fasziniert von ihrer Schönheit, sie nennt ihn zärtlich "Monpti". Doch eines Tages folgt ihr der junge Künstler unbemerkt nach Hause und findet heraus, dass sie in einem schäbigen Hotel wohnt. Enttäuscht von ihrer Lüge, ohrfeigt er sie und steigt in ein Taxi. Als Anne-Claire ihm nachlaufen will, wird sie von einem Auto angefahren und schwer verletzt. Monpti eilt ins Krankenhaus und verspricht ihr am Krankenbett sie zu heiraten. Als er am nächsten Tag wiederkommt, findet er ihr Bett leer vor.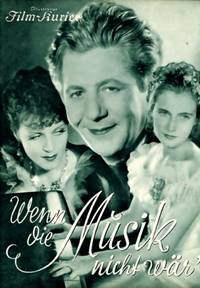 WENN DIE MUSIK NICHT WAR (1935)
The great Franz Liszt helps a struggling, unworldly piano tutor advance to a position in Munich, and ward off a villainous foreign competitor for his lady love.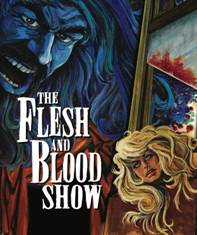 THE FLESH AND BLOOD SHOW (1972)
The dream of every movie director come true: actors rehearsing a show at some bizarre theatre at the seaside are being killed off one by one by an unknown maniac (a film critic, no doubt).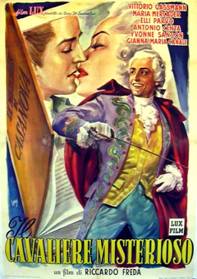 IL CAVALIERE MISTERIOSO (1948) * with switchable English subtitles *
Secret agents in the pay of Empress Catherine of Russia flee the Venetian Republic after stealing a compromising letter belonging to the Doge's wife. This letter is of great importance to the Empress. Catherine intends to annex some lands to the Russian Empire; the Doge opposes the annexation. Should this letter fall into Catherine's hands, the embarrassment of publicly releasing it would break the Doge's resistance. The theft of the letter is attributed to the Doge's secretary, who is being tortured in the hopes he'll reveal where the letter is. Casanova, the accused's brother, has been exiled from Venice and there's a price on his head. Nevertheless, he secretly returns to Venice and is able to talk to his brother, who tells Casanova what's in the letter and where it's located. This leads to various intrigues as Casanova chases after the stolen letter to prevent the execution of his brother.
Thomas Laurends, the spoiled son of a wealthy family, is a real heartbreaker. On a mission from his father, he journeys one day to Hungary to find horses for the family stud farm. It's a trip that pleases him to no end, for now he can use the opportunity to combine work and pleasure and escape from his needy girlfriend, Karin. But when Thomas arrives in Hungary, it doesn't take him long to fall in love with temperamental Piroschka. What the young Casanova doesn't know, however, is that Karin has, in the interim, attached herself to a tour group to follow a "boyfriend" into the "Wild East".
Thomas Laurends, der verwöhnte Sohn einer wohlhabenden Familie, ist ein echter Herzensbrecher. Im Auftrag seines Vaters soll er eines Tages von Hamburg nach Ungarn reisen, um dort Pferde für das familiäre Gestüt zu kaufen – eine Reise, die ihm gerade recht kommt, kann er so doch auf elegante Weise seiner anhänglichen Freundin Karin entfliehen. In Ungarn angekommen, verliebt Thomas sich schon bald in die temperamentvolle Piroschka. Was der junge Casanova nicht ahnt: Karin hat sich inzwischen einer Reisegruppe angeschlossen, um ihrem Freund in den "wilden Osten" zu folgen.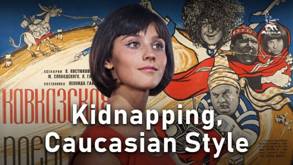 KIDNAPPING, CAUCASIAN STYLE (1967) * with hard-encoded English subtitles *
A young student comes to a remote mountainous region in search of ancient legends and traditions. Fooled by the corrupt local governor, he helps kidnap a beautiful young girl, but soon realizes what he's done.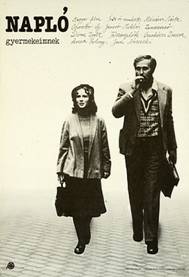 DIARY FOR MY CHILDREN (1984) * with switchable English subtitles *
Juli is a young woman returning home to Budapest from the Soviet Union, where her parents were exiled and died. Scarred by the wounds of the past, she is repulsed to see the very same specter of Stalinist oppression now rife in her homeland. Mészáros' film resonates with the spirit and the struggles of her past - a passionate yet critical study of personal and political awakening told in ruthlessly unsentimental fashion.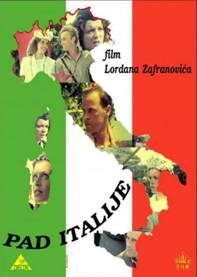 THE FALL OF ITALY (1981) * with switchable English subtitles *
The islands off the Dalmatian coast of Yugoslavia, during the Second World War: The islands are controlled by occupying Italian forces, and a resistance movement of Communists is dedicated to sabotaging and ending the occupation. When a wealthy young man joins the resistence, he falls in love with a woman who turns out to be a spy for the Italians. As a result of his liaison and her activity, they are both executed by a communist comrade - a previous friend. This so-called friend is dedicated to the hard-line policies of the resistance ... until he himself falls in love with the daughter of a bourgeois landowner on the island, a landowner who has collaborated with the Italians. Neither the Italian occupying army, nor the resistence fighters are stereotyped forces for good or evil, but all are equally subject to the dehumanizing effects of war.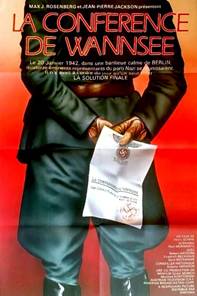 DIE WANNSEEKONFERENZ (1984) * with hard-encoded English subtitles *
Berlin, 20. Januar 1942. Eine Villa am Großen Wannsee, Reinhard Heydrich, SS-Obergruppenführer, Chef des Reichssicherheitshauptamtes, engster Vertrauter und Mitarbeiter Himmlers, hat 14 führende Persönlichkeiten des Reiches zu einer Geheimkonferenz mit Frühstück geladen. Einziger Punkt der Tagesordnung: die sogenannte Endlösung der Judenfrage. Das später aufgefundene Sachprotokoll dieser Konferenz sowie Dokumente aus dem Umfeld, insbesondere die Aussagen Eichmanns, bilden die Grundlage der filmischen Rekonstruktion, die es unternimmt, die Aktivitäten der Schreibtischtäter authentisch ins Bild zu setzen. Das Judentum wird eine statistische Größe, der Holocaust ein Aktenvorgang, der Genozid ein Transportproblem. Eine Gruppe durchaus normal wirkender Menschen löst eine in der Geschichte einmalige Vernichtungsaktion aus: den"verwalteten","ordentlichen"Völkermord. Die Diskrepanz zwischen der Durchschnittlichkeit der Täter und der Ungeheuerlichkeit der Tat macht den Film zu einer schockierenden Erfahrung.
Berlin, 20 January 1942: Reinhard Heydrich, SS-Obergruppenfuhrer and head of the Reich Security Main Office --- and also Himmler's closest confidant and co-conspirator --- has gathered fourteen of the Reich's leading personalities for a secret meeting at a villa in Wannsee, complete with a midday meal. There's only one item on the agenda: the so-called "Final Solution of the Jewish Question". The discovery of the one surviving document detailing the minutes of this conference, as well as other records and statements from Eichmann's trial, form the basis for this authentic, cinematic reconstruction of the events of that January morning in a suburb of Berlin. A group of perfectly normal looking and acting men trigger something unique in the history of genocide: a "managed" and "industrial" style of extermination. It is this banality of evil and the mediocrity of these bureaucrats, which give the film its shocking and incomprehensible feeling.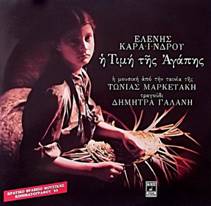 THE PRICE OF LOVE (1984) * with switchable English subtitles *
The film takes place in Corfu at the beginning of the 20th Century. There, the wife of an alcoholic and mother of four works in a factory. A nobleman, who's fallen on difficult times, wants to marry the woman's eldest daughter and take advantage of the family's meager earnings. The girl is more than willing to marry him, but that's no excuse for him to kidnap her and then argue with her mother about the dowry. The girl, however, changes her mind about marrying him, when she realizes the so-called marriage will only be about him looking out for his own interests. By this time, however, the girl is pregnant and she decides to get a job, in order to raise the child on her own.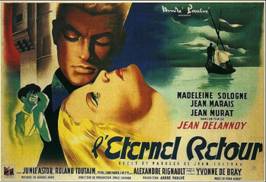 LOVE ETERNAL (1943) * with switchable English subtitles *
Patrice travels to a remote island to find a young wife for his uncle Marc. There, he meets a beautiful blond named Nathalie, who agrees to return to the mainland to marry Patrice's uncle, if only to escape a life of extreme poverty. The marriage takes place, much to the chagrin on Patrice's aunt Gertrude, who lives in Marc's chateau with her timid husband and her malicious son Achille, a dwarf. Embittered because March has robbed her of her inheritance, Gertrude intends to profit from Marc's obvious affection for Nathalie to exact her revenge. While Patrice and Nathalie are relaxing together, the dwarf pours liquid from a bottle marked "poison" into their drinks. But the liquid is no poison; rather, it's a powerful love potion. Can anyone say "Tristan and Isolde"?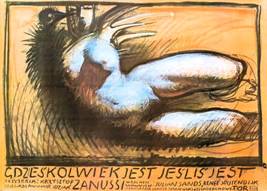 WHEREVER YOU ARE (1988) * with switchable English and Polish subtitles *
Julian, an Uruguayan diplomat, brings his new wife, Nina, with him on a business trip to Poland in the summer immediately preceding the outbreak of World War II. While Julian is consumed with work, Nina practices photography and other recreations, but after suffering a fall while horse riding, she begins to have disturbing hallucinations and premonitions of a coming danger that eventually comes to pass when Poland is invaded by the Germans.
AUS EINEM DEUTSCHEN LEBEN (1977) * with switchable English subtitles *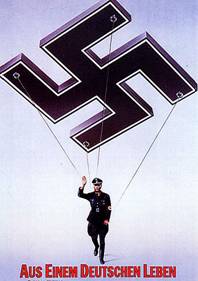 Was aus einem braven Bürger und Untertanen, einem kritiklosen Befehlsempfänger, einem Mitläufer, einem Durchschnittsmenschen, wie wir alle es sind, werden kann - Theodor Kotulla demonstriert es am Beispiel von Rudolf Höß (im Film Franz Lang, gespielt von Götz George), der von 1940 bis zum Ende KZ-Kommandant in Auschwitz war und 1947 eben dort von den Polen hingerichlet wurde. Dem Film, der auf Robert Merles Roman ,,Der Tod ist mein Metier" basiert, gelingt der vom Regisseur angestrebte Ausgleich zwischen Dokument und ,,fiction", der ihn glaubwürdig und zu einem Stück noch längst nicht unaktuellen Anschauungsunterrichts macht.
What a good citizen and subject, an unquestioning follower of orders, and an average man like all of us can turn into is demonstrated by Theodor Kotulla's portrayal of Rudolf Hoess (called "Fritz Lang" in the film and played by Goetz George), commandant of Auschwitz Concentration Camp from 1940 til the end and who ended up being hanged there by the Poles in 1947. The film, based on Robert Merle's novel, "Death is My Trade", successfully balances fact and fiction, making the whole thing seem historically factual and providing a valuable lesson to the viewer. In line with the times, just a short time before the TV-series Holocaust made its appearance, the violence associated with the subject is "sanatized" and only barely hinted at. Nevertheless, the monologue at film's end, detailing the "special handling" of the transports which arrived at Birkenau's ramps up to and including the eventual gassing of the majority of the deported, is as catastrophic in its graphic nature as it is distressing in its monotone delivery.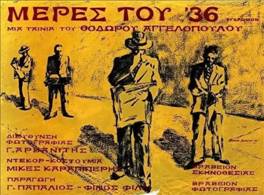 MERES TOU '36 (1972) * with switchable English, French and Greek subtitles *
It is 1936 in Greece, shortly before the Metaxas' dictatorship. A former drug trafficker and police informer, Sofianos, is in prison because of the assassination of a trade unionist during a rally. A conservative politician, Kriezis, with whom Sofianos had a homosexual relationship, visits him in prison. Using a smuggled gun, Sofianos manages to take him hostage in his cell and blackmails the police in order to be released. The government is at a dead end and the country finds itself in a crisis. If they free Kriezis, they will lose the support of the democrats, if they don't, they will lose the support of the conservatives.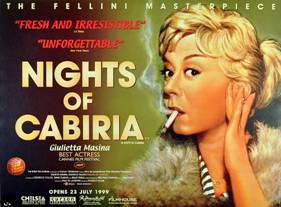 NIGHTS OF CABIRIA (1957) * with switchable English and German subtitles *
Cabiria is an irrepressible, fiercely independent prostitute who, as she moves through the sea of Rome's humanity, through adversity and heartbreak, must rely on herself — and her own indomitable spirit — to stay standing.
Cabiria ist eine unbändige, äußerst unabhängige Sexarbeiterin, die sich auf ihrem Weg durch das Meer der Menschlichkeit Roms, durch Widrigkeiten und Herzschmerz, auf sich selbst – und ihren eigenen unbeugsamen Geist – verlassen muss, um standhaft zu bleiben.
SLEEPING DOGS (1977) * with switchable English subtitles *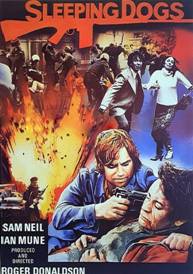 A political thriller with action film elements, it follows the lead character "Smith", as New Zealand plunges into a police state and a fascist government institutes martial law after industrial disputes flare into violence. Smith gets caught between the police and a growing resistance movement, and reluctantly becomes involved.
Thank you and the best to all of you,
RAREFILMSANDMORE.COM