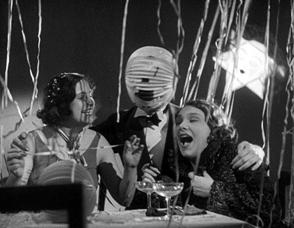 FROM SATURDAY TO SUNDAY (1931) * with switchable English and Spanish subtitles *
Mána is a young secretary. One evening, she and a roommate accompany two wealthy, older gentlemen to dinner. After one of them offers money to her, she realizes his intentions and flees from the restaurant in shock. She later meets a man named Karel in a nearby café. They spend the night wandering the rainy streets of Prague and the two quickly develop strong feelings for each other.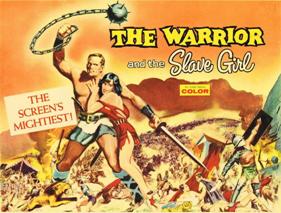 THE WARRIOR AND THE SLAVE GIRL (1958) * with switchable English subtitles *
A Roman tribune receives help from a resistance leader, when he arrives in Armenia to thwart a wicked royal's plans.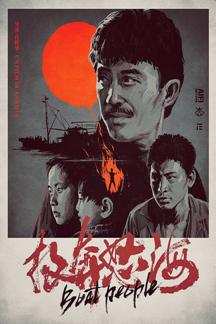 BOAT PEOPLE (1982) * with switchable English and Spanish subtitles *
The film is shown through the point of view of a Japanese photojournalist named Shiomi Akutagawa. Three years after covering Danang during the communist takeover, Akutagawa is invited back to Vietnam to report on life after the war. He is guided by a government minder to a New Economic Zone near Danang and is shown a group of schoolchildren happily playing, singing songs praising Ho Chi Minh. The scene that he sees is actually staged to deceive the foreign press. In Danang, he witnesses a fire and is beaten by the police for taking photos without permission. He also sees the police beating up a "reactionary". Later he sees a family being forced to leave the city to a New Economic Zone and wonders why they would not want to go there, recalling the happy children that he saw. In the city, he meets Cam Nuong and her family. Her mother secretly works as a prostitute to raise her children. She has two younger brothers, the older one, Nhac, is a street-smart boy, who is conversant in American slang, while the younger boy, Lang, was fathered by a Korean that her mother serviced. From Cam Nuong, Akutagawa learns the grisly details of life under communism in Danang, including children searching for valuables on freshly executed corpses at the "chicken farm".
In the mid-1500s, a ship containing Spanish prisoners being sent to a Spanish penal colony in the Caribbean sinks at sea, but some of the prisoners manage to survive and make it to the shore of a nearby island. They organize themselves under the leadership of Juan Olivares and manage to take over a ship with some cargo.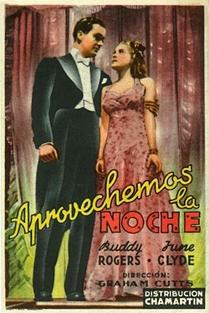 LET'S MAKE A NIGHT OF IT (1937)
The exclusive Boydell family, members of the "400" set, suddenly became owners of two nightclubs; the father, Henry Boydell, comes into one, "The Silver Spoon," as the payment of a business debt and keeps his new enterprise a secret from his wife, Laura. But Laura has a secret of her own: persuasive Count Castelli has sold her a bill of goods, which turns out to be the "Coconut Beach," a notorious hot-spot in town. Their daughter, Peggy, is kept in the dark by both parents but her boyfriend, Jack Kent, stumbles across the father's secret and uses it as a wedge to get himself a job as the Master of Ceremonies at the "Silver Spoon." Both clubs are next-door to each other and there isn't enough patronage for both clubs. Something has to give.
Amos Hart wakes up and makes breakfast for Roxie, his wife, who makes light of his obvious affection. He goes to his job at a nearby cigar store, meeting Katie, the cleaning girl, who thanks him for a coupon that allowed her to buy an "Ingersoll" (an inexpensive pocket watch). At Amos' store, a customer jokes he's about to give his girl "the air." The customer, who is Roxie's lover, arrives at her flat and makes it clear he's tired of her demands for money. She attempts to seduce him and take more money, but he throws her to the ground as he leaves, and she picks up a gun and shoots him, all while the player piano continues to play a jaunty tune. She calls Amos and asks him for help. Amos recognizes the man from the store, but tells the police that he killed the man in self defense.
18th Century Russian-annexed Poland: Russian soldiers are patrolling the streets, but that's of little detriment to the rebellious Poles. Boleslas is a patriotic hussar, who dreams of playing a part in the nation's rebirth. He gets together with other hussars to sing patriotic songs with his foster sister, Sophie. You may not think that's any big deal, but Russian patrols don't like it and our singers need to control themselves every time the Russians walk by. Meanwhile, in an eerie mansion, there's an inventor who's mastered the art of the automaton. His robots look very much like humans and get more realistic with every incarnation. The inventor, Baron von Kempelen, is a favorite of Tsarina Catherine the Great ... and also a supporter of Polish independence. Is he perhaps more than just a passive supporter of a reborn Poland? Hmmm ...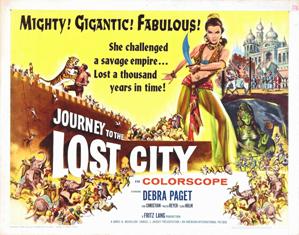 JOURNEY TO THE LOST CITY (1960)
An architect travels to the remote city of Eschnapur to oversee some work being done at the bequest of the local Maharajah. Along the way the architect meets and falls in love with a beautiful temple-dancer. The Maharajah also loves this dancer and plans to marry her despite fierce opposition from factions within his own court. The dancer responds to the architect's advances and they flee from Eschnapur but are captured by the Maharajah's soldiers. To save the architect's life, the dancer agrees to marry the Maharajah.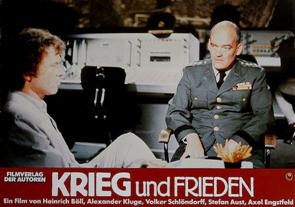 KRIEG UND FRIEDEN (1982) * with multiple, switchable subtitles *
At the peak of the Cold War, during the short-range missile crisis, neutron bombs could have potentially annihilated Central Europe. 300,000 protesters in Bonn demand the missiles' withdrawal. German Chancellor Schmidt resigns. Why make a film about war? "Nothing is more discouraging than not being able to see through a game on which your life hinges."
Auf dem Höhepunkt des kalten Kriegs, der Kurzstreckenraketen-Krise, hätte es sein können, daß Neutronenbomben die Mitte Europas zerstören. 300.000 Protestierende in Bonn. Der Kanzler Schmidt stürzt. Warum ein Kollektivfilm über Krieg? "Nichts entmutigt so sehr, als ein Spiel nicht zu durchschauen, von dem das Leben abhängt."
In this film, the focus is on the determination of a factory foreman, Fred Garrick, to prevent vital machinery on loan to a French factory from falling into enemy hands. Fred struggles against his managers' complacency, bureaucratic delay and the efforts of collaborators (or 'fifth columnists') to undermine his mission to successfully get the equipment back to England, with the help of Ann, an employee of the French factory, and two soldiers, Tommy and Jock. One of the main themes is the threat posed by fifth columnists, and Fred, despite his admirable single-mindedness, is dangerously naïve in his dealings with strangers. The mission is several times placed in danger because of Fred's willingness to trust authority figures, all of whom turn out to be working for the enemy.
When Dalmatia's tribute to Rome is hijacked and the legion guarding it massacred, the Senate sends a centurion to find out what happened. Upon arriving in the distant province, he's immediately thrust into a hotbed of political intrigue involving a corrupt praetor, his evil wife, and the wicked wizard Aderbal, who worships a one-eyed goddess and raises the slaughtered Roman legion from the dead to march on his enemies (hence "Rome against Rome"). Okaaay.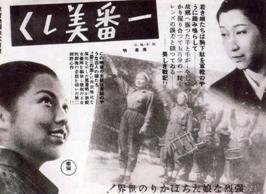 THE MOST BEAUTIFUL (1944) * with switchable English subtitles *
Propaganda movie made in 1944 by Akira Kurosawa tells the story of workers in an optical instruments factory during the War. Management has asked their workers to increase productivity over the next four months. Male workers are expected to perform double the norm; but female workers, led by fanatical Tsuru Watanabe, ask the bosses to increase the new quotas from 50% above the norm to 70%. It won't be easy to fulfill this request, however, as illness and personal issues compete for the women's attention.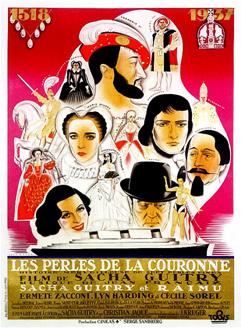 THE PEARLS OF THE CROWN (1937) * with switchable English and Russian subtitles *
Historian Jean Martin tells
his young wife Françoise the fabulous story of a necklace made up of seven fine pearls, once offered by Pope Clement VII to his niece Catherine de Médici a few months before the latter's marriage to the future Henri II. Four of the pearls, given to Élisabeth Ire shortly after the execution of Marie Stuart now adorn the arches of the British royal crown, but the last three have mysteriously disappeared. Jean Martin then decides to go in search of the missing jewels.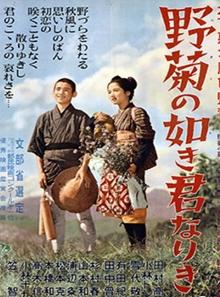 MORNING FOR THE OSONE FAMILY (1946) * with switchable English subtitles *
Kinoshita's first film after the end of World War II is a wrenching, superbly wrought tale about a liberal-minded Japanese family torn apart by war and imperialist politics. Morning for the Osone Family is both palpably bitter about the nation's fresh wartime wounds and inspiringly hopeful about a democratic tomorrow.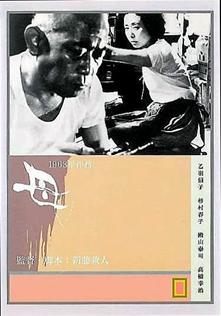 MOTHER (1963) * with switchable English subtitles *
Tear-jerker about Tamiko, a single mother. Her son Toshio is going blind and is diagnosed with a brain tumor. She does not have the money for surgery. She asks her mother Yoshie for money. Yoshie refuses, but arranges a marriage with another single parent, Tajima, on condition he pays for the surgery. Tamiko marries Tajima and works with him in his printing business. Toshio is operated on and recovers. However, tragedy is not far behind.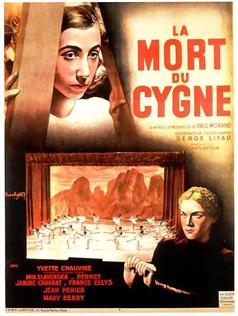 LA MORT DU CYGNE (1937) * with switchable English subtitles *
Young dance student Janine Charrat idolizes her teacher Yvette Chauvire and will do anything to help Chauvire further herself. Thus, when rival ballerina Mia Slavenska lands a much-coveted role, Charrat arranges an accident, causing Slavenska to break her leg. The girl comes to regret her rash behavior, when it appears as though Slavenska will never dance again.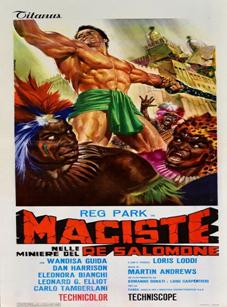 MACISTE IN KING SOLOMON'S MINES (1964) * with switchable English subtitles *
This time, Maciste is in darkest Africa. King Namar has built a temple on the site of Solomon's mines. Unfortunately for Namar, some of his nobles are a tad disloyal and they overthrow him in a coup with the intention of converting the temple back into mines. Lest you think they have popular support for their actions, be advised they've enslaved their own population and are forcing them to work down below. Fortunately, someone has Maciste's number and he comes by between protein shake breaks to depose the tyrants and put Namar back on the throne. Does he succeed? Hey, this is Maciste we're talking about!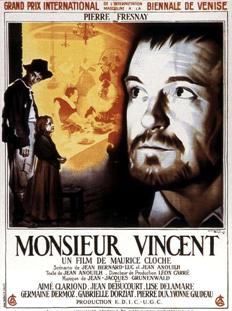 MONSIEUR VINCENT (1947) * with switchable English and Spanish subtitles *
After Vincent de Paul finished his studies in theology, he was ordained a priest in 1600. While working in different places, a change takes place in him after his encounters with the poorest of the poor. Under the influence of the future Cardinal de Berulle --- and because of crises in his own life --- Vincent de Paul gives up his privileged position as a private tutor with an aristocratic family and begins to look after the poor and sick. He also takes a job as a simple priest in a parish in an area of France particularly struggling with the plague. Louise de Marillac, a widow with a big heart, is so moved by his example, that she follows in his footsteps.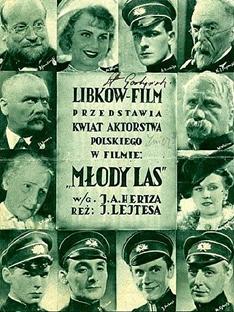 MLODY LAS (1934) * with hard-encoded English subtitles *
The film tells about the school strikes that took place in 1905 and which shocked public opinion in Russian Poland. The protagonists of the film are students of one of Warsaw's junior high schools, who are subjected to Russification. Jan Walczak, from a poor family, rebels against the history teacher, when he introduces General Suvorov as a great leader. His schoolmates and students of other Russian schools express solidarity with Walczak, who is at risk of being expelled from school.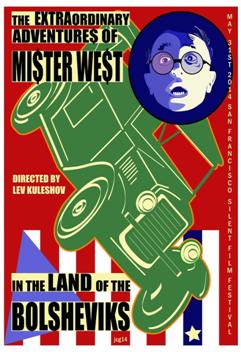 THE EXTRAORDINARY ADVENTURES OF MR. WEST IN THE LAND OF THE BOLSHEVIKS (1924)
The Extraordinary Adventures of Mr. West in the Land of the Bolsheviks is sure to satisfy any sense of humor, as the naive Mr. West falls victim to deception after deception from a collection of crooks and rogues shortly after his arrival in Moscow. The film is a propaganda piece that aims for only two things: The glorification of the Bolshevik way of life, and an easily digestible story to ensure that this message is well received. It succeeds at both. Mr. West, the symbol of the typical rich American (really, it's all in the name), knows little about the Bolsheviks. He can only rely on the unflattering depiction in the New York Magazine: unkempt men adorned by large mustaches and wearing fur clothes suitable for a Neanderthal. It is no surprise that when Mr. West travels to Russia in accordance with his duties as President of the YMCA, he takes caution by bringing along Jeddie, a loyal gun slinging 'cowboy' bodyguard. Throughout the film we see deliberate contrasts between the orderly Soviet society of the Bolsheviks and the haphazard actions of the Americans that disrupt it.
Musical comedy film based around the fierce rivalry between two motor manufacturers ... and the romance that develops between the daughter of one and the son of the other.
The San Francisco Police Department is receiving bad press for not being able to control illegal activities in Chinatown; especially that of an unknown figure named "The Dragon", who leads a dope ring and commits tong murders. As such, Captain Walton of the 3rd Division, which is Chinatown's jurisdiction, decides to call in Harold Bledsoe, the son of the former renowned and now deceased police chief, Jim Bledsoe, to assist in the investigation, despite the Captain not knowing anything about Harold. Harold ends up being nothing like his father, being a bespectacled, fussbudget of a man, who meddles in everything he comes across, and who focuses on his fascinations in life (currently being primarily horticulture). Upon his arrival at the 3rd Division, Harold has a new fascination, namely fingerprinting, trying to get fingerprints for whomever he meets. Using this new fascination, the rank and file in the 3rd Division are able to send Harold on a wild goose chase in Chinatown, solely to get them out of his hair. But in doing so, they are unwittingly sending him into the middle of the activities of The Dragon.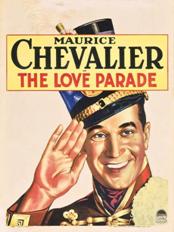 THE LOVE PARADE (1929) * with switchable English subtitles *
Foremost on the minds of the subjects of Sylvania is when their beloved monarch, Queen Louise, will get married. Queen Louise, on the other hand, has no intention of doing so. Despite the Queen's beauty, she would have a difficult time finding a mate anyway, because her husband would not be considered king - he would be given the title of prince consort - but have many of the responsibilities as a royal figurehead. Things change when one of her military attachés, Count Alfred Renard, is sent back to Sylvania from his posting in Paris for a reprimand by the Queen due to his womanizing ways. They, attracted to each other, decide to get married. Life for the Prince Consort ends up not being as he envisioned.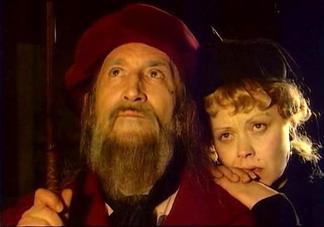 BEASTS (1977) * with switchable English subtitles *
A pretty girl arrives on a small island on a dark and stormy night. She becomes an excuse for the turbulence and evil that occurs, when one man forgets his dignity and becomes a beast.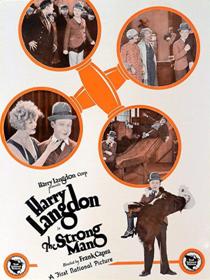 TWO FILM DVD: STRONG MAN (1926) + ASK FATHER (1919)
STRONG MAN (1926):
A meek Belgian soldier fighting in World War I receives penpal letters and a photo from "Mary Brown", an American girl he has never met. He becomes infatuated with her by long distance. After the war, the young Belgian journeys to America as assistant to a theatrical "strong man", Zandow the Great. While in America, he searches for Mary Brown... and he finds her, just as word comes that Zandow is incapacitated and the little nebbish must go on stage in his place.
ASK FATHER (1919):
A young couple has decided to marry and it's time to ask father for the hand of his daughter. Problem is, father doesn't want to give his daughter away. So every time he goes to the office to ask the man, the future bridegroom-to-be(?) he is tossed out. He's ejected over and over, by different methods, while the girl waits and waits.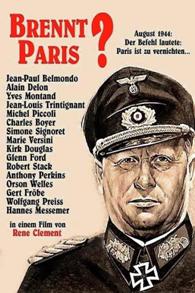 IS PARIS BURNING (1966) * with switchable English subtitles *
In this sprawling, star-laden film, we see the struggle of various French resistance factions to regain control of Paris near the end of World War II. The German general in charge of Paris, Dietrich von Cholitz, is under orders from Hitler to burn the city, if he cannot control it or if the Allies get too close. Much of the drama centers around the moral deliberations of the general, the Swedish ambassador, and the eager, but desperate, leaders of the Resistance.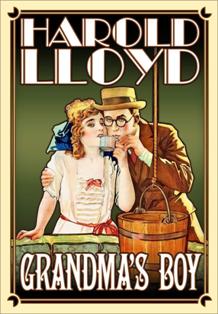 TWO FILM DVD: NOW OR NEVER (1921) + GRANDMA'S BOY (1922)
NOW OR NEVER (1921):
Mary is a nanny to an infant girl named Dolly, neglected by her parents in their own self-absorbed lives. Mary is scheduled to go on vacation; she's going home to meet her childhood sweetheart, whose childhood promise to meet her on her eighteenth birthday is about to take place. However, feeling Dolly will be all alone, Mary decides to take Dolly with her. Mary, however, didn't bother to ask the parents' permission, assuming they couldn't be bothered to care. Mary meets her beau on the train to their hometown, unaware of the trials he has had to make it to get this far.
GRANDMA'S BOY (1922):
Bespectacled Harold, who was born with his trademark horn rimmed glasses on his face, is a meek, cowardly man, who has never thrown a punch in retaliation in his life, despite having ample cause to do so. He lives with his Granny, who looks after him. He's in love with Mildred, whose affections he has to battle for with a bully, who will do anything to show up Harold in front of Mildred. Some actions by Granny to help Harold don't help his cause. When the Sheriff deputizes a bunch of young men in an effort to apprehend a gun-toting murderous tramp on the loose, Harold, based on a story by Granny about how his Grandpa became a hero, may yet become the man Mildred wants once and for all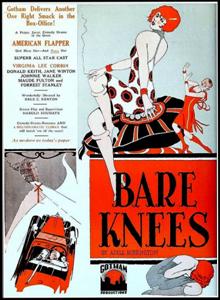 TWO FILM DVD: HANDS UP (1926) + BARE KNEES (1928)
HANDS UP (1926):
During the Civil War, a spy from the South must intercept and seize a shipment of gold. Too bad Indians, two sisters and a firing squad keep getting in his way!
BARE KNEES (1928):
A young married woman in a small town is visited by her sister, an unmarried "flapper", who causes a scandal in town with her bobbed hair and short skirts. She attracts the attentions of some of the local men, which causes an even greater scandal (which is made worse when her sister abruptly leaves her boorish husband for another man).

You may have missed these titles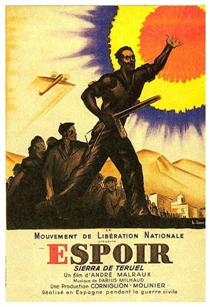 ESPOIR (1945) * with switchable English subtitles *
Filmed in 1939, but not released until after the end of the Second World War, this movie dramatizes the horrors of the Spanish Civil War in 1937 Teruel. The underdog Republicans try their best to hold out against the fascist attackers of General Franco, but while they have high morale, they don't have much of anything else.
This version of the film appears to be 20 minutes shorter than the original put out in Spain (and 10 less than the French version).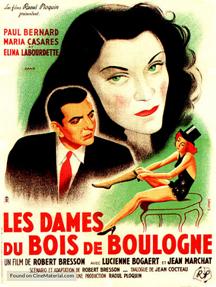 LES DAMES DU BOIS DE BOULOGNE (1945) * with switchable English subtitles *
Helene understands that Jean doesn't love her anymore. She's full of grief and anger and starts brooding on the idea of revenge. When she meets Jean again, she pretends to be the one that's fallen out of love. Jean's relieved, thinking they can now part as friends. Helene goes to a night club, where Agnès is a famous dancer. Agnés has been forced into this life of debauchery and courtesanship because of poverty. She hates it and equally hates all the lecherous men there. Helene met Agnès and her mother several years ago, and after the show, looks them up. She says she'll help them leave this degrading life. The next day, they move to an apartment Helene's rented and stay there anonymously. Some days later, she arranges a seemingly spontaneous meeting between Jean and Agnès in the Bois de Boulogne. Jean immediately falls in love with Agnès, who, he thinks, is an innocent girl from the countryside. But Jean's unaware that there's more to this "chance" meeting than meets the eye.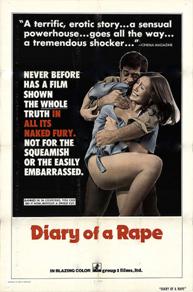 DIARY OF A RAPE (1971) * with switchable English subtitles *
Lena is alone in the city while her parents are on vacation. She's torn between her innocent boyfriend and the older, more experienced --- and sadistic --- sociopath, Helge. She tells Jan about Helge, who gets angry and slaps her. Lena then runs away and hitchhikes with the promiscuous and friendly couple Lars and Ulla, with whom she goes to Jan's mother's summer cabin. The day after, her boyfriend finds her there and takes her back to the city, where she yet again is drawn to Helge. Lena's memories, the present, and fantasies are frequently woven into the fabric of the film.
When a son-in-law to be decides to run for the hills at the very last moment and leaves the daughter of a well-off farmer deeply hurt, a less than desirable servant suddenly seems to be a possible, acceptable replacement for the missing bridegroom.
Als der vorgesehene Schwiegersohn in letzter Sekunde das Weite sucht und die Tochter eines Großbauern tief gekränkt zurücklässt, verdingt sich ein tölpelhafter Knecht auf dem Hof, der als Ersatz in Frage kommt.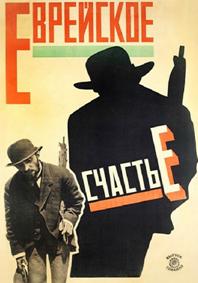 JEWISH LUCK (1925) * with hard-encoded Russian and English subtitles *
Jewish Luck was one of the first Soviet Yiddish films to be released in the United States during the 1920s. Based on Sholem Aleichem's series of stories featuring the character Menakhem Mendl, the film revolves around this daydreaming entrepreneur, who specializes in doomed strike-it-rich schemes. Some of the finest artistic talents among Soviet Jewry appears in this film and it's been speculated that Eduard Tisse's filming of certain scenes carried over into a much more famous project, namely, Battleship Potemkin, where the well-known "Odessa steps" scene mirrors the very same setting of the finale in Jewish Luck. The original Russian intertitles for this film were written by the famous author Isaac Babel, who later fell victim to the Stalinist purges of the late 1930s. At the time the film was made, however, the USSR was one of the very few European powers alleging its protection and promotion of minorities' rights, a declaration that contrasted glaringly with the situation of minorities in most of the newly independent eastern European nation states. Not long after Stalin took power in 1924, however, the superficially liberal policies of the Bolsheviks would be eliminated and replaced with stifling conformist dictates.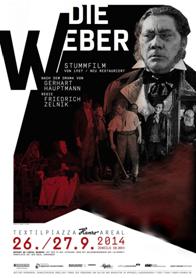 DIE WEBER (1927) * with switchable English subtitles *
Für einen Hungerlohn arbeiten schlesische Weber in Heimarbeit für Fabrikant Dreißiger. Der droht Lohnsenkungen an und verweist auf die Konkurrenz durch die neuen mechanischen Webstühle. Moritz Jäger hat durch seinen Militärdienst Einblick in die sozialen und politischen Verhältnisse außerhalb Schlesiens gewonnen und ruft die Arbeiter zum Widerstand auf. Ihm droht Verhaftung, die die Weber verhindern können. Sie stürmen die Fabrikantenvilla, Dreißiger flieht. Die Weber der Nachbardörfer solidarisieren sich. Gemeinsam zerstören sie die Maschinen und wehren das Militär ab, das gegen die rebellischen Weber eingesetzt wird.
The manufacturer Dreissiger has hired the weavers of his Silesian village to loom fabric into finished products for starvation wages. Any protest or complaint by the workers is countered by threats of wage cuts and permanent lay-offs courtesy of the automated looms coming on to the market. Thanks to his military service, Moritz Jager has gained some insight into the social and political conditions outside Silesia and calls on the workers to resist. He is detained with the hopes of neutering a mass uprising by the starving workers. But the villagers besiege Dreissiger's villa and the factory owner flees, along with his minions. The weavers rouse the inhabitants of neighboring villages to come to their aid in solidarity. Together, they destroy the machines which threaten their existence and repulse a company of soldiers sent to crush the rebellion.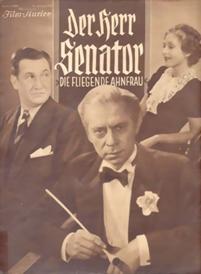 DER HERR SENATOR, DIE FLIEGENDE AHNFRAU (1934)
Ein in Vornehmheit erstarrter Hamburger Senator versucht, seine Zigarettenfabrik durch die Vermählung seiner Tochter mit dem Sohn seines Konkurrenten zu konsolidieren. Seine exzentrische, alte Schwester aus Süddeutschland schickt ihm jedoch einen forschen Rechtsanwalt als Kontrolleur ins Haus.
A senator from Hamburg, frozen in old-fashioned gentility, attempts to consolidate his cigarette factory by marrying off his daughter to the son of his competition. His eccentric, nosy old sister, with no life of her own back in southern Germany, sends him a lawyer to keep an eye on the going-ons in the house.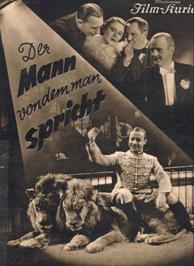 DER MANN, VON DEM MAN SPRICHT (1937)
Auf Geheiß seines Onkels soll der Zoologiestudent Toni Mathis einmal dessen Landwirtschaftsbetrieb übernehmen und eine der Schönheiten aus der Nachbarschaft heiraten. Toni hat aber das Studentenleben etwas zu sehr genossen und die entscheidende Prüfung verschlafen. Dann verliebt er sich auch noch in die junge Trapezartistin Bianka. Ihr Vater, der Zirkusdirektor Zaratti, willigt aber nur dann in die Ehe seiner Tochter ein, wenn ihr zukünftiger Ehemann ebenfalls ein Artist ist. Also beschließt Toni, Artist zu werden. Er kauft sich einen Flohzirkus und stellt sich Zaratti als "Tierbändiger" vor. Die Flöhe suchen jedoch das Weite, sodass Toni plötzlich ohne seinen "Zirkus" dasteht – während die kleinen Tierchen im Publikum fast eine Panik heraufbeschwören. Als Zaratti hört, dass Toni seine Tiere nicht mehr hat, fordert er ihn auf, mit den Löwen einen Dressurakt vorzuführen. Toni ist verzweifelt, die Clowns des Zirkus versprechen dem jungen Mann aber, sich in Löwenfelle zu hüllen und so den Akt vorzuführen. Als Toni in die Manege kommt, glaubt er daher, falsche Löwen vor sich zu haben, und arbeitet zum Erstaunen aller mit verblüffender Sicherheit. Erst zum Schluss erkennt er seinen Irrtum und erzielt einen sensationellen Heiterkeitserfolg.
At the behest of his uncle, zoology student Toni Mathis is supposed to take over his uncle's farm after graduation and marry one of the local beauties. But Toni's been enjoying the life of a student just a tad too much and ends up sleeping through his final exams. He then ends up falling in love with a young trapeze artist named Bianca. Her father, circus director Zaratti, will only give his blessing to a future son-in-law who's also an artist. So Toni decides to become an artist. He buys a flea circus and introduces himself to Zaratti as an "animal tamer". The fleas, however, have no intention of being a part of this sham and take off to find a nice, warm-blooded dog to house them and Toni is now left with a circus that has no "animals". When Zaratti hears that Toni no longer has his animals, he demands that he work with the lions instead. Desperate, Toni begs the circus clowns to dress up in lion skins and to bow before his commands. Thus, when Toni shows up in the ring, he thinks he's dealing with phony lions and the audience is amazed at how calm and confident he is. It's only at the end, that he realizes how mistaken he was; but by then, he'll be a smashing success.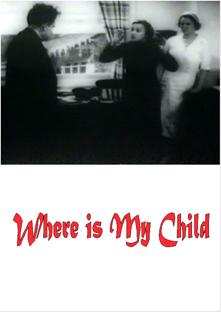 WHERE IS MY CHILD (1937) * with hard-encoded English subtitles *
An immigrant is forced to give up her son. Obsessed with thoughts of finding him and reuniting her family, she spends the next twenty-five years searching, pining and bewailing her loss.
Mit einem kleinen, aber folgenschweren Zwischenfall fängt es an, das große Abenteuer der kleinen Steffi. - Wie jeden Tag, so ist sie wieder in der Stadt unterwegs, um die in der Wäscherei ihrer Tante Mürz gebügelte Wäsche auszutragen. Da wird sie mitten im Verkehr von einem Auto gestreift, das einem unachtsamen Passanten plötzlich ausweichen muss. Steffi zwar ist nichts passiert, aber - oje! - ihr großer Karton ist aufgeplatzt, und verstreut auf der regennassen Straße liegen die Pakete mit der sauberen Wäsche. Fassungslos steht Steffi da. Inzwischen ist aus dem großen Sportkabriolett ein eleganter junger Mann gesprungen und sammelt eilfertig Steffis Pakete zusammen. Er legt sie alle in seinen Wagen, entschuldigt sich liebenswürdig und bietet sich an, Steffi schnell die Pakete zu der Kundschaft bringen zu helfen.
Steffi's great adventure begins with a small, but momentous incident. Like every day, she's on her way to the city to visit her Auntie Murtz' laundry to pick up and deliver ironed laundry. In the middle of traffic, she's sideswiped by a car, which had to maneuver around pedestrians paying as much attention to the cars as she is. Steffi's okay, but oh my!: her box of laundry has exploded into pieces and the freshly ironed clothes are laying strewn all over the rain and mud covered street! Stunned, Stefi stands there in the road -- no doubt waiting for another car to finish the job and end her miserable day forever -- but just then, an elegant young man has climbed out of his sporty cabriolet and quickly snatches up Steffi's laundry from the road. He put the package in his car, apologizes and offers to help Steffi deliver the filthy clothes to her customers (let's hope all the clothes are colored brown and no one notices the dirt).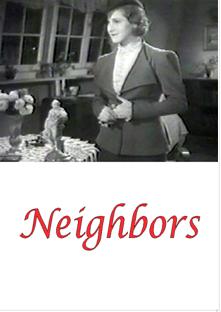 NEIGHBORS (1938) * with hard-encoded English subtitles *
Also known as Shkhenim, the film tells the story of a young radio announcer living in Warsaw, who has a penchant for swing and jazz and is constantly at odds with his landlord, a classical musician. A mix-up involving names and apartments leads to some amusing complications, when the young man falls in love with a young woman, who, unbeknownst to him, is the landlord's niece.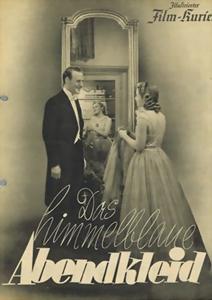 DAS HIMMELBLAUE ABENDKLEID (1940)
Als Sohn des Zürcher Modehausbesitzers Haberland kann Hans Haberland seinen häufig wechselnden Liebschaften so ziemlich jeden Kleiderwunsch erfüllen. Seiner aktuellen Freundin Lizzie hat es ein herrliches, himmelblaues Abendkleid angetan – nur wird ausgerechnet dieses Kleid von seinem Vater an einen Berliner Geschäftsfreund verkauft.
As the son of a fashion house owner in Zurich, Hans Haberland apparently can offer his lovers any article of clothing, for which they're willing to sell themselves. His current girl-toy Lizzie wants this fantastic, sky blue dress -- but it's that dress exactly, which his father has just sold to a business buddy in Berlin. Oh, the shortages and traumas of war one has to put up with!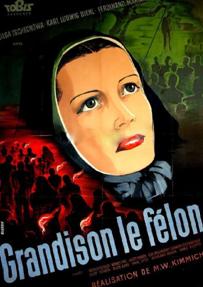 DER FUCHS VON GLENARVON (1940)
Grandison, englischer Friedensrichter in einem irischen Bezirk, ist mit Gloria, einer Irin, verheiratet. Sie weiß ihren Landsleuten oft mit Rat und Tat zu helfen. Grandison jedoch hat sich durch ein Leben in Luxus nicht nur hoch verschuldet, sondern auch in Abhängigkeit gebracht. Vor dunklen Machenschaften schreckt er nicht zurück. Nach vielen Jahren kehrt Sir John Ennis, ein Mann, der sich immer für die Rechte seines Volkes eingesetzt hat, nach Irland zurück. Hier trifft er sich mit seinen Freunden aus dem Bund der Bändermänner. Grandison steht ihm feindlich gegenüber, denn er hat nicht übersehen, dass dieser Mann seine Frau Gloria verehrt. Jetzt glaubt er jemanden gefunden zu haben, dem er seine Straftaten anhängen kann.
Grandison, an English justice-of-the-peace in an Irish district, is married to Gloria, an Irish woman. She often knows how to help her countrymen with advice and deed. Grandison, however, with his love of a life of luxury, not only has put the family deep in debt, but is now dependent on others. And he's not above doing dirty deeds. After many years in exile, Sir John Ennis returns to Ireland. He is a man who has always fought for the rights of his people. Back at home, he runs into old friends from his clan. Grandison, however, hates his guts, because Ennis has a thing for his wife. Now he thinks Ennis might be the perfect patsy (or is that "patty") for the crimes Grandison has committed.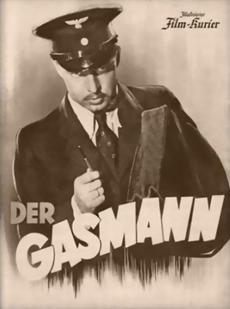 Auf der Zugfahrt von Halle nach Berlin bittet ein Herr im Pyjama den Gasautomatenableser Hermann Knittel, mit ihm die Kleidung zu tauschen. Hermann willigt ein und erhält zum Lohn einen Scheck über 10.000 Mark. Glücklich wird er mit dem unverhofften Reichtum allerdings nicht, denn niemand nimmt ihm seine Geschichte ab. Hermanns Ehe droht in die Brüche zu gehen, Polizei und Finanzamt rücken ihm auf die Pelle.
On the train ride from Halle to Berlin, a man in pyjamas asks Hermann Knittel to change clothes with him (okay ... I guess that's a novel way to meet guys). Hermann, as much a pervert as Pyjama Man, agrees and receives a check for 10 000 Marks ($ 4 000) for his troubles. Eternal happiness isn't the result of his new-found fortune, however, because no one will believe his story (go figure!). Hermman's wife, who isn't a fan of pyjamas, threatens to leave him; the police want to know why he's changing clothes with sex offenders; and the tax office wants its cut, not caring in the slightest how he got the money.
Christine wird Assistenzärztin des berühmten Wiener Chirurgen Professor Wichmann. Nach einiger Zeit fragt er sie, ob sie seine Frau werden will, und sie sagt zu. Wegen eines dringenden Falls wird der Professor aus der Hochzeitsreise zurück ans Krankenhaus gerufen: Der Schauspieler Ferdinand Hofer hat eine Zyste im Gehirn, die, um sein Leben zu retten, so schnell wie möglich operiert werden muss. Für Christine ist Ferdinand kein Unbekannter: Sie waren einmal ein Liebespaar – und als Christine sieht, wie sehr das Wiedersehen Ferdinand aufwühlt, sagt sie ihm, dass sie ihn immer noch liebt. Der Professor hat das Gespräch mitgehört und will Ferdinand nicht mehr operieren.
Christine has become the medical assistant to the famous Viennese surgeon, Professor Wichmann. After a bit of time, he asks her if she will be his wife and she says sure. Because of an emergency, the professor is called back from his honeymoon back to the hospital. The actor Ferdinand Hofer has a cyst in his brain and must be operated on as soon as possible to save his life. For Christine, Ferdinand is no unknown entity: They were once lovers ... and when Christine sees how happy Ferdi is to see her, she confesses she is still in love with him (classy). The professor has overheard the conversation and decides Ferdinand should contact his HMO to find another sap to operate on him.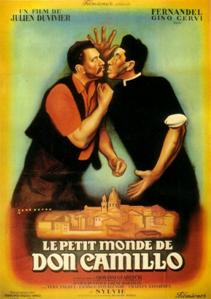 DON CAMILLO (1952) * available in Italian or German with switchable English subtitles *
Life in a small country village in the Po Valley would probably unfold quietly were it not for the constant disputes between the town's priest and its communist mayor. The two try their best to obstruct each other, though they're basically the same. Don Camillo, because of his bad temper, frequently has to ask forgiveness from the crucifix in his church. Peppone gives body and soul to build a House of the People, but Don Camillo has no intention of being outdone in his bid to complete the contruction of his oratory.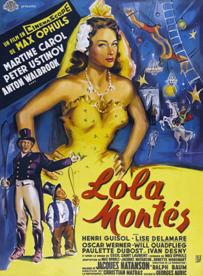 LOLA MONTES (1955) * with switchable English subtitles *
In opulenten Bildern erzählt der Film die dramatische Lebensgeschichte der legendären Tänzerin Lola Montez: Von ihrer unglücklichen Ehe mit einem schottischen Trunkenbold über die romantische Affäre mit dem Komponisten Franz Liszt bis hin zu ihrer Beziehung zu Ludwig I., König von Bayern, der aus Liebe zu Lola sogar eine Revolution provozierte. In einem Zirkus endet ihre Karriere, wo sie unter demütigenden Bedingungen ihre eigene Lebensgeschichte nachstellen muss.
This film tells the dramatic life story of the legendary dancer Lola Montez in opulent images: from her unhappy marriage to a Scottish drunkard to her romantic affair with the composer Franz Liszt, as well as her relationship with Ludwig I, King of Bavaria, whose love of the dancer provoked a revolution among the country's aristocracy (there would've been a revolution for another reason had the nobles known that "love" was never going to be consummated). Her long career ends as a sideshow attraction in a circus, where she is compelled to tell her life story in humiliating conditions.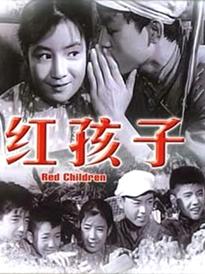 RED CHILDREN (1958) * with switchable English subtitles *
Also known as Hong hai zi, this is the story of village children, who, in the 1930s, do their part to help in the overthrow of White forces in semi-feudal China and bring the Reds to power.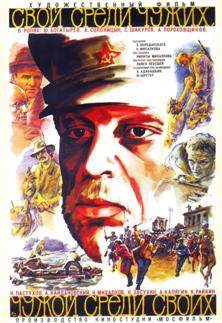 AT HOME AMONG STRANGERS, A STRANGER AMONG HIS OWN (1974) * with switchable English subtitles *
The setting is post-Russian Civil War, during the reconstruction of the young Soviet republic. During the war, Shilov, Sarichev, Kungorov, Zabelin and Lipyagin had become great friends. There are two main plots in the film, the first involving the theft of gold by outlaws just after the Russian civil war. Though the cannons are now silent, the enemy continues to harass the Soviets. The regional committee sends a precious shipment of gold by train to Moscow, and a group of Cheka soldiers led by Shilov are entrusted with the responsibility of guarding it. The gold is needed to buy bread from overseas to feed the starving population. The Cheka guards are attacked and killed by a group of assassins, and the briefcase of gold is stolen. The group then hops onto another train, only to face a reversal of their own when their train is attacked by bandits. All of the assassins are killed except their leader, who discovers that a bandit has secretly stolen the gold. He then joins the bandits in an effort to learn where the gold is, and to escape with it. In the meantime, Shilov was kidnapped and drugged before the train sets off, and is dumped in the street after the attack and framed as the inside man. He is suspected of treason, partly because his brother was a "White", which is where the second plot comes in. Shilov must infiltrate the enemy bandit camp to find the gold, hence the title. The second plot involves the Shilov's desire to clear his name of murder, and he must find out who killed his friends. During his efforts, Shilov uncovers a web of deceit and treachery, which allowed the robbery to succeed. The story of a hero battling against corruption and greed echoes the cattle baron or railroad Westerns. The film also has male camaraderie as a subplot, as the initial joy of demobilized Red Army soldiers returning from the Revolution is sorely tested. It has strong parallels in some ways with Butch Cassidy and the Sundance Kid in its look, period setting, and strong action sequences, which are still famous in Russia, involving literal cliffhangers, white water rafting, chases on horseback, holding up trains and other adventures.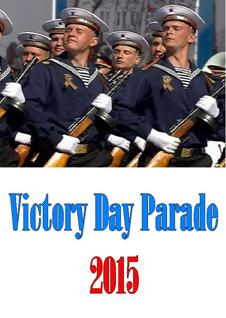 VICTORY DAY PARADE IN MOSCOW (2015) * with partial, switchable English subtitles *
Originally filmed in high definition, but since compressed for view on all TVs, what very little of the quality lost is amply made up for by the incredibly brilliant and vibrant colors of the scenery and soldiers of the Russian Federation on parade in Red Square on 09 May 2015, commemorating the 70th Anniversary of the defeat of Fascist Germany in the Second World War. Once scorned and rejected in post-communist Russia, a spirit of pride and nostalgia for the USSR is very much reflected in both the uniforms and paraphernalia of the marching soldiers, as well as in the language of the defense minister, who addresses them as "tovarishchi" (comrades), but who doesn't fail to cross himself in his car prior to an inspection of the assembled troops. There is no mistaking the praise of both the Soviet Union and its successor, the Russian Federation, in this gathering; and while Putin acknowledges the role of the West in the defeat of German and Japanese militarism, he also doesn't fail to point out that the formation of "new, military cliques" are causing regional mistrust and divisions. Spectacular pageantry --- with a lot less talk than usual --- and even the participation of an old enemy in the parade: Red China! Partially subtitled, so you don't miss a minute of Vlad's subtle suggestions that the United States and NATO are the root of all evil in the world.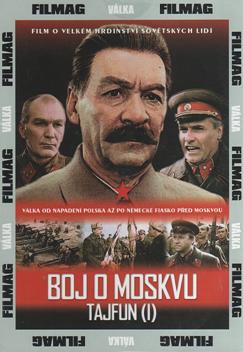 2 DVD SET: BATTLE FOR MOSCOW (1985) * with switchable English subtitles *
Yuriy Ozerov's monumental 1985 work about the Battle of Moscow is much less dramatic and more "historical" than his equally massive "Liberation", made more than a decade earlier. Somewhat freed from the censorship of earlier years, Ozerov was able to address a topic hitherto rarely covered in Soviet works: the opening phase of Operation Barbarossa from the German invasion on 22 June 1941 up to the climactic days of the Soviet counteroffensive before the gates of Moscow.
While still heavily influenced by the official version of events, the film unflinchingly covers the disastrous policies and inefficiencies, which allowed the Germans to rapidly advance and take the newly incorporated lands of Byelorussia and Ukraine into their hands, as well as large portions of western Russia and Ukrainian lands east of the "old border". Nevertheless, it is painfully skewed in its portrayal of Stalin and those around him: Stalin is benevolent; wise; heeds the advice of his cronies in the Supreme Soviet and allows his generals to make the final decisions when the chips are down. Apparently, Ozerov didn't get the message that the cult of Stalinism pretty much came to an end in 1956; and even though Brezhnev was a Stalinist, no one in the USSR at that time had any illusions about how Stalin treated those around him. Zhukov is likewise, but justifiably, praised for his accomplishments (something Stalin didn't take kindly to in the postwar period and promptly banished him to a secondary command in the boondocks to remove any competition for the laurels of victory). The rest of the generals in the film are either grudgingly acknowledged or treated as borderline traitors and incompetent morons (yet any mention of the Great Purge, which decimated the officer corps of many of its finest officers, is an outright non-event in the film).
Nevertheless, the film is entertaining, if not typically long for Ozerov's docudramas, and is the first of its kind to portray and explain how the disasters of the early days of the War almost resulted in a very different Europe.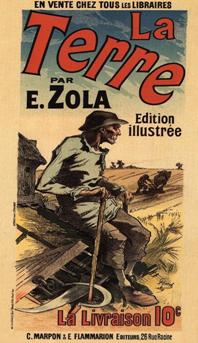 LA TERRE (1959) * with switchable English subs *
Elderly French farmer La Pere Fouan, no longer able to work his land, draws up a contract dividing his property among his three adult children: irresponsible Buteau; poacher Hyacinthe dit Jesus Christ; and obsessive Fanny. Fouan's depressed wife, realizing that their children have no intention of fulfilling their father's expectations, dies soon after the land is split, leaving Fouan to learn the truth alone.
Wolf, the son of manufacturer Karl Kruse, is enjoying life to the fullest as an itinerant playboy. The sporty youth shines as a brilliant racer, rower and skiier, but none of that particularly impresses his girlfriend Brigitte Voss. Brigitte is the self-confident owner of a boutique and while she considers Wolf to be more than an adequate lover, he's not good enough to marry. At first, Wolf's disappointed to discover she thinks that way about him, but then decides to turn his energy into convincing her she's wrong.
Der Playboy Wolf genießt das Leben als Sohn des Fabrikanten Karl Kruse in vollen Zügen. Der sportliche Tausendsassa brilliert als Rennfahrer, Regatta-Ruderer und Skipistenschreck, doch damit kann er seine Freundin Brigitte Voss auf Dauer nicht mehr beeindrucken. Die selbstbewusste Boutiquenbesitzerin hält ihn zwar für einen tollen Liebhaber, doch als Mann zum Heiraten ist er nicht ernst genug. Wolf ist sehr enttäuscht, doch dann setzt er seinen ganzen Ehrgeiz daran, ihr das Gegenteil zu beweisen.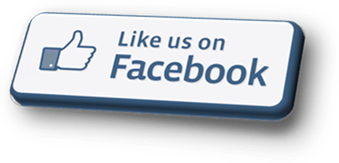 Thank you and the best to all of you,
RAREFILMSANDMORE.COM