.

---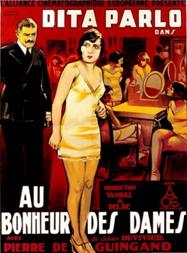 AU BONHEUR DES DAMES (1930) * with switchable English subtitles *
Au bonheur des dames, an adaptation of a novel by Émile Zola, was Julien Duvivier's last silent film, and one of the last great productions of the silent era in France. It tells the story of an orphan, whose uncle's small shop is being overwhelmed by a giant department store across the road. Complications arise when she takes a job in the store and falls in love with the boss. Au bonheur des dames was released in 1930 in a crudely "sonorised" version with music and sound effects. One critic of the time complained about the German marching band music and the crowd scenes that sounded like cats in heat and baying dogs. The film flopped. Fortunately, this version has fewer screeching cats and howling dogs in the soundtrack.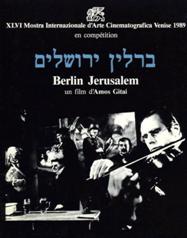 BERLIN-JERUSALEM (1989) * with switchable English subtitles *
Two interconnected stories in the 1930s, one set in Berlin, the other in Palestine: Mania Vilbouchevich Shohat (1880-1961), called Tania, a Russian Jew and revolutionary, goes from Minsk to Palestine to live on a kibbutz. She promotes feminism and laments a shift in the men from self-defense to aggression. Her friend, Else Lasker-Schuler (1869 - 1945), expressionist poet and German Jew, is in Berlin, writing, caring for her son, watching Hitler's movement take power. She goes to Jerusalem and imagines a paradise for Arab and Jew. Her poems, voiced from within, capture her experience. The film meditates on the violence at the root of Israel's birth; of the Nazis and of the Zionists.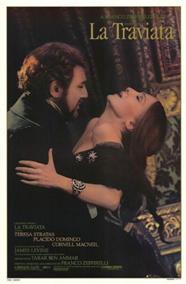 LA TRAVIATA (1982) * with switchable English subtitles *
Violetta meets Alfredo and quickly falls for him. After the lovers run away together, they live in bliss for a short time. However, Alfredo's father, Giorgio, starts to interfere, concerned that Violetta's bad reputation will affect the marriage prospects of Alfredo's sister. Violetta reluctantly leaves Alfredo, but his love is so strong that it leads him to actions that have tragic consequences.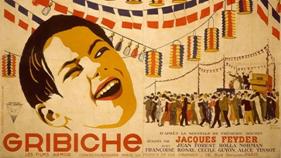 GRIBICHE (1926) * with switchable English subtitles *
In a busy department store, perceptive young Antione picks up some gloves for his mother. While watching other customers, the boy notices wealthy socialite Edith Maranet unknowingly drop her purse. Young Antoine runs to return the woman's purse, then declines her offer of a reward. Impressed with the boy, Mrs. Maranet contacts his mother with an offer. She will adopt him and provide the boy with the best education money can buy. Believing her son will benefit from a luxurious lifestyle, widow Anne Belot gives up her son.
In the Lancashire mill town of Hindle, preparations are being made for the annual Summer holiday. Fanny Hawthorn is seen packing her suitcase in preparation for her trip to Blackpool with her friend Mary Hollins. Meanwhile, Allan Jeffcote, son of the owner of the mill in which Fanny works, has had his own holiday plans disrupted due to his fiancée having to cancel their arrangements at the last minute. After a final day's work, the factory siren blares and Fanny and Mary board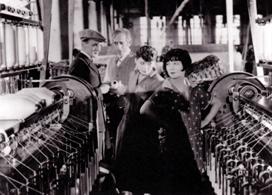 the train to Blackpool, while Allan and a friend decide to travel there by car. In the bustle and throng of Blackpool in peak season, Fanny and Mary meet up with Allan and his friend and enjoy the excitement of the resort as a foursome. Allan and Fanny are attracted to each other, and Allan persuades Fanny to leave Blackpool and instead accompany him for a stay in the more upmarket resort of Llandudno in North Wales. Knowing what this entails, Fanny agrees and writes a postcard to her parents, which Mary promises to post from Blackpool later in the week. Soon after, Mary is tragically killed in a boating accident. When Fanny's father hears the news he travels to Blackpool, only to find Fanny not there, and the unmailed postcard in Mary's luggage. At the end of the week, Fanny and Allan return separately to Hindle, where Fanny, previously unaware of Mary's death and shocked by the news, is interrogated by her parents and reveals that she spent the week with Allan in Llandudno. In indignation, the Hawthorns go to the Jeffcote home and confront Allan's parents with his caddish behavior. To their surprise, they find Allan's father equally appalled by the situation. Mr. Jeffcote determines that Allan must marry Fanny to prevent a scandal.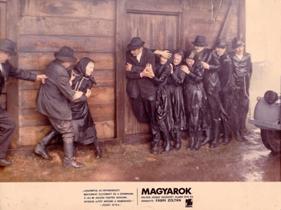 MAGYAROK (1978) * with switchable English subtitles *
Set during the brink of World War II, Zoltán Fábri's 1978 film Magyarok depicts a group of migrant workers, who've moved from Hungary to work on a farm in Northern Germany. Although laboring in decent and fair conditions, the group begins to reconsider their surroundings after witnessing the ill-treatment of prisoners of war and those who have succumb to the fate of the time. What they face in their proposal to leave is the truth of an era overrun by Nazi-occupied Germany, and a struggle against all obstacles to escape it.
Salome, the daughter of Herodias, seduces her step-father/uncle Herod, governor of Judea, with a salacious dance. In return, he promises her the head of the prophet John the Baptist.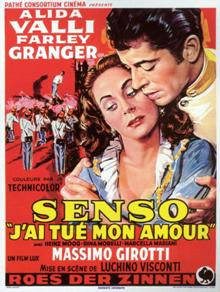 SENSO (1954) * with switchable English subtitles *
Senso is set in Italy around 1866, the year the Italian-Austrian War of Unification would see the Veneto and most of Friuli-Venezia Giulia united into Italy after the Seven Weeks' War between Austria on one side and Prussia and Italy on the other. The story opens in the La Fenice opera house in Venice during a performance of Il Trovatore. At the close of Manrico's rousing aria Di quella pira, the opera is interrupted by a boisterous protest by Italian Nationalists against the occupying Austrian troops present in the theater. Livia Serpieri, an Italian countess, unhappily married to a stuffy older aristocrat, witnesses this and tries to conceal the fact that her cousin Marquis Roberto Ussoni organized the protest. During the commotion, she meets a dashing young Austrian Officer named Franz Mahler, and is instantly smitten with him. The two begin a secret love affair. Despite the fact that Franz was responsible for sending Roberto into exile for his radical behavior, Livia vainly pretends not to be aware of it. Although Franz is obviously using Livia for her money and social status, Livia throws herself into an affair of complete sexual abandon with Franz, giving away her money and not caring what society thinks about her. But soon, Franz begins failing to show up for their trysts and Livia becomes consumed by jealousy and paranoia.
The film opens in 44 BC, just after the assassination of Julius Caesar, and tells the story of Egyptian Queen Cleopatra and her relationship with the Roman general Mark Anthony from that time until their mutual suicide in 30 BC. Lucilius, having previously accompanied Julius Caesar to Egypt and having been a close witness to Caesar's romance with Cleopatra, believes that Cleopatra is a woman highly skilled in besotting men to promote her own agenda, in this case to bind Mark Anthony to her desire to become queen of Rome and to make her son by Caesar the eventual ruler of the Roman Empire. In the meantime, as Lucilius becomes aware, Cleopatra is beguiling Anthony with continuous showings of feasting and luxury while the vast population of Egypt is suffering hunger and poverty. When Lucilius reveals his concerns to Cleopatra, she makes an unsuccessful attempt to seduce him, in order to win him to her side. Cleopatra persuades Anthony that all this disaffection is the work of her younger half-sister, Arsinoe, and Lucilius is sent on an expedition against her in which she is (unhistorically) killed.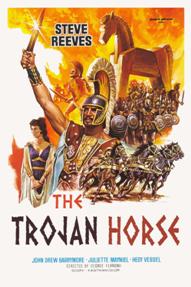 THE TROJAN HORSE (1961) * with English, French and German audio tracks *
In the final year of the ten-year long Trojan War, Ulysses devises his infamous scheme to get into Troy. The Greeks build a colossal wooden horse, which the Trojans take into their city, believing it a gift from Poseidon. Hidden inside are Greek warriors, who open the city gates and welcome their comrades to enter and destroy the city. The film focuses on Aeneas, who fights many battles during the movie. He even travels abroad and brings back an entire foreign army to defend the city. Aeneas leads the desperate final battle to defend Troy, but I think you can guess what good that does him and his fellow Trojans.
.
.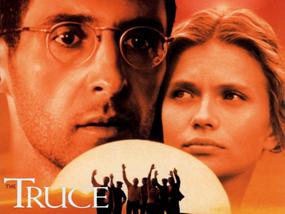 THE TRUCE (1997) * with switchable English subtitles *
Primo Levi is freed from Auschwitz by Soviet forces at the end of January 1945. Levi's suffering, however, does not to end after his liberation. For the next ten months, to reach Italy, his home, his journey will bring him to the Ukraine; Byelorussia; back through Ukraine into Bessarabia; through Rumania and Hungary; and finally through Slovakia and Austria back to his native Italy. This is his story.
This TCM production begins with Magnolia, the daughter of Captain Andy Hawks and his domineering wife, Parthy, enjoying her childhood aboard her father's show boat. Parthy, irritated over the supposed influence of leading lady Julie fires her, despite her husband's objections. Many years later, Magnolia is a young woman and becomes a leading lady. Her leading man is Gaylord Ravenal, a riverboat gambler with whom she falls in love and elopes. But the sudden and unexpected death of Captain Andy forces the couple to leave the boat and move to Chicago rather than endure the disapproving Parthy, and Ravenal's gambling luck soon runs out. Then, Parthy announces she's coming for a visit.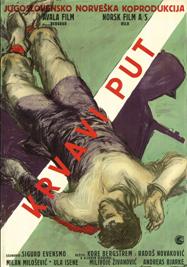 KRVAVI PUT (Blodveien) (1955) * with switchable English subtitles *
Krvavi Put (Blodveien), a joint Norwegian-Yugoslav production, portrays the conditions that Yugoslav (mostly Serbian) slave laborers and prisoners of war lived under in northern Norway during the Second World War, when the Germans wanted to build a route known as the "Blood Road" (today part of European route E6, among others). Two local Norwegian friends and construction workers, Ketil and Ivar, serve as supervisors on the road under pressure from the Germans. They had earlier helped build the small concentration camp that the prisoners later lived in, without understanding what they were involved in. The Germans take harsh revenge after an escape attempt by shooting some of the prisoners. The Germans, led by the sadistic Schwarz, terrorize and kill prisoners at random almost daily. Ketil's young son Magnar is bored at home on the small mountain farm and wants to get out and do something with his life. He enlists with the German forces and is made a guard at the prison camp. The prisoner Janko escapes from the camp after being shot by Schwarz.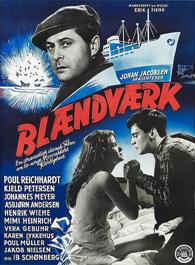 BLAENDVAERK (The Blinded) (1955) * with switchable English subtitles *
This noir drama has a double plot: a political thriller about sabotage on a NATO transport and a steamy love story. First ever nude exposure in a Danish feature movie (causing quite a stir in its day).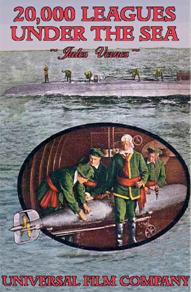 TWENTY THOUSAND LEAGUES UNDER THE SEA (1916)
Captain Nemo has built a fantastic submarine for his mission of revenge. He has traveled over 20,000 leagues in search of Charles Denver - a man who caused the death of Princess Daaker. Seeing what he had done, Denver took the daughter to his yacht and sailed away. He abandoned her and a sailor on a mysterious island and has come back after all these years to see if she is still alive and if the nightmares he has will stop. The daughter has been found by five survivors of a Union Army Balloon that crashed near the island. At sea, Professor Aronnax was aboard the ship 'Abraham Lincoln' when Nemo rammed it and threw the Professor, his daughter and two others into the water. Prisoners at first, they are now treated as guests to view the underwater world and to hunt under the waves. Nemo will also tells them about the Nautilus and the revenge that has driven him for all these years.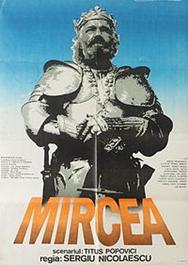 MIRCEA (Proud Heritage) (1989) * with switchable English and Spanish subtitles *
Following the Battle of Rovine in 1394 between the Wallachian and Ottoman armies, Wallachian ruler Mircea the Elder consolidates his reign. In a small civil war, he manages to oust his brother Dan from his domain. Dan's dream of usurping the Wallachian throne is destroyed and he is banished from the kingdom. After this confrontation, Prince Mircea the Elder receives envoys from the Polish king and from the Ottoman sultan. In their attempt to conquer Europe, the Ottoman Turks are seeking European allies. Their envoys to Wallachia want to persuade Prince Mircea to join them, but the Polish envoys also are hoping to sway Wallachia to their side. Prince Mircea of Wallachia hesitates. An alliance with fellow Christian Poles seems logical, but their conditions are harsh.The conditions of a possible military alliance with the Ottoman Turks are more attractive. However, the Ottoman Turks are Muslim and they are the traditional enemies of the small Christian kingdom of Wallachia. Caught between two waring powers, Wallachia faces hard choices. The key to its survival is Prince Mircea's wisdom and his grandson ... Vlad.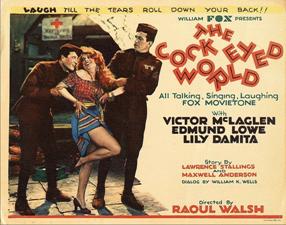 THE COCK-EYED WORLD (1929) * with hard-encoded French subtitles *
Two Marines, who spend their lives battling each other, find themselves stationed in Russia, where they fight over a sexy Russian girl; from there they go to Brooklyn, where they both set their sights on a pretty blonde, who flirts outrageously with both of them; and finally they wind up in a South American country where they fight for the favors of a beautiful senorita and try to put down a rebellion by the locals at the same time.
The Professor dispenses the wisdom of the ages but doesn't make a living wage. The sons of the rich and powerful are students lacking any motivation. The next door neighbor of the Professor, businessman Olsen, has money and lots of food, while the Griggs have hardly any. Both Peter Olsen and Reverend Gates are taken by the beauty of young Amelia Griggs. When rich son Phil West falls for Amelia Griggs and befriends the poor Reverend Gates, he finally sees the difference in his life and theirs and tries to do something to change that.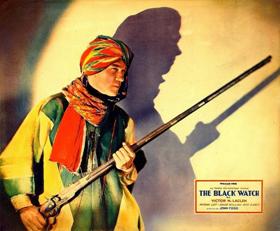 THE BLACK WATCH (1929) * with hard-encoded French subtitles *
A captain in the British Army's Black Watch regiment is assigned to a secret mission in India just as his company is called to France at the outbreak of the First World War. His covert assignment results in his being considered a coward by his fellows, a suspicion confirmed when he becomes involved in a drunken brawl in India that results in the death of another officer.
A son of Christian missionaries, Ezekial Cobb lived in a small isolated town in China for twenty years, since he was an adolescent. Because of this sheltered life, Ezekial, who follows the teaching of Chinese poet and philosopher Ling Po, is a naive and overly trusting man. His parents send him back to his birthplace of Stockport, California, so he can find a wife (and for the two of them to return to China to continue proselytizing). In the big city of Stockport, Ezekial, being unwise to the ways of the world, gets him into one misadventure after another. Jake Mayo equates Ezekial's simplicity with being a pushover, just the type of person he needs to run as mayor on behalf of the Good Government League - the reform ticket - which is solely a front for the corrupt political machine in power who want to make it look like the election is being run in a true democratic fashion. Although Ezekial accepts the nomination on the premise he will lose as his primary goal is to find that wife and return to China, Ezekial, a man with integrity, may have different goals once he learns how corrupt politics in Stockport truly is.
Monty Banks wants to be like his hero Charles Lindbergh and will do anything to learn to fly a plane. After building his own doesn't go so well, he winds up enlisting in the Army. During basic training, Monty falls in love with the Colonel's daughter, tangles with a mean drill sergeant and is mistaken for a visiting French dignitary. But eventually Monty winds up in a plane and wins the big Army-Navy air polo match!
.
.
.
.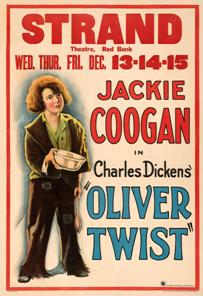 TWO FILM DVD: OLIVER TWIST (1922) + HOT WATER (1924)
OLIVER TWIST (1922):
A woman arrives with her baby to a workhouse and dies soon afterwards. The beadle, Mr. Bumble, gives the orphan the name Oliver Twist. When Oliver is nine years old, he asks for more porridge during a meal. He is punished for his audacity and turned over to the undertaker, Mr. Sowerberry, as an apprentice. Oliver is bullied and runs away. On the road he meets the Artful Dodger, a young pickpocket, who brings him to Fagin's den in London. Fagin, the old leader of a juvenile gang, orders the boys to teach Oliver their trade. They fail to pickpocket the wealthy Mr. Brownlow and run away, leaving innocent Oliver behind. Mr. Brownlow is touched by Oliver and adopts him. When Oliver goes on an errand, he is recaptured by the criminals Bill and Nancy Sikes, who bring him back to Fagin.
HOT WATER (1924):
Balking at the fact his best friend is about to get married, a young man literally runs into a woman will become his wife on his way to that friend's wedding. Although he loves his wife, the husband doesn't much like having to deal with his in-laws: his controlling and judgmental mother-in-law, Winnifred Ward Stokes; his shiftless and lazy older brother-in-law, Charley Stokes; and his mischievous adolescent brother-in-law, Bobby Stokes. He's also a bit harried by his wife's requests; one such incident has him carrying a large load of groceries, including a live turkey, home on the streetcar, much to his and the other passengers' chagrin. However, his streetcar days may be behind him as he has just purchased a new automobile for their household, a Butterfly Six. The inaugural drive in the car is intruded upon by his in-laws, which leads to an adventure-filled drive on the streets and other less driven places of their town.
Aubrey Piper, a mere clerk at the offices of the Pennsylvania Railroad, poses as an important executive to his sweetheart, Amy Fisher, by blustering, bullying, and showing off continually. Though all the members of her family are contemptuous of Piper, Amy marries him. Three months later, she's fully aware of his faults. To help his son Joe continue working on his invention (a rust-preventing paint), Pop Fisher gives him the money saved for the mortgage and shortly afterward dies of a stroke. Aubrey wins a Ford in a raffle; and while taking it out for a spin, he knocks down a traffic policeman.

You may have missed these titles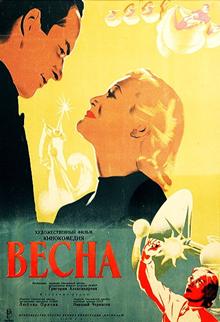 VESNA (1947) * with switchable English subtitles *
A postwar Soviet Union version of a Hollywood musical, Vesna won a number of awards for its director, the prolific Grigori Alexandrov, whose wife plays the leading role. It's a story of mistaken-identity involving a female scientist named Irina and her double, a Bolshoi dancer named Vera. When a film studio announces it will make a film based on Irina's life story, Vera's chosen to play the role, leading to a comedy of errors.
BALDUIN DAS NACHTGESPENST (1968) * with switchable English subtitles *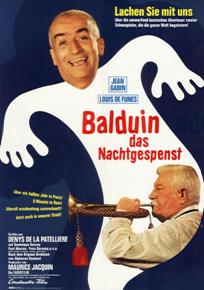 Balduin Mezeray ist Kunsthändler und zu Besuch bei einem seiner Künstler, dem ein alter Herr Modell sitzt. Gerade, als sich dieser wieder ankleiden will, entdeckt Mezeray auf dem Rücken des betagten Mannes einen "Modigliani", ein Kunstwerk, das der Meister ihm in jungen Jahren im Krieg auf die Haut tätowiert hat. Mezeray wittert das große Geschäft und bedrängt den Kriegsveteranen Legrain, ihm das Bild zu verkaufen. Dieser zögert zunächst, lässt sich dann aber doch auf das Geschäft ein, nachdem Balduin ihm zugesagt hat, sein Wochenend-Häuschen etwas auf Vordermann zu bringen. Letzteres stellt sich als baufälliges Schloss heraus und der Kriegsveteran als waschechter Graf. Immer noch das große Geschäft witternd, lässt sich Balduin so manche Macke des exzentrischen Aristokraten gefallen. Mit der Zeit bemerkt Balduin, dass der seltsame Herr ihm Dinge aufzeigt, die bisher an ihm vorübergegangen sind und der alte Graf entdeckt durchaus ehrliche und liebenswürdige Züge an dem scheinbar so geldgierigen Kunsthändler Balduin.
In an artist's studio, rich Parisian art dealer Félicien Mézeray sees old soldier Legrain, whose back has a tattoo by Modigliani. This he sells unseen to two American dealers and the rest of the film revolves around his efforts to literally get the skin off Legrain's back. The price Legrain wants is the restoration of his old family home in the country, which turns out to be the huge crumbling castle of Paluel in remote Périgord, while he turns out to be the last and extremely eccentric Count of Montignac.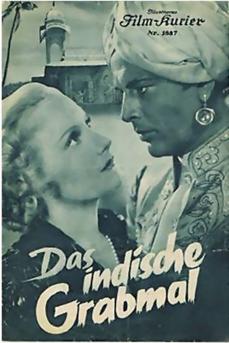 DAS INDISCHE GRABMAL (1938) * with switchable English subtitles *
Zweiter und letzter Teil der Verfilmung von Thea von Harbous Roman: Nach ihrer waghalsigen Flucht vor dem eifersüchtigen Maharadscha Chandra und dem intriganten Prinzen Ramigani gelangen die Maharani Sitah und ihr deutscher Geliebter Sascha zurück nach Indien. Im Palast von Eschnapur kommt es zur entscheidenden Konfrontation zwischen den Hauptakteuren.
The second, and final, film adaptation of Thea von Harbou's novel: after their daring escape from the jealous Maharaja Chandra and the intrigues of Prince Ramigani, Maharani Sitah and her German lover Sasha make it back to India. In the Palace of Bengal there's a decisive confrontation between the main characters.
Deutsch-italienischer Kriminalfilm im Rennfahrer-Milieu: Der internationale Verbrecher "Die Pranke", der seine Opfer mit einer Prothese erschlägt, hat wieder zugeschlagen. Ein Ingenieur, der für die italienischen Alberti-Werke einen neuen Rennwagen konstruiert hat, wird erschlagen aufgefunden. Die Konstruktionsunterlagen sind gestohlen. Rappis, der Direktor des Werks, nimmt selbst an dem Rennen teil und kommt gleichzeitig mit dem deutschen Fahrer Peter Krüger ins Ziel. Dann wird auch Rappis erschlagen aufgefunden.
German-Italian crime drama with a racing milieu: The International criminal, "The Paw", who kills his victims with a prosthesis, has struck again! An engineer, who has designed a new racing car for the Italian firm Alberti has been found beaten to death. The plans for the car have been stolen. Rappis, the firm's director, takes part in the race and hits the finish line at the same time as the German racer, Peter Kruger. Then Rappis is found beaten to death, too.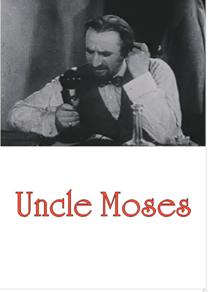 UNCLE MOSES (1932) * with hard-encoded English subtitles *
When poverty and persecution compel his former neighbors to abandon their Polish shtetl, "Uncle" Moses, the shtetl's former butcher, welcomes them to the promised land of his Lower East Side clothing factory. A master in the harsh, new American system with its 14-hour workday, Moses attempts to reconstruct the lost harmony of the shtetl in the paternalistic order of his sweatshop. He uses his wealth to show off his accomplishments and leaves the daily operation of the factory to his nephew, Sam. When Masha Melnick pleads with him for her father's job, Moses, who has the hots for the girl, rehires the dad. But Masha also happens to be the sweetheart of Charlie, a labor activist, who's trying to organize a union in Moses' factory.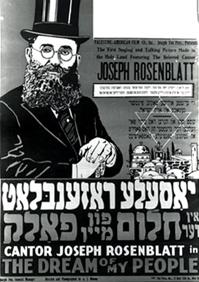 A must for anyone interested in Palestine before the creation of the Jewish state. The film is a travelogue through the 1930s British Mandate, focusing on Jews living and working in the Holy Land. Locations featured include important sites in Jeusalem; the Judean Hills; Mikhve Israel Agricultural School; Rishon le Zion; Rehovot; Nes Ziona; the Jezreel Valley; Tiberias; Lak Kinneret; Tel Aviv; etc. The remainder of the DVDs consist of newsreels (mainly British Pathe) about Palestine and Israel from 1925 - 1949.
Contents:
Main Feature: Dream of My People (1933)
Newsreels:
Jerusalem (1920 - 1939)
First Pictures from Palestine (1929)
In Palestine Today (1938)
Australia versus Palestine Football Match (1939)
In Palestine Today - Tel Aviv (1939)
Palestine Today - Back to the Land (1939)
Jordan Valley (1940 - 1949)
News from Palestine (1946)
UN Meets on Palestine (1948)
Britain recognizes Israel (1949
The Palestine Story
Ein verschüchterter, etwas versponnener Kleinstädter wird von den Geschwistern in ihrem Gemischtwarenladen tyrannisiert. Plötzlich ruft ihn der ausgewanderte, reich gewordene Vetter nach Amerika. Nach allerlei Verwicklungen im Hamburger Hafen und anderswo kehrt der bereits Totgeglaubte als selbstbewußter Mann zurück. Volkstümlicher Schwank mit einer Paraderolle für den Komiker Paul Kemp.
A timid, small-town man is tyrannized by his sisters in their grocery store. Suddenly, a rich cousin, who had emigrated abroad, calls on him to come to America. After a number of confusing events in Hamburg's harbor and in other places, the small-town man returns as a self-assured one after everyone believed he found his death in the interim. Popular farce with a signature role for the comedian Paul Kemp.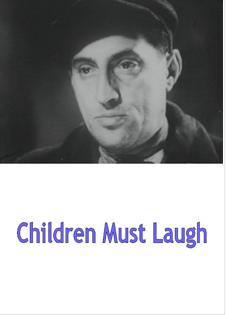 CHILDREN MUST LAUGH (1935) * with hard-encoded English subtitles *
Children Must Laugh is one of the few surviving documentaries about Jewish life in prewar Poland. It was produced to raise funds for the Vladimir Medem Sanatorium which, noted for its modern and spacious facilities, was the embodiment of health and enlightenment, which contrasted glaringly with the grim images of poverty rampant in urban, Polish-Jewish society. The sanatorium's theme song --- "Here we Come" --- punctuates the film with a sense of hope and accomplishment. The Bund's optimistic internationalism, exemplified by the children's performances, permeates the film, creating powerful, yet unintended, ironies for post-Holocaust viewers.
Eduard Winkelmann, der Eigentümer eines Münchner Wohnhauses, macht seinen Mietern ständig das Leben schwer. Da steht eines Tages eine junge Frau vor seiner Tür: Erika, seine uneheliche Tochter aus einer lange zurückliegenden Liebschaft. Da seine Frau Selma nichts davon wissen darf, verschafft Winkelmann Erika ein möbliertes Zimmer in der Wohnung des Malers Willi Hegers, wo Winkelmann sich heimlich mit seiner Tochter trifft. Da er dabei von zwei Mietern beobachtet wird, gibt es bald wilde Gerüchte über seine wahre Beziehung zu der jungen Frau.
Eduard Winkelmann, the owner of an apartment building in Munich, never tires of making life difficult for his renters. One day, a young woman, Erika, shows up at his door. She is the illegitimate daughter of a long-past love affair. Since his wife Selma doesn't have a clue about her existence, Winkelmann puts Erika up in a furnished room in the apartment of the painter Willi Heger, where Winkelmann secretly meets up with his daughter. And since this has been observed by two nosy neighbors without a life to keep them busy, rumors soon start flying about the alleged true relationship of his to the young girl. Selma demands a divorce.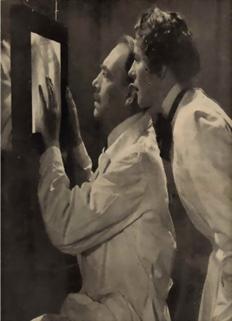 DAS HERZ MUSS SCHWEIGEN (1944)
In der Silvesternacht des Jahres 1900 eröffnet Paul Holzgruber eine neue Praxis als Röntgenarzt. Die junge Maximiliane Frey wird seine Assistentin, und jahrelang arbeiten sie Seite an Seite, um den Menschen zu helfen. Holzgruber weist Maximiliane immer wieder auf die Gefahren des Röntgens hin, verschweigt ihr aber, dass er selbst bereits Geschwüre an der Hand und starke Schmerzen hat. Maximiliane lernt den Witwer Axel von Bonin kennen und verliebt sich in ihn. Aber dann wird unheilbarer Krebs bei ihr festgestellt. Um Axel den Kummer über ihren Tod zu ersparen, verlässt sie ihn und widmet ihr Leben wieder ganz der Medizin.
On New Year's Eve 1900, Paul Holzgruber started a new praxis as a radiologist. The young Maximiliane Frey is his assistant and they have worked side by side for years helping people. Holzgruber repeatedly points out the dangers of radiation to Maximiliane, but is silent about the ulcers on his hand and the severe pain they have caused. Maximiliane has gotten to know the widower Axel von Bonin and has fallen in love with him. But then she is diagnosed with incurable cancer. To spare Axel the inevitable grief over her impending death, she leaves him and dedicates what is left her life to medicine.
Wenige Tage vor der geplanten Hochzeit wird Majoratsherr von Halleborg von einem furchtbaren Schicksalsschlag getroffen. Seine geliebte Braut Julia hat einen Reitunfall und erliegt ihren Verletzungen. Von Halleborg ist ein gebrochener Mann, nie wieder will er auch nur einen Gedanken an die Liebe verschwenden, sein Herz gehört Julia – auf ewig. Damit geht von Halleborg sogar das Risiko ein, seinen gesamten Besitz zu verlieren, denn nach den Majoratsbestimmungen geht sein Gut in andere Hände über, sollte er nicht bis zum 45. Lebensjahr geheiratet haben. Von Halleborg hat sich schon mit dieser Tatsache abgefunden, da erfährt er, dass der zukünftige Herr des Gutes, sein Neffe Oskar, ein eigennütziger und rücksichtsloser Kerl ist, dem es nur ums Geld geht.
A few days before the planned wedding of the chief inheritor von Halleborg, he experiences a terrible blow: his beloved bride Julia has a riding accident and dies of her injuries. Von Halleborg becomes a broken man and chooses not to waste another moment thinking of love -- his heart belongs to Julia ... forever. In doing so, von Halleborg runs the risk of losing his entire estate, for the conditions of inheritance make all to clear that if he does not marry by his 45th birthday, the estate is to be turned over to someone else. Von Halleborg had already made peace with this fact until he discovers that the future lord of the manor will be his nephew Oskar, a selfish and ruthless scoundrel, concerned only with money.
Die edle Zuchtsau "Prinzessin Anastasia" ist die Krönung der züchterischen Bemühungen des Gutsbesitzers Theobald Langendorff. Zu ihrem Schutz engagiert er den Privatdetektiv Bruch, denn er fürchtet die dunklen Machenschaften seines Gutsnachbarn Matthesius, der ebenfalls eine edle Sau besitzt. Theobalds Neffe will die Balletttänzerin Ilse heiraten, aber sein Erbteil steht ihm nur zu, wenn alle Mitglieder der Familie zustimmen. Alle sind einverstanden, nur Theobalds Schwester Julia weigert sich.
The purebred breeding pig "Princess Anastasia" is the culmination of the breeding efforts of the estate owner Theobald Langendorff. For their own protection, Langendorff hires the private detective Bruch, for he fears the dark machinations of his neighbor Matthesius, who likewise owns a purebred pig. Theobald's nephew wants to marry the ballet dancer Ilse, but he'll only get his share of his inheritance, if all the members of the family give their blessing. Everyone is fine with the idea except Theobald's sister Julia, who says the marriage will take place when purebred breeding pigs fly ... and there'll be no pork in the treetops for a long time to come.
Der schrullige Kanzlist Gamperl ist gar nicht zufrieden mit seinem neuen Chef, Anwalt Dr. Hartwig. Denn während Gamperl am liebsten jedermann dazu bringen würde, wegen jeder Kleinigkeit zu prozessieren, rät Hartwig doch tatsächlich manchen potenziellen Mandanten vom Gerichtsweg ab! So auch dem Oberbaurat Sterneck, der gegen die Sängerin Daniela Dannberg klagen will, weil sie durch ihre Stimmübungen angeblich die Ruhe auf seinem Landsitz in Fried im Winkel stört. Gamperl macht sich deshalb auf eigene Faust auf den Weg nach Fried im Winkel, um belastendes Material gegen die Sängerin zu sammeln – und entfacht bei den Dorfbewohnern ganz nebenbei eine Prozesswut sondergleichen. Als Hartwig von dem Chaos erfährt, das Gamperl in dem Kaff ausgelöst hat, reist er sofort an den Ort des Geschehens. Doch während er dort verzweifelt versucht, für Ordnung zu sorgen, verdächtigt ihn seine Frau, eine Affäre mit Daniela Dannberg zu haben.
Quirky clerk Gamperl is not at all happy with his new boss, the lawyer Dr. Hartwig. For while Gamperl would love nothing more than to sue everyone in sight for every little thing, Hartwig actually advises a number of potential clients to settle their problems outside of court. This has been the case, too, with chief architect Sterneck, who wants to sue the singer Daniela Dannberg, because her vocal exercises have allegedly been disturbing the peace at his country seat in Fried im Winkel. Gamperl thus decides to take it into his own hands to head off to Fried im Winkel, so as to gather damaging evidence against the singer --- and, in the process, manages to bring the village residents to a state of litigious hysteria. When Hartwig learns of the chaos Gamperl has caused, he immediately departs for the village. Yet while he desperately attempts to put things to right, his wife then starts to think he's having an affair with the singer!
Kriminalfilm nach Theodor Fontane: Der junge Gastwirt Raschek kann seiner hübschen Frau Hilda keinen Wunsch abschlagen – mit der Folge, dass er sich finanziell übernimmt. Sein hartnäckigster Gläubiger ist der skrupellose Kampmann, der zudem ein Auge auf Rascheks Frau geworfen hat. Nachdem Kampmann bei einem Kartenspiel Rascheks Gasthof gewonnen hat, kommt es zu einem heftigen Streit, als er Hilda bedrängt. Wenig später wird Kampmann ermordet aufgefunden. Der Verdacht fällt auf Raschek.
Crime drama based loosely on the novel by Theodor Fontane: The young innkeeper Raschek can't resist granting his beautiful wife Hilda any wish she expresses --- with the consequence that he's financially in way over his head. His most stubborn supporter is Kampmann, a man with few scruples and who has an eye on Raschek's wife. After Kampmann wins at cards at Raschek's inn, there's a big fight after he hits up on Hilda. A little bit later, Kampmann is found murdered and suspicion is directed at Raschek.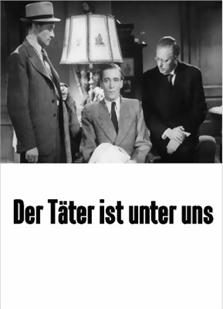 DER TATER IST UNTER UNS (1945)
Eine schlecht beleuchtete Straße, ein zu schnelles Auto, quietschende Reifen – ein Wagen rast in eine Baustelle. Als die Polizei den Ort des Geschehens erreicht, ist der Fahrer verschwunden. In dem Fahrzeug aber finden die Beamten einen Film mit Fotos der fast wertlosen Aktien der stillgelegten Motapá-Minengesellschaft. Die Originale der Wertpapiere befinden sich im Safe einer Bank, zu dem nur ausgewählte Mitarbeiter Zutritt haben. Wer also könnte die Fotos gemacht und sollte Interesse daran haben?
A badly lit street; a car driving too fast; squealing tires .... a car crashes into a construction site. When the police arrive on the scene, the driver is gone. In the vehicle, however, the cops find film with photos of the almost worthless stock of the closed-down Motapa Mining Firm. The originals of the stock are in a bank safe, to which only selected employees of the firm have access. So who made these pictures and what is his or her interest in them?
Das Leben der schönen Maria ändert sich schlagartig durch den Besuch eines Manöverballs. Dort lernt sie einen hohen Offizier kennen, den Gouverneur General Werkonen, den sie wenig später heiratet.
The life of beautiful Maria changes abruptly after visiting a "maneuver ball". There, she gets to know a high officer, the Governor General Wekonen, whom she will marry a short time later.
.
.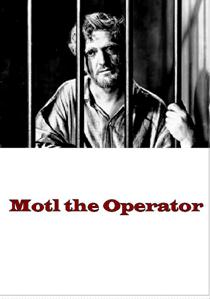 MOTL THE OPERATOR (1939) * with hard-encoded English subtitles *
Cinematically unique, this tragic drama highlights the hardships faced by early Jewish immigrants to America at the turn of the 19th into the 20th Century; especially in the garment district of New York City. Motl, a loving husband and new father, struggles to eke out a living for himself and his family in New York's garment district. Eventually, he ends up leading a strike for better working conditions. When he ends up severely injured by strikebreakers, his wife and infant son are left destitute. Desperate to save her starving child, his wife Esther gives him up for adoption.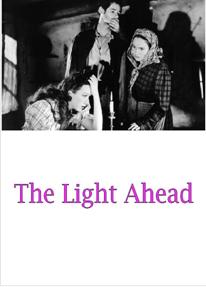 THE LIGHT AHEAD (1939) * with hard-encoded English subtitles *
The Pale of Settlement in the late 19th Century. Impoverished and disabled, Fishke and Hodel dream of a better life in the big city of Odessa, where they can escape the poverty and stifling prejudices of the shtetl. The benevolent and enlightened bookseller Mendele helps them by turning the never-changing, small-town superstitions to their advantage.
Während seine Familie glaubt, er besteige im Skiurlaub Berge und kämpfe mit den alpinen Naturgewalten, vergnügt sich der kleinstädtische Seifenfabrikant Lallinger in Wahrheit auf Faschingsfesten und Atelierfeiern in der Großstadt. Zu dumm nur, dass er zum Beweis seiner Bergsteigerkünste reihenweise Briefe nach Hause geschickt hat, in denen er voller Poesie über seine Touren berichtet – wobei er kräftig aus dem Buch "In den Bergen ist Freiheit" abgeschrieben hat. Dumm war diese Idee deshalb, weil seine Frau so angetan ist von der musischen Begabung ihres Gatten, dass sie die Briefe ohne dessen Wissen als Buch herausbringen lässt.
While his family believes that he is climbing mountains on a ski vacation and battling the forces of alpine nature, the small-town soap manufacturer Lallinger in truth is at a carnival for Fasching and hanging out in a studio in a large city. Too bad that he has to prove how much fun he's having in the mountains by sending home a series of letters, in which he waxes poetically about his trip ... easy enough to do, as he's plagiarized his lovingly composed descriptions of the mountains from a book called, "Freedom is in the Mountains". Even more unfortunate are the actions of his wife, who is so impressed by the poetic skills of her lying husband, that she's assembled his letters and turned them over to a publisher without hubby knowing about it.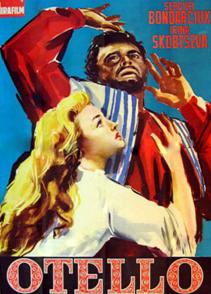 OTHELLO (1955) * with switchable English subtitles *
Othello is an incomparable military hero in the service of Venice. He's as handsome as he is brilliant and the charm of his personality has won over beautiful Desdemona. But the successful general is a Moor and a black one at that. While overt racism is never superficially shown, Othello's heritage isolates him from the Venetian nobility which surrounds him. Only when Venice is threatened by the Turk is Othello sought out eagerly. Iago is envious of him; and convinced that his inability to rise in the ranks is due to Othello, schemes against him. Iago plants fake evidence of Desdemona's infidelity and, pretending to be Othello's friend, provokes his suspicion and jealousy. Othello eventually loses control of himself and kills Desdemona. Too late, he realizes the mistake that jealousy and rage have caused him to make and he pays the ultimate price for doing so.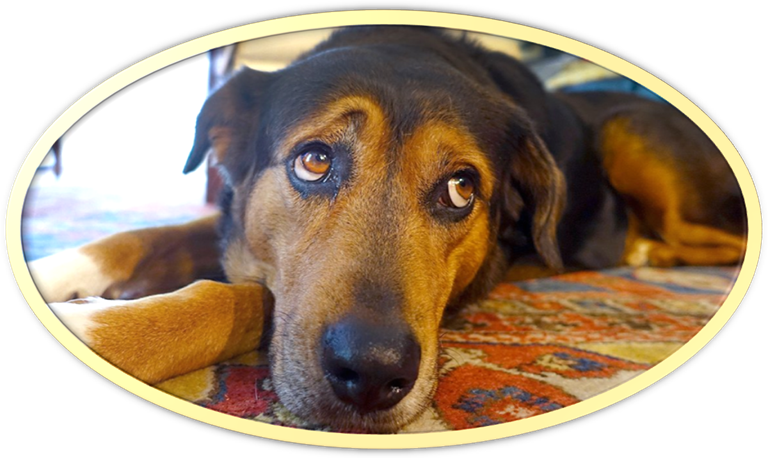 LOSTHOMELAND.COM SALES FOR A LIMITED TIME
WON'T YOU PLEASE GIVE ME A HOME!
Oh, my! You asked for more films and we're delivering on that request; but in doing so, room needs to be made for the many new DVDs and that means something has to go. Won't you please look at the following books listed at ridiculously low prices on our Losthomeland.com website and give them a new home, where they'll be appreciated and loved? Holy cow! You can even use your points and/or discount code to lower the prices even more! I know, it seems incredible, but everyone should have a forever home and now you can help make that happen! Just remember: like the wonderful dog shown above, availability is limited, so don't delay! YOU MAY ALSO MAKE OFFERS ON BOOKS NOT SHOWN IN THIS NEWSLETTER. JUST ASK US!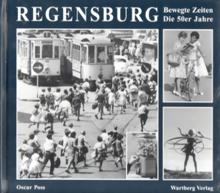 REGENSBURG REBUILDS FROM THE RUINS OF WAR * was $18.99; now $ 3.99 until 30 SEP *
72 paged photobook shows what the people, culture and landscapes of Regensburg were like in the 1950s, as the people and city recovered from the ravages of the Second World War.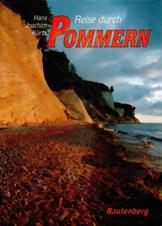 REISE DURCH POMMERN * was $29.99; now $ 9.99 until 30 SEP *
This 224-paged book is part of a series of books dedicated to finding traces of German culture in areas once part of the Reich but since lost in the upheavals of war and its settlement. Many pages of glossy color photos, which is a real bonus for anyone planning a trip to the region. A very well-written historical overview, which is far from dryly written, makes this book as entertaining as it is factual. Personal travel experiences of the author also helps to make the book even more enjoyable.
REISE NACH OSTPREUSSEN * was $27.99; now $ 9.99 until 30 SEP *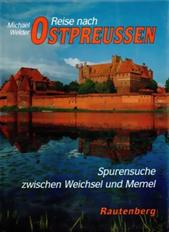 This 224-paged book is part of a series of books dedicated to finding traces of German culture in areas once part of the Reich but since lost in the upheavals of war and its settlement. Many pages of glossy color photos, which is a real bonus for anyone planning a trip to the region. A very well-written historical overview, which is far from dryly written, makes this book as entertaining as it is factual. Personal travel experiences of the author also helps to make the book even more enjoyable.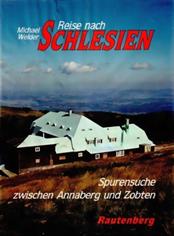 REISE NACH SCHLESIEN * was $29.99; now $ 9.99 until 30 SEP *
This 224-paged book is part of a series of books dedicated to finding traces of German culture in areas once part of the Reich but since lost in the upheavals of war and its settlement. Many pages of glossy color photos, which is a real bonus for anyone planning a trip to the region. A very well-written historical overview, which is far from dryly written, makes this book as entertaining as it is factual. Personal travel experiences of the author also helps to make the book even more enjoyable.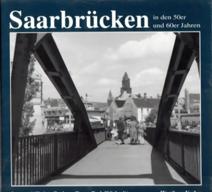 SAARBRUCKEN IN THE 1950s and 60s * was $17.99; now $ 2.99 until 30 SEP *
Very interesting book with 72 pages of photos of Saarbrucken as it looked like in the 1950s and 1960s, when it was rebuilding from the effects of war and growing in a new and prosperous Germany.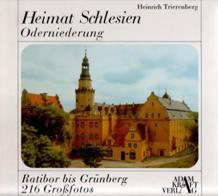 SILESIA: RATIBOR TO GRUNBERG IN 216 LARGE PHOTOS * was $29.99; now $ 5.99 until 30 SEP *
Excellent photobook with 24 pages of text and 216 historic photos of this area of Silesia, its people, culture and landscapes showing what it all looked like before the stupidity of the Second World War changed it all forever. A real treat for those with family members from there or simply for the armchair historian with an interest in the area.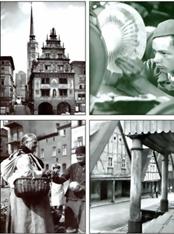 SILESIA AS IT ONCE WAS IN 114 OLD PHOTOS * was $26.99; now $ 5.99 until 30 SEP *
64 pages of text and 114 photos of Silesia as it looked like before WWII changed it all forever.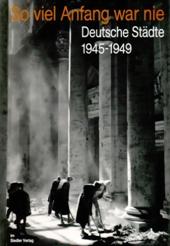 DEUTSCHE STADTE 1945 - 1949 * was $19.99; now $ 2.99 until 30 SEP *
340-paged book discovers the end of the War and the rebuilding of German cities during the first phase of reconstruction from the defeat of Germany til the end of the 1940s, shortly after the creation of the two German states in their respective zones of occupation. Some photos.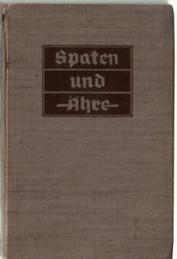 SPATEN UND AHRE – A BOOK ABOUT THE RAD (1938) * was $39.99; now $ 9.99 until 30 SEP *
1938 book ut out in Nazi Germany with approximately 288 pages and some photos about the early history of postwar Germany and the founding and structure of the Reichsarbeitsdienst (RAD), founded to provide public works projects for Germany's youth especially to keep them employed and out of trouble. The RAD was later to serve as a paramilitary engineering corps in the beginning years of the Second World War and by the late stages of the War, even had their own artillery and anti-aircraft units.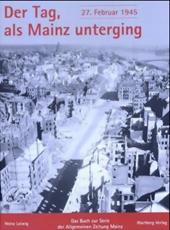 THE DAY THEY BOMBED MAINZ * was $23.99; now $ 5.99 until 30 SEP *
64-paged photobook deals with the bombing of Mainz in the closing days of the Second World War. Very graphic photos and descriptions.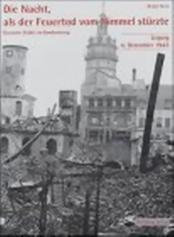 THE NIGHT WHEN DEATH FELL FROM THE SKY * was $23.99; now $ 5.99 until 30 SEP *
64-paged photobook about the bombing of Leipzig by the British, which, though it caused significant damage to the city, left "only" 1800+ civilians dead in its wake.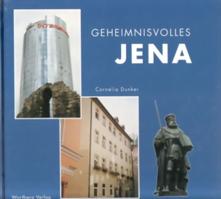 THE SECRETIVE AND SURPRISING JENA * was $15.99; now $ 1.99 until 30 SEP *
48 pages of photos about Jena, including pictures of those things most people don't notice on a daily basis or know about.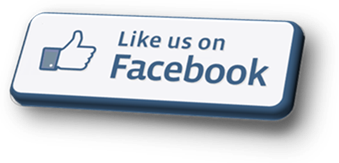 Thank you and the best to all of you,
RAREFILMSANDMORE.COM