.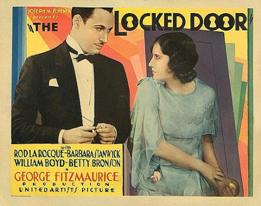 TWO FILM DVD: THE LOCKED DOOR (1929) + THE RIVER (1929)
THE LOCKED DOOR (1929):
Ann Carter, an inexperienced young woman, accepts an invitation to dinner from her employer's son, Frank Devereaux. The date turns out to be far from what she expects. It's aboard a "rumrunner", a ship sailing beyond the 12 mile limit to get around the restrictions of Prohibition. Worse, Frank turns out to be a cad. When she tries to leave, he locks the door and tries to force himself on her, tearing her dress. The ship drifts back into U.S. waters and a police raid stops him from going any further. When a photographer takes a picture of the two under arrest, Frank buys it from him. Eighteen months later, Ann is happily married to wealthy Lawrence Reagan. They are about to celebrate their first wedding anniversary when Frank resurfaces in Ann's life, this time as the boyfriend of her naive young sister-in-law, Helen.
THE RIVER (1929):
A naïve young man works in a logging camp beside a turbulent river. When the camp closes for Winter, he opts to stay for the experience. He meets a woman, who was the girlfriend of the camp's boss, recently locked up for murder. This worldly lady and the innocent boy find a powerful attraction, that builds to a violent climax.
.
.
...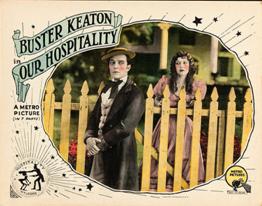 TWO FILM DVD: OUR HOSPITALITY (1923) + PACK UP YOUR TROUBLES (1932)
OUR HOSPITALITY (1923):
The Canfield and McKay families have been feuding for so long, no one remembers the reason the feud started in the first place! One stormy night in 1810, family patriarch John McKay and his rival James Canfield kill each other. After the tragic death of her husband, John's wife decides her son Willie will not suffer the same fate. She moves to New York to live with her sister, who after the mother's death raises him without telling him of the feud. Twenty years later, Willie receives a letter informing him that his father's estate is now his. His aunt tells him of the feud, but he decides to return to his Southern birthplace anyway to claim his inheritance. On the train ride, he meets a girl, Virginia. They are shy to each other at first, but become acquainted during many train mishaps. At their destination, she is greeted by her father and two brothers; she, it turns out, is a Canfield. Willie innocently asks one of the brothers where the McKay estate is. The brother offers to show him the way, but stops at every shop in search of a pistol to shoot the unsuspecting Willie. By the time he obtains one, Willie has wandered off.
PACK UP YOUR TROUBLES (1923):
In 1917, Stan and Ollie are drafted into the American Expeditionary Force to fight in World War I. Their ineptitude during basic training antagonizes the drill sergeant and they are assigned to kitchen duties. When they ask the cook where they should put the garbage cans, he sarcastically tells them to take them to the general. They take him at his word and put them in the general's private dining room. The cook, who is thrown in the stockade with them, curses their "snitching" and threatens them with violence after they are released. They escape his wrath, when they are shipped to the trenches in France. Serving close to the front line, they befriend soldier Eddie Smith, who receives a Dear John letter from his wife. When Eddie is killed in action, the boys determine to rescue Eddie's daughter from her brutal foster father and deliver her to Eddie's parents.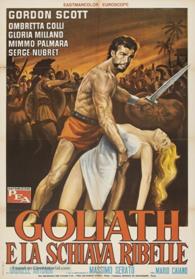 GOLIATH AND THE REBEL SLAVE (1963) * with English and Spanish audio tracks *
French and Italian Sword-and-Sandal film, whose opening credits are in German --- and whose audio tracks are in every language but French or Italian --- pits Hercules (or is it "Goliath"?) against an evil king and his nasty followers. If you're a fan of these films, you know what comes next.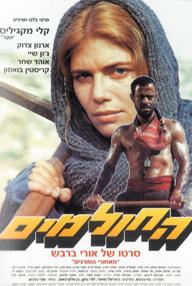 UNSETTLED LAND (1987) * with switchable English subtitles *
The story in this film is loosely based on the actual diaries of Jewish settlers in the Galilee circa 1920. In a heavy hand, it talks about the trials and tribulations of emigrants to Palestine after the First World War and their interpersonal relationships. The climax of the film comes when the settlers come under Bedouin attack, who, for some weird reason, consider the land the strangers have plopped down onto not to be "unsettled".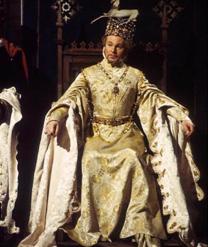 RICHARD II (1978) * with switchable English subtitles *
The play is the first of four histories involving the rise of Harry Bolingbroke into King Henry IV and then his son, Prince Hal, into Henry V. Unfortunately, it is noted more for its role in the Essex Rebellion than for its dramatic merits, which are considerable. For those unfamiliar with the Essex affair, In 1601, the Earl of Essex, on the eve of an attempted coup against Queen Elizabeth and/or Robert Cecil, is alleged to have sponsored a performance of Richard II by the Lord Chamberlain's Men at the Globe Theater, a play whose theme is the usurpation of legitimate royal power. The next day he led a band of 300 followers into London shouting "Murder, murder, God Save the Queen". The populace failed to rally behind him and he was tried and executed for treason. While it remains uncertain as to whether or not the evidence against Essex relating to the play was manufactured, it was used against him successfully by the prosecution during the trial.
.
.
.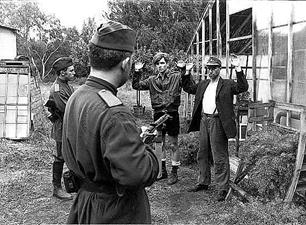 STUNDE NULL (Zero Hour) (1977) * with switchable English and German subtitles *
In July 1945, American troops leave Saxony and Thuringia, as the Red Army takes over control of the territories. In a small village near Leipzig, the inhabitants try to adjust to the new authority. A Nazi claims to be an anti-fascist; an actor hopes for new interest in amusement; a woman wants to guard her niece against the danger of being raped by Red Army men. Joschi, a former member of the Hitler Youth, searches the town for a buried treasure chest. Although he was indoctrinated with Nazi ideology as a child, he admires the Americans and wants to follow them. He falls in love with local girl and together, they flee the village once the Russians arrive.
Im Juli 1945 ziehen sich die Amerikaner aus Sachsen und Thüringen zurück, die Russen rücken nach. In einem kleinen Dorf bei Leipzig arrangieren die Bewohner sich mit der neuen Situation. Ein Nazi wechselt zum Antifaschismus, ein Schausteller hofft auf wiedererwachende Amüsierlust, eine Frau trifft Vorkehrungen, ihre Nichte vor Vergewaltigungen zu schützen. Der Hitlerjunge Joschi durchquert den Ort auf der Suche nach einer vergrabenen Wertkassette. Trotz seiner nationalsozialistischen Prägung begeistert er sich für die Amerikaner und will ihnen nachreisen. Er verliebt sich in das Mädchen Isa und flüchtet mit ihr zusammen, als die sowjetischen Truppen ankommen.
There is a great deal of palace intrigue and skullduggery going on about Cleopatra and her arch-rival brother Ptolemy. Some excitement is generated when the queen is imprisoned and a devoted lovestruck soldier risks his life to free her. After several perilous shifts in the power struggle, the film ends at that entrancing legendary moment when she is smuggled into Caesar's presence rolled in a carpet. Julius is bemused. Surprisingly, 20th Century Fox bought out the rights to this film to keep it in the shadows, so it wouldn't compete with their blockbuster Cleopatra a year later. Frankly, they need not have bothered.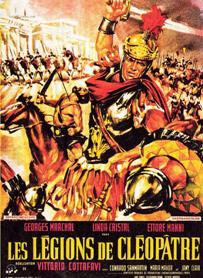 THE LEGIONS OF CLEOPATRA (1959) * with English, Italian and Spanish Audio Tracks *
Roman Emperor Octavian rules the Empire from Rome, and his rival Marc Antony has taken Egyptian queen Cleopatra as his lover and seized the eastern empire, ruling it from Alexandria. Octavian intends to regain his empire by landing his army at Alexandria, besieging the city and capturing and executing the pair. However, while Octavian's army is bigger than Marc Antony's forces, he and Cleopatra have allies who can come to their aid. Both sides prepare for a final showdown.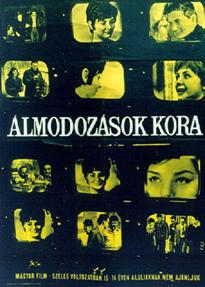 AGE OF ILLUSIONS (1965) * with switchable English subtitles *
Jancsi Oláh is in the transitional phase between adolescent and adult. He was born in 1938 and is now getting his first job as an engineer. On television, he happens to see a young lawyer, Éva Halk, who gets his attention. In his imagination, she's the most interesting woman he's ever seen. Jansci is part of a close group of young engineers. They see the older engineers as mediocre and have grand ideas about developing new inventions together. With changing living conditions, the five friends start to grow apart. At a party, Jancsi suddenly meets Éva Halk. They fall in love and find common memories. Both of them chose to stay in Hungary in 1956, when many of their friends fled the country. The sudden death of a mutual friend from leukemia is a hard blow for them all. The fear of death grabs Éva and Jancsi. They start seeing each other as obstacles to their own development.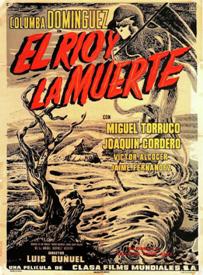 EL RIO Y LA MUERTE (1955) * with switchable English subtitles *
A small town by the shore of a deep, dark river is ruled by Death. Its people live by a code of honor, that encourages them to take revenge for any form of insult, no matter how insignificant. A seemingly never ending blood feud ravages the town, as the men, one by one, kill each other proudly, embracing their acts of murder with a sense of mission. Vengeance is considered not so much a crime as an act of courage. However, if a murderer manages to escape without being killed, he's banished from the town and left with no option but to cross the river and to live on the desolate, opposite shore. The dead are also taken across the river, inside their coffins and buried in a distant cemetery. Few are those who oppose this violent way of life and little is what they can do about it. Gerardo, a young man of modern thought, who has studied medicine in the nearest big city, must return to his hometown and try to put an end to this delirious, anachronistic, macho gun culture.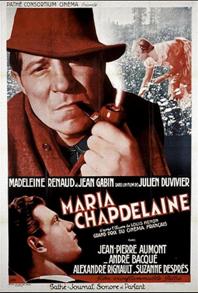 MARIA CHAPDELAINE (1934) * with switchable English subtitles *
In Quebec, François Paradis finds civilization after three years spent in the forest. Maria Chapdelaine is back with her family after spending a month in the city. François meets by chance Maria's father, then Maria herself, for whom he feels "the feeling". Paradis is happy to find the harsh, but friendly atmosphere of Quebec villagers. The Chapdelaines are at vigil, in the company of Eutrope Gagnon, a neighbor of the family, another suitor of Maria; but she thinks only of François. Paradis sets out again to hunt for furs. During another vigil, Maria meets Lorenzo Surprenant, a young man from the city, who is attracted to her.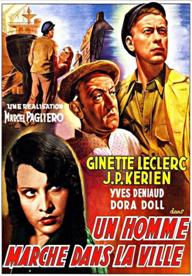 UN HOMME MARCHE DANS LA VILLE (1950) * with switchable English subtitles *
The action takes place in Le Havre, among the dock workers. Madeleine is in a bad marriage with Laurent, who is angry and alcoholic. The household is struggling to get by financially. Laurent asks his friend Jean to intercede with the boss to get him a promotion; but the intervention is unsuccessful. Some time later, Laurent is responsible for an accident at work and is dismissed. Madeleine tries to get closer to Jean. At first, he pushes her away, but ends up giving in and the two sleep together. Laurent notices this when he sees his son waiting in the parking lot below the hotel. He proclaims to whomever wants to hear his desire for revenge and after dark sets out in search of Jean.
Nella Vargo is a Hungarian prima donna, whose latest performances include singing Tosca in Venice. Although she is praised by the audience, her music teacher, Rudig, feels she can't be the greatest opera singer in history until she performs in New York City. When she is criticized for not putting her soul into the song, she gets mad ... until she suddenly notices a mysterious man walking on the street. She becomes smitten with the man, until Rudig claims that he is a gigolo, whose latest client is Marchesa Bianca San Giovanni, a former diva with a notorious past. Later that night, Nella decides to head to Budapest, accompanied by Rudig, her butler Conrad, her maid Emma and her fiancée Count Albert von Gronac, whom she is not in love with. She is shocked, when she finds out the mysterious man is on board as well, with the marchesa as his company.
Eight-year-old Paddy O'Day, a friendly and spirited Irish girl, travels to America to join her mother, who works as a cook for a wealthy family. Aboard ship, she befriends the Petrovitches, a family of Russian dancers, and performs a dance with them while trying to hide the fact that she's brought along her dog. Upon arrival at Ellis Island, the immigration officials are informed that Paddy's mother has died and prepare to send her back to Ireland. To keep her calm, they tell her that her mother is very sick and move her to a locked dormitory on the island. Paddy escapes from the dormitory and hides with her dog in an empty milk canister. The milk truck transports her to Manhattan, where she hops out and is bewildered by all the noise and traffic. A band of street urchins accost her and she beats one of them up with the help of her dog. She charms the policeman who chases away the boys and he gives her a ride on his motorcycle. Along the way he stops a car for speeding and tells the driver to take Paddy to Long Island, so she can be reunited with her mother. In the house where Paddy's mother worked, much effort is being made by the service staff to get Aunt Flora and Aunt Jane, two elderly and fussy spinsters, ready for a trip. The service staff decide to hide Paddy's presence from the family, who would otherwise report her to the immigration authorities.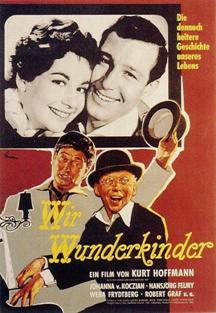 WIR WUNDERKINDER (1958) * with switchable English and Spanish subtitles *
A rather dark "comedy" about the events and atmosphere in Germany from right before the First World War up through the years of the Economic Miracle, said history being incorporated in the fates of Hans Bockel and a schoolmate, Bruno Tiches. Bockel becomes a journalist, who loses his job with the takeover of the Nazis in 1933. Tiches, always a ne'er-do-well, ends up a Party bigwig. Bockel's first, serious girlfriend leaves Germany and never returns, after her father is almost arrested by the Gestapo and flees to Paris. Thereafter, he meets a Dane, Kirsten, who'll play a significant part in his life. But with war's end, will Bockel still be there and, if he's still alive, will Tiches get his deserved punishment as a Nazi sympathizer?
Der Zuschauer verfolgt den Lebensweg des jungen Hans Boeckel über 40 Jahre (1913 bis 1957): von der – vermeintlichen – Begegnung seines Klassenkameraden Bruno Tiches mit Kaiser Wilhelm II. bis zur bundesrepublikanischen Wirtschaftswunderzeit. Boeckel wird Journalist, verliert während der Zeit des Nationalsozialismus – den er für ein vorübergehendes Phänomen hält – wie nicht anders zu erwarten, seine Stellung. Seine erste Freundin Vera von Lieven emigriert mit ihrem Vater, ebenso wie sein jüdischer Schulfreund Siegfried Stein. Boeckel lernt die Dänin Kirsten kennen, die auf seinem Schoß Platz nimmt mit den Worten: "Isch bin eine Dänemärkerin."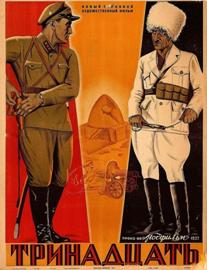 THE THIRTEEN (1937) * with switchable English subtitles *
Soviet Central Asia in the 1920s. Ten demobilized Red Army men are traveling through the desert to take a train back home. Traveling with them is a commander of the NKVD border troops, Zhuraviev; his wife Maria Nikolaevna; and an elderly geologist. While seeking out a well, they find a hidden cache of machine guns. They belong to the Basmach Shirmat Khan, whom the Red Army has been trying to neutralize --- unsuccessfully --- for over a year. After capturing an approaching scout, they realize they will soon face the Khan and his soldiers, as they haven't had water for three days and this well is vital to them. One of the Red Army men is sent off by horse to bring reinforcements, as the Khan will surely massacre them all, whether they meekly surrender the water or not. But the joke is on the Khan: the well is running dry. The Red Army men, nevertheless, conceal that from their enemy in the hopes of finally capturing the Khan and bringing the conflict in this part of the new Soviet Union to an end.
If this all sounds familiar, then you've probably seen the movie Sahara (1943), whose plot sounds eerily similar. Could it be that Hollywood ripped off Mosfilm?
To defend his countrymen, mighty Ursus goes off to war in a foreign land, a war that will last several years. Victorious, he returns home planning to marry his fiancée Attea, only to learn that she has been kidnapped in his absence by a bizarre religious cult living on a far-off island. Ursus enlists the aid of a young blind slave girl, Doreide, whom he used to know as a child, and together they embark on a quest to look for and rescue his lost Attea (well, he'll be looking for her, at least). Unbeknownst to Ursus, Doreide is in love with him, but doesn't let Ursus know, since she feels he will only be happy if he is reunited with Attea. After overcoming various villains, who don't want him to locate the cult's island base, Ursus and Doreide finally arrive on the island, only to be captured by the villians, led by their masked queen, an evil woman who orders the sacrifice of virgins to her satanic bull-god. Okaaay. (My favorite line in the film: "Is she blind?" "Yes, but she sees well enough, when she wants to".)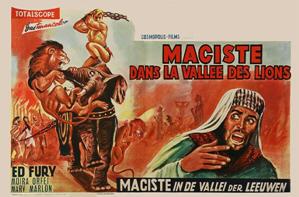 URSUS IN THE VALLEY OF THE LIONS (1961)
Evil dictator Ajak sends his armies to attack a neighboring kingdom, and during the battle, the besieged King Annurius orders one of his subjects to take his son Ursus to a place of safety outside the city, after first putting a royal medallion around the baby's neck. Ajak kills the king and usurps his throne, but the infant prince is smuggled out of the city to safety. Later through a series of incidents, Ursus winds up being abandoned in the wilderness, where he is adopted and raised by a pride of lions, which mistake him for one of their cubs. Yep, very believable.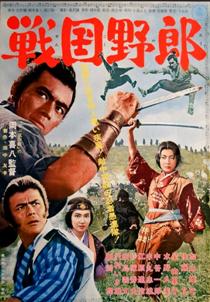 WARRING CLANS (1963) * with switchable English subtitles *
A brave, highly principled warrior resigns his post as a bodyguard to the head of a powerful clan, after he learns that his employers have been smuggling arms to the enemy. The remaining samurai try in vain to coerce him to come back, but their efforts are thwarted by dishonest warriors who launch an attack.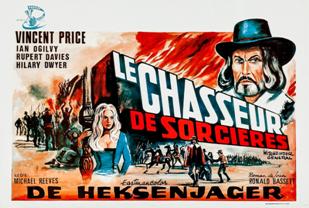 WITCHFINDER GENERAL (1968) * with switchable English subtitles *
In 1645, during the English Civil War, Matthew Hopkins, an opportunist witchhunter, takes advantage of the breakdown in social order to impose a reign of terror in East Anglia. Hopkins and his assistant, John Stearne, visit village after village, brutally torturing confessions out of suspected witches. They charge the local magistrates for the work they carry out. Richard Marshall is a young Roundhead. After surviving a brief skirmish and killing his first enemy soldier (and thus saving the life of his Captain), he rides home to Brandeston, Suffolk, to visit his great love Sara. Sara is the niece of the village priest, John Lowes. Lowes gives his permission to Marshall to marry Sara, telling him there is trouble coming to the village and he wants Sara far away before it arrives. Marshall asks Sara why the old man is frightened. She tells him they have been threatened and become outcasts in their own village. Marshall vows to Sara, "rest easy and no one shall harm you. I'll put my oath to that."
Many years after the end of the Second World War, a former German soldier returns to the Italian countryside, where he fought and asks the parish priest for news of a partisan, whose life he had spared. The priest tells of a long series of disasters that happened to the poor man, culminating in madness and with the killing of the unfortunate by the carabinieri.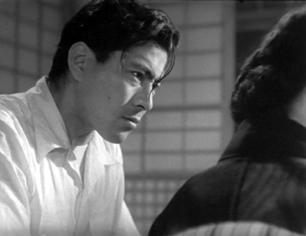 WEDDING RING (1950) * with hard-encoded English subtitles *
Noriko Kuki is married to Michio Kuki, who is bedridden because of illness. Though she loves her husband, Noriko is unhappy with the loss of intimacy in their lives. She discovers she is attracted to Takeshi Ema, her husband's doctor and that he feels the same way about her. Dr. Ema is lonely and Noriko falls increasingly in love with the handsome, athletic doctor. The possibility of an affair arises, but Michio begins to suspect their relationship. Love, passion, and duty become more and more entangled until Michio rises from his sickbed and does something to force the issue.
.
.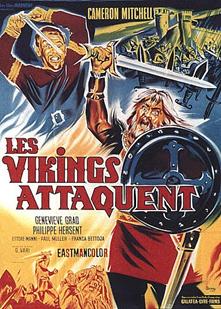 After decades of violent raids, the Vikings have finally agreed to make peace with the English and begin settling on Anglo-Saxon soil. Nobleman Olivier D'Anglon becomes a great friend of the settlers and falls in love with Svetania, one of their youngest, prettiest women. However, the jealous and cruel Duke of Saxony wants to overthrow the English king, so he has his soldiers disguise themselves as Vikings and ambush the king. Various clues are purposely left behind, which lead people into suspecting that D'anglon masterminded the attack.
Lili is a skating instructor at a grand hotel in the Alps. An international conference is booked at the hotel. The conference is led by Prince Rudolph, whose plan is to keep a pair of feuding countries at odds with each other. Feigning illness, the Prince moves into a small inn, so he can enjoy some skiing in private -- and delay the conference. One morning he meets Lili on the slopes and they hit it off; but she has no idea her "Rudy" is a prince. That evening, Lili is seen leaving the prince's car, having been given a ride home by a cousin of the prince's chauffeur. Tongues wag and Lili is thought to be romantically involved with the prince. This gets her lots of attention and a starring role in her own ice skating revue. But when she finds out people think she's involved with the prince, she's horrified.
Hadi travels to Croatia to complete his researche on filmography. His friend Aziz, who has heard about his trip, gives him a photo and a VHS cassette, asking him to look for a girl there. Hadi, with the help of Hanifeh, who can speak Persian, searches for the girl. Croatian police arrest Hadi and because of his visa problems expel him from the country. He then goes with Hanifeh to Bosnia to search, but gets involved in Bosnia's war instead.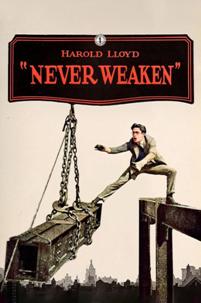 TWO FILM DVD: NEVER WEAKEN (1921) + SAFETY LAST (1923)
NEVER WEAKEN (1921):
Harold works in an office next to his girlfriend Mildred. He assumes they will be married, but overhears her talking to a man who says to her, "Of course, I will marry you." Distraught, he decides to commit suicide. Blindfolding himself, he sets up a gun, which will fire when he pulls a string attached to the trigger. But after putting on the blindfold, he accidentally knocks over a bulb which pops, and he assumes he has shot himself. At that moment, a girder from the next door construction site swings into his office, lifting him and his chair outside. Pulling off the blindfold, the first thing he sees is a sculpture high on his building which he takes to be an angel, and he assumes he is in Heaven.
SAFETY LAST (1923):
The film opens in 1922, with Harold Lloyd behind bars. His mother and his girlfriend, Mildred, are consoling him as a somber official and priest show up. The three of them walk toward what looks like a noose. It then becomes obvious they are at a train station and the "noose" is actually a trackside pickup hoop used by train crews to receive orders without stopping (the "prison bars" are merely those at the ticket counter). Harold promises to send for his girlfriend, so they can get married once he has "made it good" in the big city. He gets a job as a salesclerk at the De Vore Department Store, where he has to pull various stunts to get out of trouble with the picky and arrogantly self-important head floorwalker, Mr. Stubbs.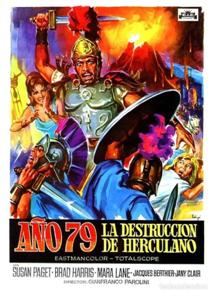 79 AD: THE DESTRUCTION OF HERCULANEUM (1962)
General Marcus Tiberius, the nephew of Emperor Titus Flavius, returns to Rome in triumph only to find that that the Empire is in turmoil. More and more people are being murdered on the streets and the Christians are being blamed by nefarious members of the Roman Senate. When Marcus is ordered to take action against the Christians, he refuses, so his uncle strips him of all his titles and sends him into exile. However, Marcus is determined to investigate the matter himself. Amidst all the love and intrigue going on at the court of the emperor in the year 79, a disaster is looming: In the shadow of the volcano Vesuvius, the city is about to be destroyed.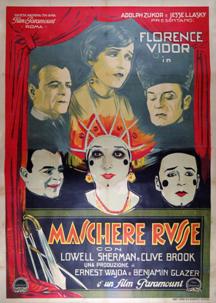 You Never Know Women is a thrilling romance, that constructs a combustible love triangle between a Russian dancer, a handsome escape artist, and a wealthy broker. Vera Janova is on her way to star in a Russian vaudeville revue, when a falling girder nearly kills her. A construction worker saves her life, but before she wakes up, the conniving Eugene Foster takes Vera into his arms, pretending to be the one who rescued her. Susceptible to Eugene's oily charms, Vera begins ignoring Ivan Norodin, a Houdini-like master of illusion, who has loved her his whole life. Racked with jealousy, Norodin plans the ultimate illusion, one that could change their lives forever.
.
.
.
.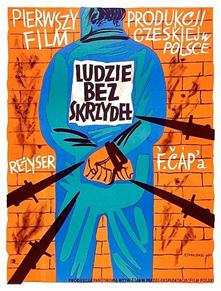 MEN WITHOUT WINGS (1946) * with switchable English subtitles *
In occupied Böhmen and Mähren, the head of the SD and Police, Reinhard Heydrich, has just been assassinated. As punishment, the village of Lidice is wiped out; its males shot; its women and children sent to concentration camps. Even the dogs in the kennel are executed. Jirka's family was shot, too. He escaped retribution only due to his being out of town at the time. His uncle, Petr Lom, and Marta, a young girl living next door to Petr, care for the young boy. Lom has just started working at a Luftwaffe airfield, which is run by a Sudeten German, Ullman. The Resistance is quite active at the airport, collecting and smuggling out weapons and keeping in touch with the Allies. They get a lot of information from Ullman's secretary, who has access to top secret documents. Jirka starts working at the airport, too; but he is consumed by grief and the need to take revenge on his family's murderers.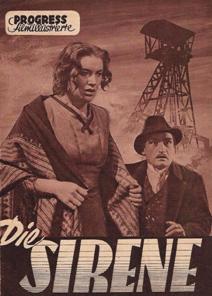 SIRENA (1947) * with switchable English subtitles *
After a strike by underpaid, poorly housed metal workers in a Prague suburb is violently suppressed by the police, an angry mob attacks the luxurious home of the industrialist. A preview of the mentality of Czechoslovakia's future rulers --- and a not-so-miniscule part of the population -- who would launch a coup d'etat less than a year later to usher in Soviet-style socialism.
During Boys' Week at a racially integrated high school, students Steve Smith, Gus Ruffo and Billy Anderson are elected to temporarily hold the city offices of district attorney, judge and chief of police. After Jewish tailor Herman refuses to pay protection money to gangster Louis Garrett, Garrett's gang bombs his store. Herman and the student who was with him survive the blast, but Herman is later murdered by Garrett after he again refuses to pay. Garrett is acquitted of murder charges, because he has a perfect alibi. Steve, who had taken the stand during the trial, is humiliated by his experience as a witness, because he failed to prove Garrett's guilt. Billy, Gus and Sam Weber decide to investigate for themselves and discover part of a cufflink at the scene of the murder.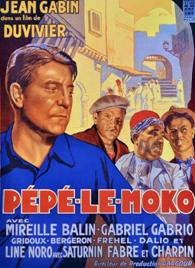 PEPE LE MOKO (1937) * with switchable English subtitles *
Pépé le Moko, a criminal on the run from the police in metropolitan France, lives with his gang in the Casbah quarter of Algiers, where he is beyond the reach of the local police. They seek ways to lure him out of his refuge and a plot results in the death of a fellow gangster, but not of Pépé. Wily Inspector Slimane sees his chance, when he learns that Pépé, who is fed up with his enforced exile and with his mistress Inès, has been struck by the idea of meeting glamorous French tourist Gaby, the mistress of a visiting businessman.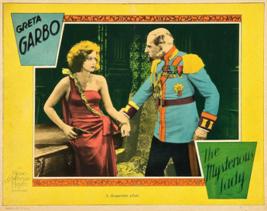 THE MYSTERIOUS WOMAN (1928) * with switchable French and Spanish subtitles *
In Vienna, Captain Karl von Radenpurchases a returned ticket to a sold-out opera and finds himself sharing a loge with a lovely woman. Though she at first repulses his attention, she ends up spending an idyllic day with him in the countryside. Karl is soon called away to duty. Colonel Eric von Raden, his uncle and the chief of the secret police, gives him secret plans to deliver to Berlin. He also warns his nephew that the woman he's got the hots for is Tania Fedorova, a Russian spy. Tania comes to him aboard the train, professing to love him, but he tells her he knows who she is. Dejected, she leaves. The next morning, when Karl wakes up, he finds the plans have been stolen.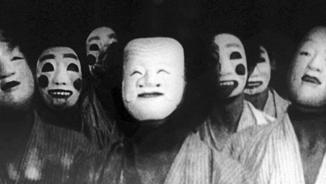 A PAGE OF MADNESS (1926) * with hard-encoded English subtitles *
The film takes place in an asylum in the countryside. Amid a torrential rainstorm, a janitor wanders through the halls revealing the various patients suffering from mental illnesses. The next day, a young woman arrives and is surprised to see her father, the janitor, working there. Her mother is an inmate in the asylum and had gone insane due to the cruelty of her husband, when he was a sailor. The husband, feeling guilty, took a job at the asylum to care for her. The daughter announces that she is to soon marry a fine young man, but the janitor begins to worry, since society at the time still maintained the prejudiced view that mental illness was inherited. If the young man's family were to learn of the mother's illness, the marriage might be called off.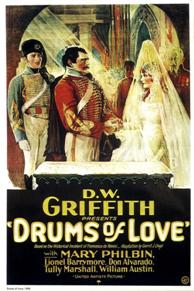 DRUMS OF LOVE (1928) * with Spanish intertitles and switchable English subtitles *
To save her father's life and diminishing estates, Emanuella marries Duke Cathos de Alvia, a grotesque hunchback, although she loves Leonardo, his handsome younger brother. Emanuella and Leonardo continue their affair after the wedding until they are discovered "flagrante delicto" by Cathos, when he is informed of their unfaithfulness by Bopi, a malicious court jester.
Spaghetti war film about a misfit outfit, who are tasked to carry out a suicide mission behind enemy lines. The mission: search out and destroy a dam in Normandy before D-Day. The volunteer commandos, misfits from the American army, do not care how it's done and will run over anyone who gets in their way.
To rid himself of his sponging relatives, a man tells them he is really a forger which causes them to leave. His wife believes he's joking, but he has, in fact, allowed the truth to slip out and now he's in danger of being arrested.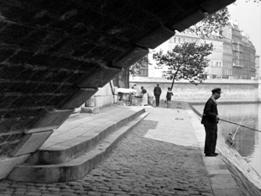 ETUDES SUR PARIS (1928) * with switchable English subtitles *
A visual treat, this silent movie travels from the outskirts of Paris to the Seine in the centre of the city, going along the Canal de l'Ourcq and showing activity as it happened in 1928 (in particular, in the industrious 19th district).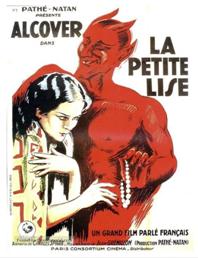 TWO FILM DVD: LA PETITE LISE (1930) + UN CHIEN ANDALOU (1929)
LA PETITE LISE (1930):
Victor Berthier is a good man, but also a very jealous one. He killed his wife in a fit of jealousy. After serving a few years in a chain gang, he is released for good behavior. He's very happy to return to Paris and meet Lise, his daughter, again. But, to his dismay, he finds that Lise, through the fault of André, her lover and pimp, has unwillingly committed a murder.
UN CHIEN ANDALOU (1929):
Those looking for a hidden message, or for that matter, "sense" in this film will be sorely disappointed. There isn't much to translate in this silent film: in fact, only three intertitles. The movie relies more on disconnected images, which critics have tried in vain since 1929 to link with everything from Marxist to Nihilist subtexts. There's the image of the moon, followed by the image of a man with a razor slicing a woman's eye (actually that of a dead calf). Then, a hand crawling with ants; followed by a transvestite on a bicycle; a hairy armpit; a severed hand on a sidewalk being poked with a stick; a sexual assault; a woman protecting herself with a tennis racket and the would-be rapist pulling a piano with its bizarre load; two apparently living statues in sand from the torso up, and so on. Who would be wrong to say that this film is not simply "art for art's sake"?

You may have missed these titles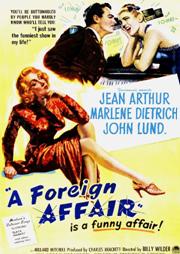 A FOREIGN AFFAIR (1948) * with or without hard-encoded German subtitles *
In 1947, a United States congressional committee led by prim Phoebe Frost of Iowa arrives in post-World War II Berlin to visit the American troops stationed there. Phoebe hears rumors that cabaret torch singer Erika von Schlütow, suspected of being the former mistress of either Hermann Goering or Joseph Goebbels, is being protected by an unidentified American officer. She enlists Captain John Pringle to assist in her investigation, unaware he is Erika's current lover. After seeing Erika with Adolf Hitler in a newsreel filmed during the war, Phoebe asks John to take her to army headquarters to retrieve the singer's official file. In order to distract her, John woos Phoebe, who initially resists his romantic advances but eventually succumbs to his charms. Actually filmed in Postwar Berlin in 1947, much of it in the Soviet Zone, this film unwittingly provides a very accurate portrait of life in the conquered former capital of Nazi Germany in between the attempts at humor.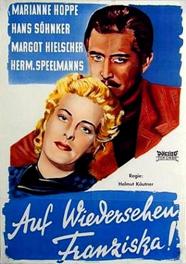 AUF WIEDERSEHEN, FRANZISKA (1941) *with switchable English subtitles *
Michael, a very busy international photojournalist, loves his girlfriend Franziska above everything else; but because of his occupation, has little time for her. Their relationship suffers from the frequent separations. When Franziska turns out to be pregnant, they marry and he promises to care for her more. But then a new job come up. This time, he's to leave for the battlefield in China. At his side, as always, will be his best friend and colleague, Buck. Only when Buck lay dying in his arms will Michael decide finally to remain with his family. But this time, Franziska asks him to leave for the war, which has broken out in Europe: this time, as a soldier.
Michael, ein international viel beschäftigter Fotoreporter, liebt seine Freundin Franziska über alles, hat aber, bedingt durch seinen Beruf, wenig Zeit für sie. Ihr Verhältnis leidet unter den häufigen Trennungen. Als Franziska ein Kind erwartet, heiraten sie, und er verspricht, sich mehr um sie zu kümmern. Doch es kommt ein neuer Auftrag. Diesmal führt er ihn zum Kriegsschauplatz China. Zur Seite steht ihm, wie immer, sein Freund und Kumpel Buck. Erst als dieser schwerverletzt in seinen Armen stirbt, fasst Michael den endgültigen Entschluss, bei seiner Familie zu bleiben.Jetzt aber ist es Franziska, die ihn bittet, wieder in den Krieg zu ziehen, diesmal als Soldat.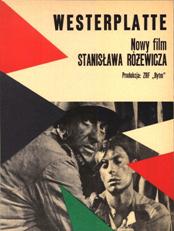 WESTERPLATTE (1967) * with improved video and improved switchable English subtitles *
Westerplatte - a peninsula at the entry to Gdansk Harbor. A Polish ammunition depot in the free City Gdansk. It's crew - one infantry company and a group of civilians. A total of 182 people. The only Polish guard-post at the mouth of the Vistula. Five sentries, one field cannon, two anti-armor guns, four mortars. It was the first obstacle to Hitler's predatory march across Europe. The first shots of World War II were fired here. At dawn of first September 1939, the "Schleswig-Holstein" approached to within several hundred meters of Westerplatte and at 4.45 hours opened fire. It's the beginning of World War II. The German ship maintained fire for 6 minutes, after which the infantry moved in to attack. For about 200 Polish soldiers and their commander, Major Henryk Sucharski it's the first of seven days of their heroic defense.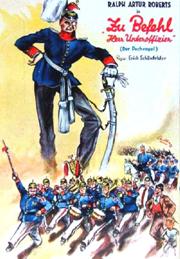 ZU BEFEHL, HERR UNTEROFFIZIER (1931)
A gay military farce, calculated to entertain persons partial to that sort of film fare under the name of "Zu Befehl, Herr Unteroffizier" ("At your Orders, Sergeant"). This time the unlucky civilian called to reserve exercises under the army system prevailing in pre-World War Germany is Ralph Artur Roberts, one of the leading Teuton comedians of stage and screen. As a big business man temporarily placed at the mercy of a reserve sergeant whom he has just discharged from his office, Herr Roberts makes the best of his slapstick part. The necessary complications are caused by the arrival at the scene of the manoeuvres of his wife (Ida Wuest), who has been led to believe that her imperious husband is a captain in the reserves. The director keeps his characters moving at a rapid pace and provides considerable amusement for spectators understanding German.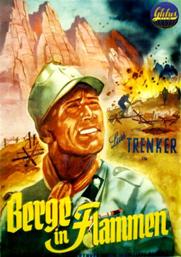 BERGE IN FLAMMEN (1931) * with switchable English subtitles *
Two of Germany's best and busiest directors collaborated on Berge in Flammen (Mountain in Flames). The storyline should be of interest to pro-ecologists, inasmuch as the directors take to task the warmongers of the world for despoiling the natural beauties of the European mountain ranges with their shell-fire. The final outrage occurs during a battle between the Austrians and the Italians in the Dolomites, culminating with the destruction of an entire mountain (hence the film's title). The harrowing images on screen were complemented perfectly by the musical score of Giuseppe Beece. Also known as The Doomed Batallion, Berge in Flammen was filmed in three different languages -- German, English, French -- for a total cost of $150,000.
Luis Trenkers Debüt als Regisseur: Der Österreicher Florian Dimai und der Italiener Graf Arthur Franchini, beide Bergführer, sind seit Jahren gut befreundet. Als Italien 1915 in den Ersten Weltkrieg eintritt, stehen sich die zwei als Feinde gegenüber. Während Dimai mit seinen Leuten den Dolomitengipfel Col Alto verteidigt, hat Franchini den Befehl, den Berg zu nehmen. Die Italiener versuchen, den Col Alto in die Luft zu sprengen, doch Dimai gelingt es, seine Kameraden zu retten und den Berg zu halten. Als der Krieg zu Ende ist, treffen Dimai und Franchini sich wieder. Ihre Freundschaft hat den Krieg überlebt.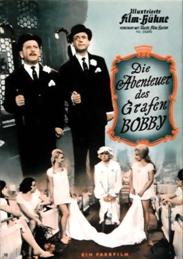 DIE ABENTEUER DES GRAFEN BOBBY (1961)
Impoverished Countess Ratzenberg is supposed to play chaperon for a young American touring around Europe. She can use the lucrative contract, but unfortunately falls sick. Count Bobby jumps in to help by going drag. Of course, he falls in love with his charge and his travesty leads to the corresponding complications.
Die verarmte Gräfin Ratzenberg soll für eine junge Amerikanerin auf Europareise die Anstandsdame spielen. Den lukrativen Auftrag könnte sie gut gebrauchen, erkrankt aber unglücklicherweise. Graf Bobby springt hilfreich ein und schlüpft dazu notgedrungen in Frauenkleider. Natürlich verliebt er sich seinen Schützling und seine Travestie führt zu den entsprechenden Komplikationen.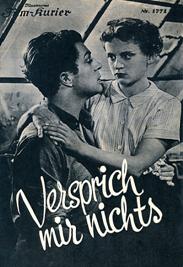 VERSPRICH MIR NICHTS (1937) * with switchable English subs *
Also known as Promise Me Nothing, this labyrinthine drama was adapted from a long-running stage play by Thea von Harbou of Metropolis and Dr. Mabuse fame. Viktor de Kowa stars as impoverished artist Martin Pratt, who is so preoccupied by his work that he fails to notice that his wife Monika is literally starving to death. Making matters worse, Martin cares nothing for money, refusing to sell his paintings because he feels they aren't yet good enough for public consumption. In desperation, Monika pretends that Martin's painting were completed by her, thereby allowing her to peddle them on her own. Soon, of course, Monika is being hailed as the foremost artistic genius of the age -- while Martin, seething with jealousy, but too proud to expose his wife as a fraud, retreats further and further into himself. Eventually, Monika's conscience gets the better of her, and she confesses that the paintings were the handiwork of her husband. Rather amazingly, this leads to a happy ending for both hero and heroine, indicating that anything's possible in the movies.
Erste Regiearbeit von Wolfgang Liebeneiner: Ein Maler mag seine eigenen Bilder nicht und will sie nicht verkaufen. Daher sind er und seine Frau arm wie Kirchenmäuse. Als die wirtschaftliche Not zu groß wird, gibt die Frau die Bilder des Malers als ihre eigenen aus und geht damit zu einem Kunsthändler, der in sie verliebt ist. Der verkauft die Bilder und verschafft dem Ehepaar damit ein großartiges Einkommen. Aber dann bekommt die Frau einen großen Auftrag für ein Wandgemälde, den natürlich ihr Mann ausführen muss. Als es zum Streit kommt, kommt alles heraus.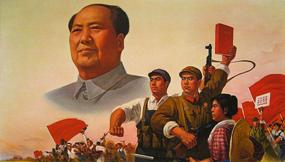 THE EAST IS RED (1965) * with switchable English subtitles *
The East is Red is a film recording of a musical theatre piece, which was presented in the Great Hall of the People. And it wasn't long after Chairman Mao watched the play, that the Great Proletarian Cultural Revolution was launched. Supervised and edited throughout its production by the Chairman and Zhou Enlai, the play came at a time when Mao was consolidating his power after a series of failed economic policies and continual famine throughout Mainland China.
The play purports to tell the background and history of the Chinese Communist Party, from its formation in 1921 due to the oppression of Chinese laborers by capitalist overlords; the war of resistance against Japan; and finally, the formation of the "New China", which, as the revolutionary folk songs in the play insist, could not have come about without the Communist Party's victory. Utilizing vast numbers of actors and performers, stirring revolutionary songs and complex, synchronized dancing tell the rather one-sided interpretation of a history you won't find anywhere in Wikipedia. Between the scenes showing the whippings of laborers by blonde-haired Westerners and their Chinese collaborators and dancing girls marching with AK-47s, a narrator explains the difficulties which faced the Chinese people in their struggle to overcome oppression. Of particular interest to anyone with even a small understanding of modern-day Chinese history is the procession of national minorities at the film's end, singing their thanks for liberation and slavishly praising Mao. Three years prior to the film's production, China invaded and seized Tibet and these people are given an especially prominent place in the parade of nationalities.
The film concludes with the performers and audience singing The Internationale. This and the stirring song The East is Red, performed at the beginning of the film, are perhaps the most impressive musical pieces in a two hour film of impressive musical and dance pieces. The cleaned-up subtitle track -- for the first time written in a way idiomatic to English speakers -- while helpful, is totally unnecessary for the enjoyment of the film. Anyone with an appreciation for Eastern music, opera, the ballet, etc. will enjoy the film, regardless of whether they can understand Chinese or wish to read the subtitles. Fortunately, the artistic excellence of the piece far outweighs its rather heavy-handed propaganda and outright historical inaccuracies.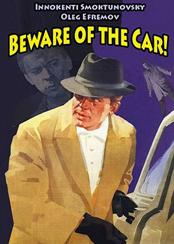 BEWARE OF THE CAR (1966) * with switchable English subtitles *
Yuri Detochkin is a humble insurance agent in the Soviet Union, who just happens to be suffering from a minor mental disorder. Disappointed, outraged and offended that the police are hamstrung by their superiors in dealing with corrupt officials, our slightly deranged hero proves to be quite resourceful and a really good driver when he takes it upon himself to steal the offending politicians' cars. He sells the stolen vehicles and anonymously transfers the proceeds to the accounts of various orphanages. Detective Maxim Podberyozovikov has been put on the case and thinks he's got his man. The problem? The thief turns out to be one of his friends.
A rather unusual film for its time, given the oppressive political and social situation in the USSR, a number of top-rated Soviet actors got their start in this cult classic.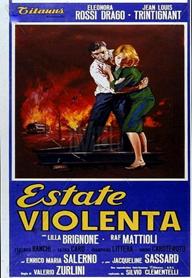 VIOLENT SUMMER (1959) * with switchable English subtitles *
Summer 1943. While wealthy kids in the Riccione district of Rimini play around, the war is getting ever closer to them. One of them, Carlo Caremoli, has been ingenious in finding ways to avoid military service. One day at the beach, he meets Roberta, a war widow with a child. Roberta's mother warns the woman to avoid Carlo, but to her, he seems attentive and he's kind to her child. A romance develops, but within a few weeks, Roberta ends up risking everything.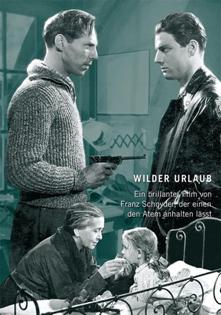 WILDER URLAUB (1943) * with switchable English and German subtitles *
The film portray a fateful holiday night in the life of a Swiss soldier during the Second World War. Gunner Hermel Inger rents an attic room in Zurich's old town from the family Ruttishuser. He is on the run, because he murdered his superior, Sergeant Epper, during a fight. While trying to steal civilian clothing in a nearby room, he's discovered by the room's tenant, the student Fritz Hablutzel. The student, however, is also an officer and has a pistol, which Hermelinger is able to take from him. When the pistol goes off, Hermelinger gives up and gives his confessions.

Wilder Urlaub schildert eine schicksalshafte Nacht im Leben eines Schweizer Soldaten während des Zweiten Weltkriegs. Mitrailleur Hermelinger mietet in der Zürcher Altstadt bei der Familie Ruttishuser ein Mansardenzimmer. Er ist auf der Flucht, weil er im Streit seinen Vorgesetzten Wachtmeister Epper erschlagen hat. Beim Versuch, im Nebenzimmer zivile Kleider zu stehlen, wird er von dessen Mieter, dem Studenten Fritz Hablützel, überrascht. Dieser ist Offizier und besitzt als solcher eine Pistole, die Hermelinger aber an sich bringt. Als sich ein Schuss aus der Waffe löst, gibt Hermelinger den Widerstand auf und legt ein Geständnis ab.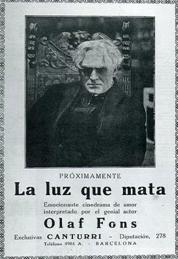 DER GANG IN DIE NACHT (1921) * with switchable English subtitles *
Ophthalmologist Eigil Boerne leaves his fiancee Helene for the dancer Lilly and moves to a fishing village with her. He then heals a blind painter in the village, and Lilly, in turn, leaves him for the painter. Bitter, Boerne returns to the city. When Lilly shows up at his place one day and begs him to once more help the painter, who's going blind again, he demands she kill herself; only then will he deign to swallow his pride and help her lover. She takes him at his word and kills herself. But now, the painter's no longer interested in being cured, for, as he explains to Boerne, Lilly was the only thing in the world he wanted to see.
Der Augenarzt Eigil Boerne verlässt seine Verlobte Helene für die Tänzerin Lilly und zieht mit ihr in ein Fischerdorf. Er heilt dort einen blinden Maler, für den Lilly wiederum ihn verlässt. Boerne kehrt verbittert in die Stadt zurück. Als Lilly eines Tages bei ihm auftaucht und ihn um Hilfe für den Maler bittet, der neuerlich zu erblinden droht, fordert er sie im Affekt auf, sich umzubringen – dann sei er zur Rettung ihres Geliebten bereit. Sie nimmt ihn beim Wort und tötet sich. Der Maler will nun nicht mehr geheilt werden, denn, so erklärt er Boerne, Lllly war alles auf der Welt, was er habe sehen wollen.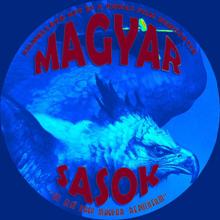 HUNGARIAN EAGLES (1943) * with switchable English subtitles *
The first movie about the Hungarian Air Force ever to be made, Magyar Sasok was filmed during the intoxicating days of Operation Barbarossa, when Hungarian troops were advancing all along the Don River on their way to take part in the conquest of the Volga and the river's lynchpin city, Stalingrad. But by the time this film was finally edited and shown to the public in 1943, the fiasco of Stalingrad was already long past. The glory of the Hungarian Army in the East which, for the most part, had been artificially manufactured had not only become threadbare, there were very serious concerns throughout the nation about how Hungary was going to extract itself from the war without another punishing peace like the one thrust upon it in 1918 after the end of the last world war.
It was during the early days of the Eastern Campaign --- even before the breathtaking advances of the Summer of 1942 --- that this film was commissioned by the Royal Hungarian Air Force, the National Miklos Horthy Flying Fund and the Hungarian Association of Aeronautics to the tune of a whopping 1,000,000 Pengo. The goal of this highly propagandistic film was not only to trumpet Hungary's successes in the War, but to serve as a recruitment poster for the armed forces. In all respects, it was money well spent: the film has a rather simplistic love story; Hungarian patriotic music; humorous intermezzos and at least ten minutes of spectacular air battles. A number of contemporary and upcoming film stars had roles in the film, which more than helped pull even more viewers into the theatres. Six cameramen worked on the film, including some who had just returned from the Don basin, where they filmed Hungarian soldiers during the push to the Volga.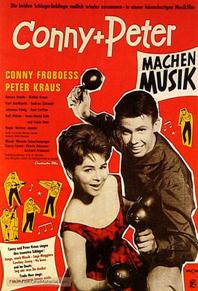 CONNY UND PETER MACHEN MUSIK (1960)
Pretty Conny's working at her uncle's swanky hotel to get to know the hospitality industry. She soon meets Peter after a bicycle accident; he works at the hotel as a waiter. When Peter gets fired by his shady boss, Conny gets him a job as an assistant to the hotel's idiot-detective Magerli. In addition to the usual heavy workload the two "detectives" would normally have --- thanks to Magerli's incompetence --- they now have even more to contend with, because the hotel's been targeted by a bunch of thieves, who've caught on to the house detective's stupidity. But the crooks never counted on having to contend with Conny and Peter. After all, who needs alarm systems and armed guards when you've got their singing?
Die hübsche Conny arbeitet im noblen Palace-Hotel ihres Onkels, um das Hotelfach kennen zu lernen. Bei einem Fahrradunfall begegnet sie Peter, der als Kellner jobbt. Als Peter von seinem zwielichtigen Chef gefeuert wird, bringt ihn Conny als Assistenten des trotteligen Hoteldetektivs Mägerli im Palace-Hotel unter. Hier gibt es jede Menge zu tun, denn immer dreistere Diebstähle sorgen seit kurzer Zeit für Aufregung. Doch die Diebe haben nicht mit Conny und Peter gerechnet.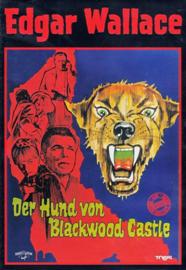 DER HUND VON BLACKWOOD CASTLE (1968) * with switchable English subtitles *
Blackwood Castle, a rundown burg in the foggy swamps near London. Here, Captain Wilson, master of the castle, has croaked. His daughter Jane arrives at the estate to claim her inheritance, but things just ain't right at the ol' pile of rocks. The attorney handling the estate is acting bizarre, even for a lawyer. He wants Jane to sign some document to sell the castle without even giving her a chance to take her coat off! Then other strange people show up and it seems they're all searching for something. But, one by one, they all fall victim to some unseen, vicious dog, which "hounds" the guests of the local inn late at night. Jane calls Sir John of Scotland Yard for help. And in spite of the fact the detective can't find his way out of a paper bag, he makes some interesting discoveries in the spooky citadel (or, to be more accurate, his secretary --- playing the amateur sleuth --- shows the veteran detective how it's done).
Blackwood Castle, ein Schloß in der nebeligen Moorlandschaft nahe London. Hier ist der Hausherr Kapitän Wilson gestorben. Seine Tochter Jane reist an, um ihr Erbe anzutreten, doch es geht auf dem Schloß nicht mit rechten Dingen zu. Der Anwalt des Kapitäns verhält sich sehr verdächtig. Jane soll undurchsichtige Dokumente unterschreiben. Andere seltsame Bekannte tauchen auf und scheinen etwas Bestimmtes zu suchen. Sie werden das Opfer eines blutrünstigen Riesenhundes, der nachts auf Menschenjagd geht. Jane ruft Sir John von Scotland Yard zur Hilfe, der eine interessante Entdeckung macht.
In this anti-capitalistic DEFA comedy, based on a piece by the film theorist Bela Balasz, the chemist Michael Alland and his assistant Martina make a groundbreaking discover: they manage to make butter directly from pasture grass without having to deal with either the cow or the use of dairy products. An industrialist stubbornly attempts to seize the invention for himself and, accordingly, sends countless women to Alland to seduce him and steal the formula. But these attempts prove to be unsuccessful, for Alland has discovered he has feelings for his assistant.
In der antikapitalistischen DEFA-Komödie, die auf ein Stück des Filmtheoretikers Béla Balász zurückgeht, macht der Chemiker Michael Alland mithilfe seiner Assistentin Martina eine bahnbrechende Entdeckung: Er schafft es, Butter ohne jeden Umweg über Kühe und Milchgewinnung direkt aus Weidegras herzustellen. Entsprechend hartnäckig versucht ein Konzernchef, die Erfindung an sich zu bringen, und setzt zu diesem Zweck mehrere Frauen auf Alland an, die ihn verführen sollen. Doch Bemühungen dieser Art bleiben erfolglos, denn Alland hat seine Gefühle für Martina entdeckt.
Marmalade-manufacturer Theodor Hagemann is really clueless when it comes to financial matters. When he sponsors a starving artist, he ends up losing a fortune. His strict wife and business partner Rosa even speaks to a psychiatrist about him. Total waste of time. So Rosa decides to control the finances with an iron fist. This, of course, doesn't stop her dangerously stupid husband from once more going to the aid of a struggling artist --- this time, a singer deep in debt. The singer's able to pay off her obligations thanks to Theodor. He, on the other hand, is now broke. Penniless, he turns to a good friend, who gets Theo a "secret" job at a classy hotel. Working as a late-night, room service waiter, he's a smash hit ... that is, he smashes almost all the hotel's dishes, as he's as incompetent with a tray as he is with money. Surprisingly, in spite of his bull-in-a-china-shop style, he manages to improve his performance at the hotel and successfully work his way down from factory owner to minimum-wage wait staff. Bravo!
Marmeladenfabrikant Theodor Hagemann hat keinen Sinn fürs Geschäft. Als Sponsor verkannter Künstler verschleudert er ein Vermögen. Seine strenge Gattin und Geschäftsführerin Rosa hat deswegen schon einen Psychiater konsultiert, zwecklos. Rosa kontrolliert nun die Finanzen mit eiserner Hand, und als Theo wieder einmal einer verschuldeten Sängerin großzügig aus der Patsche hilft, ist er endgültig pleite. Durch die Vermittlung eines guten Freundes erhält Theo einen "geheimen" Job in einem Nobelhotel. Als Zimmerkellner im Nachtdienst zerschlägt er fast das gesamte Geschirr - doch mit seiner anarchischen Destruktivität stößt der müde Theodor überraschend in eine Marktlücke.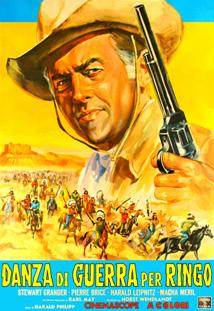 THE OIL PRINCE (1965) * with switchable English subtitles *
The Oil Prince has sold a phony oil well to a banker near Lake Chinla (which in the film sounds like "Schindler See"; an aural misunderstanding known in the German language as "Chinla's Lisp"). There's only one slight problem: the land, on which the oil well sits, doesn't belong to the Oil Prince. To top it off, some German settlers are intent on setting up camp at Lake Chinla and starting a new life there. Old Surehand and Winnetou ride to the chiefs of the local Navajo and Utah Indians to vouch for the settlers' peaceful nature. When word gets back to the Oil Prince that the Indians are going to cede the land to the settlers, he has his men kill the settlers' scout to prevent them reaching the lake before he can make a deal with the natives. However, that doesn't delay the Germans' search for Lebensraum in northern Arizona by very much. Then the Oil Prince hears the Indians are going to give the land to the settlers for free, thanks to Winnetou's telling the Utahs, that the settlers have no money to buy land. This, however, isn't exactly true: one of the Germans is carrying an ill-gotten bag of gold and the Oil Prince knows this. When he tells the chief of the Utahs, that the settlers are lying about being poor and sets up the chief's son to be murdered and make it look like the settlers did it, both the Utahs and Navajos decide the lake would be better off with a casino housing an all-you-can-eat buffet rather than a noisy Hofbräuhaus (and they're determined to make their wishes known at dawn the next day, with lots of armed warriors, some skewers and a big barbecue, at which German cooking will be the star attraction ... or was that "cooking Germans"?).
Der Ölprinz hat einem Bankier eine Ölquelle in der Nähe des Chinla-Sees verkauft. Doch Siedler, die sich dort niederlassen wollen, passen ihm gar nicht in den Kram, daher lässt er einen ihrer Scouts ermorden. Durch die Hilfe von Winnetou, Old Surehand und Old Wabble finden die Siedler dennoch Land – auf dem Gebiet der Navajos. Doch auch das gefällt dem Ölprinzen nicht, daher lässt er den Sohn des Häuptlings ermorden und lenkt den Verdacht auf die Siedler.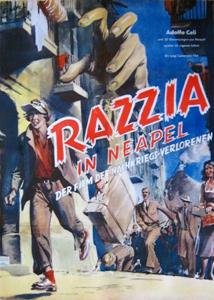 NO STEALING (1948) * with switchable English subtitles *
On his way to Africa, Don Pietro, a young missionary priest, has his suitcase stolen at the train station in Naples. While making every effort to retrieve his baggage, he finds out how devastated and miserable the city of Naples is. Learning that he's been the victim of a gang of local street urchins, he decides that his mission is here in Naples, not in another land. He creates a home for poor kids, assisted by Maddalena, the cook, with a view to putting the "scugnizzi" back on the right track. He's very successful with Peppinello, who shows gratitude for what the priest is doing and feels good in his new, secure home. But some other kids don't play by the rules and find the home a convenient place for hiding the loot of their thefts.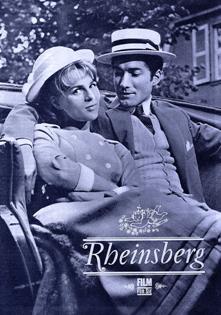 RHEINSBERG (1967) * with switchable English subtitles *
When young journalist Wolf opens the door to a changing booth at the beach in Wannsee, he finds it's already occupied by Claire. And what a fateful meeting it turns out to be! They soon end up meeting more and more often and growing closer and closer to one another. But is it "The Great Love" for either of them? To find out, the two take a trip to the provincial town of Rheinsberg. A little vacation away from turbulent Berlin in this idyll of the German Rheinland should bring some clarity about their feelings for one another.
Sentimental, kitschy and painting a picture of life that could only exist in books, the constant romance in the film is uncomfortably saccharine at times. Nor are the little digs directed at bureaucracy and militarism at the beginning of the 20th Century lost on the viewer ... a perhaps overdone, self-critical jab at the Germans themselves some 25 years after the end of the last war. The scriptwriter's attempt to display the closeness and infatuation between the two, while possibly considered cutesy and wonderfully romantic when the film was made, would most likely cause modern-day viewers to use such terms as "bipolar", "passive-aggressive", "co-dependent" and "neurotic". Nevertheless, for the romantic-at-heart, this is a film that will make one smile. Those cynical of love and marriage probably will be annoyed; and diabetics should certainly avoid sugary foods for at least 24 hours prior to watching this movie.
Als der junge Journalist Wolf im Strandbad Wannsee aus Versehen die falsche Kabinentür öffnet, macht er die Bekanntschaft der attraktiven Claire. Eine schicksalhafte Begegnung! Sie treffen sich immer häufiger und fühlen sich stark zueinander hingezogen. Aber ist es die große Liebe? Um seine Zweifel auszuräumen, reist das junge Paar in das Provinzstädtchen Rheinsberg. Der Urlaub fernab des turbulenten Berliner Stadtlebens soll den beiden Klarheit über ihre Gefühle bringen.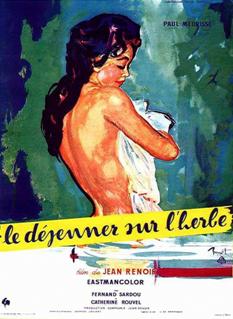 DAS FRUHSTUCK IM GRUNEN (1959) * with or without switchable English subtitles; French and German audio *
In addition to running for president of a European Union which needed another 40+ years to become a reality, Etienne Alexis also works as a scientist. Presently, he's enthusiastically pushing forth the idea of artificial insemination as a means of improving social relations and is very much in favor of therapy to suppress passion. His ideas are far from fringe: there are people interested in this new "religion of science" and a number of women have come forward to be impregnated via turkey baster. To celebrate this successful movement, a countess has arranged for a picnic with Etienne in the park. The busy scientist has as much interest in social events as he does in consensual, one-on-one sex; but he's dependent on the countess and so agrees to the idea. In the park is a statue of the goddess Diana, now the goddess of hunters, but formerly the protector of women looking to get pregnant. A chance encounter brings Etienne into contact with Nenette, who firmly believes in human relationships. When the sound of a shepherd's flute in the Temple of Diana causes a strong wind, an unexplained passion comes over the scientist and it isn't long before he abandons his principles of manufactured children and manipulation of personality to get it on with the peasant girl.
Zusätzlich zur Ausführung für das Präsidentenamt der Europa ist Etienne Alexis ein Wissenschaftler arbeiten an künstlichen Befruchtung als Methode zur Verbesserung der sozialen Beziehungen und führt Therapien, um Leidenschaft zu unterdrücken. Verpflichtet, eine Gräfin, wollen Etienne mit einem Picknick feiern. Der Klang der Flöte eines Hirten in den Tempel der Göttin Diana, bewirkt eine starke Wind, der die Leidenschaft der Zeichen setzt und zerstört die etablierte Ordnung. So, Alexis, im Gegensatz zu seinen Prinzipien mit dem bäuerlichen Nenette Leck.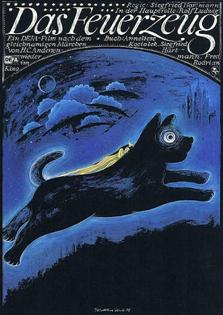 DAS FEUERZEUG (1959) * with switchable English subtitles *
A young soldier, recently released from his service to the King after fighting a war, is met by an old witch on the road. She can tell he's a good soldier, but she also sees that he hasn't a penny to his name and that his stomach's as empty as his wallet. She directs him to a nearby oak, dead and hollowed-out, and tells him if he climbs into the tree, he'll find all the money he wants at the bottom. Expecting he'll have to split the money with the old bag, he's surprised to hear that she only wants an old tinder box "her grandmother left in the tree the last time she was in there". And indeed, he finds not only the old tinder box, but all the copper, gold, and silver he could possibly want! It doesn't take him long to deduce, however, that the tinder box must somehow be much more valuable than all the rest, since the old hag wants it so badly. Dispatching the witch to her rightful place, the soldier marches into a nearby town, filled to the brim with poor people and their plentiful brood, because there's no government funding of Planned Parenthood there. Being as good a man as he is rich, the soldier buys candy and toys for all the children and some vegetables for a poor, old woman whose food stamps have been cut by the same, aforementioned government.
Eventually, word gets around there's a walking wallet strolling about the town and when the soldier goes to the best inn to find a comfy bed and some good food, every adult within earshot starts acting as nice as they can be to the soldier; no doubt impressed by his good looks, kindness, and not at all because he has more money than any of them will ever see in their lifetime! In fact, some of the more "honest" citizens invite themselves to eat, drink and party around town at the good natured --- but incredibly naive --- soldier's expense. Naturally, it comes only as a surprise to our charitable friend that they all seem to have obligations to attend to once the money runs out.
Having nothing left of his former possessions but a pipeful of tobacco, the soldier's uses the old tinder box to light his pipe. When he does so, three huge dogs appear, which he first saw in the hollowed-out tree guarding the copper, silver and gold. They've come now to serve and help him in his quest to free a princess imprisoned by her father the King in the castle's tower. She's distressed by the government's treatment of the people and their being left without medical insurance while the King and his rich buddies live the high life. Outraged that the princess would even want to mingle with the unwashed masses, the King and Queen lock her away and promise her to a prince in a neighboring, red state. Unfortunately, while they are loveable, it should've been obvious even to the soldier, that the dogs' inability to protect the treasure from being stolen by him shouldn't have engendered any confidence in their ability to be helpful. Sure enough, the next day, the soldier ends up being caught by the King's men when he makes a rather lame attempt to break into the princess' prison, while the three huge dogs roam the town searching for three not-so-huge female partners. They're going to hang him the next morning. But then, for some reason, the dogs get really smart and manage to chase off the evil royalists and their clueless lackeys. Overjoyed, the people cheer; the princess and soldier embrace; and plans for a big wedding the next morning are proclaimed (even though you can be sure not one of the guests from town will be able to scrape together enough shekels to buy the happy couple a gift card at Walmart).
They'll all live happily ever after and everyone will get the government benefits they were previously denied (which all will take, but none will pay for). The End (in more ways than one).
Ein junger Soldat entdeckt in einer hohlen Eiche ein altes Feuerzeug, Kupfer, Silber und Gold. Und zwar in dem Moment, als er sehnsüchtig darüber nachdenkt, wie er endlich den knurrenden Magen zum Schweigen bringen kann. Jetzt ist er reich, so reich, wie er es nie zu träumen wagte. Er kann sich nicht nur satt essen, er kann auch von seinem Überfluss an Kinder und Arme abgeben und kann bewirten, wenn er will. Stolz und glücklich blickt er auf seine neuen Freunde, vornehme Herren, die mit ihm tafeln. Wo aber sind die reichen Freunde, als das viele Geld eines Tages verbraucht ist? Ein Pfeifchen Tabak ist alles, was dem Soldaten geblieben ist. Als er es mit dem gefundenen Feuerzeug anzünden will, erscheinen zu seiner Verwunderung drei große Hunde die ihm ihre Dienste, anbieten. Mit ihrer Hilfe kann er die schöne Prinzessin befreien, doch als Dank dafür soll er gehenkt werden. Wieder helfen die Hunde und der dumme König wird samt seinem Hofstaat zum Teufel gejagt. Jetzt endlich kann die Prinzessin den tapferen Soldaten heiraten und für das Land beginnt eine glückliche Zeit.
Simon Gigl wins the gold medal at the Neukirchen village festival for his breeding bull "Herodes". Nevertheless, he isn't happy. He's long been interested in charming Urschi, but she's married to Lorenz Holler. Luckily, Alisi Resch will help things along. She gets Simon and Lorenz drunk to bring about an exchange: Urschi will spend eight days cooking for Simon; and Lorenz will get the prize-winning bull. (It's a toss-up as to who got the better part of the bargain).
Simon Gigl gewinnt auf dem Neukirchener Dorffest für seinen Zuchtstier "Herodes" die goldene Medaille. Glücklich ist er dennoch nicht. Er hat schon lange ein Auge auf die bezaubernde Urschi geworfen, doch diese ist ja leider mit Lorenz Holler verheiratet. Die schlitzohrige Alisi Resch hilft dem Schicksal nach. Sie macht Simon und Lorenz betrunken, um sie zu einem Tauschhandel zu überreden. Während Urschi für Simon acht Tage kochen soll, bekommt Lorenz indes den preisgekrönten Bullen.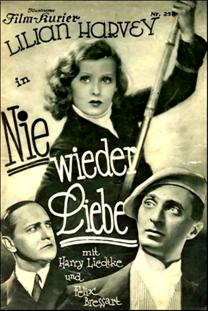 NIE WIEDER LIEBE (1931) * with or without switchable English subtitles *
Since the wealthy Sandercroft has often been disappointed by women, he's decided to swear off them for five years. So determined is he to make sure he stays true to his decision, that he even makes a bet with his friend Jack that he can avoid the ladies … and the bet's for $500,000.
Da der wohlhabende Sandercroft schon oft von den Frauen enttäuscht worden ist, hat er sich entschlossen, fünf Jahre lang keine Frau mehr anzurühren. Er ist von seinem Vorsatz derart überzeugt, dass er darüber sogar eine Wette mit seinem Freund Jack eingeht – es geht um 500.000 Dollar.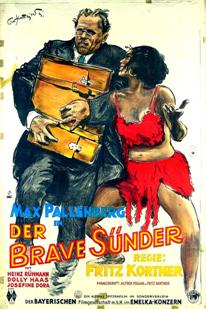 DER BRAVE SUNDER (1931) * with switchable English subtitles * (improved)
Fritz Kortner's directorial debut is the only film of the screenplay by Alfred Polgar: It is based on Polgar's play, "The Embezzlers" (after Valentin Katayev's novel of the same name) and tells the story of the chief cashier Leopold Pichler, a strait-laced family man with principles. With his subordinate Witek, he withdraws 8,000 Schillings from the bank on a rainy Saturday for the bank director, Baron Max von Hartl. The director has left for Vienna, however, and so the two cashiers travel after him with the money, because "you can rely on Pichler!" Pichler goes into a fashionable night club in Vienna and ends up at the side of the black jazz dancer Kitty and also at the side of a game of chance. The money is lost; his reputation seems irretrievably lost; and further events bring Pichler and Witek to the brink of madness.
Fritz Kortners Regiedebüt ist der einzige Film nach einem Drehbuch von Alfred Polgar: Es basiert auf Polgars Theaterstück "Die Defraudanten" (nach Valentin Katajews gleichnamigem Roman) und erzählt die Geschichte des Hauptkassierers Leopold Pichler, eines sittenstrengen Familienvaters und prinzipientreuen Mannes. Mit seinem Untergebenen Wittek holt er an einem regnerischen Samstag für den Herrn Direktor, Baron Max von Härtl, 8.000 Schillinge von der Bank. Der Direktor aber ist nach Wien abgereist, und so folgen ihm die beiden Kassierer mit dem Geld nach, denn: "Auf Pichler ist Verlaß!" In der Großstadt gerät Pichler in eine mondäne Nachtbar, an die Seite der schwarzen Jazz-Tänzerin Kitty und ans Glücksspiel. Das Geld geht verloren, der Ruf scheint unwiederbringlich dahin und weitere Ereignisse bringen Pichler und Wittek an den Rand des Wahnsinns.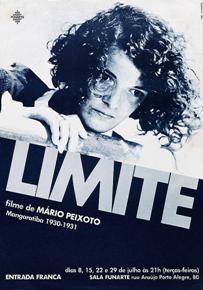 LIMITE (1931) + LAS HURDES (1927) * with switchable English subtitles *
The theme of Limite is stated in its title: the limits faced by man in the struggle for existence. The narrative concerns three shipwrecked people, two women and a man, adrift in a small boat on the open sea. In a series of flashbacks, they reveal to each other their stories and what they were trying to escape from when they took flight on the ship.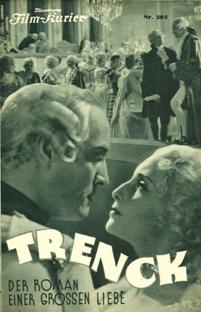 TRENCK (1932) * improved video *
Love story against the backdrop of the Silesian Wars: The Prussian officer Friedrich Freiherr von der Trenck is in love with Princess Amalie, the sister of King Friedrich II. He is sentenced to imprisonment at the fortress in Glatz; flees; is captured; and once against thrown into the dungeon in Magdeburg. After seventeen years in prison, he is pardoned by the King (gee, thanks for nothing!), but then banished from Prussia. Only after thirty years of this exile is he able to return to a Prussia ruled by Friedrich Wilhelm II and once more meets all the cause of his troubles: Amalie.
Liebesdrama vor dem Hintergrund der Schlesischen Kriege: Der preußische Offizier Friedrich Freiherr von der Trenck verliebt sich in Prinzessin Amalie, die Schwester des Königs Friedrich II. Er wird zu Festungshaft in Glatz verurteilt, flieht, wird gestellt und in Magdeburg wieder ins Verlies geworfen. Nach siebzehn Jahren Haft wird er vom König begnadigt, aber aus Preußen verbannt. Erst nach dreißigjähriger Verbannung darf er unter Friedrich Wilhelm II nach Preußen zurückkehren und trifft Amalie wieder.
.
.
.
Rittmeister Styx is getting to know some rather strange people in his new position as an attache in a consulate of his home country in the Balkans. In addition to the pretty dancer Ariane, now fallen-from-grace and completely bankrupt, there's Consul Sanders, a rather shady character, who soon tries to make Styx complicit in his dark business. When Styx rejects his overtures with indignation, the consul wastes no time in sending his sweet daughter Julia to the attache, with the mission of constantly distracting the attache, so he won't sniff round too closely in Sander's affairs. Things backfire, though, when Julia falls in love with Styx (and Styx isn't exactly immune to the girl's charms either). One day, there's a murder and Sander uses the opportunity to get rid of Styx: he ensures the attache is accused of the act and Julia is appalled. But Arianne, who knows who the real culprit is, helps Styx escape. Together, they intend to reveal all the sordid machination being done at the consulate at Sander's upcoming garden party.
Es sind schon merkwürdige Leute, die der Attaché Rittmeister Styx in seiner neuen Stellung im Konsulat seines balkanesischen Heimatlandes kennenlernt. Neben der hübschen, aber etwas heruntergekommenen und total bankrotten Tänzerin Ariane ist damit vor allem Konsul Sander selbst gemeint. Der versucht nämlich schon bald, Styx zum Komplizen bei seinen dunklen Geschäften zu machen. Als Styx dies empört ablehnt, setzt Sander seine süße Tochter Julia auf den Störenfried an, damit sie ihn davon abhält, zu sehr herumzuschnüffeln. Dabei verliebt sich das hübsche Kind in ihr Opfer, und auch Styx' Herz bleibt nicht unberührt. Eines Tages geschieht ein Mord, Sander nutzt die Chance, Styx loszuwerden - die Tat wird ihm zur Last gelegt wird, Julia ist entsetzt. Aber Ariane, die den wahren Täter kennt, verhilft Styx zur Flucht. Gemeinsam wollen sie auf Sanders anstehendem Gartenfest sämtliche zwielichtigen Machenschaften, die im Konsulat getätigt werden, aufdecken.
Starring Emil Jannings as Ohm Krueger and costing over 5.4 Million Reichsmark to produce, this was the second-most expensive film put together during this time period in Germany. This drama tells the story of British mishandling of the Afrikaaner in South Africa during the Boer War (1899-1902), including the rounding up and interning of Britain's enemies in concentration camps, the first nation in the world to use such camps. Ohm Krueger tries (unsuccessfully) to drum up support for the struggle of his people against the British and to show the world how people are being mistreated by the English army during the war.
Der nationalsozialistische Propagandafilm unter der "Gesamtleitung" von Emil Jannings erhielt alle zur Verfügung stehenden Prädikate, darüber hinaus das für ihn geschaffene "Film der Nation". Das mit einem Budget von 5,4 Millionen Reichsmark zweitteuerste Prestige- und Propagandaprojekt der NS-Zeit versucht die Vernichtungspolitik in den Konzentrationslagern zu rechtfertigen, indem es diese als Erfindung der Briten in Südafrika anprangert. Historischer Rahmen ist der Burenkrieg (1899 – 1902), und zu Beginn wirbt der Patriarch und Burenpräsident Paul (Ohm) Krüger in Europa vergeblich für die Unterstützung seiner Gefolgsleute gegen die Engländer. In Rückblenden werden Krügers Konflikt mit seinem britischen Kontrahenten Cecil Rhodes geschildert sowie der Disput mit seinem zunächst anglophilen Sohn Jan. Die – vom Film offen propagandistisch inszenierte – Grausamkeit und Hinterlist der britischen Armee vereint die Familie jedoch im aussichtslosen Kampf. Gleichzeitig behauptet der Film, dass der erfolglose Widerstand der Buren nicht sinnlos war: In der letzten Szene des Films "prophezeit" Krüger den Untergang Englands.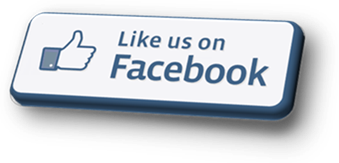 Thank you and the best to all of you,
RAREFILMSANDMORE.COM