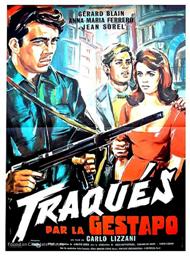 GOLD OF ROME (1961) * with switchable English and Italian subtitles *
After the Italian armistice in 1943, the Germans occupy Rome. In October 1943 the commander of the German police summons the president of the Jewish community and orders him to deliver 50 kilograms of gold within two days; otherwise he will execute 200 heads of family. The community is divided between those who decide to give in to blackmail and hand over the little gold left to them and those who do not believe in the word of the Germans. The Jews remaining in the ghetto are impoverished by Italian racial laws and with enormous difficulty, they try to get to the amount imposed. The community president does everything possible to ask for help, distressed and uncertain that the delivery will really help save lives.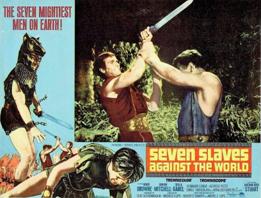 SEVEN SLAVES AGAINST ROME (1964) * with switchable English and Italian subtitles *
Tribune Marcus Aulus, out of favor in Rome because of his alleged sympathy for Christians, arrives to take charge of an aqueduct project on the hot, arid fringes of the Empire. Centurion Gaius, cruel and corrupt, resents being replaced by Marcus. He instigates a revolt by his slaves, then blames the situation on Marcus. During the revolt, five muscular slaves escape. They meet up with fellow escapee Balisten, a farmer unjustly condemned to the aqueduct project. Balisten, impressed by Marcus's enlightened attitudes, rescued the Tribune from the revolt. The six slaves, with Marcus's advice, plan to gain their freedom using their prowess as gladiators.
Dr. Fred V. Kammacher, a young physician living a short distance from Berlin, has been disappointed in his bacteriological researches and to add to his mental and physical distress, his wife, Angele, develops symptoms of being deranged. The couple are the fond parents of three children and when Dr. Rasmussen, the family physician advises that Angele be taken to a sanatorium, Kammacher is near having a breakdown. He reluctantly consents to the pleadings of his mother to seek rest away from his home and makes his first sojourn in Berlin. While there, he accepts an invitation from an old friend to attend a matinee performance, at which Miss Ingegerd Halstrom, a famous danseuse, appears in her latest creation, "The Dance of the Spider." Kammacher falls under her charm and is introduced to her by her father after the performance. But he is disillusioned when he finds her bestowing her attention indiscriminately upon the gallants who surround her. He leaves in disgust and upon later receiving ill tidings from home, departs for Southampton, where he engages passage on the liner "Roland," bound for America. Through a curious twist of fate, Ingegerd and her father have taken passage on the same steamship and Dr. Kammacher, upon the renewal of their acquaintance, finds himself more closely attracted to the young dancer. Dr. Kammacher is sorely puzzled over the whimsical nature of Ingegerd and during one of his troubled slumbers, dreams that he has landed on the island of Atlantis, the mythical realm which, according to the ancient Greeks, disappeared under the crest of the sea, only to resume its activities on the sands at the bottom of Neptune's domain.
INVITATION TO THE WALTZ (1935)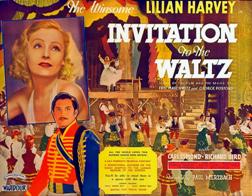 In London, Jenny, an aspiring ballet dancer, meets an aide to the Duke of Wuerttemberg, who is in Britain for a marriage alliance and financial treaty to supply troops to Britain for the war against Napoleon. After being discovered by an Italian impresario, she goes to Venice to be trained as a great dancer. The visiting Duke of Wuerttemberg becomes fascinated with her and engages her to perform at the state opera house in Stuttgart, hoping also to make her his mistress. The British authorities encourage Jenny to go to Stuttgart and try to live extravagantly at the Duke's expense in the hope that a shortage of funds with compel him to renew his treaty against Napoleon. However, at the border, she once again meets the handsome aide she had first encountered in London, who has been ordered to escort her, and who is hurt by the fact that she now appears to be the Duke's lover. Unable to reveal the true purpose of her mission to him, she outrages him and the inhabitants of the Duchy by the exorbitant demands she makes of their ruler. Having finally persuaded the Duke to sign the treaty with Britain, her plans to escape from the Duchy are wrecked when Napoleon invades and captures Stuttgart.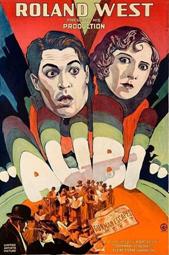 TWO FILM DVD: ALIBI (1929) + STOLEN HEAVEN (1931)
ALIBI (1929):
Chick Williams, a prohibition gangster, rejoins his mob soon after being released from prison. When a policeman is murdered during a robbery, he falls under suspicion. The gangster took Joan, a policeman's daughter, to the theater, snuck out during the intermission to commit the crime, then used her to support his alibi. The detective squad employs its most sophisticated and barbaric techniques, including planting an undercover agent in the gang, to bring him to justice.
STOLEN HEAVEN (1931):
A prostitute is followed by a young man through an ugly and shadowy city. She thinks he's drunk, but it turns out he's been wounded in the robbery of a radio factory where he used to work. As the police swarm into the seedy tenement, she decides to help him and the two form an uneasy alliance culminating in a suicide pact.
The village of Matera, located on an island in the middle of the Angara , will be flooded with the waters of a future reservoir . The villagers have long been warned that they will have to move to a new village, but the old people are holding out to the last. Pavel Pinigin was appointed to supervise the move. He does it with a heavy heart, since he himself has lived in the village for almost his entire life. His boss Vorontsov has no doubts - he knows that everything is being done for a lofty goal: the construction of a new hydroelectric power station and new cities around it will arise. A team of burners arrives on the island: they remove crosses from the graves; cut down tall trees; and burn empty houses to prepare the village for flooding. The collapse of the world familiar to them from childhood terrifies the old-timers. One of the symbols of Matera is a huge century-old tree, which the brigade tries to destroy several times - first to cut it down, then to knock it down with a bulldozer, then to burn it. However, even the charred one rises above the island, as before.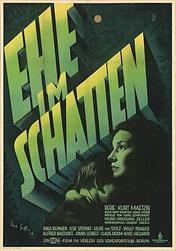 EHE IM SCHATTEN (1947) * with switchable English subtitles *
Set during the rise of the Nazi regime, Marriage in the Shadows is modeled after the tragic true story of Meta and Joachim Gottschalk. In the film, Elisabeth Maurer and Hans Wieland enjoy successful careers as actors in Berlin; Elisabeth in particular is adored by the public. Confident in her career, Elisabeth, who is Jewish, ignores the advice of a colleague to leave Germany in the face of increasing anti-Semitism. When Nazi influence on the theater's management grows, Elisabeth is forbidden from performing. Believing that he can protect her if she becomes his wife, Hans convinces Elisabeth to marry him. In the following years, as Hans's career thrives, Elisabeth awaits the end of the Nazi terror, which bars her from public life. When the situation worsens in 1938 with the Kristallnacht pogrom, Elisabeth decides to leave the country, but Hans, who still believes he can protect her, convinces her to stay with him.
Der junge Schauspieler Hans Wieland lehnt es im Dritten Reich ab, sich von seiner jüdischen Frau Elisabeth, mit der er Abend für Abend auf der Bühne stand, scheiden zu lassen. Vor die Alternative gestellt, an die Front geschickt zu werden, was die Verschleppung seiner Frau in ein Konzentrationslager zur Folge hätte, sieht er nur einen Ausweg; den gemeinsamen Tod. Die Fabel beruht auf einem authentischen Vorfall. Am 7. November 1941 wählte der populäre Schauspieler Joachim Gottschalk, der dem Druck der faschistischen Behörden nicht mehr standhalten konnte, mit seiner Frau und dem Sohn den Freitod.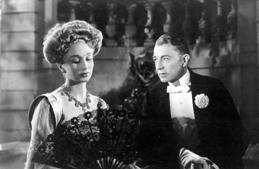 TWO FILM DVD: ON APPROVAL (1944) + HEADIN' FOR GOD'S COUNTRY (1943)
ON APPROVAL (1944):
Victorian London. George, the 10th Duke of Bristol, and his equally upper class friend Richard Halton, are both broke. To live, George has had to rent out his London castle to visiting young American socialite Helen Hale. The only way George has access to his own home is when he is invited to a party hosted by Helen. Much to George's surprise, Richard confesses to him that he is in love from afar and would like to marry wealthy widow Maria Wislack. Maria is Helen's friend who George considers a haggard, controlling, old (forty-one) shrew of a woman. Richard believes he has no chance with Maria, due to the difference in their financial situations. Richard is surprised to find that Maria knows he is in love with her, she in turn attracted to him. However, to test if they will be compatible as husband and wife, Maria proposes they spend one month together in her mansion on an otherwise deserted island off the coast of Scotland.
HEADIN' FOR GOD'S COUNTRY (1943):
On 16 Sep 1941, Michael Banyan treks from the Alaskan interior to the small town of Sunivak, Alaska, and is treated with suspicion by the locals. General store owner Hilary Higgins pressures Banyan for information about his Summer activities, as he believes that Banyan is a prospector, but Banyan refuses to divulge any information about himself. The townsfolk grow more hostile to Banyan upon learning that he is broke, for the town's supplies are shipped in only twice a year and there is little to spare for a stranger. Banyan finds two friends in Laurie Lane, who run the weather station, and barber and newspaper printer Clem Adams, who offers Banyan shelter. Banyan's trouble increases, however, when he is fined fifty dollars for striking Higgins' brutish son Hugo, even though the altercation arose from Banyan's attempt to stop Hugo from beating his dog, Flash. Because he cannot pay the fine, Banyan is sentenced to hard labor until 1 October, when the twice-yearly mail boat arrives. Banyan escapes rather than be sent away on the boat, and Laurie and Clem keep him hidden in the weather station. Laurie begins to doubt Banyan though, when her radio is sabotaged so that it can only send messages and not receive them. Although Sunivak is now completely cut off from the outside world, the townspeople carry on as always. Hoping to restore Laurie's faith in him, as well as help out Clem and take his revenge on the callous townspeople, Banyan prints a fake Seattle newspaper, which proclaims that the U.S. has joined World War II, and that Clem is the winner of a thirty-thousand dollar sweepstakes.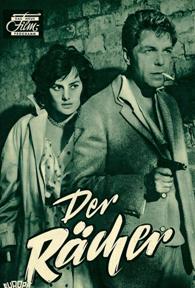 DER RACHER (1960) * with switchable English subtitles *
Two women find a man's head on a railway viaduct near the English town of Esher. The beheaded is Francis Elmer, a Foreign Office official. Since the murder could have political motives, the head of the intelligence service, Major Staines, instructs the capable security officer Michael Brixan to conduct a separate investigation. As Brixan learns, Elmer's already the twelfth victim of the so-called "avenger", who describes himself as a "benefactor" in accompanying letters. All those murdered are criminals or suspects who slipped through the mesh of the law. The trail leads Brixan to Winchester, where Francis Elmer was last seen by his niece, film actress Ruth Sanders. Close to town, with Henry Longvale's castle as a backdrop, a film is being made. Brixan initially pretends to be a journalist to learn more from Ruth about her uncle's whereabouts. The woman takes him to a newspaper stand where Elmer received a letter before he was murdered and was interested in an advertisement from the "benefactor".
Zwei Frauen finden an einem Bahnviadukt bei der englischen Stadt Esher den Kopf eines Mannes. Bei dem Enthaupteten handelte es sich um Francis Elmer, einen Beamten des Foreign Office. Da der Mord politische Motive haben könnte, beauftragt Geheimdienstchef Major Staines den fähigen Sicherheitsbeamten Michael Brixan mit gesonderten Nachforschungen. Wie Brixan erfährt, war Elmer bereits das zwölfte Opfer des sogenannten "Rächers", der sich in Begleitschreiben als "Wohltäter" bezeichnet. Bei allen Ermordeten handelte es sich um Kriminelle oder Verdächtige, die durch die Maschen des Gesetzes geschlüpft sind. Die Spur führt Brixan nach Winchester, wo Francis Elmer zuletzt von dessen Nichte, der Filmkomparsin Ruth Sanders, gesehen wurde. In der Nähe der Stadt, vor der Kulisse des Schlosses von Henry Longvale, finden gerade Dreharbeiten zu einem Film statt. Brixan gibt sich zunächst als Journalist aus, um von Ruth mehr über den Verbleib ihres Onkels zu erfahren. Die Frau bringt ihn zu einem Zeitungsstand, wo Elmer vor seiner Ermordung einen Brief empfangen und sich für eine Annonce des "Wohltäters" interessiert hat.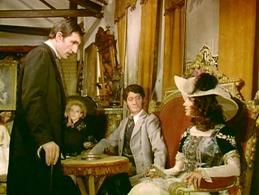 FELIX SI OTILIA (1971) * with switchable English and German subtitles *
A large family and it's many generations vie for advantage, seeking to win the inheritance sure to be left behind by a wealthy older man. Along the way, stories of friendship, love and rivalry emerge.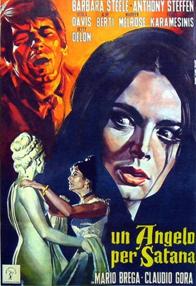 UN ANGELO PER SATANA (1966) * with switchable English subtitles *
At the end of the 19th century, in a little Italian village by a lake, an old statue is recovered. Soon a series of crimes start and the superstitious people of the village believe that the statue carries an ancient curse.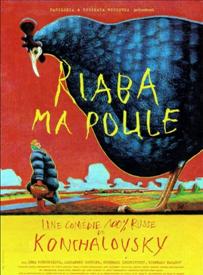 TWO FILM DVD: KUROCHKA RYABA (1994) + CHASING TWO HARES (1961) * with switchable English subtitles *
KUROCHKA RYABA (1994):
Assia lives in a small Russian village, populated by useless alcoholics. She sells eggs and alcohol to her neighbors, and everybody is happy. But one day, her hen lays a golden egg, and Assia may have a golden opportunity. Now her life becomes miserable, because of her jealous neighbors.
CHASING TWO HARES (1961):
In early 20th-century Kyiv, a young rascal named Svyryd Holokhvostyi (translation: Not-A-Penny) owns a barbershop, which is on the verge of bankruptcy. Holokhvostyi spends most of his time drinking, gambling, and chasing women. After his shop is seized by the police for unpaid debts, Holokhvostyi decides to marry rich, but pathetically ugly, Pronia to solve his pecuniary woes. Pronia, ashamed of her unfashionable Ukrainian origins and her simple Ukrainian parents, is easily beguiled by her suitor's "aristocratic manners". She eagerly accepts his marriage proposal. In a parallel line of action, Holokhvostyi proposes to the beautiful, but poor, Halia who rejects him. By pretending to be rich, he persuades Sekleta Lymerykha, Halia's mother, to marry Halia off to him. His pursuit of wealth and love quickly proves to be a recipe for his own undoing.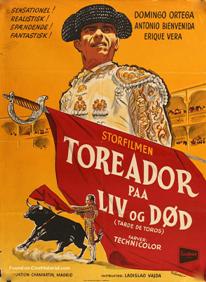 TARDE DE TOROS (1956) * with switchable English and Spanish subtitles *
Several parallel stories unfold in the Las Ventas bullring in Madrid: veteran bullfighter Ricardo Puente abandons his lover Paloma; the winner Juan Carmona is stunned to find out his wife Isabel is pregnant; Rondeño II manages to overcome his fear of bulls and also to commit himself to his girlfriend Ana María. No matter what you think of it, you gotta admit, there's a lot of bull in the picture.
A good-natured cowboy romancing the new schoolmarm has a crisis of conscience, when he discovers his best friend is engaged in cattle rustling.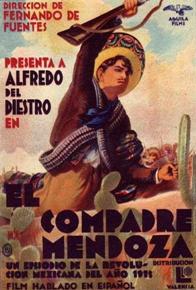 EL COMPADRE MENDOZA (1934) * with multiple, switchable subtitles *
The story unfolds during the Mexican Revolution, between 1913 and 1919. It narrates the life of the Mexican landowner Rosalío Mendoza, an opportunistic businessman, who sympathizes with all the revolutionary parties that visit his farm. When Emiliano Zapata's troops arrive, Mendoza receives them with rejoicing; the same happens when he is visited by the army of Victoriano Huerta. The film begins with the visit of Generals Eufemio Zapata and Felipe Nieto to the Mendoza ranch, located near Huichila, in the state of Guerrero, in southern Mexico. It is the time of the government of Victoriano Huerta. However, Mendoza's opportunism has allowed him to do business with the revolutionaries. Upon the arrival of the generals, Mendoza orders his assistant Atenógenes to replace the Huerta painting that hangs in the room with one of Emiliano Zapata. Thanks to the good treatment that Mendoza gives to the troops, the landowner convinces the generals to buy second-hand weapons from him. When the revolutionaries leave, Mendoza orders Huerta's portrait to be hung up again, since he will receive a visit from Colonel Martínez, a member of Huerta's military forces.
ENAMORADA (1946) * with switchable English and Spanish subtitles *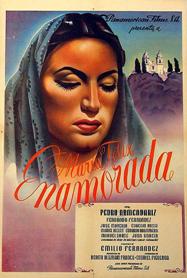 During the Mexican Revolution, the Zapatista troops of General José Juan Reyes take the quiet and conservative city of Cholula. While confiscating the assets of the wealthy people of the town, General Reyes falls in love with the beautiful, rich and indomitable Beatriz Peñafiel, daughter of the most notable man in Cholula. The initial contempt that Beatriz feels towards the revolutionary gives way to curiosity and, finally, to a deep and authentic love.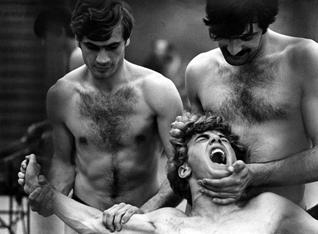 SALO, OR THE 120 DAYS OF SODOM (1975) * with switchable English subtitles *
In 1944, in the Republic of Salò, the Fascist-occupied portion of Italy, four wealthy men of power, the Duke, the Bishop, the Magistrate and the President, agree to marry each other's daughters as the first step in a debauched ritual. They rule that when they get to the mansion, their daughters must be completely naked at all times. They recruit four teenage boys to act as guards and four young soldiers, who are chosen because of their large genitals. They then kidnap many boys, of which nine young men and nine young women are hand-picked and brought to a palace near Marzabotto. Accompanying the libertines at the palace are four middle-aged prostitutes, also collaborators, whose job it is to orchestrate debauched interludes for the men, who sadistically exploit their victims. During the many days at the palace, the four men devise increasingly abhorrent tortures and humiliations for their own pleasure. During breakfast, the daughters enter the dining hall naked to serve food. One of the men trips and rapes a daughter in front of the crowd, who laugh at her cries of pain. Intrigued, the President moons several slaves, before prompting another man to perform anal sex on him and the Duke sings "Sul Ponte di perati".
Roy Lane and Billie Moore, entertainers at the Paradise Nightclub, are in love. Late at work one evening, Billie is saved from being fired by Steve Crandall, a bootlegger, who's hot to trot with the girl. "Scar" Edwards, robbed of a truckload of contraband liquor by Steve's gang, arrives at the club for a showdown with Steve and is shot in the back. Steve gives Billie a bracelet to forget she's seen him helping a "drunk" from the club. Though Roy is arrested by Dan McCorn, he is later released on Billie's testimony.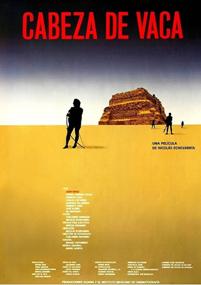 CABEZA DE VACA (1991) * with hard-encoded English and switchable French subtitles *
In 1528, a Spanish expedition is smashed off the coast of Florida with 600 lives lost. One survivor, Alvar Nunez Cabeza de Vaca, roams across the American continent searching for his Spanish comrades. Instead, he discovers the Iguase, an ancient Indian tribe. Over the next eight years, Cabeza de Vaca learns their mystical and mysterious culture, becoming a healer and a leader. But soon, this New World collides with the old one, as Spanish conquistadores seek to enslave the Indians, and Cabeza de Vaca must confront his own people and his past.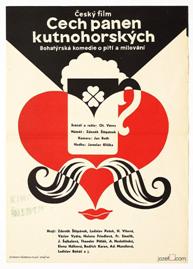 THE MERRY WIVES (1938) * with switchable English subtitles *
It's the year 1590 and Kutna Hora is in its heyday as an important and wealthy town. The town is famous for its silver mines and coins are minted here. This, naturally, attracts profiteers and scammers in equal measure. Unfortunately, many of the scams are successful and result in austerity measures, at the miners' expense. When one of them, Jakub, objects in public, he is arrested and sentenced to death. Knight Mikulas Dacicky is an educated man and poet, but this is no way interferes with his neverending lust towards beautiful women. And in Kutna Hora, there are enough of them. The alchemist Wolfram scams councilors under the pretext of making silver. The citizen Nicolas urges his fellow city dwellers to expel the thieves and, likewise, immigrants.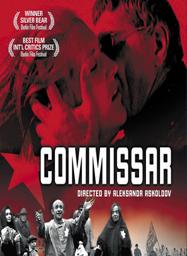 THE COMMISSAR (1967) * with switchable English subtitles *
During the Russian Civil War, a Red Army cavalry commissar, Klavdia Vavilova, finds herself in Berdichev and pregnant. Until her child is born, she is forced to stay with a poor Jewish family. At first, both the Magazannik family and "Madame Vavilova", as they call her, are not enthusiastic about living under the same roof; but soon they share their food, make her civilian clothes, and help her with the delivery of her newborn son. Vavilova seemingly embraces motherhood, civilian life, and new friends. Meanwhile, the frontline advances closer to Berdichev and the Jews expect a pogrom by the White Army after the Red Army retreats. Vavilova attempts to console them with a Communist dream: "One day people will work in peace and harmony", but the dream is interrupted with a vision of the fate of the Jews in the future world war. She rushes to the front to rejoin her army regiment, leaving her newborn behind.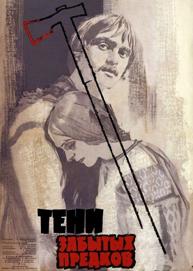 SHADOWS OF FORGOTTEN ANCESTORS (1964) * with switchable English subtitles *
Shadows of Our Forgotten Ancestors is set in Western Ukraine, in the Carpathian Mountains, somewhere around the 1860s. It was banned in the USSR because it emphasized the unique Ukrainian culture (and, in fact, the language throughout the film is Ukrainian and not Russian). As a child, Ivan falls in love with his neighbor Marichka, who is the daughter of the man, who killed Ivan's father. The first half of the film deals with that love and the second with Ivan's downfall after Marichka dies in an accident.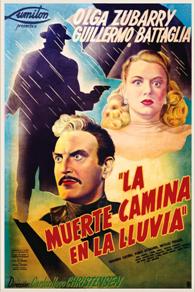 LA MUERTE CAMINA EN LA LLUVIA (1948) * with switchable English subtitles *
All Buenos Aires is in a panic, thanks to the crimes of a thief, who's already killed seven times to rob his victims. He only does this when it rains and always leaves a card afterwards with the name, S. Lopez. The police officer in charge of the investigation receives information from a journalist that a petty thief saw the murderer enter a house where he worked: the guesthouse Babel. The current residents of this guesthouse are the owner Valeria Duval; the journalist's girlfriend Lila Espinoa; an actor, who claims he's Russian; a surgeon forced into retirement; a magician; a watchmaker; and a couple with the last name Vargas. When a new guest shows up, the police ask him to be an informant, but he refuses and announces the next day, that he's going to leave the guesthouse. That same night, someone murders him and leaves the S. Lopez calling card in his room.
The film takes place within the story of two lovers, León and Leticia, Leticia also being the lover of Tony, León's boss and a powerful gangster. She tell León, that in order for her to be his, she must betray Tony; and in order to carry out the assault on the gangster, she decides to contact her friend Pedro, who was an ex-convict. During the confrontation, Tony wounds Pedro and shoots Leon to death; after this Leticia saves Pedro and takes him to a hiding place.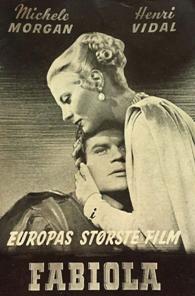 FABIOLA (1949) * with switchable English subtitles *
312 AD. Rhual, a young and athletic Gaul, is invited to take part in the gladiator games at the seaside villa of Senator Fabius Severus, near Rome. Secretly, Rhual is an agent of Emperor Constantine, who wishes to establish Christianity in the Roman Empire, and Fabius is leading a movement for religious tolerance and the freeing of slaves. In the villa gardens, Rhual meets and falls in love with a beautiful girl, whom he later discovers to be Fabiola, the senator's daughter. Fabius is murdered during the night by reactionary politicians opposed to Christianity, and the Christians are blamed for the murder. Fabiola suspects Rhual to be one of the Christian assassins, but at the trial, she appears for his defense. However, the Christians, together with Rhual, are found guilty and sentenced to death in the arena.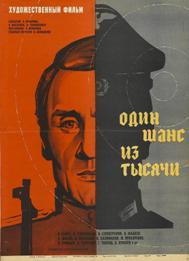 ONE CHANCE IN A THOUSAND (1968) * with switchable English subtitles *
In German-occupied Crimea during the Second World War, a group of Russian soldiers employ unusual tactics to steal classified documents from their enemies.
Sequel to Victoria the Great, this film has Anna Neagle return to the role of Queen Victoria in another colorful account of the revered British monarch's reign. This film offers a stellar chronicle of Victoria's relationship with Prince Albert, as well as the political and military upheavals that characterized her time as Queen.
Captain Lovett ordered his first mate Thompson to get rid of his slave-trading crew and get a more respectable bunch for standard cargo shipping; but when he brings his new bride Nancy aboard, he finds the same old setup, including the slave trade.
Rick is a costal command pilot patrolling the English Channel for U-Boats. He sinks what he believes is a German submarine, but which later proves to be British. He is charged with neglect and volunteers for a perilous mission. Meanwhile, his girlfriend Mona, through some odd information she's picked up, is trying to prove that Rick is innocent of the charges and actually did sink a German U-Boat.
Two sailors, always competing against each other, set their sights on the same girl. When she chooses one over the other, their friendship ends acrimoniously. However, things change, when one the men is in a submarine trapped beneath the ocean and the other, a diver, is sent down on a rescue mission.

You may have missed these titles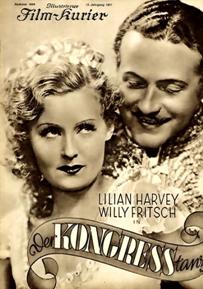 DER KONGRESS TANZT (1931) * with improved switchable English subtitles and picture *
Der Kongress tanzt takes place during the Congress of Vienna, which took place in 1814/1815 after the Napoleonic Wars. It was a meeting between the powers that be to set the frontiers of the world. Russia's Tsar Alexander is traveling incognito among the people in the tradition of his ancestor Peter the Great, coming across a witty and charming Viennese glove seller, the young Christel Weinzinger. She announces her business by throwing a flowers with a visiting card into each carriage that drives past. As the story unfolds, Christel is accused of an assassination attempt and finally condemned. The punishment is however waived and Christel is again free. The Tsar, having fallen in love with Christel, uses the visiting card, in order to visit her in her business. A romance develops, with Prince Metternich and his army of spies intending to use the situation to further his own agenda. This however clashes with Pepi, his secretary, who is also in love with Christel. Christel tells her friends about the romance, which is naturally not believed. Only as the Tsar arrives with a splendid carriage to fetch her, does astonishment set in.
Einer der größten Publikumserfolge des frühen deutschen Tonfilms mit dem "Traumpaar" Lilian Harvey und Willy Fritsch: Während des Wiener Kongresses, auf dem die europäischen Regenten 1814 die Neuordnung des Kontinent aushandeln, erlebt die Handschuhmacherin Christel ihr ganz privates Abenteuer. Zunächst wird sie als vermeintliche Attentäterin verhaftet, dann verdreht sie dem russischen Zaren Alexander gehörig den Kopf. Doch als die Nachricht von Napoleons Landung in Frankreich eintrifft, müssen die Herrscher wieder ans Herrschen denken. Der Kongress ist vorbei, und Christel bleibt ohne ihren Alexander in Wien zurück.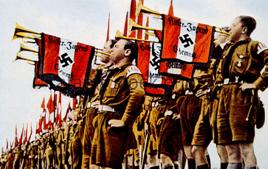 2 DVD SET: BLOOD AND HONOR - YOUTH UNDER HITLER (1982)
Saddled with severe reparation payments, post-WWI Germany was cursed by a hyperinflation that wiped out the savings of everyone but the rich. Just as the economy was recovering in the late 1920s, the Depression hit and pauperized almost everyone who managed to hold out through the bad economic times of the past decade. Then, In January 1933, Adolf Hitler was appointed chancellor of Germany, just as the economy was beginning to revive again. Harmut Keller and Hans Monkmann were high school friends at the time. Hartmut's father, a musician, is unemployed (as if that's something unique in any economy). And since he doesn't earn much giving music lessons to the future unemployed, he also works as a chef. The situation in Hans' household is significantly better: His father took out lots of student loans and became a lawyer; and since he chose a profession where he's already sold his soul to Satan (oops, here comes a lawsuit for libel), it doesn't take much coaxing for him to become a Nazi. In short time, he's a district leader for the Party. Hans is a member of the Jungvolk, the lite version of the Hitler Youth for ten to fourteen year olds. Hartmut, too, would like to be a member, but his parents are against it. For one thing, his unemployed daddy's a Social Democrat (the lite version of a Communist).
Anfang 1933 reißt Adolf Hitler als Reichskanzler die Macht in Deutschland an sich. Zu dieser Zeit gehen die beiden Freunde Harmut Keller und Hans Mönkmann aufs Gymnasium. Hartmuts Vater, ein Musiker, ist arbeitslos. Nur selten verdient er etwas mit Musikstunden, und so ist Schmalhans Küchenmeister. Hans geht es besser. Sein Vater, ein Rechtsanwalt, seit Jahren Nazi, hat sich zum Ortsgruppenleiter der NSDAP hochgedient. Hans ist Mitglied in Hitlers Deutschem Jungvolk, der Organisation für die 10- bis 14jährigen Jungen. Auch Hartmut möchte Pimpf werden, aber seine Eltern sind dagegen. Sein Vater ist Sozialdemokrat.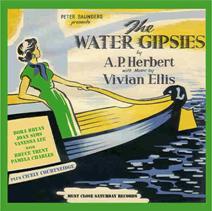 THE WATER GIPSIES (1932) & THE GAY DIPLOMAT (1931)
THE WATER GIPSIES (1932):
Jane Bell has lived on an old barge moored in the Thames with her feckless father and sister ever since their mother died, but she would prefer her life to be more like the movies. Reality is being courted by an inarticulate canal boatman, Fred Green, and cleaning the studio of a local artist, Bryan, on whom she has a hopeless crush that leads her to refuse Fred's offer of marriage. When her father loses his job and her sister takes up with a rich young gambler, she becomes engaged instead to Ernest, whose Communist beliefs represent the only fixed set of ideals in her life. But her position as Bryan's sometime-model and muse is too precious to give up, even if he doesn't pay any attention to her… and even if Ernest resents it bitterly.
THE GAY DIPLOMAT (1931):
During World War I, Captain Ivan Orloff, a Russian combat hero and a notorious playboy, is sent to Bucharest to identify and apprehend a woman spy who has been undermining the Russians' diplomatic efforts in Rumania. On the train to Bucharest, Ivan, whose phony mission has been deliberately revealed to the enemy, is joined by beautiful Countess Diana Dorchy. After a long, flirtatious conversation with Diana, Ivan learns that she is traveling to Bucharest to attend a ball that is being given in his honor. At the ball, Ivan meets Colonel George Gorin, the head of the local Russian secret service, Gorin's fiancée, Baroness Alma Corri, and the talkative Madame Blinis. Ivan then formally introduces himself to Diana and is cornered by Alma and Madame Blinis, all of whom have been labeled as espionage suspects. After a Russian lieutenant is shot by an unidentified killer in the mansion garden, Ivan and Gamble, his valet, return to their rooms just as the killer is sneaking out of them. The next day, Ivan encounters Diana in a Bucharest park and, after determining that a piece of paper that she had been hiding from him on the train is a clothes shopping list, confesses his love. Later, while Ivan prepares for a dinner date with Diana, Alma sneaks into his bedroom and eavesdrops on his conversation with Gamble. Ivan, however, sees Alma reflected in the bedroom mirror and feeds her false information on the whereabouts of a phony diplomatic letter. Alma, convinced that the letter is in a pocket of one of Ivan's suits, connives to search his bedroom, thus satisfying Ivan that she is indeed the spy. While Alma and Ivan, who feigns ignorance of Alma's activities, are flirting in the bedroom, Diana arrives for dinner. Hurt and jealous, Diana tells Ivan that she is leaving Bucharest the next day. Alma, sensing Ivan's love for Diana, instructs Natalie, a cohort who is posing as Diana's maid, to eavesdrop on any conversation between Ivan and the countess. As expected, Ivan rushes to Diana's apartment and, after alluding to his mission, begs her not to leave Bucharest. Although Gamble is shot fatally by the killer in Ivan's rooms, he is able to alert Ivan by telephone before he dies. Natalie then reports to Alma, who tells Gorin of Diana's interest in Ivan's mission and Ivan's love for Diana. To vindicate Diana as well as himself, Ivan tricks Alma into exposing herself as the spy to Gorin. At that moment, however, Natalie and the killer burst into the room and hold Ivan and Gorin at gunpoint. After he is saved by the arrival of the French ambassador and his men, Ivan escorts Alma back to St. Petersburg and is joined on the train by a loving Diana.
ICH WERDE DICH AUF HANDEN TRAGEN (1958)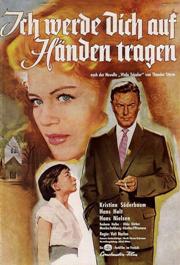 Ines, a pianist, has fallen in love with the wealthy art dealer and widow Rudolf Asmus. She eventually marries him and moves into his villa near Rome. But rather than enjoying a life of art, love and riches, she's instead subjected to the hatred of the house nanny Anne and Rudolf's daughter, Nesi. While daddy was off galavanting around the continent telling the less secure what art they're supposed to find worthwhile, the nanny's been brainwashing his daughter to remember her dead mother as a near-goddess. It's only a matter of time before there's a confrontation. Anne is kicked out to pick up one of Mary Poppins' secondhand rejects and the child is put through a reality check.
Pianistin Ines verliebt sich in den reichen Kunsthändler und Witwer Rudolf Asmus. Sie wird seine Frau und zieht in seine Villa bei Rom. Dort schlägt ihr der Hass des Kinderfräuleins Anne und Rudolfs kleiner Tochter Nesi entgegen. Anne hat das Mädchen zu abgöttischer Liebe zur verstorbenen Mutter erzogen. Die Ereignisse spitzen sich zu, als Ines nach einer Konfrontation Anne entlässt und Nesi ausreißt.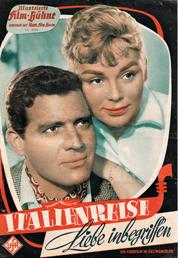 ITALIENREISE – LIEBE INBEGRIFFEN (1958)
Young and attractive art historian Robert Florian works as a tour guide. During a bus tour of Italy, he gets to know the pretty and open-minded (translation: "self-absorbed") model Ilse Knopf. It doesn't take long before hormones do their job and the two are drawn to one another. But unlike Robert, who's single, Ilse has a fiancee. Rather than tell the disloyal hussy to hit the bricks, the fiancee stupidly chases her --- and the tour group --- through half of Italy, consumed by idiotic displays of jealousy. When the tour group arrives in Florence, the three protagonists of the film finally meet and it takes Ilse all the way to Rome to decide she's done with boy-toy Robert. Instead, she's going to stay engaged to the idiot, who'll no doubt end up losing half of everything he owns after a future "trip to Spain" and a rather messy divorce. On the bright side, he will have several photo albums filled with lots of blurry pictures of Europe flashing by as he chases the skirt.
Der junge und attraktive Kunsthistoriker Robert Florian arbeitet als Reiseleiter. Auf einer Bustour durch Italien lernt er das hübsche und aufgeschlossene Fotomodell Ilse Knopf kennen. Schnell fühlen sich beide zueinander hingezogen. Anders als Robert, der ledig ist, hat Ilse einen Verlobten, der schon bald von Eifersucht getrieben die Reisegruppe durch die pittoresken Städte Italiens verfolgt. Nachdem die Kontrahenten in Florenz aufeinander getroffen sind, fällt Ilse in Rom schließlich die Entscheidung die Beziehung mit ihrem Verlobten fortzusetzen.
Toni Bender is a young woman in postwar Germany who's learned to hold her own in the dog-eat-dog world she's confronted with for the first time in her life. In fact, she's managed to turn a simple fruit stand into a raging success in Munich's shopping world. One day, she receives the long-awaited news that her husband's coming home after a long imprisonment as a POW. When she goes to pick him up at the rail station in her own little delivery van, Heinz, her husband, is surprised to see how independent and diligent his wife's become in his absence. But when she ensures his return to his old career and is back on the track to once more becoming the renowned architect he once was, Heinz realizes that his wife is wearing the pants in the family now.
Toni Bender ist eine junge Frau, die zupacken kann und ihren ganzen "Mann" steht. In der Münchner Großmarkthalle betreibt sie erfolgreich einen Obststand. Eines Tages erhält sie die ersehnte Nachricht, dass ihr Gatte aus der Kriegsgefangenschaft heimkommt. Mit ihrem eigenen kleinen Lieferwagen holt sie ihn am Bahnhof ab. Heinz Bender staunt nicht schlecht, wie tüchtig und selbständig seine Frau geworden ist. Als sie dann auch noch dafür sorgt, dass er in seinen erlernten Beruf zurückfindet und bald wieder ein gefragter Architekt ist, muss Heinz feststellen, dass seine Frau ihm über den Kopf gewachsen ist.
A clearly confused girl is found wandering around Stuttgart and can't be understood, because she's speaking in a foreign language. The police take her to some doctors, who eventually believe they're dealing with a Tibetan. Doctor von Aldenhoff takes the stranger in and begins to educate her according to western European standards. In her new home, the girl, Luscha, gets to know Robert Lorm, a rather well-travelled man, and falls in love with him. Eventually, she decides quite unilaterally that they're going to build a new home and life together. A plaster of paris mask of the girl's face is made for the doctors to keep as a remembrance of Luscha. But as soon as the mold is removed from her face, she suddenly seems to become an entirely different woman.
Ein offenbar verwirrtes Mädchen irrt durch Stuttgart und kann sich mit einer fremden Sprache nicht verständlich machen. Polizisten reichen sie an Ärzte weiter, die schließlich annehmen, dass es sich um eine Tibetanerin handelt. Die Medizinerin Frau von Aldenhoff nimmt sich der Fremden, genannt Luscha, an und beginnt, sie nach westeuropäischen Maßstäben zu erziehen. In ihrem neuen Zuhause lernt Luscha den weit gereisten Robert Lorm lieben und beschließt, mit ihm ein eigenes Heim zu gründen. Ein Gipsabdruck ihres Gesichtes soll als Erinnerung zurückbleiben – doch als man ihr die Maske abnimmt, scheint Luscha plötzlich eine komplett andere Frau geworden zu sein.
In this DDR TV-film, Inge Karsten gets an unexpected visit from a former school friend, Margit, now living in the West. She's even more surprised to hear that Margit's married to her stepbrother Herbert, who's long been regarded as missing and whom she almost completely forgotten. He had recently been seen in Canada. This sudden connection with the West is not only causing Inge some discomfort, but her husband Horst, too, who holds an important position in the NVA as a pilot. But unbeknownst to the two, the situation is more serious than they suspect. In reality, Margit's an enemy agent and the whole story's a fiction created by the West German intelligence service, which wants to woo Horst to their side and embarrass the DDR. If wooing doesn't work, however, their prepared to use force to get him to land his MIG in the Bundesrepublik and ask for asylum. In the meantime, East German intelligence has come across a number of encrypted messages being sent to someone in the DDR. Pretty soon, however, they're able to put together a connection between the messages and the Karsten family and to keep an eye on their comings-and-goings. With the help of one of their best men, the comrades in the East are able to cripple the nefarious plan.
Inge Karsten erhält unverhofft Besuch von ihrer einstigen Studienfreundin Margit aus dem Westen. Noch überraschter ist sie, zu hören, dass diese mit ihrem Stiefbruder Herbert verheiratet ist, der lange als verschollen galt und den sie schon fast vergessen hatte. Zuletzt hat er in Kanada gelebt. Die plötzliche Beziehung zum Westen stellt Inge und vor allem ihren Mann Horst, der einen wichtigen Posten als Militärflieger hat, vor Gewissenskonflikte. Die Situation ist sogar ernster als es auf den ersten Blick scheint. In Wahrheit ist Margit eine Agentin und die ganze Geschichte ein inszeniertes Spiel des westdeutschen Geheimdienstes, um Horst abzuwerben und dem Ansehen der DDR zu schaden. Man will ihn zwingen, mit seiner MIG in der Bundesrepublik zu landen und damit Fahnenflucht zu begehen. In der Zwischenzeit haben verschlüsselte Botschaften den ostdeutschen Staatssicherheitsdienst aufmerksam werden lassen und zugleich Rätsel aufgegeben. Bald kann allerdings ein Zusammenhang zwischen den Nachrichten und dem Fall Karsten hergestellt und das Vorhaben durchschaut werden. Mit Hilfe einer ihrer besten Männer gelingt es den Genossen schließlich, den Plan zu vereiteln.
Joachim Wendler's a teacher at a girls' boarding school, whose good looks have all the girls tripping over each other to fall in love with him, much to the dismay of their parents and the school's dean. Unable to bear the chaos any longer, the dean advises him to finally find a wife. Joachim thus heads into the city one night with a buddy and the two end up drunk in Nightclub Nachtfalter. It's there that Joachim gets to know the singer Stefanie Walden, who's as much a hit there as he is back at the boarding school. Soon, the two decide to end their "suffering" by presenting themselves to others as man and wife. Unfortunately, when morning comes around, the hungover bachelor forgets all about the plan and one misfortune follows after another from that point on.
Joachim Wendler ist Lehrer an einem Mädchenpensionat und dort der Schwarm aller junger Mädchen, sehr zum Leidwesen der Eltern und der Rektorin. Sie rät ihm, sich endlich eine Gattin zu suchen, woraufhin Joachim entnervt mit einem Kollegen in die Stadt aufbricht, wo beide bald schwer angetrunken in dem Nachtclub Nachtfalter landen. Joachim lernt die Sängerin Stefanie Walden kennen, die dort ebenso begehrt ist wie er auf dem Pensionat. Bald entschließen sich die beiden, ihr Leid zu beenden, indem sie sich einfach gegenseitig zu Mann und Frau nehmen. Doch am nächsten Morgen kann sich der geplagte Mann an dieses Vorhaben schon längst nicht mehr erinnern …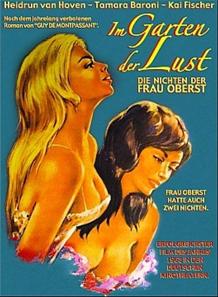 DIE NICHTEN DER FRAU OBERST (1980)
The still quite young, female colonel -- who became a widow on her wedding night -- lives with two nieces on a small estate, which seems to attract all the young men from near and far to it like moths to a flame. But it's not only the nieces who have a reputation for being sly dogs, who are able to ensnare any man into their bed. The colonel, too, is quite the bawdy little thing and no man who approaches the nieces gets away without paying sexual dues to the colonel, too.
Die noch sehr junge Frau Oberst – in der Hochzeitsnacht bereits zur Witwe geworden – bewohnt mit zwei Nichten einen kleinen Gutsbetrieb, der Anziehungspunkt aller Junggesellen der näheren und weiteren Umgebung ist. Aber nicht nur von den Nichten hört man, dass sie es faustdick hinter den Ohren haben und jeden Mann gleich in ihr Bett ziehen. Auch die Frau Oberst soll keine Kost verachten. Kein Mann, der sich einer ihrer Nichten nähert, kommt ungeschoren davon: Eine Affäre mit Frau Oberst ist ihm sicher.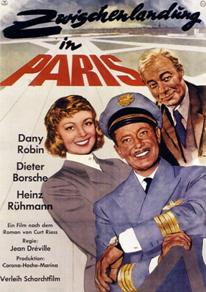 ZWISCHENLANDUNG IN PARIS (1955)
Orly Airport, the hub of fate before the gates of Paris. It's there that the big world becomes small; and the pretty, young girls at the information desks help make that happen by providing information about the whole world for all who ask. One of those pretty girls is Michele. She lives for those short hours of happiness when the TWA flight from New York to Rome makes its stopover in Paris, bringing her Captain Eddie Mueller, the plane's captain. One day, he brings her a wonderful ring ... an engagement ring! Michele's uncle, Albert Petit, is not at all happy about her plans to marry the American. One simply doesn't marry someone one barely knows, let alone someone who spends most of his time flying around the world! In addition to all that, Albert has his own worries: he's been working in the airport's freight department for the last fifteen years. He's never had any trouble before, but now, there's some stupid affair regarding some package and his job's on the line because of it.
Flughafen Orly, Drehscheibe der Schicksale vor den Toren Paris - die große Welt ist klein, und den hübschen jungen Mädchen am Auskunftschalter des Flughafens liegt die ganze Welt gleichsam zu Füßen. Eines dieser hübschen Mädchen ist Michele. Sie lebt von den kurzen Stunden des Glücks, wenn die TWA New York-Rom eine Zwischenlandung hat, denn sie bringt ihr den Captain Eddie Müller, den Flugkapitän dieser Maschine. Eines Tages bringt er ihr einen wunderbaren Ring mit - als Verlobungsgeschenk! Micheles Onkel, Heinrich Petit, ist mit ihren Heiratsplänen gar nicht einverstanden. Man heiratet doch nicht einen Mann, den man kaum kennt und der dauernd in der Welt herumfliegt - aber er hat selbst den Kopf voller Sorgen. Seit 15 Jahren arbeitet er in der Luftfrachtabteilung. Noch nie ist etwas vorgekommen und nun muß ihm diese dumme Geschichte mit dem Paket passieren!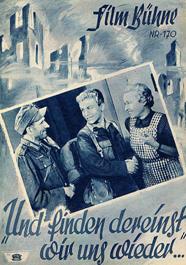 UND FINDEN DEREINST WIR UNS WIEDER (1947)
In the Spring of 1945, a group of German students, brought up in and pedagogically manipulated by the Nazi regime, find themselves in a Westphalian camp for citizens evacuated from threatened war zones. Blinded by the ideal of "For Fuehrer and Fatherland", the boys are raring to get to Berlin to help defend the capital against the advancing Red Army. On the way, they are confronted with the horrors of war; especially when one of their own is killed in an air raid chasing after a dog.
Frühjahr 1945 hält sich eine Gruppe deutscher Schüler, aufgewachsen und pädagogisch manipuliert unter dem NS-Regime, in einem westfälischen Evakuiertenlager auf. Geblendet von dem Ideal "Für Führer und Vaterland" büxen die Jungen dort aus, um nach Berlin zu gelangen und die Hauptstadt gegen die anrückende Rote Armee zu verteidigen. Unterwegs sehen sie sich mit den Schrecken des Kriegs konfrontiert und ein erster von ihnen stirbt, als er während eines Bombenangriffs einem Hund hinterherläuft.
Aging coach drive Gustav Hartmann finds himself pushed aside by the newly invented automobile and decides to drive his coach from Berlin to Paris. Neither weather nor sickness can stop him. Accompanied by a reporter, he soon becomes a celebrity. Cities and villages give him an enthusiastic welcome. But when he gets to Paris, it seems no one can be bothered to acknowledge his existence anymore. Why? Because the transatlantic flier Lindbergh has just landed and France and is now the toast of the continent.
Der alternde Droschkenkutscher Gustav Hartmann sieht sich durch die neuen Automobile ins Abseits gedrängt und beschließt, mit seiner Kutsche von Berlin nach Paris zu fahren. Weder Wetter noch Krankheit können ihn aufhalten. Begleitet von einem Reporter wird er langsam zur Berühmtheit. Städte und Dörfer bereiten ihm einen begeisterten Empfang. Als er jedoch in Paris ankommt, scheint sich niemand mehr für ihn zu interessieren. Alles redet nur noch von dem Atlantikflieger Lindbergh, der gerade gelandet ist.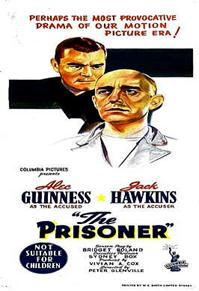 THE PRISONER (1955) * with switchable Spanish subtitles *
The Prisoner is based on the experiences of Hungarian cardinal Joszef Mindszenty in everything but name. That the story wasn't attributed to him is due to the wish of the script's writers to make clear that the events shown not only could have applied to almost any religious figure of authority in Eastern Europe at the time, but did indeed take place in practically every country under communist control.
At the conclusion of a mass, a beloved Catholic cardinal is arrested under the watchful eye of a political commissar, the Interrogator. Before leaving the cathedral, the cardinal tells a priest to remember that any confession the Cardinal reportedly makes will either be a lie or the result of human weakness. Brought before the Interrogator, the cardinal recognizes him as a member of the former royal family and a resistance fighter. The Interrogator acknowledges the cardinal's reputation as a resistance hero, then informs him that although the government views the church as insignificant, it's to be discredited through him just the same. Over the next several days, the Interrogator keeps the Cardinal awake in his cell by keeping the light constantly burning and interruptions by guards frequent. The cardinal refuses to sign a pre-written confession and when brought before the Interrogator, refuses all offers of food or drink. The trial date is eventually set and while an anxious crowd watches, certain the Cardinal will never break, they are crushed when he admits his entire life as a priest has been false, that his life was driven by ambition and lack of humility. He agrees to having betrayed the resistance and to having accepted money from foreign countries to create a secret arsenal. The Cardinal refuses to ask for the mercy of the court and collapses, pleading for God's mercy. He's sentenced to hang and the Interrogator expresses regret at the efficiency of his work.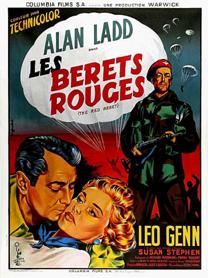 THE RED BERET (1953) * with switchable Spanish subtitles and audio *
Steve MacKendrick, nicknamed "Canada" because he claims to be from there, volunteers in 1940 for the British Army's paratroop school. He obviously has a good deal more experience and leadership skills than he lets on. Canada tries to become better acquainted with a pretty parachute rigger named Penny Gardner. She's initially put off by his attitude, but they eventually start dating. Both Penny and his new commander, Major Snow see potential (and a mystery that does not add up) in him, despite his strong efforts to avoid assuming any responsibility. Canada turns down Snow's offer to send him to officer school. After completing parachute school, Canada's unit goes on a raid on the German radar station at Bruneval.
Professor Traugott Hermann Nagler lives with his wife Marianne and twelve well-behaved children in idyllic Cuxhaven. His wife is accomplished at warding off the tyrannies and moral lectures from her husband, but she knows there's one topic that absolutely must not be brought up: the professor's sister, who was exiled from his family when she was very young because of some "transgression". One day, the pastor brings the news that this sister, Josefine, has passed away. The Naglers, hardly blessed with a fortune, are afraid they'll be saddled with the costs of burying her. But then the pastor informs them of a notarized letter in which Josefine left the family a house in Montevideo. There are also three ship tickets for the journey to South America in the aforementioned letter. In place of Mrs. Nagler, who refuses to leave the rest of the brood to their own devices, the oldest daughter Atlanta --- almost of marriageable age --- will accompany her father. But unbeknownst to Daddy the Tyrant, Atlanta has a secret companion onboard, her hot-to-trot boy-toy Herbert, the son of a shipping agent. Never the one to pass up anything free, the pastor will also come along; of course, not paying a Pfennig for the third ticket he's usurped. Arriving in Montevideo, there's a host of surprises waiting for them. For one, the house left to them turns out to be a magnificent villa: elegant; roomy ... but apparently, a bordello. Tee hee!
Professor Traugott Hermann Nägler lebt mit seiner Frau Marianne und den zwölf wohlerzogenen Kindern im idyllischen Cuxhaven. Seine Frau kann manches Gewitter des Haustyrannen und Moralapostels abwehren und sie weiß auch, dass ein Thema schon gar nicht zur Sprache kommen darf: Die Schwester des Professors, die blutjung wegen eines "Fehltritts" aus der Familie verstoßen wurde. Eines Tages bringt der Pastor die Nachricht, dass eben diese Schwester Josefine das Zeitliche gesegnet habe. Die Näglers, ganz und gar nicht mit Geld gesegnet, fürchten schon, dass sie die Bestattungskosten tragen müssen, als ihnen der Pastor ein notarielles Schreiben von einer Erbschaft und einem Haus in Montevideo verliest. Drei Schiffskarten zur Reise nach Südamerika liegen dem Brief bei. Anstelle von Frau Nägler, die ihre Kinderschar nicht allein zurücklassen will, begleitet die älteste, fast heiratsfähige Tochter Atlanta den Vater. Atlanta wiederum hat, ohne Wissen der Eltern, ihrerseits einen Begleiter an Bord, ihren heißgeliebten Herbert, einen jungen Reedersohn. Außerdem reist ganz offiziell noch der Pastor mit. In Montevideo angekommen, gibt es eine Reihe von Überraschungen. Das Haus, um das es in der Erbschaft geht, ist eine wunderschöne Villa, elegant, großräumig, aber, davon sind die honorigen Herren überzeugt, leider ein Freudenhaus.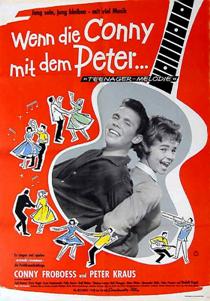 WENN DIE CONNY MIT DEM PETER (1958)
They're practicing for a big music festival at a school dorm in Werneck. Band leader Peter Burg is in love with pretty Conny Bergmann, but she's making cow eyes at her English teacher, Dr. Fellner. When they have to operate on Peter's sick mother, he's no longer able to stay at the school dorm and the whole music festival is threatened with disaster. Fortunately, he hadn't reckoned with the support Conny and his school buddies are prepared to offer.
Im Landschulheim Werneck wird für das große Musikfestival geprobt. Bandleader Peter Burg ist in die hübsche Conny Bergmann verliebt, aber die hat nur Augen für den Englischlehrer Dr. Fellner. Als Peters kranke Mutter operiert werden muss, kann er nicht länger im Internat bleiben und das ganze Musikfest droht zu platzen. Doch er hat nicht mit der Unterstützung von Conny und ihren Mitschülern gerechnet.
Hanne Brink, a patient, young teacher from the city, applies for a teaching post at a small school in the Luneburger Heider. The reason why she wants to transfer has less to do with her career and a lot to do with being near respected country doctor, Martin Newiger, who's been wanting to be close to her, too. In spite of the objections of the conservative school board, who would've preferred a man for the job, Hanne is hired. It doesn't take long for her to realize, however, that things aren't as idyllic in the village as they seem. The well-off horse breeder Ulrich Haagen is trying to take advantage of the financial distress of a small farmer named Nissen to acquire his farm and annex it to his. Hanne's outraged and determines to do all she can to prevent such an injustice. With Martin's help, she's able to raise enough money to help Nissen pay off his debts. But then, rumors start circulating around the village, that Ulrich will have to sell his favorite horse, because his failure to expand the estate is leading to financial ruin. Hanne (for some reason) starts to have pangs of guilt and immediately goes to visit Ulrich, only to see a very different side of the exploiting leech. A powerful spark ignites between the two just as Martin asks Hanne to marry him. If that wasn't complicated enough, Ulrich's fiancee suddenly shows up, and Ulrich is quite dependent on her rich father's money to keep the estate running. Looks like the lover will have some tough decisions to make.
Hanne Brink, eine patente, junge Lehrerin aus der Stadt, bewirbt sich an einer kleinen Schule in der Lüneburger Heide. Grund für den Wunsch nach einer Versetzung ist ihre Liaison mit dem angesehenen Landarzt Dr. Martin Newiger, der schon lange auf sie wartet. Trotz Einwände des konservativen Schulrates, der lieber einen Mann auf dem Lehrerposten sähe, erhält Hanne die Stelle in dem romantischen Dorf. Doch schon bald entdeckt sie, dass es hier keineswegs nur idyllisch zugeht. Der wohlhabende Pferdezüchter Ulrich Haagen will die finanzielle Not des Kleinbauern Nissen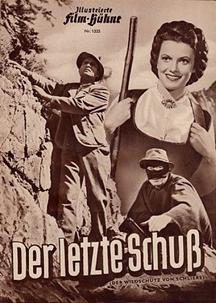 ausnutzen, um sich dessen Hof anzueignen. Hanne ist empört und setzt alles daran, dieses Unrecht zu verhindern. Dank Martins Hilfe bringt sie das Geld auf, so dass Nissen seine Schuld begleichen kann. Ulrich ist verblüfft, so viel Courage hätte er der neuen Lehrerin nicht zugetraut. Im Dorf spricht sich nun herum, dass Ulrich seine geliebten Pferde verkaufen muss, weil sein Hof ohne die geplante Vergrößerung unrentabel geworden ist. Hanne kommt ins Grübeln, hat sie sich in Ulrich getäuscht? Kurz entschlossen stattet sie ihm einen Besuch ab, bei dem sie Ulrich von einer ganz anderen Seite kennenlernt. Zwischen den beiden funkt es heftig, doch ausgerechnet jetzt macht Martin ihr einen Heiratsantrag. Überraschend taucht dann noch Ulrichs Verlobte Manuela auf, von deren reichem Vater Moralt Ulrich finanziell abhängig ist. Hanne steht vor einer schweren Entscheidung.
DER WILDSCHUTZ VOM SCHLIERSEE (1951)
The son of unscrupulous Neuwirt gets his jollies from harassing the girls in his village. So much so, in fact, that one of them is expecting his child. Neuwirt, however, has no interest in seeing his spawn marry a poor woman; and so intrigues against the pregnant woman's parents to push them out of the picture.
Der Sohn des gewissenlosen Neuwirts stellt den Mädchen im Dorf nach. Eine erwartet ein Kind von ihm. Da der Neuwirt nicht wünscht, dass sein Sohn eine arme Frau heiratet, zettelt er eine Intrige gegen deren Eltern an.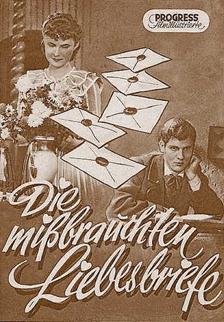 DIE MISSBRAUCHTEN LIEBESBRIEFE (1940)
Viggi Storteler, who publishes literary works under the pseudonym Kurt von Walde, has to travel to Berlin for four months. For the occasion, he plans "an exchange of letters between two contemporaries: Kurt and Alwina". To bring that about, he writes his wife Gritli an over-the-top love letter, which she is supposed to respond to wittily. But because his wife is overburdened with other things to do than answer silly snail-mails, she instead resorts to a cunning trick: she copies her husband's letter, signs her name and sends it to the young village teacher ... without, of course, informing him she's going to plagarize his replies as her own when answering her far-away hubby. And being a young, dumb, liberal-arts educated educator, he immediately thinks there's a romance a-brewing and promptly writes back. Gritli then copies his letter in her own handwriting and sends it off to Berlin. Further love letters get exchanged between the publisher who thinks he's clever and the teacher who doesn't know he's part of an unintentional, homosexual love affair by mail. Viggi Storteler is thrilled about his wife's literary talents ... that is until he comes home and finds the young teacher waiting for him with flowers and a box of chocolates.
Viggi Störteler, der unter dem Pseudonym Kurt von Walde literarische Produkte publiziert, muss für vier Monate nach Berlin reisen. Aus diesem Anlass plant er einen "Briefwechsel zweier Zeitgenossen: Kurt - Alwina". Dafür schreibt er seiner Frau Gritli einen geschwollenen Liebesbrief, den sie geistreich beantworten soll. Weil sich die Überforderte nicht anders zu helfen weiß, greift sie zu einer List: Sie schreibt Viggis Brief ab, unterzeichnet mit ihrem Namen und steckt ihn kommentarlos dem jungen Dorflehrer Wilhelm zu. Der glaubt an eine Romanze und antwortet prompt. Sein Antwortbrief geht mit Gritlis Handschrift nach Berlin. Weitere Liebespostillen folgen. Viggi Störteler ist entzückt über die Begabung seiner Frau - bis er nach der Rückkehr dem wahren Verfasser auf die Schliche kommt.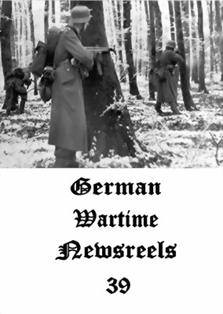 GERMAN WARTIME NEWSREELS 39 (2014) *improved *
Updated and improved as of February 2017, this revised disc includes subtitling which does not extend three lines without being split; tighter and cleaner translating; and some video improvements.
.
.
.
.
.
.
.
.
..
.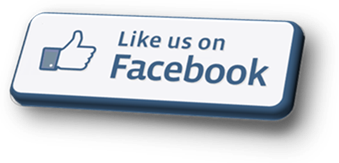 Thank you and the best to all of you,
RAREFILMSANDMORE.COM