.
---

---
Alles beginnt mit einer harmlosen Erbschafts-Benachrichtigung: Friedl Meier, Besitzerin einer kleinen Landpension, soll einen stattlichen Dollarbetrag erben. Eigentlich eine erfreuliche Sache, aber dummerweise ist die Erbschaftsurkunde auf den Namen Meyer mit "y" ausgestellt, den Nachnamen ihres einstigen Bräutigams Ferdinand, Vater ihrer Tochter Maresi – den die junge Frau allerdings nie kennengelernt hat. Von ihrer Tochter zur Rede gestellt, muss Friedl ihr gestehen, dass sie nie mit Ferdinand verheiratet war. Er hatte seinerzeit die Hochzeit verschlafen, worauf Friedl sich im Streit von ihm getrennt hatte. Von diesem Moment an hat Maresi nur noch ein Ziel: Ihren Vater aufzusuchen und ihre Eltern 19 Jahre nach dem missglückten ersten Versuch doch noch vor den Traualtar zu bekommen. Wie der Zufall es will, verbringt Ferdinand seinen Urlaub im nahe gelegenen Hotel Almenrausch. Bei dem Versuch, ihn zur Rede zu stellen, trifft Maresi jedoch nur auf dessen schelmischen Butler Leo, der sich überall als Verlagsdirektor Meyer ausgibt, um der schönen Sängerin Ilonka zu imponieren. Der "echte" Meyer quartiert sich unterdessen ganz spontan in einer Jagdhütte bei den beiden mittellosen Möchtegern-Reportern Max und Robert ein. Während Maresi ihren vermeintlichen Vater für einen ausgemachten Schürzenjäger hält, verliebt Robert sich in sie – glaubt aber, Maresi habe ein Auge auf den viel älteren Leo geworfen, da sie diesem auf Schritt und Tritt folgt.
It all started with an innocent notification about an inheritance. Friedl Meier, the owner of a small country inn, is to inherit a nice sum of Dollars. Hardly bad news, except the notification has the name Meier spelled with a "y" (hence, "Meyer"), which is the last name of her one-time husband-to-be, Ferdinand. He's also the father of Friedl's daughter, Maresi, whom he's never met. Called to account by her daughter, Friedl has to admit to her that she never married Ferdinand. Apparently, he slept through the wedding and after an argument between the two, Friedl gave him the boot. From that moment on, Maresi had only one goal in mind: to find her father and get her parents to once more walk down the aisle nineteen years after the first, failed attempt. As luck would have it, Ferdinand's spending his vacation at nearby Hotel Almenrausch. In trying to contact him, Maresi only manages to keep running into his mischievous butler Leo, who's pretending to be the publishing director Meyer to impress the beautiful singer Ilonka. The real Meyer has spontaneously taken up residence in a hunting lodge belonging to two wanna-be reporters down on their luck, Max and Robert. Maresi is convinced her father is nothing more than a vulgar womanizer. Robert falls in love with her, but believes that Maresi has the hots for the much older Leo, because she follows him around wherever he goes.
The film opens with a couple of officials from the Department of Immigration reading lines as to the seriousness of illegal border crossers and how diligently their department is working to combat the issue. Next up is the anticipated voice over and fade to a horseback mounted immigration agent making his normal rounds in the mountains of Southern California. Only what he spots is far from normal, we're told, as he comes upon a dead body with a tattoo on the back. There's not a tire mark or footprint to be found. So did this body just fall from the sky? Turns out, yes it did! Quickly figuring out there's more than one way to import bodies into the states, Chief Agent Dan Collins congers up a plan to trap those responsible. After getting a tip there's something shady going on at the Blue Danube Café in L.A. being run by Anna Duvak O'Neil, he makes a beeline to Amarillo to convince Bert Powers, who flew with Anna's departed husband during the War, to go undercover and help get at the bunch who are "vicious and rotten and trading on people's miseries."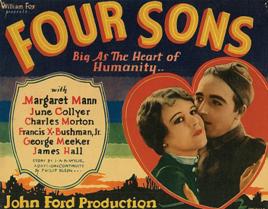 In Burgendorf, Bavaria, Mother Bernle has four sons. Franz is in the Army, Johann works at the forge, and Andreas tends the sheep. Then, there's Joseph. He's out riding a hay wagon with a pretty girl, when some of the hay falls off, landing on fearsome Major von Stomm. Joseph gets a slap from the major. The jovial postman brings a letter from America. Joseph has a job offer in the States. But getting there is so expensive. It's Mother Bernle's birthday and most of the town gathers for a dance. Mother gives Joseph the money she has secreted away. He leaves for the U.S. Then WWI begins. Franz and Johann are excited about their new uniforms. But America is still neutral. Joseph runs a German-American Delicatessen with his new wife, Annabelle. Reports of the first German battles with the Russians are good. So why does the postman carry a black-edged letter for Mother Bernle?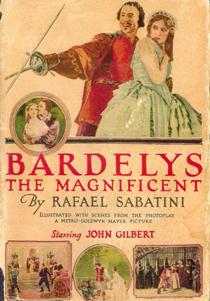 BARDELYS THE MAGNIFICENT (1926)
In the court of French king Louis XIII, a courtier named Bardelys carries with him a grand reputation as an irresistible ladies' man. When another figure in the court, Chatellerault, fails to win the hand of the beautiful Roxalanne (whose family fortune the king wishes to bring under his control), Bardelys suggests that he could win the young woman's hand. Thus a bet is made, and Bardelys embarks on the pursuit of Roxalanne and her fortune. But intrigue and mistaken identity lead Bardelys into grave danger.
Moana was filmed in Samoa in the villages of Safune district on the island of Savai'i. The name of the lead male character, moana means 'deep water' in the Samoan language. In making the film, Flaherty lived with his wife and collaborator Frances and their three daughters in Samoa for more than a year. Flaherty arrived in Samoa in April 1923 and stayed until December 1924, with the film being completed in December 1925.
In the mid-1700's, the East India Company has power over commerce on the Indian subcontinent, with the blessings of the British government. A clerk in the company, Robert Clive, is frustrated by his lack of advancement, and transfers to the military arm of the company, where he excels. Clive's leadership and gift for manipulation strengthen England's hold over India and lead to personal wealth, which is often threatened by the enemies he makes along the way.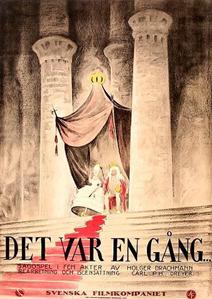 ONCE UPON A TIME (1922) * with Danish and English intertitles *
A beautiful but imperious princess refuses all offers of marriage, often condemning her suitors to death. The prince of Denmark comes seeking her hand and, aided by magic objects given to him by a mysterious spirit, seeks to win her love.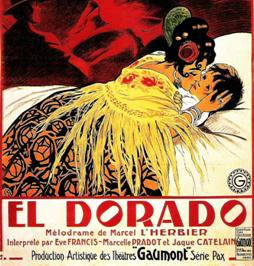 EL DORADO (1921) * with switchable English subtitles *
Sibilla is a single mother, working as a gypsy dancer in a cafe in the south of Spain. Unable to keep up with the costs of her son's medical bills, she asks for help from Estiria, her son's biological father and one of the richest men in town. After being rejected, Sibilla vows to save her son's life by any means necessary - even at the cost of her own life.
A warrior protecting a slave girl, who is really a princess, winds up as a gladiator in the Roman arena.
"Speedy" loses his job as a soda-jerk, then spends the day with his girl at Coney Island. He then becomes a cab driver and delivers Babe Ruth to Yankee Stadium, where he stays to see the game. When the railroad tries to run the last horse-drawn trolley (operated by his girl's grandfather) out of business, "Speedy" organizes the neighborhood old-timers to thwart their scheme.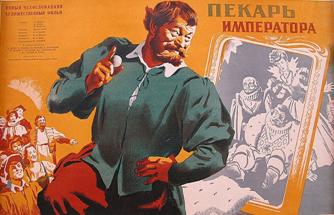 THE EMPEROR AND THE GOLEM (1952) * with switchable English subtitles *
Rudolph II, the Holy Roman Emperor, does not have a simple life. And yet he manages to complicate it even more with his frequent outbursts of anger. While he searches for a mythical Golem, an animated clay statue, Matthew the Baker is thrown into the dungeon for selling the special buns designated for the emperor to the common people. Matthew is also accidentally mistaken for the emperor and takes his place. And when the Golem is finally found, it will complicate things beyond comprehension.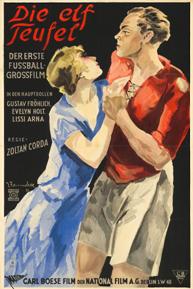 DIE ELF TEUFEL (1927) * with hard-encoded English subtitles *
On a rather spartan football field on the edge of the city, the near-broke, but dedicated, soccer club "Linda" does its training. The club's "eleven devils" --- workers, taxi drivers; waiters; and teachers --- indulge their need to play after they're done with their regular jobs during the day. One day, Mac Lawrence, coach of the wealthy football club "International", appears out of the blue, accompanied by seductive Vivian, an enthusiastic fan of soccer ... and, especially, soccer players. Apparently, the two have shown up to poach Tommy as a captain for their club. And it works: Tommy succumbs to the siren song of money and Vivian's charms, leaving the "eleven devils" and his girl to play as a professional for the "International".
Auf einem spartanischen Vereinsgelände am Stadtrand trainiert der mittellose, aber engagierte Fußballklub "Linda". Die "elf Teufel" des Vereins – Arbeiter, Taxifahrer, Kellner, Lehrer – frönen nach Feierabend unter Führung ihres Spielertrainers, des Schweißers Tommy, dem Sport. Das Mädchen Linda ist die gute Seele des Vereins und Tommys Verlobte in spe. Eines Tages erscheint unverhofft Mac Lawrence, Trainer des reichen Fußballklubs "International", in Begleitung des verführerischen Vamps Vivian, einer "begeisterten Anhängerin des Sports und der Sportler", und versucht Tommy als Spielführer abzuwerben. Tommy erliegt dem Lockruf des Geldes und den Reizen der verführerischen Vivian, verlässt seine "elf Teufel" und seine geliebte Linda und unterschreibt einen gutdotierten Vertrag als Profi bei "International".
Chester Beatty and Tessie Weeks have been engaged for five years and going together for fifteen before that. Chester is reluctant to burden Tessie with marriage, because of his secret problem: he's a sleepwalker. When Tessie finally does rope Chester into marriage, he can't get time off from his boss of 26 years, Mr. Frisbee. To resolve the problem, Chester sets out to impress his boss by securing a big sales contract of glass eyes. He takes Tessie and follows the rich doll company owner Horace B. Stanton to a lakeside resort and befriends him. However, his sleep-walking makes him a prime suspect in a thievery/murder case.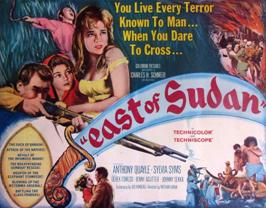 During the Mahdist insurrection in the Anglo-Egyptian Sudan, veteran colonial Private Baker teams up with freshly arrived gentleman Murchison to evacuate the Emir's daughter and her English governess from southern Barash. It involves a perilous journey on the Nile. They must face crocodiles, Arab slavers, and a backward tribe of Negroes, where King Gondoko's missionary-raised brother Kimrasi saves and joins them. Once in Khartoum, they find the revolt has reached it and the men join the fight.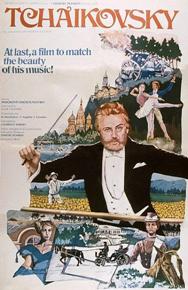 TCHAIKOVSKY (1969) * with switchable English subtitles *
Soviet biopic about the life of Pyotr Tchaikovsky, which, of course, leaves out details of the composer's life, which do not neatly fit into the morals supposedly demonstrated by either a Soviet --- or now --- Russian man. When Tchaikovsky was working on his First Piano Concerto, his dominant friend, the pianist Nikolai Grigoryevich Rubinstein, refused to play it at the world premiere, because he thought it unplayable. Shortly after the failure of the ballet "Swan Lake", wealthy widow Nadezhda Filaretovna von Meck sends the composer a check. A little later he decides to compose his opera "Eugene Onegin" with Alexander Pushkin's work of the same name as a template. While working on the opera, he receives a love letter from student Antonina Ivanovna. Trying to see her, he is arrested, but released a little later. Tchaikovsky is writing his Fourth Symphony and dedicating it to his patroness von Meck. She hopes that Tchaikovsky's marriage to the student will give the composer the peace he needs for his work. While Tchaikovsky's entourage reacts enthusiastically to his wife at his side, the homosexual composer is driven insane by married life; he attempts suicide in the Moscow River. When Antonina asks 10,000 rubles for her consent to divorce, Nadezhda von Meck, who has longed for spiritual company all her life, comes to the rescue to relieve her soulmate Tchaikovsky from the torments of marriage. A little later, Rubinstein died in Paris after playing Tchaikovsky's First Piano Concerto there - in the meantime benevolently facing the work.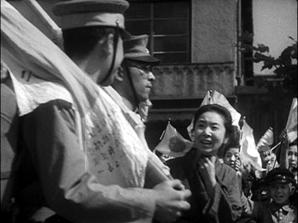 THE ARMY (1944) * with hard-encoded English subtitles *
Kinoshita's ambitious and intensely moving film begins as a multi-generational epic about the military legacy of one Japanese family, before settling into an emotionally complex portrayal of parental love during wartime. As the parents of a boy shipped off to battle, Kinuyo Tanaka and Chishu Ryu locate profound depths of feeling that transcend ideology; all the more amazing, given the film was made in 1944, at a time of increasingly costly Japanese defeats in the Pacific War.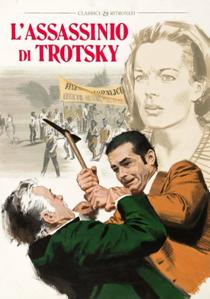 THE ASSASSINATION OF TROTSKY (1972)
After having been forced to leave the Soviet Union 1929 Trotsky has ended up in Mexico 1940. He is still busy with politics, promoting socialism to the world. Stalin has sent out an assassin, Frank Jackson. Jackson befriends a young communist and gets an invitation to Trotsky's house.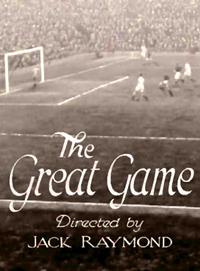 TWO FILM DVD: THE GREAT GAME (1930) + EIGHT GIRLS IN A BOAT (1934)
THE GREAT GAME (1930):
Dicky Brown is a young, aspiring footballer, who plays for a struggling team, the Manningford Football Club, which happens to be in the midst of a successful cup run. He manages to charm the daughter of the chairman and all sorts of sport intrigue begin.
EIGHT GIRLS IN A BOAT (1934):
In an exclusive Swiss school for young girls, Christa Storm discovers she is going to have a baby, and keeps the secret from everyone but her lover, David Perrin, a young medical student. Having been in private school most of her life, she can't confide in her father, whom she hardly knows, and while he wishes to but can't afford to marry her, David can't get the approval of his father.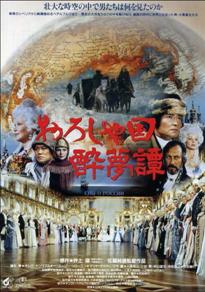 THE DREAM OF RUSSIA (1992) * with switchable English subtitles *
The true story of Koudayu Daikokuya, a Japanese merchant, who was shipwrecked in Russia two centuries ago. After being adrift for eight months, Koudayu washed ashore and stayed in Russia for ten years. After meeting Queen Ekaterina II, he returned to Japan through Siberia, and was officially silenced for life due to the country's fiercely imposed isolationism.
.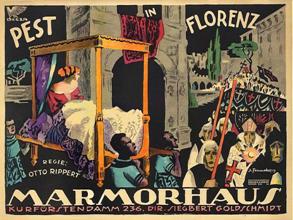 DIE PEST IN FLORENZ (1919) *with switchable English, French and Spanish subtitles *
Suddenly appearing in Florence, an evil seductress causes Cesare, the city's ruler, and his son to both fall madly in love with her. The son, killing his father before an order to torture the woman can be carried out, then turns the city's churches into dens of sexual debauchery. Ac
ts of evil and corruption continue unabated until the arrival of Death, who brings with her a horrible plague which she is about to loosen upon the city.

You may have missed these titles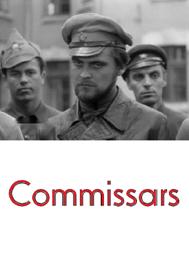 COMMISSARS (1969) * with switchable English subtitles *
The year is 1921. The Russian Civil War is slowly drawing to its inevitable end and the Party has sent out its most experienced fighters to learn how to build and manage the new Soviet state. But the town, in which these men have gathered, has become the target of anti-Soviet gangs preparing to go on the attack. Among those sent here to learn, there are different ideas as to how to run the new state and it soon develops that the White counterrevolutionaries aren't their only worry.
Joe works as a barber in a shop alongside manicurist Sally. He becomes infatuated with her and asks her out on a date; however, it's an awkward date and it's clear Sally doesn't feel the same way about Joe. Despite Sally's lack of interest, Joe's infatuation with her develops into an obsession. Meanwhile a regular client at the salon, young gentleman farmer Harry, begins to woo Sally, who is much more receptive to his attentions. The couple begin seeing each other and one evening, arrange to go to the local cinema. Unbeknownst to them, they're being stalked by the jealous and overwrought Joe, who sits behind them and is forced to witness their happiness. Joe eventually rushes out of the cinema in despair. The following day, Harry comes into the shop for his regular shave and manicure and Joe notices that Sally is wearing an engagement ring. A verbal confrontation between Joe and Harry escalates into a physical struggle, during which Harry is slashed by Joe's razor. Sally is convinced Joe deliberately tried to kill his rival and, following his arrest and trial, Joe is convicted of attempted murder. Vowing revenge on Sally and Harry, he's sentenced to a lengthy term of incarceration at the notorious Dartmoor Prison.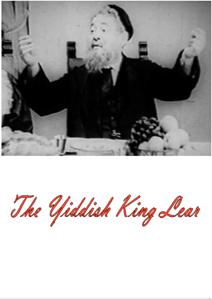 THE YIDDISH KING LEAR (1935) * with hard-encoded English subtitles *
During Seder, the pious, patriarchal father of three daughters announces, that he's dividing his fortune among them and going to Jerusalem to live out the remaining days of his life. The father refuses to listen to the warning from his virtuous daughter, who defied his authority by becoming a student in St. Petersburg. Soon, the scheming of one son-in-law and the self-righteous indolence of another soon results in poverty and disgrace for the father. There will be lots of pain and agony --- especially for the viewers --- before the moral of the story reveals itself.
Der Arzt Dr. Deruga wird verdächtigt, seine geschiedene Frau aus Habgier vergiftet zu haben. Sie starb, nachdem sie Deruga – er ist arm und verschuldet – in ihrem Testament als Alleinerben eingesetzt hatte. Viele Zeugen sagen vor Gericht gegen ihn aus, auch Marta, die beste Freundin der Toten. Nur seine Nichte Mingo hält ihn für unschuldig und recherchiert auf eigene Faust.
The physician Dr. Deruga is suspected of having poisoned his wife out of greed. She died after naming Deruga, poor and in debt, the sole heir in her will. There are a lot of people willing to testify against him in court, including Marta, the dead woman's best friend. Only his niece Mingo believes him to be innocent and goes out on her own to prove it.
Seit Jahrhunderten kennt man auf dem Lohhof, dem größten in der ganzen Umgebung, dessen Bauern immer das meiste Ansehen unter ihresgleichen genossen, keinen Wassermangel. Wenn in Zeiten großer Dürre überall das Wasser versiegt, dann plätschert der Quell auf dem Lohhof immer noch frisch. Heuer aber, in dem heißen, trockenen Sommer, tritt zum ersten Mal auch Wassermangel auf dem Lohhof ein. Der Quell versiegt. Der Lohhofbauer lässt den alten Lusinger, einen Wünschelrutengänger, kommen, daß er dem Hof eine neue Quelle suche. Der alte Lusinger geht mit seiner Wünschelrute durch die Gegend. Die Rute schlägt so stark aus, daß sie fast seinen Händen entglitten wäre. An dem Platz, meint er, muss Wasser sein. Alle verfügbaren Arbeitskräfte auf dem Lohhof graben nun eifrig nach dem kostbaren Gut. Sie graben lange, sie graben vergeblich. Wasser wird nicht gefunden, nur ein seltsamer Sand, gelblich. golden glänzend, flimmert.
The farmers on the Lohhof, the largest farm in the area, are well known all around and have the highest prestige amongst their peers, not the least, because they never suffer any shortage of water. When in times of drought the water everywhere else has dried into nothingness, the water on the Lohhof is abundant and fresh. But one very dry summer, the drought comes to the Lohhof, too, and this time, the source of the water has dried up. And so, with diving rod in hand, one of the farm's old peasants goes on his merry little way to find a new source of water. At one point, the diving rod bends so strongly, that it almost slips out of the old man's hands. Convinced that there must be a huge source of water nearby, all the farmers of the Lohhof bend their backs to find the new well. They dig long, but they dig in vain: no water is found, only a strange sand, which is yellowish, shiny and flickers golden in the sun.
Der finnische Reeder Hanno Kolehmainen verliebt sich in seine neue Sekretärin Anne Matthies, die wesentlich jünger ist als er. Kurz vor der Hochzeit merkt Anne, dass sie Hanno nicht liebt und flieht auf einem seiner Schiffe, der "Viipuri", ins Eismeer. Hanno folgt ihr mit seiner Yacht, doch bald stecken beide Schiffe im Eis fest. Auf der "Viipuri" verliebt sich Anne in den Steuermann Nils Lithberg, der versucht, Hanno davon zu überzeugen, dass der Kapitän Rauschgift schmuggelt.
The Finnish shipowner Hanno Kolehmainen falls in love with his new secretary, Anne Matthies, who is quite a bit younger than he. Shortly before the wedding, Anna comes to the very inconvenient realization that she doesn't love Hanno and flees to one of his ships, the "Viipuri", which takes her off to the Arctic Ocean. Hanno, who won't take "no" for an answer, stubbornly follows her in his yacht; but soon, both ships get stuck in the ice. Meanwhile, fickle Anne has fallen in love with the Viipuri's pilot, Nils Lithberg, who tries to convince Hanno that the ship's captain is smuggling drugs.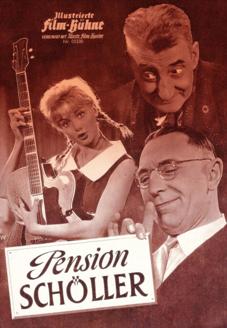 2 DVD SET: PENSION SCHOLLER (1930) + PENSION SCHOLLER (1960)
Discounted set of the following two movies:
PENSION SCHOLLER (1930):
Dr. Alfred Klapproth bekommt von seinem Onkel Philipp einen ansehnlichen Geldbetrag. Eigentlich zum Kauf eines Sanatoriums, doch Alfred braucht das Geld anderweitig. Als Onkel Philipp zu Besuch kommt, quartiert Alfred ihn in der Pension Schöller ein und behauptet, es handle sich um eine private Irrenanstalt. Da die vermögenden Gäste durchaus ihre Schrullen haben, schöpft Philipp vorerst keinen Verdacht. Und da er gehört hat, dass man Verrückten nicht widersprechen darf, ist die Verwirrung schon bald komplett.
Dr. Alfred Klapproth gets a considerable amount of money from his Uncle Philipp. The money was supposed to be spent on the purchase of a sanatorium; but Alfred has other needs for the money. When Uncle Philipp comes for a visit, Alfred puts him up in Pension Scholler and asserts, it's a privately run insane asylum. Since the wealthy guests there certainly have their quirks, Philipp has no problem buying that. And since he's been told, that one should never contradict crazy people, the confusion is soon complete.
PENSION SCHOLLER (1960):
Peter Klapproth verwandelt die Pension Schöller, die seinem Onkel, Professor Schöller gehört, der sie aber nie betreten hat, kurzerhand in eine "Klappsmühle" und führt als deren vermeintlicher Chefarzt dem Onkel die "Nervenheilanstalt" vor. Alles nur, damit der Onkel 20.000 Mark Startkapital für die zuschussbedürftige Anstalt herausrückt. Das allerdings braucht der leichtfertige Neffe zur Verwirklichung seines Traums, ein Jazzlokal zu eröffnen. Onkel Schöller riecht Braten, spielt aber mit und führt alles zum glücklichen Ende.
Professor Scholler was the last owner of Pension Scholler. His nephew, Peter Klapproth, who has never set foot in the place, nevertheless transforms the place into a "mental hospital" and masquerades as its chief physician. And why? So his uncle will put up a 20,000 DM grant as start-up capital for the needy institution. But the frivolous nephew intends to use the money to make his dream a reality: to open a jazz club. Uncle Scholler smells a rat, but plays along nonetheless and, in the end, it all leads to a happy ending anyhow.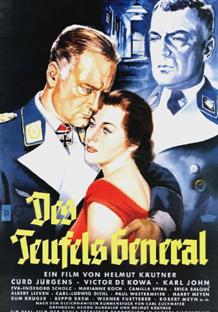 DES TEUFELS GENERAL (1955) * with switchable English subtitles * and improved film quality.
Re-recording of our original film with switchable English subtitles added; cleaning up and improvement of original English subtitles; and a better quality recording.
Nach dem gleichnamigen Bühnenstück von Carl Zuckmayer erzählt der Film die Geschichte des eigensinnigen Luftwaffengenerals Harras. Harras steht dem Nazi-Regime nicht sehr positiv gegenüber: Dabei ist er viel zu offen und wenig vorsichtig. Bald wird er überwacht. Aber Harras lässt sich nicht entmutigen, selbst als man ihn vorübergehend inhaftiert. Doch zunehmend erkennt er – wir schreiben das Jahr 1941 –, dass er für eine verlorene Sache kämpft. Als er seinen Freund, Oberstingenieur Oderbuch, der die Produktion deutscher Sturzkampfflugzeuge sabotiert, verraten soll, wählt er den Freitod indem er sich in eines der manipulierten Flugzeuge setzt.
1941: The Third Reich seems to be winning the war. Luftwaffe general Harry Harras enjoys the good life as a highly respected technician and Berlin ministry/ HQ official. However his outspoken critical attitude at social occasions awakens hopes in the opposition and suspicions in the Nazi party. He suddenly finds himself approached and arrested by the Gestapo, who psychologically torture him. Next, his position is threatened by technical aircraft trouble he'll be blamed for, but may result from sabotage.
Der junge russische Fürst Dmitrij trifft als Geschworener vor Gericht die hübsche Jekaterina Maslova wieder, die er einst verführt und im Stich gelassen hat. Sie ist zur Prostituierten geworden und des Mordes angeklagt. Das bestürzende Wiedersehen mit ihr rüttelt Dmitrij aus seiner seelischen Lethargie auf; als die junge Frau zu langjähriger Zwangsarbeit verurteilt und nach Sibirien deportiert wird, versucht er alles, um ihr zu helfen.
The young Russian prince Dmitry is called up to jury duty and there meets pretty Ekaterina Maslova again, a woman he once seduced and then abandoned. The girl, however, is not there as a fellow juror, but as a defendant. In the interim, she became a prostitute and is now accused of murder. This disconcerting reunion with his former lover shakes Dmitry out of his mental lethargy. When the young woman is sentenced to life as a forced laborer and is deported to Siberia, he does everything possible to help her.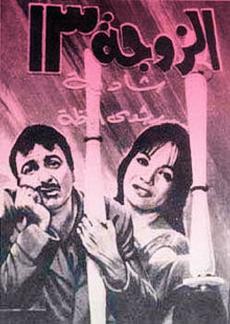 AL ZOUGA TALATTASHAR (1962) * with switchable English and French subtitles *
This is the story of a man and woman, Murad and Aida, who meet, fall in love and get married. Everything's going swll for love-struck Aida ... that is, until she discovers she's Wife Number 13. Soon afterwards, she gets a call from a mysterious woman, who later meets Aida and is told that Murad is a womanizer of the worst kind. As a result, she joins forces with his ex-wives to hatch a plot to force him to renounce his womanizing ways. Murad is slowly deprived of sex and sleep and is slowly being driven over the edge. Will Aida succeed in her plan to redeem Murad or will she end up just another notch on Murad's bedpost? (Obviously, there's no such thing as alimony where Murad lives).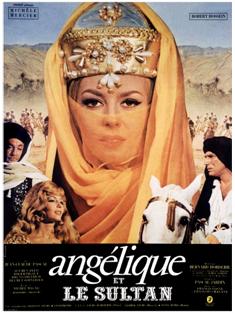 ANGELIQUE UND DER SULTAN (1968) * with switchable English subtitles *
Die schöne Angélique hat es auch in ihrem fünften Abenteuer nach einer Romanserie von Anne Golon nicht leicht im Leben. Ein sinistrer Kerl verkauft sie in Algier an den ebenso fragwürdigen Mezzo Morte, der Angélique dem Sultan von Mikenez überlässt. Die selbstbewusste Frau hat aber keine Lust, die willfährige Haremsdame zu spielen und widersetzt sich den Anordnungen ihres neuen Herren. Durch einen Zufall erblickt der Sultan eines Tages aber doch noch das Gesicht Angéliques, deren Schönheit ihn sofort betört. Jetzt ist er besessen davon, die Gesellschaft seines Neuzugangs im Harem zu genießen. Das sorgt natürlich für große Eifersucht bei der bisherigen Lieblingsfrau des Sultans. Darüber hinaus ist auch noch der heldenhafte Jeoffrey de Peyrac, Angéliques Ehemann, vor Ort aufgetaucht, um seine Frau aus den Fängen des Sultans zu retten.
In the fifth film of the series, we discover once more why having a beautiful wife can be a real pain in the rear. Angelique is taken prisoner and is sold by a sinister pirate to an equally questionable Mezzo Morte, who intends to make a gift of her to the Sultan of Meknes. But the self-confident woman has no intention of willingly playing the part of a harem girl and resists the orders of her new master. Kept in isolation until she learns how to be a faithful servant, one day, the Sultan catches a glimpse of her face, the beauty of which immediately beguiles him. Of course, as is the case with all the "Angelique" films, he becomes obsessed with enjoying the company of his new harem slave. This naturally causes the other harem women to be jealous and fearful for their positions in the harem ... especially the Sultan's former favorite, now doomed to a future life as a can of dog food. But fear not! Heroic Jeoffrey de Peyrac, Angelique's on-again, off-again husband, will somehow find a way to defy death and impossible odds to (once again) save Angelique's life. (Really, life as a celibate monk would be so much easier!).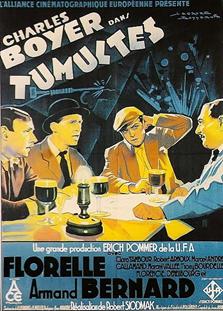 TUMULTES (1932) * with switchable English subtitles *
Ralph gets out of prison only to discover that his girlfriend Ania, who's always been a flake, is cheating on him with Gustave, whom Ralph then kills during a brawl. Hunted by the police, he takes refuge at Willi's place, who also is one of Ania's lovers. Wanting to get rid of him, Ania tells the cops where Ralph's hiding out, who then go to arrest him. If you're on the fence where women are concerned, this is not exactly the film you want to watch if you're pondering whether to stay heterosexual or take up a boyfriend.
Der Impressario Adler muss wegen Beamtenbeleidigung ins Gefängnis und ist dadurch verhindert, mit dem Opernsänger Lauri Volpi über eine wichtige Konzertreise zu verhandeln. Er schickt stattdessen die Gesangsschülerin Friedel, die nach Venedig reist, um den berühmten Tenor zu treffen. Im Gepäck hat sie eine Reihe von Adler geschriebener Ansichtskarten, schließlich soll dessen Frau nicht seinen wahren Aufenthaltsort erfahren. Als Friedel Volpis Anwalt mit dem Sänger verwechselt, nimmt der die Rolle nur zu gerne an, um mit der hübschen jungen Dame zu flirten. Gemeinsam verbringen sie romantische Tage in einem Bilderbuch-Italien. Adler, aus dem Gefängnis entlassen, reist Friedel nach und muss erfahren, dass sie mit dem falschen Volpi verhandelt hat, während Adlers Frau, die inzwischen den Schwindel mit den Postkarten entdeckt hat, ein Unwetter ganz eigener Art heraufbeschwört. Nachdem aber schließlich alle Unklarheiten beseitigt sind, steht einem glücklichen Ende nichts mehr im Wege.
Impresario Adler is imprisoned for insulting an official and therefore unable to negotiate an important concert tour with opera singer Lauri Volpi. In his place, he convinces Friedel, a pretty music student, to travel to Venice to meet the famous tenor. In her travels, Friedel sends postcards written by Adler to his wife to prevent her from knowing his real whereabouts. When Friedel meets Volpi's attorney, she mistakes him for the singer, and they spend days together in a romantic, picturesque Italy without him revealing his true identity. After his release from prison, Adler realizes two things: firstly, Friedel has been negotiating with the wrong man, and secondly, his wife has discovered the trick with the postcards, traveled to Italy, and started a storm of her own. But when the storm has cleared and the confusions are clarified, nothing holds them back from a happy ending.
Mitten im indischen Dschungel lebt Bobby Roeder mit seinen treuen Tieren. Nicht weit entfernt wohnt auch der Schmetterlingsforscher Helmer mit seiner reizenden Tochter Rose. Ihr Friede wird gestört, als die schöne Amerikanerin Dina Morris mit ihrer Yacht am Rande des Dschungels vor Anker geht. Sie und Bobby finden sofort Gefallen aneinander. Jedoch als William Edwards, ein Mitglied ihrer Gruppe, einen schönen weißen Stier erlegt, machen die Eingeborenen Jagd auf Bobby, den sie für den Übeltäter halten.
Bobby Roeder lives with his loyal animals in the middle of the Indian jungle. Not far away, the butterfly researcher Helmer has a house with his lovely daughter Rose. Their peace is disturbed by the American Dina Morris, who has anchored her yacht at the edge of the jungle. She and Bobby immediately take a liking to each other. However, when William Edwards, a member of the yachting group, kills a beautiful white bull, the Indians go on the rampage and hunt for Bobby, whom they think is the culprit.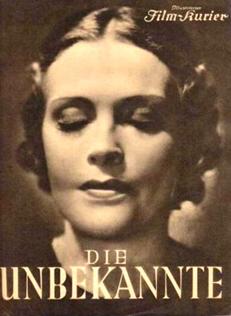 DIE UNBEKANNTE (1936) * with switchable English subtitles *
Die Unbekannte (The Unknown) was adapted by director Frank Wysbar from his own novel (co-written by R. C. Muschler). Sybille Schmitz, who was previously so memorable as the attractive blood-sucker in Dreyer's Vampyr, heads the cast as woman-of-mystery Madeleine. The story begins at the ending, as Madeleine's dead body is pulled from the river. With no identification on her person, Madeleine remains unidentified -- to everyone but the viewer, who is apprised of the girl's melancholy history via flashback.
.
.
.
.
..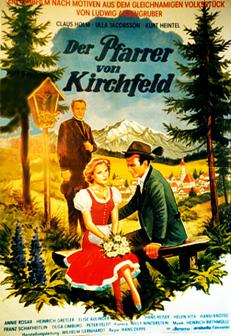 DER PFARRER VON KIRCHFELD (1937)
Österreichische Verfilmung des bäuerlichen Schauspiels von Anzengruber, das in der Kulturkampfstimmung des 19. Jahrhunderts Aufsehen erregt hatte: Ein junger Pfarrer, gütig und menschenfreundlich, wird vom haßerfüllten Wurzelsepp, dem einst die Trauung verweigert wurde, ins Gerede gebracht.
An Austrian film adaptation of the rural drama by von Anzengruber, which, given the culture war going on in 19th Century southern Germany and Austria, caused quite a stir: a young priest, kind and humane, is gossiped about by the hate-filled Wurzelsepp, who once-upon-a-time was denied a marriage ceremony.
Das Pariser Lokal "Zum Austernkönig" sucht eine neue Kellnerin, deren Aufgabe es wäre, mit einem neuartigen Öffner die Austern zu knacken. Aber wer hätte gedacht, was für Turbulenzen diese Neueinstellung mit sich bringen würde? Durch eine Verwechslung erhält nämlich Lilli Dupont den Job. Lilli ist jedoch gar keine Kellnerin, sondern eine talentierte Sängerin, die vergeblich auf ein Engagement wartet. Sie nimmt die Stelle an, und schon bald liegen ihr sämtliche männlichen Besucher des Lokals zu Füßen. Damit Lilli sich nicht ständig den Nachstellungen der Herren erwehren muss, bringt der Kassierer Aristide das Gerücht in Umlauf, Lilli sei die Tochter des Millionärs van Mühlen, dem der "Austernkönig" gehört.
The Parisian restaurant "At the Oyster King's" is looking for a new waitress, whose job would be to crack open oysters with a newfangled oyster cracker (how exciting!). But who would have thought that this newfound invention would lead to so much turmoil (they're French, aren't they?)?! Through a mix-up, Lilli Dupont gets the job. But Lilli is no waitress, but rather a talented singer, waiting in vain for an engagement. She takes the job and soon every male visitor is laying at her feet. So that Lilli doesn't constantly have to fight off all the horny men, the cashier Aristide spreads the rumor that Lilli is actually the daughter of the millionaire van Muhlen, to whom the "Oyster King" belongs (daughter of a millionaire?!? Oh yes, of course: that will dissuade potential suitors!).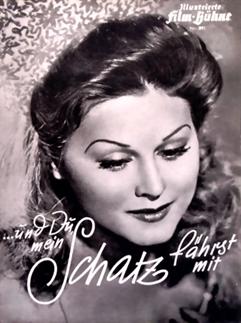 UND DU MEIN SCHATZ FAHRST MIT (1937)
Opernsängerin Maria Seydlitz hat gerade ihren Verlobten verlassen, weil der sie zwischen die Wahl Mann oder Beruf stellte, als sie ein Telegramm aus New York erhält: Ein ihr Unbekannter engagiert sie für eine hohe Gage am Theater. Maria nimmt das Angebot an. Im Film werden verschiedene Lieder, meist von Marika Rökk, gesungen:
Ach, ich hab' ja so viel Rhythmus (gesungen von Marika Rökk)
Früchte, die verboten sind (Hans Söhnker, Marika Rökk)
Irgendwo mit Dir allein (Marika Rökk)
Man kann beim Tango sich so schöne Dinge sagen (Hans Söhnker, Marika Rökk)
Muss i denn, muss i denn zum Städtele hinaus (Hans Söhnker, Marika Rökk)
Tapsi, tapsi, Teddybär (Marika Rökk)
Opera singer Maria Seydlitz just left her fiancée, because she had to choose between her man and her career after receiving a telegram from New York: A stranger wishes to hire her for work in a theatre at a high salary. Maria accepts the offer. Various songs are performed in the film, mostly by Marika Rokk.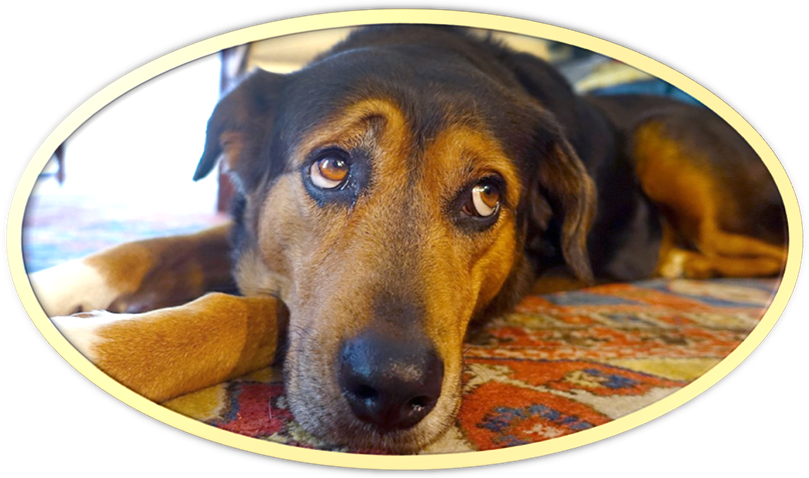 LOSTHOMELAND.COM SALES FOR A LIMITED TIME
WON'T YOU PLEASE GIVE ME A HOME!
Oh, my! You asked for more films and we're delivering on that request; but in doing so, room needs to be made for the many new DVDs and that means something has to go. Won't you please look at the following books listed at ridiculously low prices on our Losthomeland.com website and give them a new home, where they'll be appreciated and loved? Holy cow! You can even use your points and/or discount code to lower the prices even more! I know, it seems incredible, but everyone should have a forever home and now you can help make that happen! Just remember: like the wonderful dog shown above, availability is limited, so don't delay! YOU MAY ALSO MAKE OFFERS ON BOOKS NOT SHOWN IN THIS NEWSLETTER. JUST ASK US!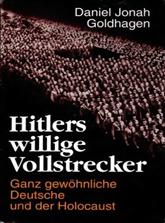 HITLER'S WILLIGE VOLLSTRECKER * was $13.99; now $ 0.99 until 31 AUG *
730-paged highly controversial work by Daniel Goldhagen is far from an unbiased exploration of the Holocaust and German anti-Semitism with the dark conclusion that anti-Semitism was inbred into the German people and the Holocaust was the necessary and expected conclusion. Some pictures.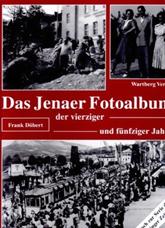 JENA IN THE 40s AND 50s * was $25.99; now $ 3.99 until 31 AUG *
This 64-paged photobook shows and discusses life in Jena in the 1940s and 50s, with the emphasis being on the years of rebuilding after War's end.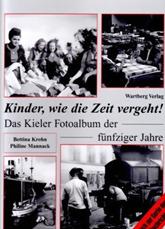 KIEL ARISES FROM THE ASHES OF WAR * was $16.99; now $ 0.99 until 31 AUG *
64 pages of mainly photos with descriptive text showing what life in the region was like after the Second World War.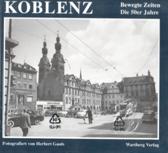 KOBLENZ REBUILDS AFTER THE WAR * was $16.99; now $ 3.99 until 31 AUG *
64 paged photobook with accompanying text details what it was like to be in Koblenz in the 1950s as the city was rebuilding from the damage of the Second World War.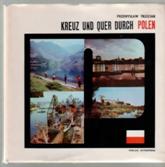 KREUZ UND QUER DURCH POLEN * was $ 4.99; now $ 0.49 until 31 AUG *
This book put out in Poland in 1972 is meant to provide a cross-section of Poland as it looked like in the late 1960s and early 70s. It has 139 pages of text and approximately 40 pages of contemporary photos.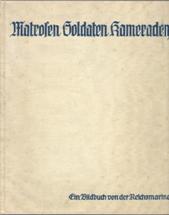 MATROSEN, SOLDATEN, KAMERADEN (1933) * was $39.99; now $19.99 until 31 AUG *
127-paged book, almost entirely consisting of photos and accompanying descriptions, pictorially tells the story of the new German Navy, now rapidly expanding under the leadership of the new government in power headed by Adolf Hitler. For the naval enthusiast, a real treat. Book has a 1936 birthday inscription on the blank cover page. Some age spotting and pages are a bit loose after Page 112.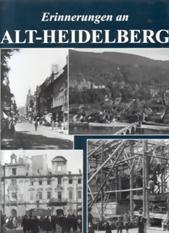 MEMORIES OF OLD HEIDELBERG * was $19.99; now $ 2.99 until 31 AUG *
64 pages of pictures with accompanying captions describes Heidelberg, its people, culture and landscapes as they all looked like from the very late 1800s to the mid 1900s.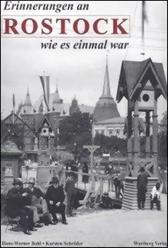 MEMORIES OF ROSTOCK AS IT ONCE WAS * was $19.99; now $ 2.99 until 31 AUG *
64 pages of pictures with accompanying captions describes Heidelberg, its people, culture and landscapes as they all looked like from the very late 1800s to the mid 1900s.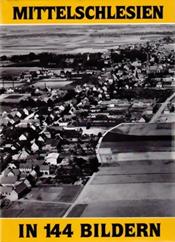 MITTELSCHLESIEN IN 144 BILDERN * was $17.99; now $ 3.99 until 31 AUG *
Central Silesia, its (German) culture, people and landscapes as they all looked like before the re-drawing of the borders in 1945 changed it all forever.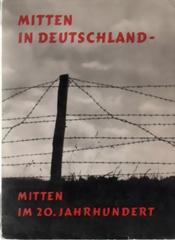 MITTEN IN DEUTSCHLAND – MITTEN IM 20 JAHRHUNDERT * was $17.99; now $ 5.99 until 31 AUG *
Softcovered photobook with 95 photos of the "internal" borders between West and East Germany, with many of these photos showing how the barbed wire, brick walls and other fortifications ran right through people's farms; cut homes in half; divided bridges; split roads; etc. Fascinating, if not sad, photos.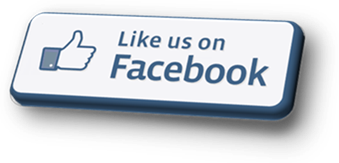 Thank you and the best to all of you,
RAREFILMSANDMORE.COM