.
......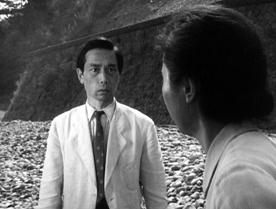 WOLF (Okami) (1955) * with switchable English subtitles *
It is a few years after the surrender of Japan in the Second World War. The country is in ruins; the economy devastated; and the vulnerable masses deprived of work, let alone the basic amenities of life. A new order, led by voracious opportunists is in the offing, where the weak are easy prey to the unscrupulous. Betrayed and exploited by their employer, a group of five trainee insurance brokers face the choice of committing suicide or becoming criminals. They choose the latter and decide to rob a truck transporting money to ease the suffering and pain of their family members.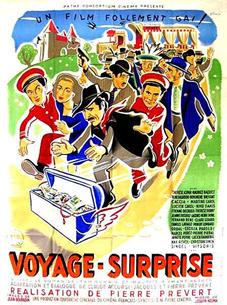 VOYAGE SURPRISE (1947) * with switchable English subtitles *
A tour owner on the verge of bankruptcy and facing stiff competition from his arch-nemesis Grosbois, decides to organize a new type of trip to attract customers. Grosbois will try to sabotage this trip, while an anarchist in search of treasure gets involved.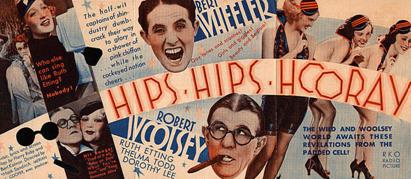 TWO FILM DVD: IF YOU COULD ONLY COOK (1935) + HIPS, HIPS, HOORAY (1934)
IF YOU COULD ONLY COOK (1935):
Auto magnate James Buchanan has a fiancée who doesn't love him and a board of directors who won't listen to him. Brooding on a park bench, he meets unemployed Joan Hawthorne, a fine cook who needs a partner to apply for a 'couple' butler/cook job with gourmet ex-bootlegger, Mike Rossini. Bemused, Buchanan goes along with the gag, taking lessons from his own butler. But there's sure to be a day of reckoning...
HIPS, HIPS, HOORAY (1934):
To help a girl keep her job at a cosmetics firm, two small time salesmen, Andy and Dudley, talk her boss into selling their line of flavored lipsticks. They become business partners and romantic interests. After a promotional campaign on a musical variety radio program, the lipsticks are a big success. The boys accidentally misplace a bag with the company's securities, which in turn is secretly stolen by their crooked manager. Andy and Dudley, now charged with embezzlement, are on the run when they get themselves into an auto race, where their car is sponsored by their company and their business competitor backs the rival car in the race.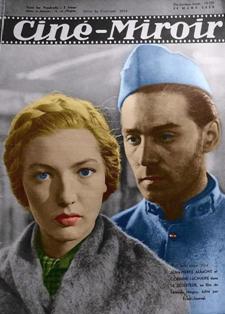 THREE HOURS (1939) * with switchable English subtitles *
A troop train is halted by a bombing on the battlefields of WWI France. Paul, a French soldier, takes advantage of the opportunity to visit his village and see his parents. His sergeant gives him an hour to do so. Meeting his mother in the village church, he discovers that his fiancee is not living with her anymore. In fact, she works in a soldiers' tavern, where the owner is pursuing her. She has no interest in seeing Paul anymore, because he never wrote to her after leaving for battle. In fact, Paul's mother has been hiding her son's letters from her.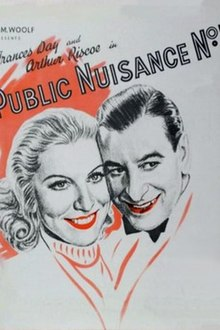 TWO FILM DVD: PUBLIC NUISANCE NO. 1 (1936) + AFTER DARK (1932)
PUBLIC NUISANCE NO. 1 (1936):
After the latest in a long run of drunken encounters with London's constabulary, wealthy layabout heir Arthur Rawlings is sent off to the south of France by his businessman uncle. Sick and tired of bailing his nephew out - often literally, from police custody - Arthur Senior orders him to go and work as a waiter at one of the family-owned hotels. However, Arthur Junior has fallen head-over-heels for humble shop worker Frances, who saved him from the very worst of his latest sticky situation. Unfortunately, she also lost her own job in the fall-out, and so he suggests she head to the south of France, too.
AFTER DARK (1932):
Hugh has some valuable jewels stolen. They're hidden in the back of an old clock in an antique shop. When the thieves return for them, the clock has been sold! They trace it to a creepy country estate. When Hugh and the niece of one of the crooks also show up, things get hairy.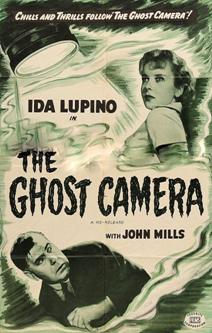 TWO FILM DVD: THE GHOST CAMERA (1933) + CALLING THE TUNE (1936)
THE GHOST CAMERA (1933):
When a photograph is taken at the scene of a murder, the camera is tossed out of a castle window to destroy the evidence, and lands in the back of a passing car belonging to chemist John Gra,y who becomes an amateur sleuth after developing the film, going in search of the woman captured in the photograph. When the camera is stolen from his laboratory, Gray's suspicions are further aroused.
CALLING THE TUNE (1936):
A fascinating look at the fledgeling gramophone industry, as it tries to solve the problems of reliable recording and production methods. 'I predict that the gramophone will be the democratic entertainment of the future,' states unscrupulous record label boss Mr Gordon, who finally gets his comeuppance after one dirty trick too many against his rivals.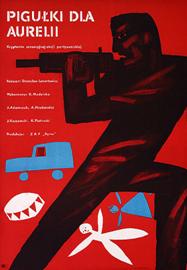 PILLS FOR AURELIA (1958) * with multiple switchable subtitles *
Soldiers of the Polish Home Army intend to bust a comrade out of a Gestapo prison. To do so, they'll have to schlepp weapons from Krakow to Radom through Kielce; but things aren't going their way and some of them might even end up as martyrs fighting the Germans.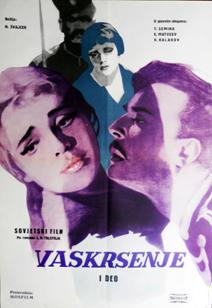 RESURRECTION (1960) * with switchable English subtitles *
In court, a jury hears about the theft of money and an act of poisoning, which caused the death of the merchant Smyelkov. Among the three accused of the crime is Philistine Ekaterina Maslova, a prostitute. Maslov is innocent, but, as a result of a miscarriage of justice, is sentenced to four years' hard labor in Siberia. Among the jurors is Prince Dmitri Nekhlyudov, who seduced and abandoned Maslov ten years earlier. Feeling guilty, he hires a lawyer to appeal the conviction; but the Kafkaesque labyrinth which is the Russian penal system not only upholds the obviously wrong verdict, but causes in the prince such disgust, that he accompanies the girl on her journey to the camps in the frozen East. The prince even asks her to marry him, to which she replies, "first you used me for your pleasure; now you wish to use me for your redemption."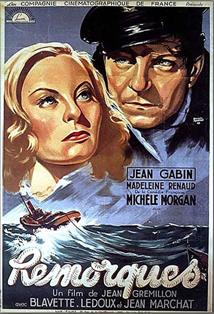 STORMY WATERS (1941) * with switchable English subtitles *
On board the tug Cyclone, Captain André Laurent risks his life every day to save the lives of others. He is married to Yvonne, who wishes to see him leave this profession and hides a serious illness from him. Captain Laurent must hastily leave the wedding of one of his sailors to help the cargo ship Mirva. The rescue, after a few twists and turns, will succeed and the passengers are rescued. André then falls in love with Catherine, the wife of the renegade captain of the Mirva, and she will become his mistress.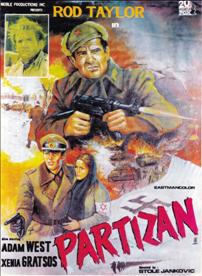 HELL RIVER (1974) * with hard-encoded Serbo-Croatian and English subtitles *
Action film about Yugoslav partisans fighting the Germans to prevent the Fascists from loading Jews onto a riverboat to deport them to their extermination.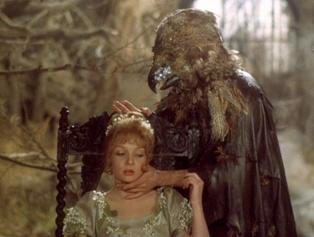 BEAUTY AND THE BEAST (1978) * with switchable English subtitles *
A more horrific and gloomy version of Beauty and the Beast. Julie is a bankrupt merchant's daughter, who is the only one of the man's three daughters, who chooses to save her father's life by going to the Haunted Wood's Castle where she meets Netvor. He wants to kill her, but her beauty prevents him from doing that. Although she is forbidden to see him, she starts to love him and the love rescues him from his curse.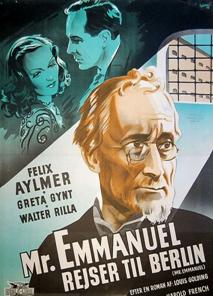 TWO FILM DVD: MURDER ON THE BLACKBOARD (1934) + MR EMMANUEL (1944)
MURDER ON THE BLACKBOARD (1934):
There are plenty of guilty secrets at the school where Hildegarde Withers teaches. When she finds the body of the pretty music teacher, she calls in her old friend, Inspector Piper, who promptly arrests the obvious suspect. Clues multiply and everyone looks suspicious as Piper and Miss Withers continue their battle of the sexes.
MR EMMANUEL (1944):
Set in 1938, Isaac Emmanuel has retired from a Jewish welfare agency in Doomington, England and is looking for something to do with his time. A letter arrives asking him to come to the aid of a friend, who is caring for three German boys, who are refugees from Nazi Germany. One of the three, a Jewish boy named Bruno Rosenheim, is very despondent over the recent death of his father and the disappearance of his mother. He's waiting to get a letter from her, but no letter ever arrives. Mr. Emmanuel, a British citizen, who himself is a former refugee from Russia, sympathizes with the young man. After the lad attempts to take his life, Mr. Emmanuel promises to travel to Germany to find out what he can about Bruno's mother. Once he arrives in Berlin, Emmanuel takes lodging at a boarding-house. He inquires of those around him, not realizing how unusual and potentially dangerous it is to ask such questions.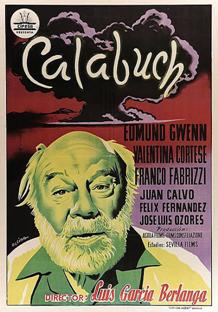 THE ROCKET FROM CALABUCH (1956) * with switchable English subtitles *
.
Professor Jorge Serra Hamilton, an American scientist working with atomic bombs, flees his duties, in order to take shelter incognito for a time in the idyllic Spanish village of Calabuch. Oblivious to the relevance of their occasional guest, local residents spend their time engaged in their modest daily chores. The affable professor not only integrates perfectly into the small town, forging a deep friendship with its neighbors, but finds the long-sought-after happiness he so desperately wanted.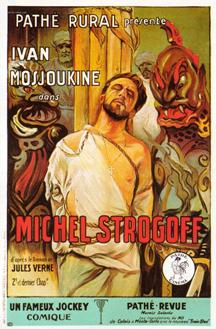 MICHEL STROGOFF (1926) * with hard-encoded English subtitles*
Things look bleak for Russia when the invading Tartars cut off all telecommunications between the border cities and the capital. The czar sends the young captain Michael Strogoff to deliver a vital message to the last line of defense. Along the way he finds love with the practical Nadia, a woman trying to visit her exiled father in Siberia, and danger from the traitorous Ivan Ogereff, who wants to stop him at all costs.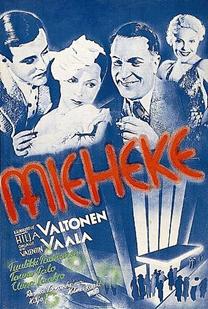 MIEHEKE (1936) * with switchable English subtitles *
Irmeli wants a job as a secretary, but has to be married to get the vacancy. She lies that she recently married and then gets a stranger from a nearby restaurant to pose as her husband. Complications arise when they have to continue their charade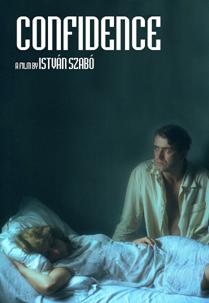 BIZALOM (1980) * with switchable English subtitles *
During the German occupation of Hungary in 1944, Kata returns home to find her home has been invaded. She is given instructions to begin a new life in hiding and is forced to live in a rather dreary room with Janos, who never reveals his real name. The two are forced to feign a relationship as husband and wife. Despite the fact that both are married, this eventually boils over into a real relationship, one which is hindered by the inability of either individual to communicate truthfully, as they must be cautious of the Nazi sympathizers living in their building.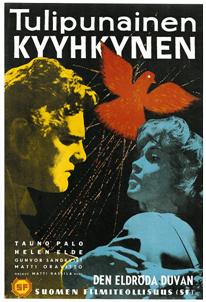 THE SCARLET DOVE (1961) * with switchable English subtitles *
Doctor Aitamaa is spending the holidays with his family at their Summer villa. He accidentally reads a letter that was meant for his wife. The letter is from another man. Aitamaa follows his wife to the city and finds out she has a lover. Later, she's found dead and Aitamaa becomes the prime suspect.
,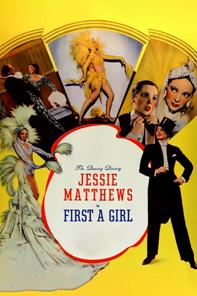 Elizabeth, a delivery girl, dreams of being a music-hall singer, but she's turned down at her very first try-out. A bit depressed, she gets to know Victor, a would-be Shakespearean actor and another audition victim. When Victor quite unexpectedly gets a female part in a music-hall number, he unfortunately finds himself voiceless. Wouldn't it be great if Elizabeth could take his place, he asks? His new friend hesitates, but finally makes her debut as ... a man posing as a woman! She is noticed by McLintock, an influential talent agent, who hires Mr. Victoria (Elizabeth's stage name) and launches his/her brilliant international career. One day, Robert, a handsome young man engaged to Princess Mironoff, makes friends with this young man posing as a woman posing as a man and you can guess the rest.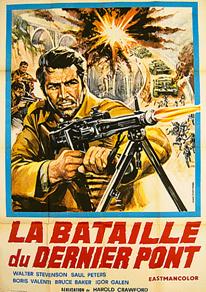 THE BRIDGE (1969) * with switchable English subtitles *
In order to check a German offensive, the partisans send an elite team of explosive experts to blow up a strategically important bridge. Besides being heavily guarded, the bridge is almost indestructible; and the only man who knows its weak spots is the architect who built it. He is, however, reluctant to cooperate, because he doesn't want to see his masterpiece destroyed.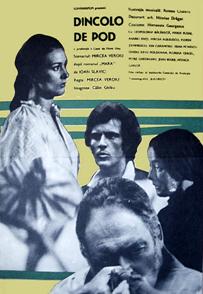 BEYOND THE BRIDGE (1976) * with switchable English subtitles *
Transylvania, 1848: Mara, a fierce and enterprising woman, opposes her daughter's love for the Saxon German Hans. In spite of her controlling mother, the daughter, Sida, marries the object of her affection and soon reveals herself to be just as rapacious as her mother.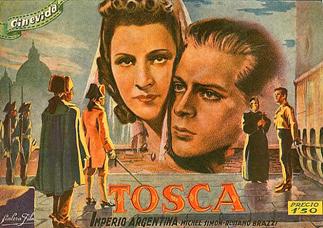 TOSCA (1941) * with switchable English subtitles *
This movie from Fascist-era Italy is not a musical version of Giacomo Puccini's operatic masterpiece, but a dramatic narrative of the same story which originated with Sardou's play. Puccini's music does figure in, however, with strategically placed arias on the soundtrack. Argentina-born Spanish actress Imperio Argentina plays the title role with diva-esque aplomb. Rossano Brazzi is perfectly cast as the strikingly handsome painter and revolutionary collaborator Mario Cavaradosssi. Michel Simon steals the show whenever he is on screen, as nefarious police chief Baron Scarpia, who is out to apprehend all opponents to Papal rule in this story set in early 19th-century Rome.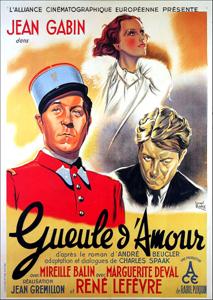 LADYKILLER (1937) * with switchable English subtitles *
1936: Lucien Bourrache is a soldier in the Orange Spahis regiment. In his magnificent uniform, he has all the women in the garrison town panting, which earns him the nickname "Ladykiller". One evening, on leave in Cannes, he falls in love with a beautiful, rich woman, with whom he will live a story made of expectations, then of simple pleasures, and finally of more and more serious quarrels, as the insurmountable nature of their differences comes to the fore.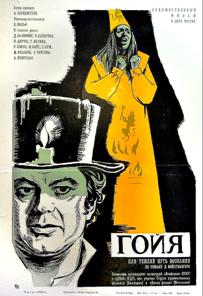 GOYA (1971) * with switchable English subtitles *
Through his talent and creative abilities, the painter Francisco de Goya has achieved prosperity and respect. Some of his clients belong to the most important houses in Madrid, so it is not surprising, that he eventually ends up being noticed by the king, Charles IV. Goya feels a passionate love for Duchess Alba, but, at the same time, just as passionately despises the decadent aristocrat in her. He believes in the rule of both the king and the Church and enjoys his position at the royal court. His colleague and friend Esteve points out to him the contradictions of his closed world and leads him to the simple peasants of his country. In a tavern in Madrid, he meets the singer Maria Rosario. She is eventually condemned by a court of the inquisition. Goya is deeply moved by the song the woman is forced to regurgitate at her trial, as proof of her guilt. The further he digs into how the people of his country live, which provides the motifs for his paintings, the greater his pain becomes for the conditions they have to live in.
Der Maler Francisco de Goya kommt durch seine Begabung und seine schöpferische Kraft zu Ansehen und Wohlstand. Seine Auftraggeber stammen aus den bedeutendsten Häusern Madrids und so gelangt er allmählich an den Königshof Karls IV. In leidenschaftlicher Liebe fühlt er sich zu der Herzogin Alba hingezogen und hasst gleichzeitig die dekadente Aristokratin in ihr. Er glaubt an den König und die Kirche, genießt seine Stellung bei Hofe. Sein Mitarbeiter und Freund Esteve zeigt ihm die Widersprüchlichkeit dieser abgeschlossenen Welt und führt ihn zu den einfachen Leuten des Landes. In einer Madrider Taverne begegnet er der Sängerin Maria Rosario; später muss er miterleben, wie sie von der Inquisition verurteilt wird. Von dem Lied, das Maria als Beweis ihrer Schuld vortragen muss, ist er tief erschüttert. Je weiter er in das Leben des Volkes eindringt, daraus Motive für seine Kunst schöpft, desto größer wird seine innere Pein angesichts der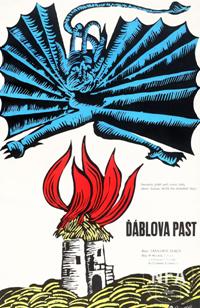 Zustände im Land.
THE DEVIL'S TRAP (1962) * with switchable English subtitles *
Bohemia, during the time of the Swedish invasion in the Thirty Years' War (1630 - 1635): A small village is visited by a priest, who has come on a secret mission. He's working for the Inquisition and his mission is to investigage the activities of a local miller. The man is a descendant of an old family whose ancestral home burned down a century ago, but was rebuilt from its foundations. The miller knows a great deal about the land, the water and the building from generations of family experience. This has led him to not only finding water and predicting when a structure might collapse, but also to knowing many things that a man only in league with the Devil could know.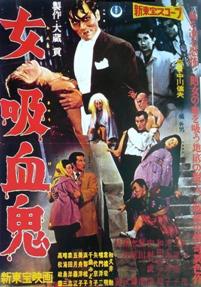 THE LADY VAMPIRE (1969) * with switchable English subtitles *
The film opens with a driver escorting ace reporter Tamio to the birthday party of his fiancée Itsuko, for which he is already very late. The driver stops the car believing he has hit a woman pedestrian, but she seems to have vanished. Later, Tamio spots her wandering around near Itsuko's home, while Itsuko brings darkness into her party by accidentally cutting her finger and getting a suspiciously large amount of blood on her cake. This alarms Itsuko's father Shigekatsu, because it reminds him of something that happened right before his wife, Miwako, mysteriously disappeared 20 years previously. Of course, the mystery woman turns out to be none other than Itsuko's long lost mother, who is discovered in a long disused room by her extremely confused husband. To everyone's consternation, Miwako looks exactly the same as she did 20 years ago. The doctors can't explain it, and no one is quite sure what to do about this miraculous development.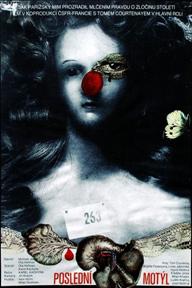 THE LAST BUTTERFLY (1991) * with switchable English and Spanish subtitles *
Paris, during the Second World War: French mime Antoine Moreau is arrested by the Gestapo. His mistress collaborates with the Resistance, which the SS will use to its advantage to blackmail Moreau into taking part in an elaborate deception at Theresienstadt. He will be given the task of preparing a children's theater performance that's to convince a delegation of the International Red Cross that all is well in the ghetto. However, Moreau defies the disgusting order and takes the staged play About Gingerbread House as a parable about the real conditions in the Potemkin ghetto.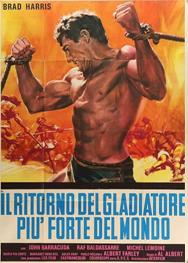 RETURN OF THE GLADIATOR (1971) * with Italian and English audio tracks *
In 310 AD, the Roman Empire is under threat by traitors within the Roman government. After continuous attacks on their northern borders by hordes of Germanic barbarians, Centurion Marcus discovers that the invaders have been supplied with Roman weapons and equipment. Proconsul Tullius Valerius suspects that Gaius Appius Quintillianus, the provincial governor of the northern Germanic states, is secretly collaborating with those barbarian chiefs plotting to end Roman rule. Valerius decides to attack the barbarians, which he knows will be heavily criticised by the senators in Rome, and puts Marcus in command of the operation. Newly promoted vice-consul Marcus, a former gladiator, and his two faithful friends must go undercover to find the truth and discover the traitors behind this treacherous plot before it's too late.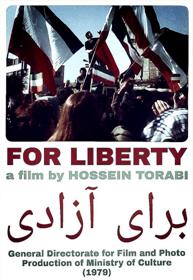 FOR LIBERTY (1979) * with hard-encoded English subtitles *
Hossein Torabi films the events without knowing their outcome: Processions of mourning and jubilation, scenes after the fire in the "Cinema Rex" in Abadan, southern Iran, in which 377 viewers died; the famous interview with the Shah – shortly before his departure at Mehrabad Airport, followed by the acclaimed arrival and first speech by Ayatollah Khomeini; finally the graves of the martyrs of the revolution in Tehran's large cemetery Behesht-e Zahra. Torabi and his cameramen film euphoric crowds and thoughtful revolutionaries, statesmen and members of various minorities such as Turkmen and Zoroastrians. An immensely important contemporary document.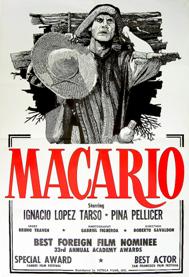 MACARIO (1960) * with switchable English subtitles *
The story centers on Macario, a poor indigenous woodcutter, in the time of Colonial Mexico. It is the eve of the Day of the Dead and Macario's life is embittered, because he's so poor and hungry. He and his family are at the edge of starvation. After he sees a procession of roast turkeys, his dream is to eat a whole roast turkey by himself. He announces in front of his wife and children, that he will not eat until his dream comes true. His worried wife steals a turkey and gives it to Macario before he heads off to the mountains to work. However, just as Macario prepares to eat the turkey, three figures appear. The first is the Devil in the guise of a fine gentleman, who tempts Macario in order to get a piece of the turkey. The second is God in the guise of an old man. Macario refuses to share the turkey with either, since he believes that they both have the means necessary to get themselves what they want. When a third figure —a peasant like himself— appears, he gladly shares the turkey with this man. The third man is none other than Death itself. Death is unsure why Macario shared his turkey with him and not with the Devil and God. Macario responds, "Whenever you appear, there is no time for anything else." Macario hoped to forestall what he assumed to be his imminent death by gaining the time it would take for him and Death to eat. Death is amused and as compensation, calls Macario his "friend" and gives him miraculous water that will heal any disease. If Death appears at the feet of a sick person, they can be healed with the water - but if Death appears by the person's head, he or she is condemned to die.

You may have missed these titles
Aelita also known as Aelita: Queen of Mars, is a silent film directed by Sovietfilmmaker Yakov Protazanov made on Mezhrabpom-Rus film studio and released in 1924. It was based on Alexei Tolstoy's novel of the same name. Mikhail Zharov and Igor Ilyinsky were cast in leading roles. Though the main focus of the story is the daily lives of a small group of people living in the post-Civil War Soviet Union, the enduring importance of the film comes from its early science fiction elements. It primarily tells of a young man, Los, traveling to Mars in a rocket ship, where he leads a popular uprising against the ruling group of Elders, with the support of Queen Aelita who has fallen in love with him after watching him through a telescope. Probably the first full-length movie about space travel, the most notable part of the film remains its remarkable constructivist Martian sets and costumes designed by Aleksandra Ekster. Their influence can be seen in a number of later films, including the Flash Gordon serials and probably Fritz Lang's Metropolis. Parts of the plot were also loosely adapted for the 1951 film Flight to Mars.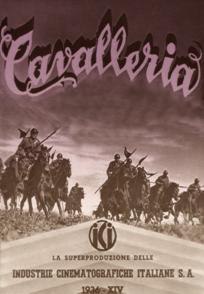 CAVALLERIA (1936) * with switchable English subtitles *
A cavalry officer loves and is loved by the daughter of a nobleman from Piedmont. But the girl, to save her father from financial ruin, marries a wealthy Austrian instead. The cavalryman then dedicates himself passionately to horse riding and becomes one of the most famous riders in Italy. A few years later, he meets his old flame in Rome and the two start to meet one another on the sly. However, bitter gossip follows them wherever they go and, eventually, the woman's brother is forced to fight a duel to defend the honor of his sister. When she sends the cavalryman a Dear John letter, he ends up killing his horse in a competition, because he's distracted by his lost love. Vowing to never ride another horse again, our hero joins the air corps, where he finds his glorious end on the field of battle.
.
.
.
1642 in Leyden, Holland: Rembrandt van Rijn, a painter and miller's son, experiences the death of his beloved wife Saskia and, during her funeral, finishes her portrait before her face fades for him forever. Later, while working on a painting commissioned by Captain Banning Cocq, Rembrandt depicts the sixteen gentlemen of the civic guard as disfigured. After humiliating them at a public unveiling of the painting, Rembrandt refuses to apologize and loses the portrait commissions that had assured his income. Still racked with grief about Saskia's death, Rembrandt longs for another wife and marries the cold and shrewish Geertje Dirx. Ten years following Saskia's death, Rembrandt has become bankrupt and his house and its furnishing are sold at auction. He then paints a beggar and tells him the Biblical story of David and Saul. Geertje harangues Rembrandt about their poverty, and he learns that Govaert Flinck, an old student of his, is now making a handsome living painting aristocrats. Rembrandt, however, refuses to compromise his art for money.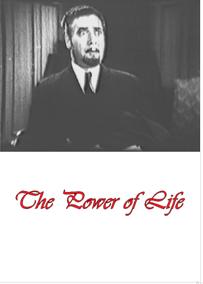 THE POWER OF LIFE (1938) * with hard-encoded English subtitles *
Nathan Rabinovitz, a bookkeeper for the Feinberg Dress Company, devotes his spare time to his inventions. One day, he's offered $3,000 for one of his inventions and he promises to decide whether to sell or not by the end of the next day. When he learns that Sam Schindler, his daughter Leah's fiancee, needs $500 to avoid going to jail for embezzling money, Nathan visits Sam's father, who flatly refuses to loan his son the money to avoid prison. Nathan argues that the power of life comes through finding happiness in one's children's lives and that parents mustn't forget their obligations to their children (three guesses which man's children are going to be living in the basement for twenty years while paying off their student loans). Schindler has a ready answer for Nathan, though: Sam stole from his account and few children really love their parents. In fact, he says, children and the enemies of their parents (guess whose children ended up working summers and attending community college).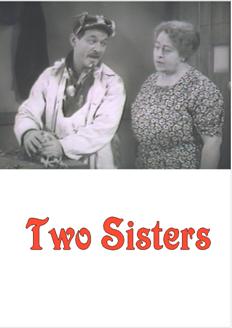 TWO SISTERS (1938) * with hard-encoded English subtitles *
On her deathbed in a Bronx tenement, Mrs. Glickstein makes her eldest daughter Betty promise that she will be both sister and mother to her younger sister Sally and to do everything possible to ensure her happiness. Thus begins a life of tireless work for Betty, supporting her sister through nursing school, her fiancee through medical school and her father in a TB sanatorium, only to have her happiness destroyed when her sister and fiancee fall in love.
.
.
.
.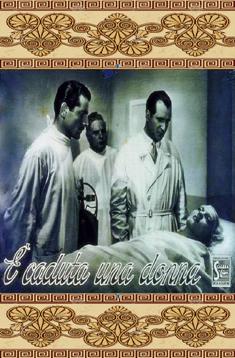 E CADUTA UNA DONNA (1941) * with switchable English subtitles *
A pregnant, unwed woman is forced to flee from her village because of the scandal and gos to Milan to have her baby. It is there that she meets a doctor of high moral character, who falls in love with her. It isn't long before he decides he wants to marry her, but shortly after the deed is done, there's trouble: the doctor is unable to leave the woman's past in the past and can't stand the sight of a boy, that isn't his. So, the woman decides to entrust her child to mother of the man who got her pregnant (who, in the interim, has died), hoping to reconcile her relationship with the doctor. The sacrifice is too much, however, and she's soon faced with the irresistible desire to take back her child.
.
..
.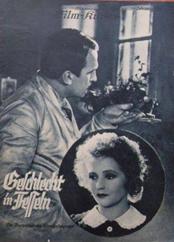 GESCHLECHT IN FESSELN (1928) * with switchable English subtitles *
Wirtschaftskrise in Deutschland. Der Ingenieur Franz Sommer ist arbeitslos. Als seine Ehefrau Helene auf der Straße von einem Unbekannten bedrängt wird, kommt ihr Franz zu Hilfe. Im Handgemenge stürzt der Unbekannte unglücklich und stirbt. Franz muss ins Gefängnis. In Haft wird er von einem Mitgefangenen verführt. In der Freiheit ist seine Frau Helene mittellos, bis ein weiterer Mitgefangener ihr eine Arbeit verschafft. Auch Helene erliegt den Avancen des Mannes. Als Franz nach dreijähriger Haft endlich entlassen wird, findet sich das Paar im Leben nicht wieder zurecht.
Germany during the years of economic crisis. The engineer Franz Sommer is unemployed. When his wife Helene is harassed by a stranger on the street, Franz comes to her aid. As a result of the scuffle, the unknown assailant falls and dies. Franz goes to prison. There, he's seduced by a fellow prisoner. Outside in the free world, his wife Helene is penniless until a fellow prisoner of Franz, now free, gives her a job. Helene eventually succumbs to the advances of the man. When Franz is finally released after his three-year prison sentence, the two find they're unable to cope in their new lives.
.
.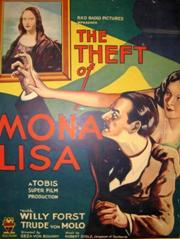 DER RAUB DER MONA LISA (1931) * with switchable English subtitles *
Kriminalkomödie basierend auf dem tatsächlichen Diebstahl der Mona Lisa durch den italienischen Anstreicher Vincenzo Peruggia im Jahr 1911: Im Film stiehlt Peruggia das Gemälde aus dem Louvre, um dem Stubenmädchen Mathilde zu imponieren, das sich wünscht, dass jemand etwas Großes für sie tut. Als Mathilde dennoch mit einem anderen Mann durchbrennt, schenkt Peruggia das Gemälde dem italienischen Staat und wird verhaftet. Angelockt durch die weltweiten Schlagzeilen, die die Rückgabe der Mona Lisa macht, kommt Mathilde nach Florenz, wo Peruggia der Prozess gemacht wird. Mathilde glaubt, nun würde sie im Mittelpunkt stehen. Aber als Peruggia sie unter den Zuschauern sieht, gibt er einen anderen Grund fur den Diebstahl.
A crime comedy based on the actual theft of the Mona Lisa by the Italian painter, Vincenzo Peruggia in 1911. In the film, Peruggia steals the painting from the Louvre to impress the cleaning lady Mathilde, who wants someone to do something big for her. But when the fickle Mathilde gets the hots for another guy, Peruggia gives the painting back to Italy and is arrested. Attracted by the worldwide headlines surrounding the crime, Mathilde arrives in Florence, where Peruggia is standing trial. Mathilde believes that the facts of the trial will put her at center stage. But when Peruggia sees her in the gallery and understands why she is there, he has no intention of satisfying her ego.
.
.
.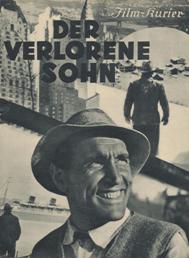 DER VERLORENE SOHN (1934) * with switchable English subtitles *
Heimatfilm von und mit Luis Trenker, der als Auswanderer der ihn einengenden Bergwelt entfliehen will und in New York feststellen muss, dass das Leben dort noch viel härter und unmenschlicher ist. Mit beeindruckenden Bildern lebt der Film vom Kontrast zwischen den Dolomiten und der Großstadt, deren Hochhäuser ihrerseits wie Berge in Szene gesetzt sind. Der Film endet mit einem Loblied auf die dörfliche Gemeinschaft, bei deren gemeinsamer Sonnwendfeier der ernüchterte Heimkehrer zu seiner vorübergehend verschmähten Dorfliebe zurückfindet.
In this Heimatfilm, Luis Trenker plays a Bavarian wishing to flee the constrictive and provincial life of his Bavarian mountain village. He ends up fleeing to New York in the middle of the Great Depression and discovers city life to be brutal and inhuman. The contrast between the Alps and the big city is shown in the film's impressive scenes; especially those of the skyscrapers of Manhattan, which are filmed as if they were mountains of a different kind. The film ends as a paean to the village community. The disillusioned émigré returns to his mountain village during a solstice festival and finds his way back to the woman he left behind.
.
Nach dem Ende des Ersten Weltkriegs kehrt Richard Hellwerth aus japanischer Gefangenschaft in seine Heimat nach Elberfeld zurück. Was ihn erwartet ist erschütternd. Seine Eltern sind tot, das Haus in dem er aufwuchs, halb vermietet an den Spekulanten Eickhoff, die Firma steht kurz vor dem Ruin. Da erzählt ihm Werkmeister Schwafels von dem Erfinder Breuer, der immer noch in einem Raum der Fabrik besessen experimentiert. Als Hellwerth vor ihm steht, bricht dieser halb verhungert zusammen. Der junge Chef pflegt ihn gesund, und die beiden schließen einen Pakt. Als erstes verkauft Hellwerth sein Haus an Eickhoff, denn mit diesem Kapital können sie neu beginnen. Dank Breuers Vorarbeit entsteht ein neuer Werkstoff: die Kunstseide.
After the end of the First World War, Richard Hellwarth returns to Elberfeld in his homeland back from imprisonment at the hands of the Japanese. What he sees upon his return shakes him to the core: his parents are dead; the house in which he grew up has been 50% rented out to a speculator named Eickhoff; and the family business is one foot in the grave. He is told about the discoverer Breuer, who is still occupying a room in the factory and continues to experiment. When Hellwerth re-introduces himself to the scientist, Breuer collapses from hunger. The young boss cares for him and brings him back to health ... and they make a pact: First, Hellwerth will sell his house to Eickhoff; then, the capital from the sale will be used to make a new beginning. And thanks to Breuer's diligence, a new product is developed: artificial silk.
.
.
Damit sie sich nach seinem Tod gegen Mitgiftjäger zur Wehr setzen kann, ließ der alte General d'Estroux seine Enkelin Madelone im Fechten, Reiten, Fluchen und Trinken ausbilden. Es war eine weise Vorausplanung, denn kaum hat der General das Zeitliche gesegnet, versucht ihr Vormund Cesaire, sie gegen eine Provision mit dem unsympathischen Präfekten Barberousse zu verkuppeln. Damit Madelone sich zur Ehe bereit erklärt, zeigt Cesaire ihr ein Foto von Barberousses attraktivem Vetter Fernand de Villeneuve. Der Trick funktioniert, Madelone willigt ein. Kurz vor der Trauung durchschaut sie den Schwindel, schwingt sich auf ein Pferd und flieht. Als Mann verkleidet, kehrt sie in einer Waldschänke ein und lernt dort den "echten" Fernand kennen. Doch Madelone gibt sich nicht zu erkennen, sondern verbringt eine feuchtfröhliche Nacht "unter Männern" mit Fernand und seinen Freunden. Als Madelone tags darauf durch einen dummen Zufall enttarnt und verhaftet wird, könnte nur Barberousse für ihre Freilassung sorgen. Der stellt jedoch die Bedingung, dass Madelone für einen Abend bei einem Fest seine Frau spielt. Sie erklärt sich einverstanden, doch als Barberousse sie mit Fernand bei einem innigen Kuss überrascht, kommt es erneut zu Turbulenzen, bevor die Liebenden sich endgültig in die Arme schließen können.
This film is a lost musical parody treasure that could bear to be rediscovered. Operetta meets swing, and the conventions of cross-dressing and sexual gender confusion gets the Comedia della arte treatment. Lilian Harvey plays a young heiress in long-ago France (the costumes are Empire and Regency) named Madelon, whose grandfather brings her up as one would a young man, so that she can make it alone and rebuff all who would chase her for fortune. Upon the grandfather's death, she is fooled by her guardian into a betrothal with a fat prefect when she is deceptively shown a picture of his young and good-looking rogue cousin. Before the wedding can take place, Madelon discovers the ruse and escapes in the disguise of a page boy. On the road, she coincidentally meets the attractive young cousin and his best friend, who have just left the wedding celebration. The three become comrades after a scuffle with some ruffians and then set off on many adventures, including a visit to a brothel, during all of which the two men are under the impression that Madelon is a young man. After some problem with the law, they are all brought into court where all must be resolved.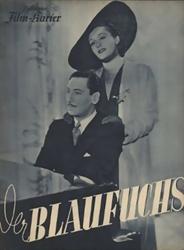 DER BLAUFUCHS (1938) * with switchable English subtitles *
Ilona, die gelangweilte Gattin eines leicht zerstreuten Privatdozenten, verliebt sich in dessen Freund Tibor, einen Weltenbummler und Charmeur. Obwohl sie ihn drängt, lässt er sich zunächst nicht auf eine Liaison ein. Er möchte dem Freund nicht weh tun. Erst als der Ehemann seine Zuneigung zu einer Mitarbeiterin offenbart, gibt es ein Happy End für zwei neue Paare.
Ilona, the bored wife of an easily distracted professor, falls in love with his friend Tibor, a world-traveler and ladykiller. Although she pursues him, he declines to take advantage of the situation, because she's married to his best friend. Only after her husband shows an interest in a co-worker is it possible for a happy ending to take place for the two new couples.
Ein Trottel erwirbt ein unbrauchbares Stück Land, das ihm Schwindler als Ölfeld verkaufen.
A moron buys a worthless piece of land, which a swindler passed off as an oil field.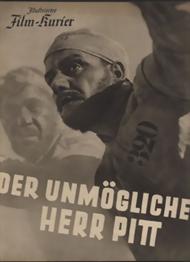 DER UNMOGLICHE HERR PITT (1938)
Tom und Tim, die in Nordafrika zu Zwangsarbeit verurteilt wurden, gelingt es auf die Yacht "Stella" zu fliehen. Sie gehört Lucienne, der Tochter des Präsidenten des Minensyndikats, Thomas Cay. Sie sollte aus geschäftlichen Gründen einen Lorenzo Pitt heiraten, der gegen die Verabredung jetzt mit an Bord gekommen ist. In einem heillosen Zustand, nur mit halber Mannschaft, sticht die Yacht in See. Nach einigen Sabotageakten landet sie schließlich in Sizilien, verfolgt von einem Polizeikreuzer, der Tim und Tom auf der Spur ist.
Tom and Tim, who have been sentenced to hard labor in North Africa, succeed in escaping aboard the yacht "Stella". The yacht belongs to Lucienne, the daughter of the president of the mine syndicate, Thomas Cay, in which the two men were condemned to work out their lives. For reasons of business, Lucienne is supposed to marry a Lorenzo Pitt, who is against the arrangement and has come aboard the yacht. Not in the best of shape and with only half its crew present, the yacht sails out to sea. After an act of sabotage, the yacht finally ends up in Sicily after being chased by a police cruiser, which is looking for Tom and Tim. But who committed the sabotage?
.
.
1876. Der Engländer Henry Wickham befindet sich an Bord der "Wellington", sein Ziel ist Brasilien. Von dort will er Gummisamen nach England schmuggeln, um das brasilianische Monopol zu brechen. Es ist eine gefährliche Mission, bedroht mit der Todesstrafe.
1876. The Englishman Henry Wickham is onboard the boat "Wellington"; his goal is to reach Brazil. Once there, he wants to smuggle rubber tree seeds to England, so as to break the Brazilian monopoly on the trade of the plant. It's a dangerous mission and if he's caught, it will mean the death sentence.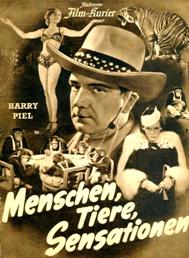 MENSCHEN, TIERE, SENSATIONEN (1938)
Im Zirkus Sarrasani kann der Artist Bobby Hansen den Dompteur Carlos gerade noch vor dem wildgewordenen Tiger Sultan retten. Da der schwer verletzte Carlos ins Krankenhaus muss, soll Bobby die Raubtierdressur übernehmen. Als Ersatz für seine Wild-West-Nummer engagiert der Zirkus die Hochseilartistin Fedora, die Ehefrau Bobbys, von der er jedoch seit einigen Jahren getrennt lebt. Aber als er Fedoras neuen spektakulären Trapezakt sieht, erwacht in ihm wieder die alte Leidenschaft. Bobbys alte Verehrerin Maja de Passy reagiert mit Eifersucht auf Fedoras Rückkehr, noch dazu als ihr Bobby erklärt, dass er seine Frau zurückgewinnen will. Zuvor muss er jedoch eine weitere Katastrophe verhindern, nachdem ein Schimpanse während der Vorstellung die Raubtierkäfige geöffnet hat. Bobby gelingt es, die Tiger wieder einzufangen. Die Aufregung hat ihn und Fedora wieder vereint, doch das gemeinsame Glück findet ein jähes Ende.
In Circus Sarrasani, the artist Bobby Hansen is able to save the animal trainer Carlos from a tiger on the rampage (wait: isn't this the plot to Konigstiger?!?). Since Carlos was sent to the hospital by the famous tiger-turned-author, Claude Balls, Bobby gets to play animal trainer (big step up from usher, huh?). As a replacement in the Wild West Number (what happened to the original performer?), the circus puts the highwire artist Fedora in the act (tiger bait). The artist is Bobby's wife, but no one knows they've been living apart for years (definitely tiger bait). When Fedora tries out a new spectacular trapeze act, some perverse attraction awakens in Bobby and he falls for her once more. Bobby's old admirer, Maja de Passy, reacts with jealousy when she sees Fedora in the ring (tiger licks lips), and becomes positively creepy after Bobby tells her (sadistically), that he wants to win back his soon-to-be tiger-eaten wife. Before reconciliation, however, comes retribution, as a chimpanzee, obviously jealous that Fedora likes Bobby and not him, opens the cage of another hungry tiger. Bobby succeeds in getting the tiger back in his cage; the event strangely turns on both Bobby and Fedora, who get back together; but the apparently happy ending has some more bad luck coming to it.
Für die populäre Kriminal-Kolportage von Herbert Selpin liefert Hans Albers in der Titelrolle seine bewährte Interpretation eines furchtlosen Draufgängers: Als US-Polizist Berry verschlägt es ihn von Chicago nach Mexico, wo er – getarnt als Ingenieur – gegen Drogenschmuggler ermitteln soll. Während Berry die Handlanger des Hauptverdächtigen Madison beschattet, erfährt er zufällig von einem Mordkomplott gegen den Großgrundbesitzer Don Antonio. Dessen zukünftiger Schwiegersohn Don José ist ebenfalls ein Komplize Madisons, doch allein Antonios Tochter Ramona glaubt Berrys Warnungen. Nachdem er mehreren Anschlägen und einer von Madison eingefädelten Verurteilung zum Tode knapp entgangen ist, flieht Berry gemeinsam mit Ramona in Richtung amerikanische Grenze, wo es zum Showdown mit Madisons Bande kommt.
Albers, as Sergeant Berry, the terror of the gangsters of Chicago, patrols urban streets, where blacks play jazz, shoots it out with criminals and leads a night club raid. So impressive is our genial hero, that he is sent off to catch dope smugglers in Mexico - an elaborate studio built village with cacti in the desert and a two storey hotel for the camera to track through. Hans gets to juggle a knife, skinny dip, shoot the Mexican heavy in the rump and start the cantina dance. He wins the villain's fiancée, even if our hero's grey haired mum, second billed von Bukovics, flies in, which might have spooked most potential romances. Good pacing and a breezy performance by our hero to go with this accomplished, smallish scale production.
.
.
Bei einer Notlandung mitten in der Wüste lernt die angehende Schauspielerin Barbara den Industriellen Thomas kennen. Nach ihrer Rettung leben beide bei Thomas in Berlin. Obwohl sie ihm ihre Liebe gesteht, bittet er seinen Bruder Werner, sich um sie zu kümmern, da er ganz in seiner Arbeit aufgeht und sich nicht binden will. Erst bei einer Auseinandersetzung mit dem Bruder erkennt Thomas, wie sehr auch er Barbara liebt, doch sie hat ihn verlassen. Jahrelang sucht er sie vergeblich, bis er sie, verheiratet, in New York wiedertrifft.
After an emergency plane landing in the desert, the actress Barbara gets to know the industrialist Thomas. After they are rescued, the two live at Thomas' place in Berlin. Although she confesses her love for him, Thomas asks his brother Werner to look after Barbara, because he, Thomas, is consumed by his work and doesn't wish to be bound to anyone. Only after a fight with his brother does Thomas realize how much in love with Barbara he really is; but by that time, she has left him. For years, Thomas searches in vain for her until one day he meets her in New York ... where she is now married.
.
.
Die junge aufstrebende Sängerin Vera Findteis wird während der Premiere als Zarin Katharina die Große auf der Bühne erschossen. Der "gespielte Schuss" gehörte zur Rolle ihres Partners Hans Günther. Doch nun muss sich Polizeirat Dr. Cornelsen, Leiter der Mordkommission, mit einem echten Fall befassen.
During her premiere as the Czaress Katherine the Great on the state, the young and ambitious singer Vere Findteis is shot. The pistol of her partner Hans Gunther was supposed to be loaded with blanks. But now, police investigator Dr. Cornelsen, the leading detective in the murder investigation, has to deal with anything but blanks.
Der Schauspieler Ralph Gregor tritt auf der Bühne in dem Stück "Casanova" auf, und alle erwarten, dass er auch im wirklichen Leben die Rolle des Casanovas erfüllt. Johanna Brinkmann, genannt Joe, versucht alles, um ihren Ehemann eifersüchtig auf Ralph zu machen. Doch Ralph ist tatsächlich mit seiner Kollegin Steffie liiert. Nach einem Streit mit ihr fährt er für eine Weile aufs Land und lernt dort die reizende Gertrud kennen, in die er sich verliebt. Kurzerhand macht er ihr einen Antrag und heiratet sie. Doch Steffie und Joe machen Ralph ausfindig, und Gertrud verlässt daraufhin erbost den ihr frisch angetrauten Ehemann.
The actor Ralph Gregor plays "Casanova" on the stage and everyone expects, that he also lives out the role in real life. Johanna Brinkmann, known as "Joe", tries everything to make her husband jealous of Ralph. Ralph, however, is actually dating his colleague Steffie. After a fight with her, he takes off on a short trip into the countryside and there gets to know the attractive Gertrude, with whom he falls in love. In short order, he proposes to and marries her. Soon, however, Gertude gets to know Steffie and Joe, who appear to know Ralph much better than they do, and Gertrude loses it.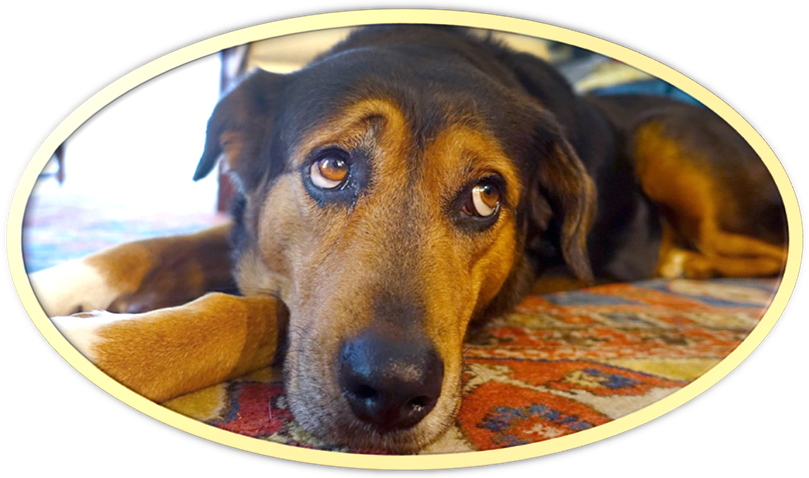 LOSTHOMELAND.COM SALES FOR A LIMITED TIME
WON'T YOU PLEASE GIVE ME A HOME!
Oh, my! You asked for more films and we're delivering on that request; but in doing so, room needs to be made for the many new DVDs and that means something has to go. Won't you please look at the following books listed at ridiculously low prices on our Losthomeland.com website and give them a new home, where they'll be appreciated and loved? Holy cow! You can even use your points and/or discount code to lower the prices even more! I know, it seems incredible, but everyone should have a forever home and now you can help make that happen! Just remember: like the wonderful dog shown above, availability is limited, so don't delay! YOU MAY ALSO MAKE OFFERS ON BOOKS NOT SHOWN IN THIS NEWSLETTER. JUST ASK US!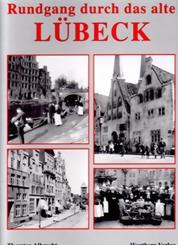 A TOUR AROUND OLD LUBECK * was $16.99; now $ 3.99 until 30 Jun *
64-paged photobook with pictures and views of Lubeck, its people and culture as they all looked like between 1847 and 1930.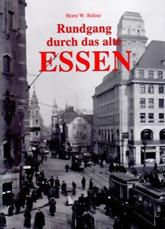 A TOUR OF OLD ESSEN * was $18.99; now $ 3.99 until 30 JUN *
64-paged photobook shows Essen, its people, landscapes and architecture from the Kaiserzeit til the 1940s, before it suffered horribly in the War.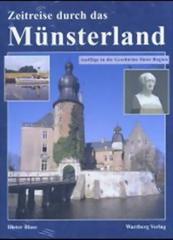 AN HISTORICAL TOUR THROUGH MUNSTER * was $17.99; now $ 3.99 until 30 JUN *
This 80-paged photobook with accompanying text highlights the historical points of interest and architecture of Munster and its surrounding environs.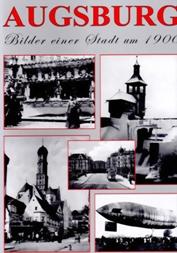 AUGSBURG – PICTURES OF A CITY AROUND 1900 * was $16.99; now $ 3.99 til 31 May *
64-paged photobook with pictures and text describing Augsburg as the city, people and culture all looked like around the turn of the 20th Century.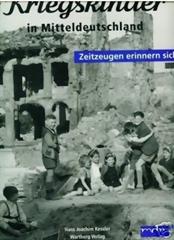 CHILDREN IN CENTRAL GERMANY REMEMBER THE WAR YEARS * was $22.99; now $ 3.99 til 30 JUN
Very moving, 2005 photobook with 64 pages of photos and testimonies from the children of Mitteldeutschland, who lived through the War years, the bombings and the recovery. Should be required viewing for anyone who thinks war is always the best and/or only answer.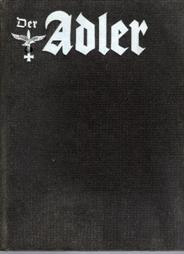 DOKUMENTATION ADLER – VOLUME 5 * was $16.99; now $ 3.99 til 30 JUN *
164-paged hardcovered photobook with excerpted articles from 1943-44 issues of Der Adler. Naturally, since this was put out in West Germany in the 1970s, the content is rather well censored, but still very interesting. Book is dusty (welcome to Arizona!), but otherwise in excellent condition.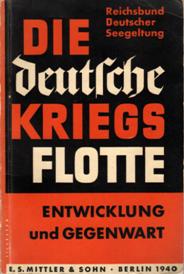 DIE DEUTSCHE KRIEGSFLOTTE (1940) * was $11.99; now $ 2.99 til 30 JUN *
64-paged book with charts, diagrams, pictures and text about the development and performance of the German Navy in the Second World War (with several pages of advertisements in the book's rear). Softcovered and in very good condition.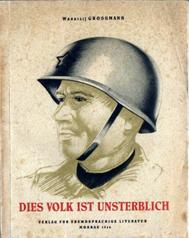 DIES VOLK IST UNSTERBLICH (1946) * was $9.99; now $ 0.99 til 30 JUN *
Postwar German translation (printed in Moscow) of the novel by Vasily Grossmann about the Great Patriotic War. Some age spotting.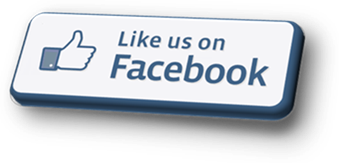 Thank you and the best to all of you,
RAREFILMSANDMORE.COM