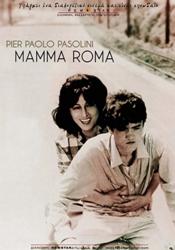 MAMMA ROMA (1962) * with hard-encoded English subtitles *
Having renounced her ignominious past, a former prostitute reunites with her son, but an extortion scheme endangers her aspirations for a decent bourgeois life. Can she protect him from the same snares that entangled her youth?
Philip Friend was a POW in a German camp. During an escape attempt, another POW told the Germans about it and four of his fellow escapees were killed; Friend was blinded. After working for more than a decade with the War Crimes commission in a failed attempt to track down the traitor, the case is closed and Philip gets a job. One day, while visiting a fashion salon, he hears the voice of the man he's been pursuing for a decade and a half. With the aid of dress model Diana Decker, he goes searching for the man.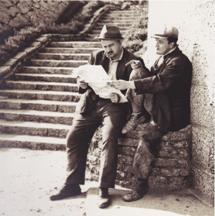 WORKERS, LET'S GO (1934) * with switchable English and Czech subtitles *
A Milk-Cannery baron, Jakub Simonides, is broken by the Canned Milk-Trust and, in his wanderings with a worker, Filip Kornet, he discovers he still owns a half-finished apartment-house. They rally the workers and complete the building for use as a collectivist dairy.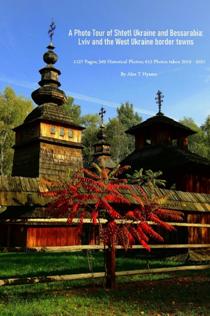 A PHOTO TOUR OF SHTETL UKRAINE AND BESSARABIA: LVIV AND THE WEST UKRAINE BORDER TOWNS (2022)
This volume consists of 1,127 pages, with 349 historical and 612 new photos (taken in the years 2019 - 2021). The photobook has been designed with the intent to show and inform the reader how Jewish heritage sights (and sites) in this part of Ukraine look like and what they can expect to see. Also provided are historical photos of interest, which show what Jewish life was like before the horrors of the Holocaust changed everything forever. Other sights of interest, which are not connected to Jewish history are also included. While not developed as a travel guide, those interested in visiting Ukraine will find this an invaluable resource, whether they're on a heritage tour or just want to sit at home and enjoy this glimpse into history. Especially valuable now that events in Ukraine might even result in the "new" photos becoming "obsolete". The table of contents below and the portion of the book's introduction will tell you what is covered in the E-book.
INTRODUCTION; What is Eastern Galicia?; Belz; Bibrka; Busovysko; Chervonohrad; Drohobych; Krakovets; Lviv;
Mykhailivka; Nemyriv; Potelych; Rava Ruska; Skhidnytsia; Sokal; Staryi Sambir; Stryi; Turka; Uhniv; Velykyi Lyubin'; Velyki Mosty; Yasenytsya-Zamkova; Zhovkva
The Paddington area of London, in July 1949: PC George Dixon, a long-serving traditional "cop" who is due to retire shortly, supervises a new recruit, Andy Mitchell, introducing him to the night beat. Dixon is anachronistic, unprepared and unable to answer the violence of Tom Riley. Called to the scene of a robbery at a local cinema, Dixon finds himself face-to-face with Riley, a desperate youth armed with a revolver. Dixon tries to talk Riley into surrendering the weapon, but Riley panics and fires.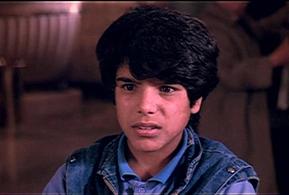 GUARDIAN ANGEL (1987) * with switchable English subtitles *
The Guardian Angel in this harrowing film is the one who doesn't protect Gypsy children from being sold into virtual slavery as gangs of organized beggars, pickpockets, and thieves all over Europe. Once "on the job", these young children are treated viciously, and even the mildest disobedience is met with extremely sadistic torture. However, in this film, even when someone from outside takes an interest in an individual child and tries to help him escape this situation, there is little he can do, because even when the boy is returned to his home village, he is persuaded to sell himself again so the family can eat.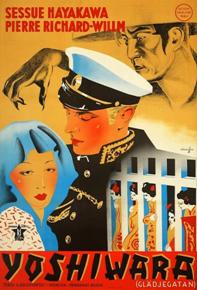 YOSHIWARA (1937) * with switchable English subtitles *
Yoshiwara is Tokyo's restricted area, where geishas ply their trade. In order to save their endangered family heritage, Kohana's parents send her into prostitution. There, she meets several characters, including Russian lieutenant Serge Polenoff and the coolie, Isamo. The love rivalry of the two men will end in tragedy.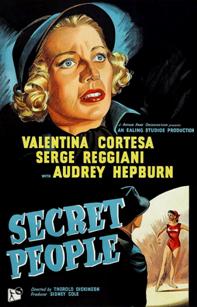 SECRET PEOPLE (1952) * with switchable English subtitles *
In 1930, Maria Brentano and her younger sister Nora flee to London, as their father is about to be executed by his country's dictator. Seven years later, Maria unexpectedly meets Louis, her childhood sweetheart, who is engaged in a plot to assassinate the dictator. Maria is persuaded to play an active part in the plan.
An unnamed single mother works as a prostitute to support herself and her baby son in 1930s Shanghai. One night, fleeing from a police sweep, she runs into the room of a thug called, "the Boss", (who then forces her to have sex with him in exchange for hiding her from the police. She agrees and later, the Boss, with two of his henchmen, tracks her down and claims her as his own private property. From then on, he steals all her earnings to finance his gambling habit. The mother attempts to flee, to avoid him and find a respectable job, by moving to a new apartment. However, after pawning her jewelry to buy a toy for her son, she returns home to find out that the Boss has tracked her down again. He threatens her, frightening her by claiming to have sold her son and the mother decides to submit to him again to retrieve her son. While living with the thug, she secretly stashes her nights' earnings behind a hole in the wall, in order to provide her son with an education. After years, she enrolls her son in a private school. But soon after, other kids at school begin to bully him and call him a "bastard" and the parents also learn that the boy's mother is a prostitute, which leads them to send reproachful letters to the school.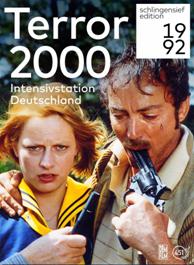 TERROR 2000 – INTENSIVSTATION DEUTSCHLAND (1992) * with multiple switchable subtitles *
Germany, right after the re-unification. The people are out of control; blind hatred towards immigrants is common sense. In this time, a social-worker, with the mission to bring a Polish family to their destination (an immigration camp in a little provincial town called Rassau), gets kidnapped together with the family. Chief inspector Koern and his girlfriend start to investigate this matter in Rassau, exploring a world of obsessive sex, mislead lust and an overwhelming irrational love for the German nation. Rascism doesn't start with shaved hair and boots but rather in the middle of society itself... origins unknown?
In 1940, despite the opposition of the commander-in-chief of the Combined Fleet, Isoroku Yamamoto and other officers, Japan signs the Tripartite Pact with Nazi Germany and Fascist Italy as it prepares for expansion in Southeast Asia. Masato Odagiri, son of shipwright Takeichi Odgairi, graduates from the Imperial Japanese Naval Academy. A year later, his friend, Eiichi Hongo, is promoted to naval lieutenant. During the attack on Pearl Harbor, Eiichi is in the raid as part of a Val dive bomber crew from the aircraft carrier Zuikaku. The raid is a success, but is tempered by the nonpresence of the American carrier fleet. In February 1942, the battleship Yamato is designated as Yamamoto's flagship, and Takeichi is drafted as a reservist. He is assigned to the ship as a launch pilot. Not long afterwards, the American navy launches a counterstrike in the Doolittle Raid. Following this, Yamamoto orders a massive naval strike at the American-held island of Midway, but the Japanese carrier force is met and sunk by the US carriers. Several months later, after the Guadalcanal campaign, Yamamoto is assassinated as American pilots intercept and shoot down his plane. Eiichi returns home to Japan and marries his fiancée, but is soon recalled to participate in the Battle of Leyte Gulf.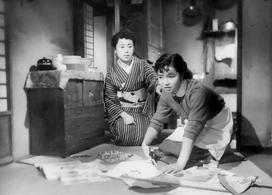 LATE CHRYSANTHEMUMS (1954) * with switchable English subtitles *
Late Chrysanthemums interweaves the lives of four retired geisha in Tokyo over a period of four successive days. Kin, the first of the geisha, is a moneylender and a merciless businesswoman, who is insistent upon being repaid by her former geisha sisters Tamae, Tomi and Nobu. Tamae and Tomi, both former geisha and widows, live together. Nobu, the fourth of the geisha, runs a restaurant with her husband, which is frequented by the other women.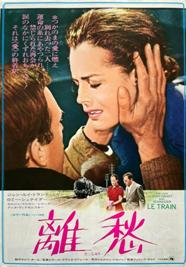 THE LAST TRAIN (Le Train) (1973) * with switchable English subtitles *
In May 1940, a packed train takes on refugees from a French village near the Belgian border fleeing advancing German forces. The passengers include Julien, a short-sighted radio repairer, his daughter and pregnant wife. The women are assigned to a carriage for women at the front, while he has to scramble into a cattle truck at the rear. There, he becomes entranced by a mysterious and beautiful young woman travelling alone. At a station, the train is split and he is separated from his wife and daughter. As his half of the train slowly continues across war-torn France, sometimes bombed and strafed by German aircraft, he and the silent woman gradually become intimate and eventually lovers. He learns that she is a German named Anna, that she is Jewish and that her husband was taken by the Nazis two years ago. When the train finishes at La Rochelle, he gets her fresh papers as his wife.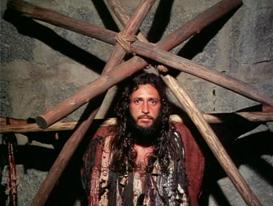 NIGHT OF THE SCARECROW (1974) * with switchable English subtitles *
In the miserable Northeastern Brazil, a ruthless land Baron wants to throw a poor farming couple off of their property. Please note that, in addition to graphic violence, there are scenes of animal cruelty.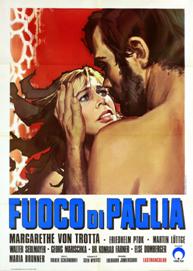 STROHFEUER (1972) * with switchable English subtitles *
A divorced woman in her thirties fights a losing battle in Munich to attain belated self-fulfillment. The die is cast in a briskly impersonal society geared to male dominance and early training for career women.
Elisabeth hat sich scheiden lassen, um damit endlich frei und selbstständig zu sein. Ihr Kind wird vorerst dem Vater zugesprochen. Elisabeths Versuch, sich mit einem Beruf zu "verwirklichen", führt zu einer bitteren Einsicht.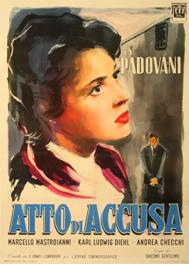 THE ACCUSATION (1950) * with switchable English and Spanish subtitles *
Renato and Irene meet secretly in the house of a seamstress. He was a prisoner in Russia for years and she, believing him dead, married Ruska, an old lawyer. In an attempt to surprise the lovers, Ruska shows up at the seamstress's house but kills the woman. Unfortunately, a neighbor sees only Renato leaving the house, who is then accused of the crime. Ruska also kills her neighbor and makes sure that this crime is also attributed to Renato, who decides to turn himself in and is defended by his rival, knowing he isn't guilty.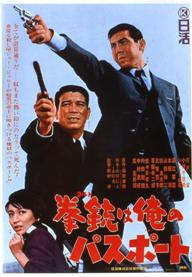 A COLT IS MY PASSPORT (1967) * with switchable English subtitles *
A hit man is hired to kill a mob boss. After the deed is done, he and his driver are wanted dead by rival gangs who joined forces.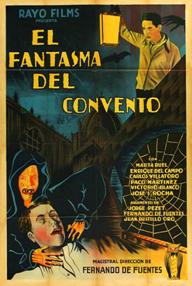 THE PHANTOM OF THE CONVENT (1934) * with switchable English subtitles *
Cristina, the wife of Eduardo, tries to seduce their friend, Alfonso. One night, they lose their way and are guided by a mysterious stranger to an eerie monastery. Over a meal, the old Father Superior tells them the story of a monk who seduced a friend's wife. When he died, the monk could not find peace in death and returned to his cursed cell. Alfonso, about to give in to Cristina's advances, finds the fateful cell and enters it. The sinful monk's mummified corpse gestures towards a book dripping with blood.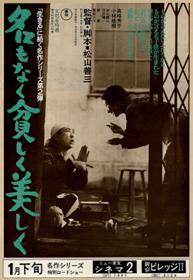 HAPPINESS OF US ALONE (1961) * with switchable English and Japanese subtitles *
Following the death of her husband in 1945, Akiko, a deaf-mute, returns to her mother's home. While attending the alumni meeting of her school, she meets Michio Katayama, also a deaf-mute, who falls in love with her. The young man persuades Akiko to marry him by convincing her that, through love and understanding, they can overcome their handicap. But their life is not a happy one. In postwar Japan, a shell-shocked society treats them like wayward children to be, at turns, pitied or exploited. Overly sensitive viewers may wish to ensure they take anti-depressants before watching.
HEAR THE WIND SING (1982) * with switchable English subtitles *
A student travels back to Kobe for the summer. Once there, he meets his friend Rat, hangs out at the usual places, listening to the Beach Boys and meets a mysterious girl.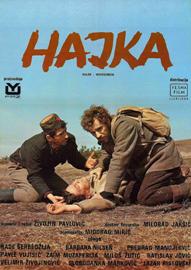 HAJKA (Manhunt) (1977) * with switchable English subtitles *
A disbanded communist partisan battalion draws the attention of the Chetniks, who originally set out to their headquarters, but now start hunting the battalion instead.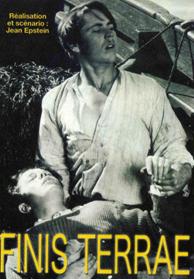 FINIS TERRAE (1929) * with switchable English subtitles *
On the islet Bannec, off the coast of Brittany, four fishermen have set up camp for three months to harvest seaweed. If processed correctly, the ash of the seaweed can be sold for high prices. The two youngest fishermen, Ambroise and Jean-Marie, begin brawling when Ambroise drops Jean-Marie's only bottle of wine. Ambroise cuts his thumb on a piece of glass. After the quarrel, Jean-Marie cannot find his knife and believes Ambroise has stolen it. At work the next day, Ambroise starts to feel weak. He discovers that the thumb is infected and swollen. He does not tell the others about it; instead, his attempts to hide the injury makes them accuse him of laziness and immature behavior. After a feverish night, Ambroise decides to sneak out and sail to Ushant to see a doctor, but the voyage fails due to low wind and a strong current.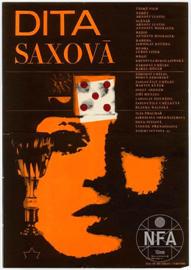 DITA SAXOVA (1968) * with switchable English and Czech subtitles *
A beautiful, underachieving, 18-year-old orphan considers various suitors, ponders philosophy, and takes a young girl under her wing.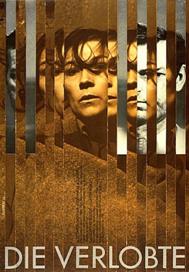 DIE VERLOBTE (1980) * with switchable English subtitles *
Germany 1934: The Communist Hella Lindau is engaged in the struggle against the Fascists with her friend Hermann Reimers. Although she realizes that fellow campaigner Irene is not up to the pressure and warns the others, her concerns are not taken seriously. Hella is sent by Hermann with a large amount of money to Irene, who, however, has betrayed the plan to their enemies. Hella is arrested, takes the blame and is sentenced to ten years in prison. She spends her first years in solitary confinement. Her only gateway to the outside world is a small window in her cell.
Deutschland 1934: Die Kommunistin Hella Lindau engagiert sich zusammen mit ihrem Freund Hermann Reimers gegen die Faschisten. Obwohl sie erkennt, dass Mitstreiterin Irene dem Druck nicht gewachsen ist, und die anderen warnt, nimmt man ihre Bedenken nicht ernst. Hella wird von Hermann mit einem hohen Geldbetrag zu Irene geschickt, die den Plan jedoch verraten hat. Hella wird verhaftet, nimmt die Schuld auf sich und wird zu zehn Jahren Zuchthaus verurteilt. Die ersten beiden Jahre verbringt sie in Einzelhaft. Ihr einziges Tor zur Außenwelt ist ein kleines Fenster ihrer Zelle.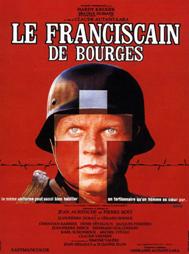 LE FRANCISCAIN DE BOURGES (1968) * with switchable English subtitles *
The dark hours of the Occupation in France.The Gestapo Is torturing prisoners --- some of whom are still almost children --- in a jail where a German priest is trying to ease their terrible pain.This man is a Franciscan Brother, but he is, above all, a man for whom all are brothers.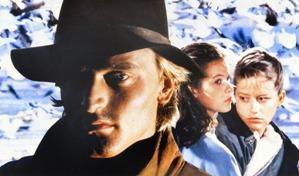 LES FOUS DE BASSAN (1987) * with switchable English subtitles *
When handsome, magnetic and a bit of a rogue, young Steven Brown returns to his hometown on the Gaspé peninsula in Quebec in 1936 after wandering around the world a bit, his added glamor sets many a female heart pounding. However, this same town is noteworthy for its claustrophobic air of moralistic repression, and one result of his return is an outbreak of crimes of passion, including a couple of rapes.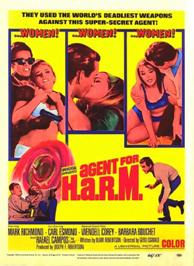 TWO FILM DVD: AGENT FOR HARM (1966) + A TASTE OF BLOOD (1967)
AGENT FOR HARM (1966):
Adam Chance works for an American agency, H.A.R.M. (Human Aetiological Relations Machine). He is assigned to protect Dr. Jan Steffanic, a recent Soviet defector who has developed a new weapon which fires spores that upon contact with skin slowly eat the body away. Following Dr Steffanic's arrival in the US, he is taken into protective custody by H.A.R.M. and is placed in a beach house along with his niece and Agent Chance to develop a spore antidote. Here he reveals the communists' real plan, which is to dust all of the American crops with these deadly spores.
A TASTE OF BLOOD (1967):
A Miami businessman, John Stone, receives a parcel from England containing two old bottles of Slivovitz from his recently deceased ancestor, and after drinking both bottles, becomes a vampire. Stone uses his newfound vampire powers to keep his wife, Helene, in a trance as he travels to England to kill the descendants of Abraham van Helsing who murdered Count Dracula. Meanwhile, Helsing's distant relative, Howard Helsing, pursues Stone with the intent to put the reborn vampire to rest for good.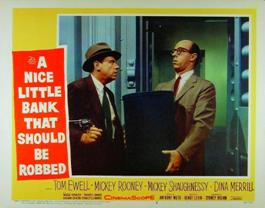 TWO FILM DVD: A NICE LITTLE BANK THAT SHOULD BE ROBBED (1958) + ALL-AMERICAN CO-ED (1941)
A NICE LITTLE BANK THAT SHOULD BE ROBBED (1958):
Auto mechanic Max Rutgers is spinning his wheels, going nowhere. He has been promising sweetheart Margie Solitaire for five years that they will marry, but wishes he had more money to support her. His best pal, Gus Harris, knows a lot about racehorses, but keeps flunking his exam to become a licensed trainer. Fed up, he and Max decide to rob a bank, succeeding in a heist of $28,000. They use the money to buy a horse, Tattooed Man, but an acquaintance, cabbie and bookie Rocky Baker, figures out how they got the money and wants to be cut in on a share.
ALL-AMERICAN CO-ED (1941):
Quinceton College Zeta fraternity stages a revue with members in drag. The resulting publicity catches the attention of newspaperman Hap Holden and Virginia Collinge. They convince Virginia's aunt Matilda Collinge, president of failing Mar Brynn (a woman's horticultural college), to refute the school's staid image by sponsoring a contest awarding a dozen free scholarships aimed at "unusual girls", winners of pageants for fruits, vegetables and flowers, as women most likely to succeed and to be showcased in a musical presentation during the Fall Festival. To publicize the contest, President Collinge pokes fun at Zeta members as being least likely to succeed and bans them from their campus. For revenge the Zeta chapter president Bob Sheppards coerced to infiltrate Mar Brynn by entering the contest as "Bobbie DeWolfe, Queen of the Flowers". After falling in love with Virginia, Bob comes clean and assists in staging the show, but includes in the finale a Busby Berkeley-style spelling out of "Zeta" as revenge for the ban.
TWO FILM DVD: A GUEST IS COMING (1947) + CLOUDBURST (1951)
A GUEST IS COMING (1947):
It's Christmas. The owner of an old mansion decides to tell his family he's going to sell it. The following morning he's found murdered.
CLOUDBURST (1951):
A Canadian World War II veteran working for the British Foreign Office scours England for the killer who murdered his wife.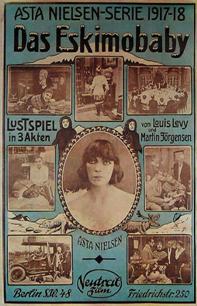 TWO FILM DVD: BLACKMAIL (1929) + DAS ESKIMOBABY (1918)
BLACKMAIL (1929):
Scotland Yard Detective Frank Webber escorts his girlfriend Alice White to a tea house. They have an argument and Frank storms out. While reconsidering his action, he sees Alice leave with Mr. Crewe, an artist she had earlier agreed to meet. Crewe persuades a reluctant Alice into coming up to see his studio. She admires a painting of a laughing clown, and uses his palette and brushes to paint a cartoonish drawing of a face; he adds a few strokes of a naked feminine figure, and guiding her hand, they sign the picture with her name. He gives her a dancer's outfit and Crewe sings and plays "Miss Up-to-Date" on the piano. Crewe steals a kiss, to Alice's disgust, but as she is changing and preparing to leave, he takes her dress from the changing area. He attempts to rape her; her cries for help are not heard on the street below.
DAS ESKIMOBABY (1918):
A young explorer brings Eskimo Ivigtut to his parents in Berlin. After experiencing Western culture, she finds herself pregnant but the explorer comes to her rescue.
Prince Wolfram is the betrothed of mad Queen Regina V of Kronberg. As punishment for partying with other women, he is sent on manoeuvres. He sees Kitty Kelly walking with other convent students and flirts with her. She is embarrassed, when he makes a comment after seeing that her underwear is visible, so she takes it off and throws it at him, to the horror of the nuns, who punish her for her "indecency". Enthralled by her beauty, he kidnaps her that night from the convent, takes her to his room and professes his love for her.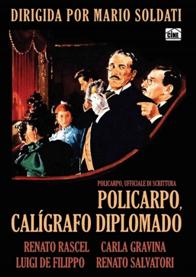 POLICARPO (1959) * with switchable English subtitles *
Policarpo De 'Tappetti is a modest ministerial employee of Umbertine Rome: he is precise and diligent, but his excesses of zeal attract him the antipathy of Cavalier Cesare Pancarano di Rondò, his severe head of office, as well as an aristocratic aristocrat, convinced that he is related to the reigning Savoy dynasty, which is why he spends good money on complex genealogical research in order to ascertain its veracity. The respective families of the two meet by chance while walking along the Pincio, and Pancarano di Rondò's son, Gerolamo, falls in love with Celeste, the young and pretty daughter of Polycarp; the girl appears rather perplexed, but she agrees to become engaged to him at the insistence of her parents, who foresee for her a brilliant marriage. Cavalier Pancarano di Rondò, however, does not look favorably on the bond between the two, since, considering himself to be of noble lineage, he would like to see his son married to a young lady of the great world.
In 1938, refugee Peter Vadassy decides to take a holiday at the Hotel Reserve to celebrate both his completion of medical school and his impending French citizenship. When he goes to pick up some photographs at the local pharmacy, he is taken away and questioned by Michel Beghin of French naval intelligence. When his negatives were developed, some of them turned out to be of French military installations. It is discovered that while the camera is the same make as Peter's, the serial number is different. Peter is released on condition that he find out which other hotel guests have cameras like his. Peter does some snooping and eavesdrops on a suspicious conversation between Paul Heimberger and the hotel's proprietor, Madame Suzanne Koch. He searches Heimberger's room and finds several passports, all with different names and nationalities.
TWO FILM DVD: CORRIDORS OF BLOOD (1958) + THE HEADLESS HORSEMAN (1957)
CORRIDORS OF BLOOD (1958):
An 1840s British surgeon, Dr. Thomas Bolton experiments with anesthetic gases in an effort to make surgery pain-free. While doing so, his demonstration before a panel of his peers ends in a horrific mishap with his patient awakening under the knife; and he is forced to leave his position in disgrace. To complicate matters, he becomes addicted to the gases and gets involved with a gang of criminals, led by Black Benand his henchman Resurrection Joe. Unfortunately, this shady partnership leads Bolton to further ruin, culminating in his unwitting participation in murder.
THE HEADLESS HORSEMAN (1957):
A mysterious stranger on horseback rides into an unnamed Mexican town for an unknown purpose. The superstitious locals soon begin to talk of a legendary gunfighter with the speed to outdraw even the fastest hand. Tensions begin to rise as the stranger leaves a trail of bodies in his wake.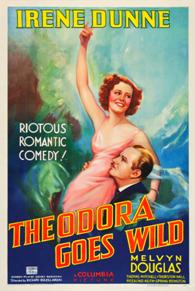 THEODORA GOES WILD (1936) * with switchable English subtitles *
Theodora Lynn is a Sunday school teacher and former church organist in Lynnfield, Connecticut. She also happens to be, under the pen name Caroline Adams, the secret author of a sensational, bestselling book replete with sexual innuendo that has the straight-laced all-female Lynnfield Literary Circle in an uproar. The book is serialized in the local newspaper, and the Literary Circle, led by outraged busybody Rebecca Perry, forces the newspaper's owner Jed Waterbury to stop printing the salacious installments. Theodora travels to New York City on the pretext of visiting her black sheep Uncle John, but actually goes to see her publisher Arthur Stevenson. Though Stevenson reassures an anxious Theodora that only he and his secretary know her identity, his wife Ethel pressures him into an introduction, which the book's illustrator Michael Grant overhears. Intrigued, Michael invites himself to a sumptuous dinner with the Stevensons and Theodora. Theodora becomes annoyed when Michael smugly assumes that she is a teetotaler, so she orders a whiskey. As the night goes on, she becomes drunk. So does Ethel, forcing Arthur to take her home and leaving Theodora alone with Michael in the posh restaurant. When he brings her to his apartment and then makes a pass at her, she panics and flees, much to his amusement. Michael tracks her to her hometown, and his whistling is immediately noticed outside her house. Because she technically is not supposed to know anyone outside of Lynnfield, he coerces her into hiring him as a gardener, thus scandalizing her and providing Rebecca Perry with ample information for gossip.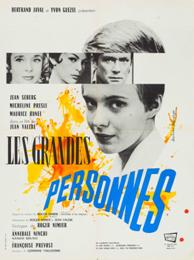 TIME OUT FOR LOVE (1961) * with switchable English and French subtitles *
Ann, a 19 year old American, arrives in Paris to visit her uncle, a doctor, but soon finds herself taking care of a professional woman who is recovering from a suicide attempt and a broken heart. Ann slowly builds up a hatred for the man who drove her charge into such a desperate state, but then begins to waver after contact with him. Aside from this association, she meets a different crowd than the one she knew back home in Nebraska, and changes in her attitude, dress, and hairstyle are the result. These alterations only lead her into trouble, as she starts an affair with the very man she had hated earlier.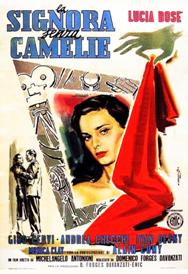 THE LADY WITHOUT CAMELIAS (1953) * with switchable English subtitles *
A young shop assistant named Clara Manni is selected by movie executive Gianni for his new film, Woman without Destiny. When test screenings reveal that the public is enamoured with Clara, but less enthusiastic about the film itself, the producer sees an opportunity to take advantage of the actress' shapely presence and spice the film up a bit, with less attention to detail and more overt displays of passion. Clara becomes compromised when she marries Gianni, who becomes jealous over the provocative marketing for her film, and categorically states that he doesn't want her involved with it anymore.

You may have missed these titles
During Carnival in Mainz in 1913, a young man shows up at the city's cathedral to confess. But before he's able to begin, he collapses in the confessional with a knife in his back. At the same time, Adelbert Panezza is preparing himself for his role as the Carnival Prince during "The Time of Fools". His children Jeanmarie and Bettine observe his efforts with amusement, and in the midst of all the chaos, Viola Toralto, a pretty girl from the Italian side of the family, shows up. Jeanmarie falls in love with her, but soon realizes she's in possession of a bracelet, which bears a similar insignia to the one on the knife used in the murder. Things get even hotter, when it turns out that the murdered man was Panezza's illegitimate son.
Am Fastnachtssamstag des Jahres 1913 kommt ein junger Mann in den Mainzer Dom, um zu beichten. Doch ehe er beginnen kann, sackt er im Beichtstuhl mit einem Messer im Rücken zusammen. Zur gleichen Zeit bereitet sich Adelbert Panezza auf die "närrische Zeit" und seine Rolle als Fastnachtsprinz vor. Seine Kinder Jeanmarie und Bettine beobachten sein Treiben wohlwollend, aber spöttisch, und im Trubel taucht unverhofft Viola Toralto, ein hübsches Mädchen aus dem italienischen Zweig der Familie, auf. Jeanmarie verliebt sich in sie, muss aber feststellen, dass sie ein Armband besitzt, dass ähnliche Insignien trägt wie die Tatwaffe in dem Aufsehen erregenden Mordfall. Die Lage spitzt sich zu, als sich herausstellt, dass der Ermordete Panezzas unehelicher Sohn war.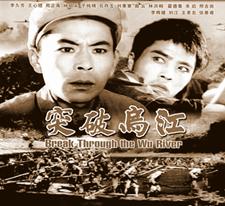 BREAK THROUGH THE WU RIVER (1961) * with switchable English subtitles *
By the end of 1934, an advance unit of the Red Army's 1st Army approached the Wujiang River after a lightning fast offensive. Known since ancient times as a formidable natural barrier, the Wujiang River, with its steep banks on both sides and its deep, rapid current, seemed an unconquerable barrier to the Red Army's plans to take Zunyi from the Nationalists. But before the Red Army arrived, the Nationalists and their allies looted Zunyi: the villagers were robbed of their clothing and food; the young men were forcibly conscripted; houses were torched and the ferry destroyed to prevent its use by the Reds to cross the river. In support of the oppressed masses, the Red Army's vanguard started a crossing of the river. But the river's natural obstacles, formidable as they were, were not the only burdens facing the Communists: their enemy, it seems, was still in the village and they had no intention of letting the Reds get across.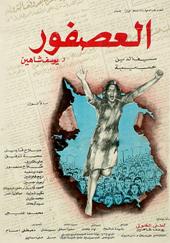 THE SPARROW (Al-asfour) (1972) * with switchable English subs *
Set during 1967's Six-Day War between Israel and the United Arab Republic, the film follows a young policeman trying to unearth government corruption. The task isn't made any easier looking after his father and half-brother, a journalist and soldier trying to affect change on the home front while dealing with corruption on his own. The film was a reaction to the defeat at the hands of the Israelis a mere five years before. Its nuanced message proclaims that the Arabs were doomed to lose even before a shot was fired, because internal corruption and rot undermined the people's ability to prevail.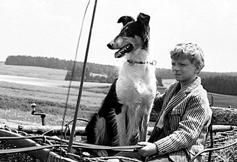 LONG LIVE THE REPUBLIC (1965) * with switchable English subs *
Growing up during Germany's World War II occupation of Czechoslovakia, 12-year-old Oldrich is regularly beaten by his disciplinarian father and tormented by the village children. An animal lover who endangers his life to rescue his horse, Julina, from the Nazis, Oldrich's only friend is Cyril, who raises dogs. As the war comes to an end, Soviet troops liberate the city -- but their arrival does not bring an end to Oldrich's troubles.
Hugo's a civil servant who's already been divorced twice, which isn't exactly something his superiors are thrilled about. He and two friends, dye-in-the-wool bachelors, move into a large apartment and swear to one another, that they'll never get married. As is to be anticipated, that oath doesn't last very long. While his two buddies get the hots for Hugo's two ex-wives, Isabella --- who just left her bridegroom at the altar --- is busy consoling the only one of the three without a new toy.
Hugo ist Standesbeamter und schon zweimal geschieden, was man in der Behörde nicht unbedingt gerne sieht. Er und zwei Freunde, eingefleischte Junggesellen, beziehen gemeinsam eine große Wohnung und schwören einander, nie wieder zu heiraten. Natürlich geht der Plan schief: Während seine Freunde Gefallen an Hugos beiden Ex-Frauen finden, tröstet Hugo Isabella, die ihr Bräutigam auf dem Standesamt sitzengelassen hat. – Klamauk mit Peter Alexander, Neuauflage von "Paradies der Junggesellen".
.
...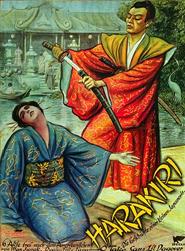 Daimyo Tokujawa comes back home to Nagasaki from Europe where he was Japanese ambassador. His daughter O-Take-San is stalked by her uncle the Bonze and his temple servant Karan. While the Bonze intends to consecrate her as a priestess of Buddha, Karan intends to make her a geisha in a Teahouse. The Bonze sends the Mikado a letter pretending that the Daimyo, influenced by Western culture, is conspiring against him. Three weeks later, while Tokujawa is giving a big party to celebrate Fallen Leaves, the Mikado sends him a sword, meaning that he is intended to commit Hara-Kiri and he dutifully complies. While O-Take-San is waiting in the Holy Forest to be initiated as Buddha Priestess, Danish Naval officer Olaf Jens Anderson breaks in and falls in love with her. The Bonze locks her in a cave but Karan frees her and brings her to a Teahouse where she becomes a geisha. There she meets Anderson again and he decides to marry her for 999 days in the Japanese tradition, with the right to divorce her whenever he wants. O-Take-San is very happy with Anderson, but after just one year he is called back home. O-Take-San, who has got a son from him after his departure, waits for his return, but Anderson does not return to her. Prince Matahari wants to marry her but she says that she will always be married to Olaf. After four years, the day comes when her marriage under Japanese law has expired. She must go back to the Teahouse and her child will be taken by the State. This is when Olaf comes back to Nagasaki. At his side stands his wife Eva, whom he married in the meantime in Copenhagen. Eva is told about O-Take-San and that her boy will be taken by the State and she declares that she is ready to take care of the child. She goes to see O-Take-San who is devastated by the fact that Olaf will not even come to see her. She tells Eva that she will only give her son to Olaf himself. While Eva tries to convince Olaf to come with her, O-Take-San commits Hara-Kiri, with the same sword as her father.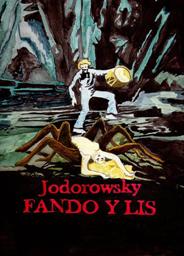 FANDO Y LIS (1968) * with switchable English subtitles *
Filmed in black and white and with a very low budget, the film follows Fando and his paraplegic lover Lis as they make their way through a grim, post-apocalyptic landscape searching for the town of Tar. The mythical town is rumored to make all of your dreams come true. Along the way, they meet up with a very strange cast of characters. They come upon a ruined town where the women try to lure Fando into sex games and Lis is forced to fend for herself. Other scenarios involve people bathing in mud, where Fando leaves Lis to stand on her own for a while; a group of cross-dressers, who dress Fando and Lis in each other's clothing in a surreal gender bending scene; and a rather unsettling scene where Fando undresses Lis and allows strange men to touch her naked body. One sequence in particular involves four old women playing cards, with the winner of each hand getting up close and personal with a young, buff man. By the time the film reaches its conclusion, Lis has been transformed into a Christ-like figure.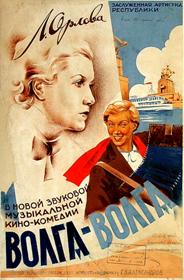 VOLGA-VOLGA (1938) (COLORIZED) * with switchable English subs
The musical extravaganza about a provincial mail carrier, who rises to stardom thanks to her instant hit song about the Volga River. It's a rags-to-riches story with the overly gregarious and cheerful letter carrier "Strelka" (Arrow) from the small town of Melkoretchensk unexpectedly being a very talented, amateur performer. The local chief bureaucrat -- who looks and acts enough like Khrushchev to have made Stalin remark as much and laugh about it at every screening of the film -- has received a request to send local talent to the Moscow Artists' Olympiad; but in spite of ample evidence to the contrary, he's convinced the small town has no talent at all ... that is, until a local orchestra competing with Strelka's group convinces the bureaucrat to take the off-pitch band to Moscow and present it as being his own brainchild. Undeterred, Strelka and her band race the competition to the capital ... only to find that the master hit she anonymously wrote is already known by everyone there!
Volga-Volga was Joseph Stalin's favorite film ever. He and his cronies watched it in the Kremlin's private theatre while Stalin fought his famous chronic insomnia. In 1942, Stalin sent a copy of Volga-Volga to American president Franklin Roosevelt. A prime example of exhilarating Soviet propaganda, Volga-Volga has been under extensive critical scrutiny for its exaggerated and idealized representation of Soviet provincial life; but even so, the film still remains very entertaining and quite amusing.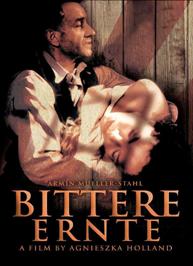 ANGRY HARVEST (1985) * with switchable English & Spanish subs *
The film begins in the Winter of 1942/43. The Wehrmacht has occupied almost all of Europe. In Upper Silesia, Jewish medical student Rosa Eckart manages to escape out of a cattle car transporting deported Jews to the death camps. But during her escape, she loses sight of her husband and child. At first, she hides in a forest. Then, she runs into a Polish farmer, Leon. Leon is an older man and a bachelor. He decides to hide the young and pretty woman. Sympathetically, he cares for the feverish girl and nurses her back to health. Leon is a deeply religious Catholic, who once wanted to become a priest. Only his aversion to celibacy prevented him doing this. He suffers because of his loneliness and this has alienated him even more from his neighbors. Rosa quickly becomes his only hope to end this life of isolation. He forces her to become his lover. For her part, Rosa feels compelled to acquiesce to the arrangement, as her only alternative is death at the hands of the Germans. In the beginning, her only thought is to flee. But as the days become weeks, and the weeks months, she begins to get used to this unique relationship. Nevertheless, she continues to long for freedom, while Leon thinks only of marriage. Eventually, Leon fears that the hideout may be compromised and he might lose the girl. He decides to quickly find a new place for her to hide. When he eventually succeeds in finding a place, Rosa becomes convinced he's betrayed her to the Germans and takes her life.
Der Film beginnt im Winter 1942/1943. Die deutsche Wehrmacht hat fast ganz Europa besetzt. Die jüdische Medizinstudentin Rosa Eckart flieht in Oberschlesien aus einem Güterzug, der sie in ein Konzentrationslager bringen sollte. Auf der Flucht verliert sie ihren Ehemann und den Sohn aus den Augen. Zunächst versteckt sie sich in einem Wald. Dann trifft sie auf den polnischen Bauern Leon. Leon ist ein älterer Mann und Junggeselle. Er entschließt sich, die hübsche junge Frau zu verstecken. Zunächst pflegt er die an Fieber leidende Frau aus Mitleid gesund. Leon ist ein erzkatholischer Mann, der eigentlich Priester hatte werden wollen. Doch nur der Zölibat ist ihm von diesem Wunsch geblieben. Er leidet an seiner Einsamkeit und ist dadurch auch für seine Nachbarschaft ein befremdlicher Mann geworden. Rosa wird schnell seine einzige Hoffnung, diesem einsamen Leben zu entfliehen. Leon zwingt Rosa, seine Geliebte zu werden. Rosa sieht sich dieser Beziehung ausgesetzt. Ihre einzige Alternative ist der sichere Tod. Zu Beginn denkt sie noch darüber nach, zu fliehen. Doch aus einem Tag werden schließlich Wochen und Monate, die sie zwar im sicheren Versteck, doch in eigenartiger Beziehung, verbringt. Während Rosa sich nach Freiheit sehnt, träumt Leon von Hochzeit. Gleichzeitig befürchtet er allerdings auch, dass das Versteck auffliegt und er die liebgewonnene Rosa verliert. Er sucht ein neues Versteck für sie. Als er dies gefunden hat, denkt Rosa, dass Leon sie an die Deutschen verraten hat und nimmt sich das Leben.
An explosion shatters the façade of a bank building; crime kingpin Bull Weed has "closed another account." He emerges from the wreckage carrying his swag; but while making his getaway, he spots a derelict wandering past, a potential witness, despite his apparent inebriated state. Instead of killing him, Weed knocks him cold, throws him in his car, and takes off, intending to figure out later what to do with his unexpected "guest." He takes a liking to the erudite but totally dissolute man, christening him "Rolls Royce" and keeping him around as an elegant stooge, advisor, and sometime driver. The man is only too happy to be taken off the streets and set up in an apartment with a full library of books at his disposal, and the two men's relationship is harmonious and mutually beneficial -- the former derelict has a home, and the crime boss gets smart advice. Weed's most notable rival is vicious hood "Buck" Mulligan, who doesn't like Weed and also covets his girlfriend, "Feathers" McCoy. Rolls Royce is also drawn to Feathers, who is, in turn, attracted to the gentle, witty man; however, out of decency to Bull, who has been a benefactor in his own way to both of them, they agree to stay away from each other. This drives Rolls Royce back to the bottle part of the time. Weed and Mulligan finally have it out during the underworld's annual drunken bacchanal. Mulligan tries to take advantage of his rival's passing out in a stupor by having his way with Feathers, but Bull awakens with help from Mulligan's jealous girlfriend and Rolls Royce, and proceeds to rescue Feathers and finish Mulligan -- an act that gets him charged with murder, convicted, and sentenced to die. Feathers and Rolls Royce, with the help of Bull's gang, try to help him break out on the eve of his execution, but their plan fails. Bull manages to escape on his own, though, and goes seeking revenge against Feathers and Rolls Royce, whom he believes have betrayed him.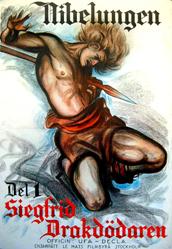 2 DVD SET: DIE NIBELUNGEN (1924)
The title character Siegfried masters the art of forging a sword at the shop of Mime. On a journey home, Siegfried hears tales of Kriemhild, the princess of Burgundy. En route to Burgundy, Siegfried slays the dragon Fafnir, and bathes in his blood. This makes him invulnerable to attack — except for one spot on his shoulder blade which is missed after being covered by a falling leaf. Soon after, the powerful Siegfried encounters and defeats Alberich, King of the Dwarves, and obtains an invisibility cap. After finding the treasure of the dwarfs, Siegfried arrives in Burgundy. Siegfried wins the love of the beautiful princess Kriemhild, but cannot marry her until he has helped Kriemhild's brother, King Gunther, to marry Queen Brunhilde. With Siegfried's help, Gunther beats the powerful Queen in a battle of strength and wins her as his wife, while Siegfried weds Kriemhild. After finding out about Siegfried's role, Brunhild plots to have him killed; she makes up lies about him to the King and Gunther's uncle, Hagen von Tronje, finding Siegfried's weak spot, pierces it with a spear. After confessing her lies, Brunhilde kills herself.
Kriemhild vows to avenge her murdered husband, as her brother is too weak to bring the murderer, Hagen, to justice. In a marriage-of-state, she marries Etzel, King of the Huns. At the wedding feast, she imprisons the Burgundian guests and orders them to kill Hagen, who is among them, to obtain freedom. They refuse and defend the place they are staying in against the assaults sent by Kriemhild until all are dead.
Secret Mission is a 1942 British drama film directed by Harold French and starring Hugh Williams, James Mason, Carla Lehmann and Roland Culver. A team of British agents investigate the German military's defenses in Normandy while working with the local French Resistance.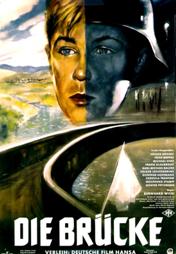 DIE BRUCKE (1959)* with switchable English subs *
Winner of the 1960 Golden Globe Award, this is the world-famous film about 8 teenagers drafted into the Wehrmacht shortly before War's end and given the nonsensical order to defend their town's only bridge from being overrun by American tanks. Filled with patriotic enthusiasm, they go to their posts with the firm belief, that they will succeed in their mission. However, as one-by-one they lose their lives to the determined Americans, they start to realize the senselessness of their orders. One of the best anti-war films of its time.
Bernhard Wickis berühmter Kriegsfilm wurde mehrfach ausgezeichnet und u.a. für den Oscar nominiert. Er erzählt von den letzten Kriegstagen 1945 in einer bayerischen Kleinstadt, in der sieben noch minderjährige Jungen den militärisch sinnlosen Befehl erhalten, eine Brücke vor den anrückenden US-Truppen zu verteidigen. Der einzige Erwachsene dieser Mission, Unteroffizier Heilmann, überlebt nicht lange. Allein mit ihrer Aufgabe werden die Schuljungen, einer nach dem anderen, ihr Leben lassen. Am Ende wird nur einer von ihnen die Brücke überleben.
VOLGA-VOLGA (1938) (black-and-white)* with switchable English subs *
The musical extravaganza about a provincial mail carrier, who rises to stardom thanks to her instant hit song about the Volga River. It's a rags-to-riches story with the overly gregarious and cheerful letter carrier "Strelka" (Arrow) from the small town of Melkoretchensk unexpectedly being a very talented, amateur performer. The local chief bureaucrat -- who looks and acts enough like Khrushchev to have made Stalin remark as much and laugh about it at every screening of the film -- has received a request to send local talent to the Moscow Artists' Olympiad; but in spite of ample evidence to the contrary, he's convinced the small town has no talent at all ... that is, until a local orchestra competing with Strelka's group convinces the bureaucrat to take the off-pitch band to Moscow and present it as being his own brainchild. Undeterred, Strelka and her band race the competition to the capital ... only to find that the master hit she anonymously wrote is already known by everyone there!
Volga-Volga was Joseph Stalin's favorite film ever. He and his cronies watched it in the Kremlin's private theatre while Stalin fought his famous chronic insomnia. In 1942, Stalin sent a copy of Volga-Volga to American president Franklin Roosevelt. A prime example of exhilarating Soviet propaganda, Volga-Volga has been under extensive critical scrutiny for its exaggerated and idealized representation of Soviet provincial life; but even so, the film still remains very entertaining and quite amusing.
Since the death of their parents, four brothers and three sisters, ranging in age from 10 to 24, have lived all alone in their large villa in Grunewald, which also was home to the veterinary practice of their father. Martina has taken over the parental responsibilities, since she is the eldest and self-confidently in control of her siblings. This paradisal freedom comes to an abrupt end when the guardian of the seven, Professor Sedelmann, decides to rne out the parlor and laboratories of their father ... otherwise the debt-ridden house would have to be sold. The children rebel against this outrageous interference in their affairs. At first, they're able to scare off prospective clients until Martina's boss, the veterinarian Dr. Hoflin, takes over the deceased father's practice.
Seit dem Tod ihrer Eltern leben vier Brüder und drei Schwestern im Alter zwischen zehn und 24 Jahren ganz alleine in einer großen Grunewalder Villa, die auch die Tierarztpraxis des Vaters beherbergte. Die elterlichen Pflichten hat Martina, die selbstbewusste älteste Schwester der Rasselbande, übernommen. Die paradiesische Freiheit der Kinder findet ein jähes Ende, als der Vormund des Siebener-Gespanns, Professor Sedelmann, beschließt, die Sprechzimmer und Laboratorien des Vaters zu vermieten – ansonsten müsste das mittlerweile verschuldete Haus verkauft werden. Die Kinder rebellieren heftig gegen diese unverschämte Einmischung in ihre Angelegenheiten. Zunächst gelingt es ihnen auch, die Mietinteressenten zu vergraulen, bis Martinas Chef, der Tierarzt Dr. Höflin, die Praxis des toten Vaters übernimmt.
.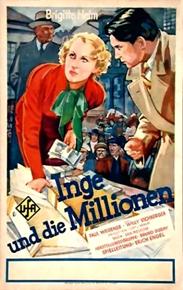 INGE UND DIE MILLIONEN (1933) * with switchable English subtitles *
Unscrupulous Berlin businessman, Seemann, abuses his unsuspecting secretary and girlfriend Inge, having them transport foreign exchange illegally to Switzerland. When one day she's once again on her way to Switzerland with a suitcase full of millions of Marks, she is jostled by Walter, an employee of a Berlin transport company, who immediately falls in love with her. Inge discovers the money in her suitcase by pure chance and becomes suspicious. When, through the machinations of her boss, the company Walter works for goes under and its owner commits suicide, Inge denounces her boss.
Der skrupellose Berliner Geschäftsmann Seemann missbraucht seine ahnungslose Sekretärin und Freundin Inge für illegale Devisen-Schiebereien in die Schweiz. Als sie eines Tags wieder einmal mit einem Koffer voller Millionen unterwegs ist, wird sie von Walter angerempelt, dem Angestellten eines Berliner Transportunternehmens, der sich sofort in sie verliebt. Durch Zufall entdeckt Inge das Geld in ihrem Koffer und wird misstrauisch. Als durch die Machenschaften ihres Chefs der Transportunternehmer, für den Walter arbeitet, ruiniert wird und Selbstmord begeht, zeigt Inge sich selbst an.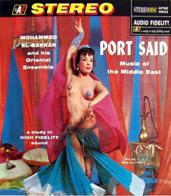 CD: PORT SAID (Mohammed El-Bakkar) (1959)
Redigitalized CD-R of Audio Fidelity's album Port Said released in 1959.
The farmers on the Lohhof, the largest farm in the area, are well known all around and have the highest prestige amongst their peers, not the least, because they never suffer any shortage of water. When in times of drought the water everywhere else has dried into nothingness, the water on the Lohhof is abundant and fresh. But one very dry summer, the drought comes to the Lohhof, too, and this time, the source of the water has dried up. And so, with diving rod in hand, one of the farm's old peasants goes on his merry little way to find a new source of water. At one point, the diving rod bends so strongly, that it almost slips out of the old man's hands. Convinced that there must be a huge source of water nearby, all the farmers of the Lohhof bend their backs to find the new well. They dig long, but they dig in vain: no water is found, only a strange sand, which is yellowish, shiny and flickers golden in the sun.
Seit Jahrhunderten kennt man auf dem Lohhof, dem größten in der ganzen Umgebung, dessen Bauern immer das meiste Ansehen unter ihresgleichen genossen, keinen Wassermangel. Wenn in Zeiten großer Dürre überall das Wasser versiegt, dann plätschert der Quell auf dem Lohhof immer noch frisch. Heuer aber, in dem heißen, trockenen Sommer, tritt zum ersten Mal auch Wassermangel auf dem Lohhof ein. Der Quell versiegt. Der Lohhofbauer lässt den alten Lusinger, einen Wünschelrutengänger, kommen, daß er dem Hof eine neue Quelle suche. Der alte Lusinger geht mit seiner Wünschelrute durch die Gegend. Die Rute schlägt so stark aus, daß sie fast seinen Händen entglitten wäre. An dem Platz, meint er, muss Wasser sein. Alle verfügbaren Arbeitskräfte auf dem Lohhof graben nun eifrig nach dem kostbaren Gut. Sie graben lange, sie graben vergeblich. Wasser wird nicht gefunden, nur ein seltsamer Sand, gelblich. golden glänzend, flimmert.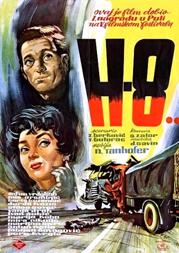 H-8 (1958) * with hard-encoded English subtitles *
A bus and a truck are moving towards each other along a two-way traffic highway on a rainy day. At the very beginning, we learn that a reckless driver of another car will cause them to collide while trying to pass the bus; we even learn what seats will spell doom for their occupants. The rest of the movie follows two streams of events --- one on the bus and one on the truck --- allowing us to get to know a wide variety of characters; wondering which ones will end up being casualties and holding our breath for our favorites. The epilogue brings even more surprises.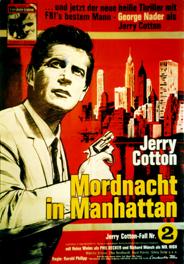 MORDNACHT IN MANHATTAN (1965) * with switchable German and English audio tracks *
12-year old Billy's an eyewitness to the murder of a restaurant owner. The victim refused to pay protection money to the $100-Gang and suffered the consequences. Now Billy's life is in danger, as he's the only person who can identify the mob leader. Jerry Cotton has to protect Billy and, at the same time, track down the murderers. The mob boss is smart enough, however, to eliminate all traces of his existence and to kill anyone who might betray him. Jerry Cotton's only chance is to set a trap for him ... and use the kid as bait.
Der 12-jährige Billy wird Augenzeuge eines Mordes an einem Restaurantbesitzer. Das Opfer hatte die monatlichen "Schutzgebühren" der berüchtigten Hundert-Dollar-Bande verweigert und musste teuer dafür bezahlen. Das Leben des kleinen Billy schwebt in akuter Gefahr, denn er ist der einzige, der den Chef der Gangsterbande identifizieren kann. Jerry Cotton muss Billy beschützen und gleichzeitig die Verbrecher dingfest machen. Doch der clevere Unterweltboss versteht es, seine Spuren zu verwischen und erledigt vorsichtshalber alle lebenden V-Männer, die ihn verraten könnten. Einzige Chance für Cotton ist es, ihm mit Billy eine Falle zu stellen.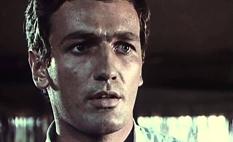 AGENT NR. 1 (1972) * with switchable English subtitles*
The film chronicles the adventures of real-life Polish war hero Jerzy Szajnowicz-Iwanow, who served as a spy behind German lines in occupied Greece during WWII. Born in Poland to a family of Russian and Polish descent, Jerzy left Poland as a boy to settle in Greece with his mother. There, he learned Greek fluently and completed his higher education in Western Europe. When the Germans invaded Poland, he wanted to join the military, but was rejected for service. This led him into the arms of British Intelligence, who trained him in the art of sabotage and returned him back to Greece. There, he was successful enough in his actions to cause the Germans to put a high price on his head. Twice captured by his enemies, Jerzy managed to escape and pass on valuable information to his British handlers.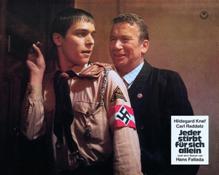 JEDER STIRBT FUR SICH SELBST (1976) * with switchable English and German audio tracks*
Otto Quangel, a simple craftsman, lives with his wife Anna in 1940s Berlin. The couple have little interest in political or military matters. All that changes, however, when their only son dies in France during the Western Campaign. Then, these two seemingly inconspicuous citizens suddenly change radically and fearlessly launch a personal campaign of resistance by dispatching postcards with anti-government slogans. Eventually, their neighbors turn them in; they're arrested by the Gestapo; and put before the People's Court.
Otto Quangel, ein einfacher Handwerker, lebt mit seiner Frau Anna im Berlin der 1940er Jahre. Für die politischen und militärischen Entwicklungen interessiert sich das alte Ehepaar nicht sonderlich. Das ändert sich, als ihr einziger Sohn im Frankreichfeldzug fällt. Die beiden unscheinbaren Kleinbürger radikalisieren sich schlagartig und beginnen furchtlos ihren persönlichen Widerstandsfeldzug, indem sie Postkarten mit regimekritischen Parolen verschicken. Doch ihre Nachbarn liefern sie ans Messer; sie werden von der Gestapo verhaftet und vom Volksgerichtshof verurteilt.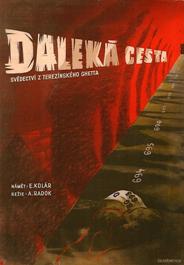 DISTANT JOURNEY (1950) * with switchable English and Spanish subtitles *
Distant Journey follows Hana, a Jewish eye doctor, in prewar Czechoslovakia, who falls in love and marries a Gentile named Toník. Their simple love story becomes a nightmare when the Germans occupy their country and begin the systematic deportation of the Jews "to the East". Hana's family is transported to Theresienstadt and the love between her and Tonik becomes a struggle to survive impending --- and almost certain --- death.
EL DIA QUE ME QUIERAS (1935) * with switchable English subtitles *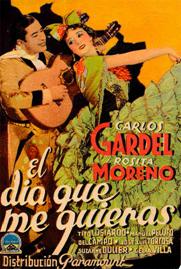 Carlos Argüelles is the son of a wealthy man, whose only interest in life is making money and business. But Carlos wants to be an artist and one day, trying to succeed in show business as a singer, he meets Margarita, a dancer, and they fall in love. His father wants him to marry a rich girl, so they part and he marries Margarita. But success is hard to obtain and when Margarita gets ill and he can't make any money, he tries to steal his father's safe box out of desperation. It's too late anyway; and when he returns home, Margarita is dead. He takes their daughter Marga and goes to Europe, where he finally find success, first on his own, and later with Marga dancing like her mother did. They go to Hollywood to star in films and it's there that he receives a telegram saying his father has died and left him all his money. And so, they go back to Buenos Aires. During the trip, Marga falls in love with a wealthy man's son who happened to be a business partner of Carlos' father.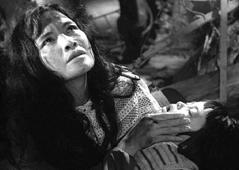 LITTLE GIRL OF HANOI (1975) * with hard-encoded English subtitles *
Filmed amid the rubble of a recently bombed Hanoi, this harrowing tale of a girl searching for her soldier-father after losing the rest of her family during a bombardment is a powerful drama and a very rare look at life in the city during the Vietnam War.
Thank you and the best to all of you,
RAREFILMSANDMORE.COM