.

---
.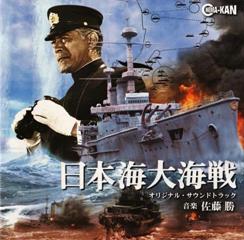 BATTLE IN THE SEA OF JAPAN (1969) * with switchable English subtitles *
Japan and Russia clash in, what comes to be known as, the Russo-Japanese War. An attempt by the Japanese fleet and army to take Port Arthur fails, and a Russian fleet bears down on the Sea of Japan. Admiral Heihachiro Togo sends his fleet to confront the Russians, with results that stun both nations. Meanwhile, Major Genjiro Akashi makes secret negotiations with the Bolsheviks in Russia, negotiations that have repercussions far beyond the conflict at hand.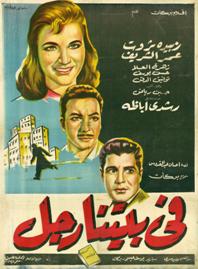 THERE IS A MAN IN OUR HOUSE (1961) * with switchable English anf French subtitles *
Ibrahim is a young radical leader, who lost his brother during a student demonstration that turned violent, when the police got involved and started to shoot anyone in their way. When Ibrahim sees this, he plans to murder the prime minister in revenge and he succeeds. After tthe assassination, Ibrahim seeks to hide in his friend's house. His presence in the house endangers the whole family, who, up to now, has always remained on the right side of the law. But out of affection for the fugitive, they cannot help but aid him. It is the potential consequence of this aid and Ibrahim's love for his friend's sister, that make for lots of hand-wringing throughout the film.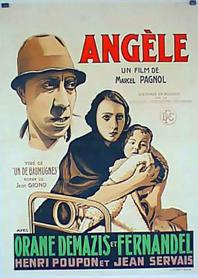 ANGELE (1934) * with switchable English subtitles *
A naive young woman, Angèle, leaves the farm where she has been raised after being seduced by a shrewd man, who turns out to be a pimp. An honest handsome farm employee, Albin, tries to prevent her from going, but without success since she is mesmerized by Louis, the manipulating pimp. She becomes a street prostitute in Marseille and leads a sad life. To make things worse, she has a child. A kind friend of hers, the childish and mentally under-developed Saturnin, finds her thanks to some unexpected information. He brings her back home to her kind mother but the woman's father, Clarius, is so ashamed of what happened that he locks her in a cellar and hides her.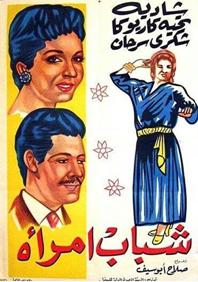 THE LEECH (1956) * with switchable English subtitles *
A young man from the country arrives in Cairo to finish his education. His landlady, a widow and successful businesswoman in the Citadel quarter, seduces him. Although she teaches him much about life, she also makes him forget his obligations to his family, studies, and even his religion. When he tries to put her aside, she attempts to force him to give up everything in which he believes.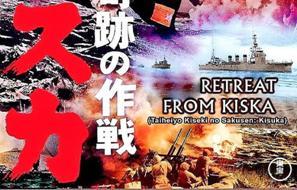 RETREAT FROM KISKA (1965) * with switchable English subtitles *
In 1943, the Aleutian island of Kiska, Alaska was fortified by a small contingent of Japanese soldiers. When word arrived of an impending attack by an overwhelming force of Americans, the Japanese Navy attempted one of the most daring and unlikely evacuations in military history. This is that story.
.
.
.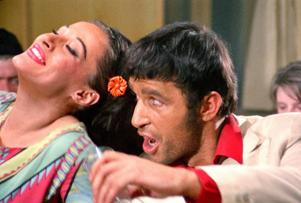 I EVEN MET HAPPY GYPSIES (1967) * with switchable English subtitles *
Bora the Gypsy is married to an older woman, but falls in love with the younger Tissa, who is being offered in marriage by her father to a young gypsy man. This marriage arrangement is by custom. Tissa rejects her husband, claiming he is not able to consummate the marriage and Bora pursues her. They get a monk in the mountains to marry them. Unable to return to the Gypsy camp, Tissa tries to reach Belgrade on her own, but a couple of truck drivers rape her and she reaches the camp in misery.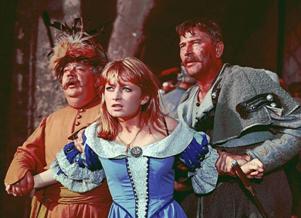 PAN WOLODYJOWSKI (1969) * with switchable English subtitles *
In 1668, the Ottoman Empire decides to attack and invade the Polish-Lithuanian Commonwealth, which is one of the few major European powers to still stand in the destructive path of the Ottomans. Having recently retired to a monastery, Colonel Michael Wolodyjowski is no longer on active duty. However, the Polish king, Jan Sobieski, knows that the colonel is an able commander and sends for him. Joining his old comrades in arms, Wolodyjowski takes command of Polish defenses in the Kresy. He prepares for the arrival of the invading Ottoman armies and their Tatar allies. The fate of Christian Europe lies in his hands.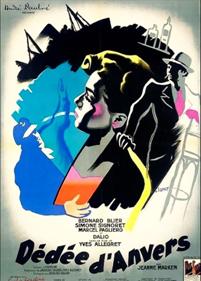 DEDEE (1948) * with switchable English subtitles *
Dédée is a prostitute who works at the Big Moon, a bar for sailors in the port of Antwerp. Her real "boss", however, is the bar's doorman, Marco, who, in addition to being her pimp, is also a petty trafficker. One evening, she meets Francesco, an old friend of the bar owner and captain of a cargo ship. Shortly thereafter, she falls in love with him. Marco's newest transaction involves having to get lots of money. He urges Dédée to help him, but refuses him, in spite of his threatening behavior. For his part, Francesco is in business with the bar's owner, handling cargo, of which we know nothing about, but which is announced as potentially dangerous.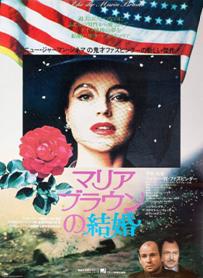 THE MARRIAGE OF MARIA BRAUN (1979) * with switchable English subtitles *
1943: During an air raid, Maria marries the soldier Hermann Braun; but the registry office where they're married is destroyed by a bomb. Hermann must return to the front immediately, and Maria is left all alone. When the war ends, she takes her fate into her own hands. When news arrives that Hermann has fallen in battle, Maria -- who is living with her mother and grandfather -- takes up work as a barmaid to provide for all of them. Soon thereafter, she starts a relationship with an Afro-American GI named Bill, who takes good care of her and provides the widow with nylon stockings and cigarettes. Maria's husband Hermann, however, is very much still alive and returns home after doing some time as a POW. When he comes home and catches his wife doing the nasty with the American, the two men get into a scuffle and Maria kills the soldier with a bottle. Hermann takes the blame and goes straight from the POW camp to the local prison.
1943: Während eines Luftangriffs heiratet Maria den Soldaten Hermann Braun; das Standesamt wird durch die Explosion einer Fliegerbombe zerstört. Hermann muss sofort wieder an die Front, und Maria ist auf sich allein gestellt. Nach Kriegsende nimmt sie ihr Schicksal in die eigene Hand. Die Nachricht, Hermann sei gefallen, veranlasst die mit ihrer Mutter und ihrem Großvater lebende Maria, als Bardame für den Lebensunterhalt der Familie zu sorgen. Sie beginnt eine Beziehung mit Bill, einem afroamerikanischen GI, der sich um sie kümmert und sie mit begehrten Gütern wie Nylonstrümpfen und Zigaretten versorgt. Marias Mann ist jedoch noch am Leben und kehrt überraschend aus der Kriegsgefangenschaft zurück. Als er Maria und Bill in flagranti antrifft und es zu einem Handgemenge zwischen ihm und dem Amerikaner kommt, erschlägt Maria im Affekt Bill mit einer Flasche. Hermann nimmt die Schuld an der Tat auf sich und geht dafür ins Gefängnis.
The tanker San Demetrio is part of a sea convoy in the North Atlantic, when it's attacked by a German battleship and heavily damaged. The crew abandons ship in two lifeboats. One lifeboat is rescued, but the other, bearing 2nd Officer Hawkins, Chief Engineer Pollard and others, drifts hopelessly. The sailors spot a burning vessel and are surprised to discover their own ship miraculously afloat. They mount an audacious plan to reboard her and return to action.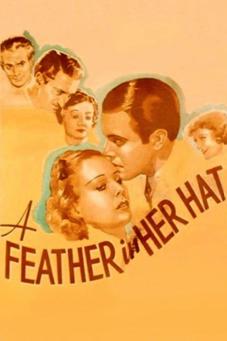 TWO FILM DVD: A FEATHER IN HER HAT (1935) + BAD GUY (1937)
A FEATHER IN HER HAT (1935):
A loving mother tells her son that he isn't hers, so the boy will be able to climb out of their poor surroundings. He goes on to become a playwright and his mother sells her store to produce his first play. At the end of the film, the mother reveals that she lied about her son's birthright.
BAD GUY (1937):
Right from the start, Lucky is complaining about what life has handed him and how he's ready to take whatever he can from life. When a card game setup goes wrong, Lucky ends up in the slammer, on death row. A couple of miracles happen, and before you know it, he's released from prison for heroic actions. Before he goes, he has a discussion with the warden about destiny... is everything pre-planned or do we make our own path? Pretty deep for a con-man. But... getting a job after prison isn't easy. Lucky could fall back into his old ways, in spite of getting a second chance.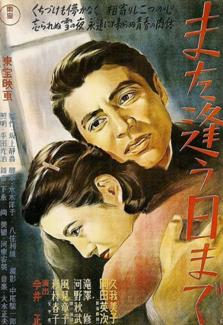 TILL WE MEET AGAIN (1950) * with switchable English subtitles *
Saburo is a student, who first sees Keiko in a bomb shelter during the American air raids on Tokyo in the Second World War. As a close one hits, he shelters her and she lays a gloved hand on his. He sees her again at a railroad crossing, then meets her at a publisher, where he follows her. They talk, and after other meetings, touch hands. Then, in the cold, he places her bare hand inside his jacket. She's an illustrator of war posters, but he convinces her to paint his portrait, and when he leaves, he comes back to see her in the window. Crowding into a corner when a stray bomb lands, he gives her a kiss and tells her he has been called up.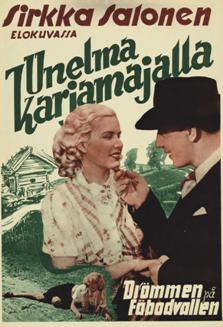 IN THE FIELDS OF DREAMS (1940) * with switchable English subtitles *
Rural melodrama, based on the play "Hälsingar" by Swedish playwright Henning Ohlson, tells the story of two brothers, one an honest and hard-working man and the other a womanizing gambler who threatens to ruin their lives. The latter hires a poor village girl as a maid, sparking the jealousy of a horny, older woman. After the philandering brother has made the new maid pregnant and flees to America to avoid the consequences of his financial misdeeds, his elder brother is left to clean up the mess.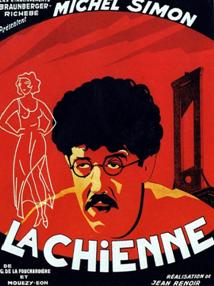 THE BITCH (La Chienne) (1931) * with switchable English subtitles *
Maurice Legrand, a meek cashier and aspirant painter, is miserably married to Adèle, an abusive woman who mistreats him. After a celebration in the company where he works, Maurice stumbles upon a man called André "Dédé" Jauguin hitting a young woman called Lucienne "Lulu" Pelletier on the street. Maurice protects Lulu and brings her home. Lulu, who is a prostitute, tells the naive Maurice that Dédé is her brother, but Dédé is actually her pimp. Maurice rents an apartment for Lulu and she becomes his mistress. Soon he brings his paintings to the apartment, since his wife Adèle intends to throw them away. But Dédé sells the paintings to an art dealer for a large amount, telling the dealer that Lulu had painted them using the alias Clara Wood.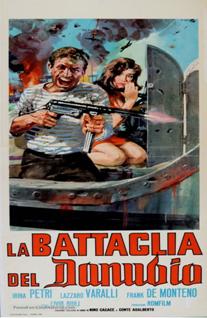 THE WAVES OF THE DANUBE (1960) * with switchable English subtitles *
Two men and a woman travel on a ship loaded with weapons, on the Danube, in August 1944, among the mines set by the German "occupiers". The tension between them is heightened, first by danger, then by suspicion and male rivalry.
Gösta Berling is a young and attractive minister. Because he is an alcoholic and his sermons are far too daring, he is finally defrocked. He leaves the town in disgrace and arrives at Countess Marta's manor. His new job there is to be a tutor to the countess' beautiful stepdaughter. They eventually fall in love with each other; but they don't know that the countess hired him only because she has some secret plans of her own.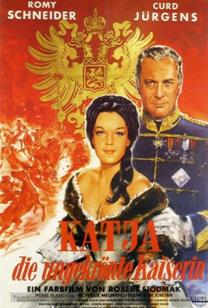 KATIA (Adorable Sinner) (1959) * with switchable English subtitles *
Visiting a boarding school for girls, married Tsar Alexander II gets to know the defiant Princess Katya Dolgoruky and falls in love with her. He invites her to the court ball at his winter palace, where he dances the first dance with her. To escape the court gossip about their affair --- for their love to one another is no longer a secret --- the Tsar sends his beloved to France to complete her studies. At the World's Fair in Paris in 1869, where the Tsar is to be received by Emperor Napoleon III, the ruler of all the Russias barely escapes being assassinated. Katya witnesses the near-tragedy and the two swear to one another never again to be apart from each other. Alexander takes the girl back to St. Petersburg, where she becomes a lady-in-waiting to Alexander's wife and will later marry him. Again and again, there are attempts on the lives of the couple. The Tsar, however, is attempting to bring justice and freedom to his subjects through a new constitution; but before he can do this, he'll finally be taken down in the next assassination attempt.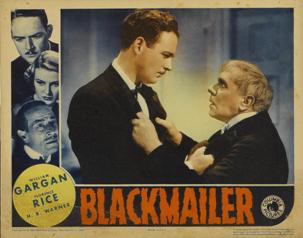 TWO FILM DVD: BLACKMAILER (1936) + BUNKER BEAN (1936)
BLACKMAILER (1936):
Inept Police Inspector Killian is assigned to investigate a blackmail case, in which an equally inept amateur detective, Peter Corwin is also investigating.
BUNKER BEAN (1936):
Bunker Bean, a meek office clerk, has grandiose dreams, but seems destined to remain forever in his lowly station. He seeks out the help of a fortune-teller, who tells him he is the reincarnation of Napoleon and also of an Egyptian Pharaoh. Armed with his new sense of power, Bunker proceeds to win the hand of his boss' daughter and also outwits her cutthroat father in a business deal. Now a winner, Bean suddenly learns that the crystal ball-gazer was a phony and that he found success not through any aristocratic bloodlines, but through sheer spunk and belief in his own abilities.
Before Winter Comes takes place in the immediate aftermath of World War II. British Major Giles Burnside is assigned to a refugee camp in occupied Austria. His mission is to send groups of displaced civilians either to the Russian zone or the American zone. Burnside is a by-the-book officer, but he runs into trouble translating his orders into many different languages. One of the refugees, Janovic, can speak many languages and is willing to help. Janovic quickly conveys Burnside's orders and helps the camp run smoothly. The helpful refugee starts a romance with a lovely innkeeper, Maria; that is, until he discovers she's having an affair with Burnside, too. Meanwhile, Janovic is found to be a Red Army deserter, who should be returned to the Soviet authorities to be executed. Burnside offers to help him escape, but Janovic cannot decide whether or not to trust him (as if he's got anything to lose!).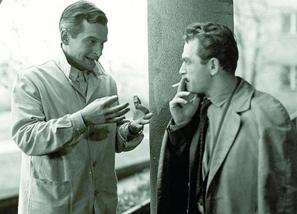 CANTATA (1963) * with switchable English subtitles *
After witnessing a senior doctor about whom he had doubts bring back a patient from cardiac arrest, a young doctor with peasant roots comes to question his whole life when the doctor collapses from the struggle. Feeling that his progress from peasant's son to city doctor was made too smoothly, without a need to struggle or learn about life, and has made him arrogant and lonely, he comes to realize that he has become gradually estranged from his own class and background after he returns to visit his hometown.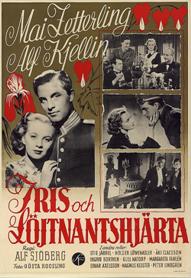 IRIS AND THE LIEUTENANT (1946) * with switchable English subtitles *
Lieutenant Robert Motander is invited to a dinner with his upper-class relatives. During the dinner he observes the beautiful young house-maid, Iris. He suggests that the two of them go out to see a movie. This is the beginning of love story that Robert's relatives will do anything to stop. A working-class mistress will do; but a working-class fiancée? Never!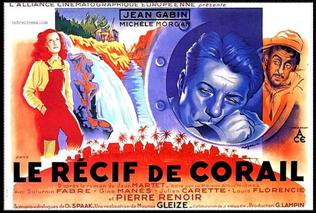 LE RECIFE DE CORAIL (1938) * with switchable English subtitles *
Wanted by the police, Ted Lennard embarks on a freighter that stops on a coral reef. When he meets the beautiful Lilian, also on the run, he will do everything to return to this idyllic place.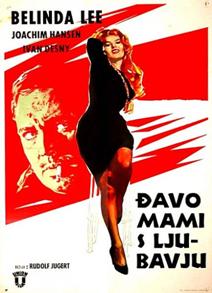 DER SATAN LOCKT MIT DER LIEBE (1960) * with switchable English subtitles *
Carlos has broken out of jail and is now on the run with his lover, Evelyn. Together, they board a ship, but the crew's demanding a huge sum of money to stay silent. So, Evelyn attempts to solve their problems by seducing Robert, a rather rich man. In the end, however, she falls in love with him, which Carlos doesn't like at all. He's becoming more and more a man without scruples, while Evelyn finally wants to embrace her decent side and live a normal life.
Carlos ist aus dem Gefängnis ausgebrochen und ist nun mit seiner Lebensgefährtin Evelyn auf der Flucht. Zusammen begeben sie sich auf ein Schiff. Die Besatzung fordert jedoch ein hohes Schweigegeld, weshalb Evelyn versucht, den reichen Robert zu verführen. Allerdings verliebt sie sich dabei in ihn, was Carlos keinesfalls Recht ist. Er wird mehr und mehr zu einem skrupellosen Mann, während sich Evelyn nun der gerechten und anständigen Seite anschließen will.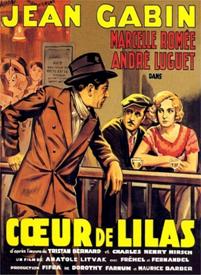 COEUR DE LILAS (1932) * with switchable English subtitles *
A factory manager is murdered and the glove of "Lilas" Couchoux, a local prostitute, is found near the corpse. The police have a suspect, but Inspector André Lucot believes him to be innocent. The inspector will go undercover in the factory, pretending to be a steelworker, in order to conduct an investigation. Lilas falls in love with the inspector.
.
.
.
..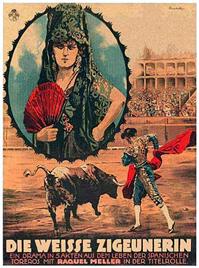 CARMEN (1926) * with switchable English subtitles *
.
This silent version of Carmen by-passes Bizet and goes back to the Prosper Mérimée novel, thus differing from versions by DeMille, Lubitsch, Peter Brook and others. Instead of femme fatale Carmen bringing ruination to an innocent soldier, you get generous, not very bright Carmen coming into the orbit of a Don Jose, who combines good looks and a lethally macho temperament. Feyder adopts a naturalistic approach, and although at first one fears that Meller is going to spend the entire film striding about with her hands on her hips, she soon settles into the most low key Carmen of the lot. Among the colourful desperados roistering in Lillas Pastia's tavern, a young Luis Buñuel is eminently recognizable. It may not be Bizet's music in the background, but the accompanying soundtrack is --- unusual for many silent film music --- classically enjoyable in itself.
.
.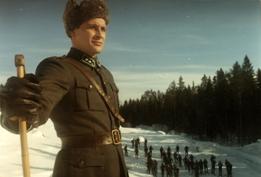 TUNTEMATON SOTILAS (1985) * with switchable English subtitles *
Second film adaption of the Finnish war book by Väinö Linna with the same name as the film. The story is based on Linna's experiences as an infantryman in the Finnish army during the so called "Continuation War" (1941-1944). The film tells the story of the fate of a machine gun platoon made up of young conscripts from various parts of Finland fighting against the Russian army from the beginning (Summer 1941) to the end (Summer/Autumn 1944) of the war.

You may have missed these titles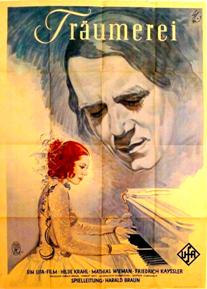 TRAUMEREI (1944) * with switchable English subtitles *
Clara Wieck begegnet in der Leipziger Musikschule ihres Vaters dem begabten Robert Schumann. Ganz gegen den Willen des Vaters, der nur ihre künstlerische Karriere im Auge hat, wird Robert ihre große Liebe. Es kommt zum endgültigen Bruch, als sie nach einer erfolgreichen Konzertreise als Pianistin an der Seite von Franz Liszt nach Leipzig zurückkehrt und Schumann heiratet. Sie ist glücklich und lebt nur noch für ihre Familie. Auch ihr Mann schreibt in dieser Zeit seine besten Werke. Nach längerem Drängen kann Liszt Clara zu einer neuen Tournee überreden. Das Ehepaar geht auf Konzertreise. Doch das Wanderleben bekommt dem kranken Robert Schumann nicht, er leidet seit längerem unter Depressionen. Sein Zustand wird immer hoffnungsloser, sein Lebensmut hat ihn verlassen, und er versinkt in Schwermut. Als Clara ihn kurz vor seinem Tod im Sanatorium besucht, erkennt Schumann, der geistig umnachtet ist, sie nicht mehr.
Clara Wieck meets the talented Robert Schumann in her father's Leipzig music school. And entirely against her father's wishes, who thinks only of her future artistic career, she falls in love with Robert. The final break comes after a successful tour as a pianist at the side of Franz Liszt. She returns to Leipzig shortly thereafter and marries Schumann. She's happy and lives only for her family. Her husband writes his best pieces during this time, too. After a lot of pressure, Liszt is able to convince Clara to go on a new concert tour. The happy couple leaves on their musical journey. But the life of a wandering artist doesn't suit Robert Schumann, who is ill: for the longest time, he's suffered from severe depression. His condition becomes ever more hopeless. He's lost the will to live and he sinks into a deep melancholy. When Clara visits him in the sanatorium shortly before his death, a mentally deranged Schumann doesn't even recognize her anymore.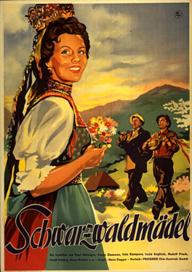 SCHWARZWALDMADEL (1950) * with switchable English subtitles *
Der junge Maler Hans ist es leid, dass seine Freundin, die Revuesängerin Malwine, immer mit anderen Männern flirtet. Auf einem Maskenball entschließt er sich, sie zu verlassen, zumal er dort die als Schwarzwaldmädel verkleidete Sekretärin Bärbel kennenlernt. Um seinen Entschluss in die Tat umzusetzen, reist er am nächsten Tag in den Schwarzwald. Dort hat Hans nicht sofort Erfolg: Zunächst fühlt er sich von Bärbel zurückgesetzt, die mit einem anderen den Tanz beim Cäcilienfest eröffnet.
The young painter Hans is tired of his girlfriend, the cabaret singer Malwine, constantly flirting with other men. At a masked ball, he meets the secretary Barbel dressed up as a girl from the Black Forest and, after speaking with her awhile, decides to dump Malwine then and there. And to make his decision a reality, he journeys the next day to the Black Forest to track Barbel down. He doesn't exactly have immediate success there. At first, he feels rather rejected by Barbel, when she opens the Cecilia Day Festival by dancing with another man.
MARIANNE DE MA JEUNESSE (1955) * with switchable English subtitles *
.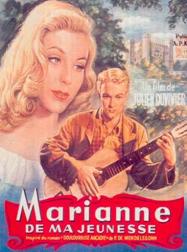 At a Bavarian aristocratic boarding school located in Heiligenstadt Castle, Vincent Loringer is considered a rather singular boy by the other students. He sings exotic tunes in a melancholy voice, accompanying himself on the guitar. One day, he and some comrades embark on an adventure to explore the shore of the other side of the lake. They venture on to some abandoned property and, scared by the shadow of an old mansion, run back to their boarding school leaving Vincent behind. When Vincent shows up much later in the day, he appears to be transformed and gazing in amazement at something intangible. He claims to have met the most angelic creature named Marianne. He is obsessed by only one thought: to meet her again and liberate her from her imprisonment in this abandoned house. Armed only with courage, his comrades accompany him back to the mysterious mansion; but Marianne has disappeared.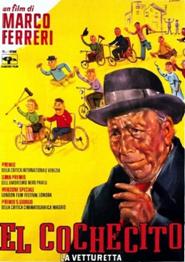 EL COCHECITO (1960) * with switchable English subtitles *
Don Anselmo, is a retired seventy year old man man, who lives with his son, daughter-in-law and granddaughter. Don Anselmo enjoys spending his free time with his friends who, unlike him, are disabled. They go out, drive around in their road-adapted, motorized wheelchairs and even take part in races. Due to his optimal health, Don Anselmo often feels left out and soon asks his son to buy him a motorized wheelchair. After his son's refusal to fund such an unnecessary expenditure, Don Anselmo carries out several stratagems to have his own chair – whatever the cost.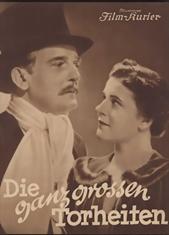 DIE GANZ GROSSEN TORHEITEN (1937)
Kaum ist die künftige Schauspielschülerin Therese Brandl dem Zug entstiegen, da sitzt sie auch schon in einem verrufenen Lokal an der Seite eines älteren Herrn und trinkt sich um den Verstand. Das Stundenhotel liegt gleich um die Ecke, schon ist die Unschuld dahin und, als Therese morgens erwacht, der Herr spurlos verschwunden. Natürlich begegnet das Mädchen dem "Verführer" wieder, er ist kein anderer als ihr Schauspiellehrer, Alexander Dahlen. Doch es kommt weder zu einer klärenden Aussprache noch zu einem dramatischen Konflikt. Und da Dahlen Therese eigentlich gar nicht kennenlernt, bleibt unklar, warum er sie am Ende doch seiner mondänen und gewitzten Lebensgefährtin vorzieht.
Hardly has the future actress Therese Brandl taken her seat on a train than she meets and older man, with whom she goes for a drink to a seedy bar. Right around the corner from this bar is a hotel, where they charge by the hour and the innocent Therese ends up there with the older man. When she awakens the next morning, the older man is gone. Naturally, Therese runs into her "seducer" once again and it's none other than her acting teacher, Alexander Dahlen! Nonetheless, there is no explanatory speech nor any kind of dramatic conflict. And while it appears, he has never gotten to know Therese, it remains unclear why at the end of the film he prefers her to any other.
Die Berliner Coupletsängerin Jette Schönborn tritt zusammen mit ihrer Mutter und ihrer Schwester Paula im Berliner Amor-Theater auf. Dort ist der Tiroler Graf Eugen Opalla Stammgast, der Jette sehr verehrt. Eines Abends sucht Graf Opalla Jette in ihrer Garderobe auf. Obwohl Jette keine Beziehung mit dem Grafen eingehen will, besorgt ihr Opalla einen Termin zum Vorsingen im vornehmen Königstädtischen Theater. Jette, begleitet von dem Inspizienten des Armortheaters Fritz Barsch, Graf Opalla sowie ihrer Mutter und ihrer Schwester, geht zum Vorsingen und versucht sich dort an einer Opernarie. Damit fällt sie zunächst durch. Als sie dann aber ein von Barsch geschriebenes, freches Couplet vorträgt, wird ihr ein Engagement angeboten. Fritz Barsch nimmt sie als Inspizienten kurzerhand mit an das Königstädtische Theater. Ihre Auftritte werden ein voller Erfolg, ihre Vorstellungen sind schnell ausverkauft. Aber nicht alle sind so begeistert von dem neuen Publikumsmagnet. Die Frauen des Theaterdirektors Körting, des Bankdirektors und des Kommerzienrats mögen weder Jette noch ihre frechen Lieder und verhindern mittels einer Intrige Jettes Teilnahme am Empfang nach ihrem 50. Auftritt.
The Berliner singer Jette Schonborn arrives with her mother and sister Paula in the Berlin Amor Theatre. There, Jette see the Tirolean Count Opalla, who is very interested in Jette. One evening, the Count pays a visit to Jette in her dressing room. Although Jette wants nothing to do with the Count relationshipwise, Opalla has gone out of his way to arrange a contract for her to sing at the Konigstadtischen Theatre. Accompanied by the stage manager of the Amor Theatre -- Fritz Barsch -- Count Opalla, as well as her mother and sister, Jette appears at the Konigstadtischen Theatre and attempts to sing an operatic aria. Unfortunately, that doesn't work out so well. But when she ends up singing a couplet written by Fritz Barsch, she is offered a contract. Jette ends up taking Fritz Barsch along as stage manager for the Konigstadtische Theatre and pretty soon, she becomes a raving success, with her shows being sold out very quickly. Unfortunately, not everyone is so thrilled about her success, among them being the wives of the theatre director, the bank director and the chamber of commerce, who do not like either Jette or her fresh songs, and who by means of intrigue, block Jette's part in the reception after her 50th appearance.
In einem Ort an der jugoslawischen Küste lebt die kleine Christl. Als sie an Bord eines Kriegsschiffes gerät, wo sie niemand kennt, beginnt die Suche nach ihrer Identität. Angeblich ist sie die Enkelin des amerikanischen Konsuls in Dubrovnik. Leutnant Juritsch erhält den Auftrag, sie dem Konsul zu übergeben, der aber weist das Ansinnen zurück. Während seiner Mission lernt Juritsch auch Mary, die Tochter des Konsuls, kennen, weiß aber nicht, wer sie ist, und als der Konsul auf dem Schiff die kleine Christl kennen lernt, weiß auch er nicht, wer sie ist. Es häufen sich die Missverständnisse, bis sich herausstellt, dass Christl die Tochter von Marys verstorbener Schwester ist, deren Heirat der Konsul nie zugestimmt hatte. Aber längst ist es der Kleinen gelungen, den Großvater zu versöhnen.
Little Christl lives in a village near the Yugoslavian coast. She gets on a warship where nobody knows her, and so the search for her identity begins. Supposedly she is the granddaughter of the American delegate in Dubrovnik. Lieutenant Juritsch is instructed to take the girl to the delegate, who is disinterested. During his mission Juritsch gets to know Mary, not knowing she is the delegate's daughter. The delegate, on the other hand, gets to know Christl, without knowing who she is, when he is on board the ship. Misunderstandings accumulate until it emerges that Christl is the daughter of Mary's deceased sister, who had married without her father's approval. Fortunately the little girl has already managed to win over her grandfather. Appparently, Austria's answer to the then-popular Shirley Temple.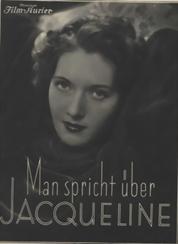 MAN SPRICHT UBER JACQUELINE (1937)
Die lebensfrohe Jacqueline (Wera Engels) füllt mit ihren Affären die Pariser Klatschspalten. Als sie den Mann ihrer Träume trifft, verschweigt sie ihm ihre Vergangenheit. Doch schon auf der Hochzeitsreise wird ihr Michael (Albrecht Schoenhals), ein weitgereister Diplomat, mit einem "schockierenden" Artikel konfrontiert. Jacqueline gaukelt ihm vor, er handele von ihrer Schwester June (Sabine Peters), aber Michael zieht Konsequenzen… Werner Hochbaum gilt als verkanntes, großes Talent des alten deutschen Films. Beeinflußt von Jean Renoir und Sigmund Freud, besaßen seine Filme psychologische Tiefenschärfe. Zu seinen Meisterwerken gehören die Milieustudien "Razzia in St. Pauli" ('32), "Vorstadtvarieté" ('35) oder das Drama "Die ewige Maske" ('35). Hochbaums Frauenfiguren sind aktiv und fordernd. Die politischen Verhältnisse und sein früher Tod 1946 bewirkten, daß sein Einfluß auf die Filmgeschichte gering blieb.
Based on a novel by Katrin Holland, Man Spricht Uber Jacqueline features Wera Engels in the title role. Falling in love with cynical, misogynistic foreign diplomat Michael Thomas, Jacqueline is finally able to win him over. Once they're married, however, Jacqueline's past romantic indiscretions resurface to seriously damage Michael's career. Confronted by her husband, Jacqueline insists that all the sexual innuendos floating about are actually inspired by the peccadilloes of her younger sister. When this ploy fails, Jacqueline decides to end it all, but at the very last minute Michael relents and forgives her all her transgressions.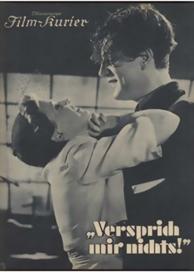 VERSPRICH MIR NICHTS (1937) * with switchable English subtitles *
Erste Regiearbeit von Wolfgang Liebeneiner: Ein Maler mag seine eigenen Bilder nicht und will sie nicht verkaufen. Daher sind er und seine Frau arm wie Kirchenmäuse. Als die wirtschaftliche Not zu groß wird, gibt die Frau die Bilder des Malers als ihre eigenen aus und geht damit zu einem Kunsthändler, der in sie verliebt ist. Der verkauft die Bilder und verschafft dem Ehepaar damit ein großartiges Einkommen. Aber dann bekommt die Frau einen großen Auftrag für ein Wandgemälde, den natürlich ihr Mann ausführen muss. Als es zum Streit kommt, kommt alles heraus.
Also known as Promise Me Nothing, this labyrinthine drama was adapted from a long-running stage play by Thea von Harbou of Metropolis and Dr. Mabuse fame. Viktor de Kowa stars as impoverished artist Martin Pratt, who is so preoccupied by his work that he fails to notice that his wife Monika is literally starving to death. Making matters worse, Martin cares nothing for money, refusing to sell his paintings because he feels they aren't yet good enough for public consumption. In desperation, Monika pretends that Martin's painting were completed by her, thereby allowing her to peddle them on her own. Soon, of course, Monika is being hailed as the foremost artistic genius of the age -- while Martin, seething with jealousy, but too proud to expose his wife as a fraud, retreats further and further into himself. Eventually, Monika's conscience gets the better of her, and she confesses that the paintings were the handiwork of her husband. Rather amazingly, this leads to a happy ending for both hero and heroine, indicating that anything's possible in the movies.
In abgelegenen russischen Wäldern lebt eine deutsche Dorfgemeinschaft, deren Gründer ihre friesische Heimat einst verlassen hatten, um ihrer Religion nicht abschwören zu müssen. In diese Gemeinschaft kehrt nach langer Abwesenheit Christian Kröger zurück, der krank ist und vor seinem Tod seine Tochter Mette wieder sehen will. Die Nachrichten, die er "von draußen" mitbringt, sind beunruhigend und handeln von Krieg, Hunger und einer "neuen Obrigkeit". Während die Männer des Dorfes sich auf Verteidigung und Kampf einstellen, beharrt der glaubensstarke Gemeindevorsteher Jürgen Wagner darauf, dass jede Obrigkeit von Gott eingesetzt sei. Kröger stirbt, bevor im Dorfe Einigkeit erzielt werden kann. Währenddessen wird das Friesendorf von den neuen kommunistischen Machthabern auf einem ihrer Erkundungsflüge entdeckt. Kommissar Tschernoff wird mit einem Trupp in das Dorf entsandt, um den Vorsteher zur Abgabe von Naturalien für die Hungernden zu drängen und zugleich auch für die Sache der Revolution zu gewinnen. Auch nach der Entsendung der Abgaben machen die Russen keine Anstalten, das Dorf wieder zu verlassen. Während Tschernoffs Absichten redlich sind – als ehemaliger zaristischer Offizier sieht er die Revolution insgeheim als Unrecht an; außerdem ist er in Mette verliebt, die seine Gefühle offenbar erwidert, beginnen seine Männer, das Dorf auszuplündern. Tschernoff gelingt es, Wagner weiterhin zu beschwichtigen, sogar ein allgemeines Versöhnungsfest wird gefeiert. Währenddessen jedoch bereitet Klaus Niegebüll, Mettes Ziehvater, die Bewaffnung der Dorfbewohner vor. Als die Russen bei einer Durchsuchung seines Hauses drei Pistolen entdecken, lenkt der Dorfschmied, Hauke Peters, den Verdacht der Bauern auf die "Verräterin" Mette, die von ihrem Ziehvater daraufhin ins Moor und damit in den Tod getrieben wird.
Der Film ist im Wesentlichen der Situation der russlanddeutschen Mennoniten nachempfunden (vgl. Russlandmennoniten). Diese ursprünglich aus Friesland stammende Religionsgruppe zeichnete sich gerade in ihren Kolonien auf russischem Boden durch eine konsequente Gewaltlosigkeit und unbedingten Pazifismus aus. Wegen Unterdrückung oder Wehrpflicht in der Heimat emigrierten die Mennoniten aus Friesland nach Polen und nach der dritten Polnischen Teilung nach Russland. Wegen erneuten Konflikten mit der Obrigkeit und der Ausweitung der Wehrpflicht auf Russlanddeutsche setzten sich einige Mennoniten in die Wildnis Sibiriens und der Uralgegend ab. Die "Friesen" des Films Friesennot sind daher auch zutreffend als ausgesprochen abgeschottet und eigenbrötlerisch dargestellt. Im Film wird aber auch angedeutet, dass der unbedingte Pazifismus der Dorfgemeinschaft lediglich durch die Ferne von anderen Menschen erreichbar wird.
Der Film "Friesennot" wurde Mitte Mai 1935 in der Lüneburger Heide gedreht (Außenaufnahmen); die Innenaufnahmen folgten Anfang September in den Tobis-Studios Berlin-Grunewald. Bei der Zensurvorlage in der Filmprüfstelle erhielt der Film am 11. November Jugendverbot und am 15. November 1935 das Höchstprädikat "Staatspolitisch und künstlerisch besonders wertvoll"; das Jugendverbot wurde – vermutlich nach geringfügigen Schnitten – gleichzeitig in eine beschränkte Jugendfreigabe (ab 14 Jahren) umgewandelt. Den Verleih übernahm die Reichspropagandaleitung der NSDAP, Hauptamt Film, den Weltvertrieb die Tobis-Cinema. Uraufgeführt wurde der Film am 19. November 1935 gleichzeitig im Berliner Ufa-Palast am Zoo und im Leipziger Ufa-Palast. Aus Joseph Goebbels' Tagebüchern ist zu ersehen, dass er und Hitler von "Friesennot" begeistert waren.
Am 6. März 1939 wurde das Höchstprädikat entzogen und durch das niedrigere Prädikat "Staatspolitisch und künstlerisch wertvoll" ersetzt, das der Film bis zum 31. Dezember 1942 behielt, obwohl er bereits am 7. September 1939, also kurz nach dem deutschen Überfall auf Polen, mit Rücksicht auf den russischen Bündnispartner verboten wurde. 1941, nach dem Beginn des Russlandfeldzugs, wurde er unter dem Titel "Dorf im roten Sturm" wieder aufgeführt.
Communist authorities are making life as difficult as possible for a village of Volga Germans in the Soviet Union, with taxes and other oppression. When Mette, a half-Russian, half-Frisian woman, becomes the girlfriend of Kommissar Tschernoff, the Frisians murder her and throw her body in the swamp. Open violence breaks out, and the Red Army soldiers are all killed; the villagers set fire to their village and flee. Despite Nazi hostility to religion, this is a cynical piece of anti-Communist propaganda depicting the Communists as posting obscene anti-religious posters, and the Frisians piously declaring that all authority comes from God. The portrayal of Cherkov does not conform to the heavy-hand depiction of Communist as brutal and murderous in such films as Flüchtlinge; he is truly and passionately in love with Mette, and only with her death does he unleash his soldiers. A villager objects to the affair on the grounds that even though her mother was Russian, her father's Frisian blood "outweighs" foreign blood, and therefore she must not throw herself at a foreigner. Her murder is presented as in accordance with the ancient Germanic custom for "race pollution." After the Molotov–Ribbentrop Pact, in 1939, the film was banned; in 1941, after the invasion of Russia, it was reissued under its new title, Dorf im roten Sturm.
The lawyer, Dr. Werkmann, is seeking a legal separation for Mr. Bernhof, who claims his wife is an incorrigible gambler. In reality, it is he who is the weakling; and while he dearly loves his wife, he's going through her fortune like there's no tomorrow. His wife, however, loves him dearly, too, in spite of his faults and doesn't want the marriage to end. Dr. Werkmann proposes something at a family meeting, which just might save the marriage after all.
Beim letzten Gastspiel des Zirkus Barszony in Hamburg wird der indische Dompteur Sikkim Khan von einem Tiger angefallen und kann schwer verwundet gerettet werden, weil die Tochter des Direktors, Tamara, das Tier erschießt. Von nun an tritt Tamara als Sikkim Khan auf, und der "Diamantenkönig" van Houten verliebt sich in sie. Auf einem Schiff der Südamerika-Linie begegnen sie sich erneut. Als Smaragde im Wert von einer halben Million gestohlen werden, bezichtigt sich Tamara selbst des Diebstahls, um einen alten Mitarbeiter ihres Vaters zu decken, der mit dem Geld das Zirkusunternehmen retten wollte.
At the last performance of the Barszony Circus in Hamburg, the Indian lion-tamer Sikkim Khan is attacked by a tiger and is badly wounded. That he got away with his life at all is due to the quick action of the circus director's daughter, Tamara, who shoots the tiger. From that point on, Tamara appears as "Sikkim Khan" and the "Diamond King" van Houten falls in love with her. On a ship of the South American Line, they meet and get to know each other better. When an emerald worth half a million is stolen, Tamara declares herself to be the thief, so as to protect an old colleague of her father, who wants to save the circus with the money from the stolen jewel.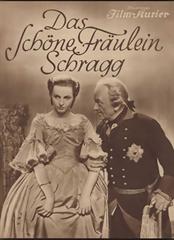 DAS SCHONE FRAULEIN SCHRAGG (1937)
Fredericus Rex will Ostpreußen nach Ende des Siebenjährigen Krieges 1770 mit entlassenen Soldaten besiedeln und kultivieren. Auf höchste Order wird ein Berliner Hoffräulein Schragg in die masurischen Wälder geschickt. - Gefühlvolle Romanze.
After the end of the Seven Years' War in 1770, Frederick the Great wishes to settle and cultivate East Prussia with discharged soldiers. A lady of court in Berlin, Miss Schragg, is sent to the Masurian forests to marry and help accomplish this mission ... on the orders of the king himself.
LIEBE GEHT SELTSAME WEGE (1937)
.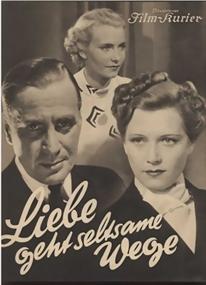 In einem mittelamerikanischen Staat findet eine Revolution statt. General Gonza übernimmt die Macht und lässt seine Gegner festnehmen und zum Tode verurteilen. Hauptmann Costali flieht auf das Schloss von Antonia Delvarez, die ihn liebt und ihm Unterschlupf gewährt. Er verändert sein Aussehen und schlüpft in die Rolle ihres Haushofmeisters. Doch als Antonias Nichte Delia zu Besuch kommt, merkt sie schnell, dass mit dem vermeintlichen Haushofmeister etwas nicht stimmt. Delia und Costali verlieben sich ineinander. Aber Delia ist eine Anhängerin des Generals.
A revolution is taking place in a Central American country. General Gonza takes control and has his opponents arrested and sentenced to death. Captain Costali flees to the castle belonging to Antonia Delvarez, who loves him and offers him protection. He changes his appearance and plays the part of her steward. But when Antonia's niece Delia comes for a visit, it doesn't take her long to notice that something doesn't quite sit right with the new steward. Soon, Costali and Delia fall in love with one another; but Delia is a supporter of the General.
Um der Eheschließung mit dem verkalkten Lord Benton zu entkommen, bleibt Mary nur ein Ausweg: Sie trifft sich mit einem Unbekannten und tut alles, um für Benton nicht mehr standesgemäß zu sein.
The zany German "chase" comedy Diskretion-Ehrensache (Discretion-Word of Honor) was adapted from a novel by Von Hannes Peter Stolp. Heli Finkenzeller plays American heiress Mary Hopkins, who at the beginning of the film is forced into an engagement with a titled nobleman. Hoping to extricate herself from this unwanted union, Mary deliberately gets herself mixed up in a romantic scandal, hoping that the shame she brings upon her name will scotch the wedding plans. Swept up in Mary's scheme is eccentric inventor Peter Parker, who agrees to elope with the girl provided that there aren't any strings attached. By the time the film reaches its riotous conclusion, of course, Mary and Peter have fallen genuinely in love.
Sabine Heitmann, die junge Chefin der Reederei Heitmann, hat sich mit Michael, dem Ersten Offizier und Steuermann ihres Schiffes "Sabine Heitmann" angefreundet. Dieser kennt jedoch nur ihren Vornamen und weiß nicht, dass sie seine Vorgesetzte ist. Als er es erfährt, ist er erbost und lehnt auch eine Beförderung zum Kapitän ab. Dann erhält die Reederei ein lukratives Angebot: Im Wettstreit mit einer konkurrierenden Reederei soll sie in 18 Tagen Baltimore erreichen und dort Fracht aufnehmen. Wer es zuerst schafft, bekommt einen Großauftrag einer amerikanischen Firma. Zusammen mit Michael tüftelt Sabine einen Plan aus, wie der Wettstreit zu gewinnen wäre. So gewinnt sie schließlich sein Herz zurück und macht ihn zum Leiter der Reederei.
Sabine Heitmann, the young boss for the shipping company Heitmann, has become friends with Michael, the First Officer and Helmsman of the ship, the "Sabine Heitmann". He only knows Sabine by her first name and doesn't know that she's the boss. When he discovers the fact, however, he gets pissed and refuses to accept his promotion to Captain. Then the shipping company gets a lucrative offer: In a competition with another shipping company, they need to reach Baltimore in 18 days and pick up some freight. Whoever can move their rear ends faster, gets the very profitable contract from an American firm (correct me if I'm wrong, but didn't this sort of thing sink the Titanic?). Together with Michael, Sabine comes up with a plan, which should have them win the contest. The upshot? She wins back his heart and he becomes Captain.
Herr Haselgruber ist in einem kleinen Wiener Bezirksgericht Amtsdiener aus Leidenschaft. Nebenbei gibt er unentgeltlich Rechtsberatung im Kaffeehaus von Frau Pieringer und wohnt bei deren besten Freundin Frau Hopfstangl. Wegen eines Heiratsschwindlers geraten die beiden Damen aber eines Tages aneinander. Der Prozess wird ausgerechnet in jenem Bezirksgericht ausgetragen, in dem Herr Haselgruber tätig ist.
Herr Haselgruber exercises his profession as a government clerk in a small Viennese district court with passion. In addition, he provides free legal advice in Frau Pieringer's cafe and lives with her best friend, Frau Hopfstangl. The two women cross paths a little too closely when, one day, a trial involving the two of them and a marriage swindler ends up in the very district court, in which Herr Haselgruber works.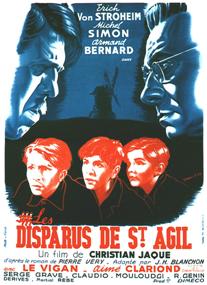 LES DISPARUS DE SAINT AGIL (1938) * with switchable English subtitles *
Shortly before the outbreak of the First World War, at the College of St. Agil, strange things are happening at night. Students are beginning to disappear. Baume, Sorgue and MacRoy, three students at the college, creat a secret society, "The Cowardly Chickens", to prepare an equally secret plan to leave for America. One evening, in the Hall of Natural Sciences, Sorgue sees a man through the wall. Following a visit to the director about some ruckus, Sorgue disappears. Then it's the turn of MacRoy. The college is now in turmoil. During a festival, Lemel, a professor, dies after a fall, when a power failure plunges the institution into darkness. Everyone thinks it's an accident. Baume decides to investigate and sets himself up to disappear as well. With the help of Mr. Walter, an English teacher, he manages to find out the truth.
Ein ganzer Wohnblock ist in heller Aufregung, und das nur, weil Familie Maier ihren preisgekrönten Hahn Otto auf dem Balkon ihrer Mietswohnung untergebracht hat. Und nun weckt das Tier den ganzen Block Morgen für Morgen mit einem markerschütterndem Kikeriki. Diese Ruhestörung ruft natürlich die Wohnungsgesellschaft auf den Plan, die ihren Mitarbeiter Franz Langmann entsendet, um Maiers davon zu überzeugen, für den Hahn eine neue Bleibe zu finden. Doch die Maiers sind von diesem Vorschlag ganz und gar nicht begeistert und weigern sich strikt, Otto vom Balkon zu nehmen. Umso größer ist der Schock, als Otto am nächsten Morgen tot in seinem Käfig liegt - offensichtlich ermordet ! Es beginnt eine fieberhafte Suche nach dem Täter, an dem sich alle Bewohner des Hauses beteiligen, denn auch wenn sie den Hahn hassten, den Tod haben sie ihm nicht gewünscht. Die kriminalistische Spurensuche führt ausgerechnet zu dem Gymnstiklehrer Peter Ferner, dem Freund von Hella Maier. Der beteuert seine Unschuld, aber das ist ohnehin erst der Anfang einer turbulenten "Mörderjagd".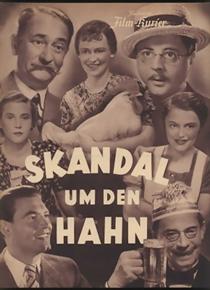 An entire neighborhood is in an uproar because the Maier family is keeping their prize-winning rooster, Otto, on the balcony of their apartment. And now, every morning, the rooster is waking up the entire street with its dawn greeting. Thus, the neighborhood comes up with a plan to convince the Maiers to find a new place for the rooster to live (preferably amidst a bed of potatoes and onions). The Maiers, however, aren't so enthusiastic about this plan and strictly refuse to take the rooster off the balcony. Is it thus any surprise that the next morning, Otto is found dead in his cage ... and has apparently been *gasp* murdered?!? A feverish search begins immediately to find the murderer by everyone in the apartment building, for, although no one liked the bird, no one wanted to see him killed (not even with bread stuffing up his rear?!). The criminal investigation (you're kidding, right?) leads directly to the gym teacher Peter Ferner, Hella Maier's (hungry) boyfriend. He insists he's innocent (vegetarian, don't ya know), but that's only the beginning for this turbulent "who dunnit?"
Der Automechaniker Hanne hat seine neue Flamme, Erika, ins Kino eingeladen: in "Die kleine Sünderin". Da sich Erika offenbar übermäßig mit der "Sünderin" auf der Leinwand identifizieren konnte, hätte Hanne eigentlich gewarnt sein müssen.
The car mechanic Hanne invites his new girlfriend, Erika to the movies. The movie theatre has the name, "The Little Sinner". Since Erika is apparently able to identify with the "sinner" on the screen, Hanne should have picked up on the hint and should've been amply warned.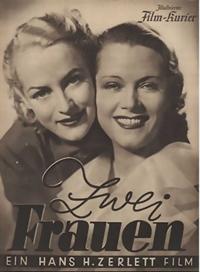 ZWEI FRAUEN (1938) * with hard-encoded Dutch and French subtitles *
Die berühmte Schauspielerin Paula Corvey liebt den jüngeren Rennfahrer Werner Bruck. Eines Tages kommt Paulas 18jährige Tochter Eva überraschend zu ihrer Mutter zurück. Sie lebte bei ihrem von Paula geschiedenen Vater und ist durchgebrannt, weil er nicht erlaubt hat, dass sie Schauspielerin wird. Paula ist hin- und hergerissen. Dass sie Mutter einer erwachsenen Tochter ist, möchte sie vor Werner verheimlichen und gibt Eva als ihre Cousine aus. Sehr bald muß sie jedoch erkennen, dass zwischen Werner und Eva eine tiefe Beziehung entsteht. Als Werner die Wahrheit erfährt, kommt es zum Konflikt, der nur durch Paulas endgültigen Verzicht auf den Geliebten gelöst werden kann.
The famous actress Paula Corvey loves the young racer Werner Bruck. One day, Paula's 18-year old daughter returns unexpectedly to her mother. She was living with her father, Paula's ex-husband, but she's run off to Paula, because daddy wouldn't let her become a hot-to-trot actress like mama. Paula just doesn't know what to do. That she's the mother of a grown up girl is something she desperately wants to hide from Werner (no, honey, I swear: you don't look a day over 17 ... uh huh). So, to cover her little horny tracks, she tells Werner that Eva is her cousin. The plan backfires (ha ha!), when Werner falls for the "cousin". When Werner finally discovers the truth, a conflict develops (duhh!), which can only be solved by Paula finding a man her own age (thank you).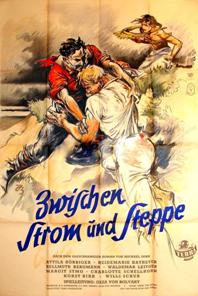 ZWISCHEN STROM UND STEPPE (1938)
Der Landstreicher Silo, wegen seiner Offenheit bei allen beliebt, wird eines Tages schwer verletzt am Ufer der Theiß gefunden. Fischer nehmen ihn auf, und Maria, die junge Frau von Alexander Renka, pflegt ihn gesund. Silos Wunde ist verheilt, doch er bleibt bei den Fischern, sicher hat der Messerstich einem anderen gegolten. Nur Marias Mann verhält sich eigenartig. Oft ist er nicht zu Hause, und häufig findet man ihn in der Nähe der Hütte der Zigeunerin Panna, die angeblich alle Männer verhext. Maria fühlt, daß er sie mit dieser Frau betrügt und reitet mit ihrem Bruder zurück in die Steppe, ihre Heimat. Am selben Morgen finden Fischer Alexander Renka tot am Flußufer, auch ihn hat ein Messerstich getötet. Doch es ist Silos Messer, und die Fischer verdächtigen nun ihn.
Silo is a bum; but he's a bum who's beloved by all and one day, he is found wounded on the banks of the Theiss. Fishermen take him back to the village and Maria, Alexander Renka's young wife, cares for him until he gets better. Silo's wound heals, but he decides to stick with the fishermen to find out who the intended target for the stabbing knife really was (for who would stab a beloved bum?). Maria's husband is acting really strange. He is away from home often and can be found very often near the hut of the gypsy Panna, who can allegedly bewitch any man she pleases. Maria is convinced from her womanly intuition -- never mind asking -- that her husband is doing the dirty with the gypsy and decides to abandon him and the town she lives in. With her brother, she returns to her homeland, the steppe. That same morning, Alexander Renka is found dead on the riverbank and he's been stabbed, too. The fishermen who find the body notice it's Silo's knife and they're convinced the lovable bum is a not-so-loveable murderer.
Der Film beginnt im Jahre 1882 in London. Im City-Club ist Carl Peters das Gesprächsthema, hat er doch kürzlich spektakulär den Ärmelkanal durchschwimmen wollen. Aber auch Angehörige des britischen Intelligence Service beratschlagen über Peters, allerdings mit dem Ziel, den Kolonialpionier davon abzuhalten, seine Afrika-Pläne zugunsten Deutschlands zu verwirklichen. Doch Peters reist nach Deutschland zurück, weil er sich dort Unterstützung erhofft. Da seine Forderungen aber zunächst kein Gehör finden, reist er auf eigene Faust nach Afrika. In Sansibar angekommen, versucht er, den dortigen deutschen Konsul für seine Pläne zu gewinnen. Doch der erklärt ihm, dass weder ihm noch einer Kolonie, die Peters gründen würde, seitens der Reichsregierung Schutz zuteilwerden würde. Peters verhandelt daraufhin eigenmächtig mit einigen afrikanischen Häuptlingen und hat noch vor den Engländern und einer belgischen Expedition alle notwendigen Verträge abgeschlossen. Bevor er die Verträge in Berlin vorlegen kann, muss Peters noch eine schwere Erkrankung sowie einen Giftanschlag des britischen Secret Service überstehen. Peters überlebt beides und erhält schließlich beim Kaiser einen Schutzbrief für seine Kolonie.
Bei einer neuen Expedition nach Afrika hat Peters wiederum mit diversen Widerständen zu kämpfen. Nicht nur die Engländer versuchen erneut, ihn auszuschalten, sondern auch der jüdische Kolonialdirektor beim Auswärtigen Amt gibt einen Anschlag auf Peters in Auftrag. Letzterem fällt aber nicht Peters zum Opfer, sondern dessen Freund Jühlke. Während Peters seine Expedition erfolgreich abschließen kann, treffen aus Berlin schlechte Neuigkeiten ein: Kanzler Bismarck ist entlassen worden und Peters als Reichskommissar abberufen worden. Zurück in Berlin, muss sich Peters vor dem Reichstag verantworten. Insbesondere die Sozialdemokraten im Parlament klagen Peters diverser Vergehen an. Obwohl sich herausstellt, dass ein von den Engländern als Zeuge gestellter farbiger Bischof die Unwahrheit über Peters gesagt hat und Peters eine flammende Verteidigungsrede hält, ist doch der Widerstand gegen Peters über die Fraktionsgrenzen hinweg zu groß. Carl Peters wird wegen Missbrauch der Amtsgewalt aus dem Reichsdienst entlassen.
Der Film wurde von der Münchener Bavaria Film produziert und verliehen. An der musikalischen Ausgestaltung war in diversen Szenen der "Reichsmusikzug" des Reichsarbeitsdienstes beteiligt. Die deutsche Erstaufführung fand am 21. März 1941 statt. Der Film verherrlicht unreflektiert das Wirken des umstrittenen deutschen Afrikaforschers und Kolonialisten Carl Peters und gibt die historischen Zusammenhänge unvollständig bzw. entstellt wieder. Außerdem wird ein negatives Bild demokratischer Institutionen wie des Reichstags gezeichnet.
Carl Peters is a 1941 German anti-British propaganda film, directed by Herbert Selpin and starring Hans Albers. It depicts Karl Peters, one of the founders of German East Africa. When addressing a parliamentary commission of inquiry, he openly calls for an expansionist policy of territorial conquest, which requires hard-headed men, such as himself. He defends executions without trial as a way to prevent an uprising, which, he insists, the parliamentarians could not have prevented. Parliament does not accept this, demonstrating what happens when the Führerprinzip is not recognized. This film reflected part of the anger at the terms of peace: all German colonies had been lost at the end of World War I. Its somewhat crude attack on Britain is typical of later films, such as Ohm Krüger, after Hitler came to the conclusion that no separate peace with Britain was possible, although the British colonial administrators are depicted as more intelligent than those of Germany, who suppress Peters.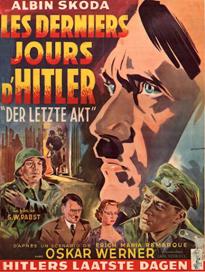 DER LETZTE AKT (1955) * with switchable English subtitles *
Der mit dem Ritterkreuz ausgezeichnete, jedoch dem NS-Regime kritisch gegenüberstehende Hauptmann Richard Wüst wird im April 1945 von seinem General in den Führerbunker geschickt, um Adolf Hitler direkt über die Lage an der Front zu berichten und Verstärkung anzufordern, scheitert aber mehrmals beim Versuch, beim Führer vorsprechen zu können. Dabei erlebt er die letzten Tage des Krieges und die verzweifelten Versuche der Generäle, die bevorstehende Niederlage abzuwenden, aus nächster Nähe mit. Just als Hitler befiehlt, die S-Bahn-Tunnel zu sprengen, um die Russen bei ihrem Vormarsch aufzuhalten (damit aber das Leben tausender Berliner, die in den Tunnels Zuflucht gesucht haben, opfert), wird Wüst zum Führer vorgelassen ...
Hauptmann Richard Wuest, an officer awarded the Knights Cross, but nevertheless a sharp critic of the Nazi regime, is sent by his commanding general to the Fuehrerbunker in April 1945 to inform Adolf Hitler of the situation on the front and to demand reinforcements. Unfortunately, he has been unable to see the Fuehrer, despite multiple attempts. He's told to wait for an opportunity to see Hitler and, by doing so, gets to watch the final days of the War played out in the bunker and bears witness to the attempts of the General Staff to stave off defeat. Just as Hitler gives the order to blow up the S-Bahn tunnels to flood the subway and halt the Russians' advance --- a move, which will cost the lives of thousands of Berliners, who are using the tunnels as shelter from the battle --- Wuest is given leave to speak to the Fuehrer in person.
Obertruppführer Fritz Kilian hat ein neues Segelflugzeug entworfen. Zusammen mit dem ehrgeizigen Scharführer Werner Grundler konstruieren sie mit ihren Kameraden den Flieger. Hitlerjunge Werner fehlt zu seinem Silber-C nur noch ein Flug über eine 50 km lange Streck. Kurz vor der Fertigstellung befiehlt Vorgesetzter Kilian die benötigte Leistung abzulegen. Nach bestandener Prüfung überrascht er ihn damit, dass er das neue Modell beim Wettbewerb fliegen darf; doch einen Tag vor der Veranstaltung wird ein Bruch im Flügel festgestellt. Und um niemanden zu gefährden, sagt Obertruppführer Kilian den Wettbewerb für sein Flugzeug ab. Entgegen dem Befehl leimen die Jungens die Bruchstelle und Werner nimmt am Wettbewerb teil.
The scene is a Hitler Youth summer camp in the hills of southern Germany. The boys are all making or maintaining gliders under the paternalistic eyes of their officers. It is all very friendly, healthy and challenging, with scenes of camp life and camaraderie, and not a little tweaking of authority's tail. The boys and their gliders attend a competition, and one of the boys disobeys orders in taking part and, although flying well, crashes his glider. He is disciplined for this, takes umbrage, gets cross with his parents and goes off in a huff. He spurns the help of a friend, but eventually listens to the wise words of one of his officers, returns to his team, is re-admitted without fuss, and plays his full role in the next competition . Lots of shots of gliders, bucolic towns and villages, beer drinking, children at play, and not a sign of war, but plenty of swastika arm bands. The film is notable for lots of footage of a Horten Ho I flying wing glider. Germany, of course, developed a talent for gliders to counter the Versailles restrictions on any air force.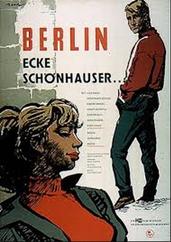 BERLIN - ECKE SCHONHAUSER (1957)
50er Jahre in Berlin, die Zeit von Petticoat und Rock 'n' Roll. Noch sind die Sektorengrenzen offen, doch der kalte Krieg wirft bereits seine Schatten auf die Millionenstadt. Auch auf die beiden Freunde Dieter und Kohle, die nach einem Unfall aus der Schönhauser Allee in den Westen fliehen. In einem Auffanglager erleben sie dort eine zweifelhafte Fürsorge, die einen der beiden das Leben kostet.
The Fifties in Berlin: A time of petticoats and rock 'n' roll. The boundaries between the Sectors are still open, but the Cold War has already started casting its shadows on the metropolis. This goes for the two friends Dieter and Kohle, who flee into the West after an accident on Schonhauser Allee. They experience dubious care in a detention center there, which, eventually, will cost the life of one of them.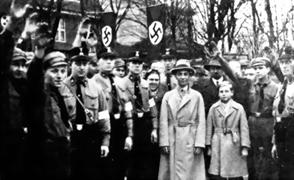 3 DVD SET: EVERYDAY LIFE IN WWII GERMANY
This 3 DVD set combines the individual "Everyday Life in WWII Germany" DVDs we sell into one offering, so you can save money:
EVERYDAY LIFE IN WWII GERMANY:
ALLTAGSLEBEN UNTER DER DIKTATUR: 1933-1945
What was it like to live in WWII Germany from 1933 to the bitter end in 1945? This DVD should give you more than an idea. While knowing German would be a help, it is hardly necessary to watch this film: there is no narration and your journey through the Land of the Dictator is via pop music of the time, as well as film clips, cartoons, home movies and newsreel footage from the 1930s and 40s. The regime's obsession with good health and fitness is explored as is the fascination for new technology and the vilification of the Jews. Zeppelins float in the sky, the trains are on time and soldiers march off to war, soon to (hopefully) be once more at home with their sweethearts. A less than jovial undercurrent runs through the whole film, though, as an entire society marches in lock-step to its certain, horrific destruction while trying to take all the world down with it. What emerges from it all is a portrait of how the same tools of popular cuture in the US or other free countries can also be used to promote fascism, stressing the unity of the group rather than the worth of the individual. What is even more startling is how the fads and obsessions of the Germans in the 30s and 40s resembled those of the US in the 50s! A truly worthwhile film, both as a cautionary historical document and as a fascinating study of the seductive power of the media to indoctrinate.
NOTE: This film contains many previously unshown films taken from German archives, including a lot of color film. However, some of the material, especially the films from the Warsaw Ghetto, the deportations of the Jews and the liberated concentration camps are very moving and might be disturbing to sensitive viewers.
EVERYDAY LIFE IN WWII GERMANY II
ALLTAGSLEBEN UNTER DER DIKTATUR II: 1933-1945
What was it like to live in WWII Germany from 1933 to the bitter end in 1945? This DVD should give you more than an idea. Supplementing the first part of this series, this DVD consists of two subparts: "Our War - It Won't Be So Bad" and "Our War - Not Only On The Battlefields" and show what life was like in Germany and occupied Europe during the War Years. You, the viewer, will be taken through the battlefields; the homefronts; the day-to-day existence in WWII Europe. The overwhelming majority of the films you will see are amateur recordings by those who lived through it all.
EVERYDAY LIFE IN WWII GERMANY III
ALLTAGSLEBEN UNTER DER DIKTATUR III: 1933-1945
What was it like to live in WWII Germany from 1933 to the bitter end in 1945? This DVD should give you more than an idea. Supplementing the first part of this series, this DVD consists of two subparts: "Our War - Among Humans" and "Our War - The Camera on the Recon Vehicle" and show what life was like in Germany and occupied Europe during the War Years. You, the viewer, will be taken through the battlefields; the homefronts; the day-to-day existence in WWII Europe. The overwhelming majority of the films you will see are amateur recordings by those who lived through it all.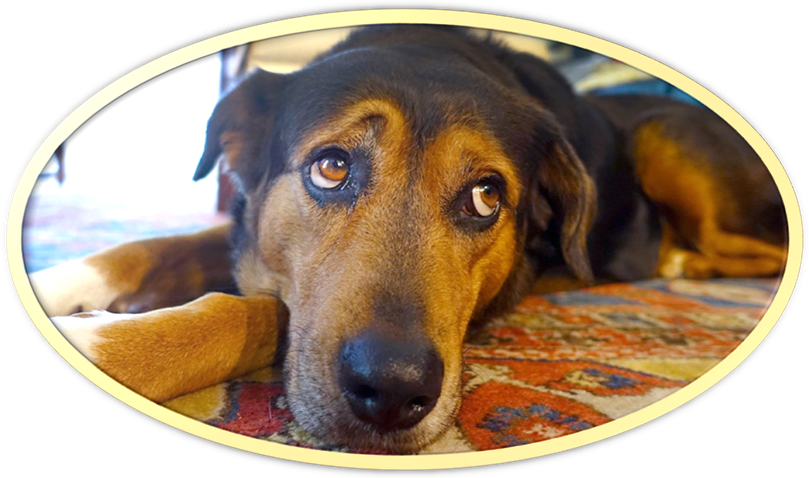 WON'T YOU PLEASE GIVE ME A HOME!
Oh, my! You asked for more films and we're delivering on that request; but in doing so, room needs to be made for the many new DVDs and that means something has to go. Won't you please look at the following books listed at ridiculously low prices on our Losthomeland.com website and give them a new home, where they'll be appreciated and loved? Holy cow! You can even use your points and/or discount code to lower the prices even more! I know, it seems incredible, but everyone should have a forever home and now you can help make that happen! Just remember: like the wonderful dog shown above, availability is limited, so don't delay! YOU MAY ALSO MAKE OFFERS ON BOOKS NOT SHOWN IN THIS NEWSLETTER. JUST ASK US!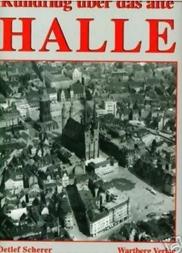 A FLIGHT OVER OLD HALLE (1920 – 39) * was $18.49; now $ 3.99 until 31 May *
64 pages of mainly photos with descriptive text showing Halle and the surrounding environs in aerial photos from the early 20th Century.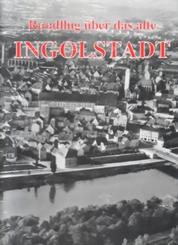 A FLIGHT OVER OLD INGOLSTADT (1920 – 39) * was $18.99; now $ 3.99 until 31 May *
64 pages of photos and captions about Ingolstadt as it looked like from the air in photos from the early part of the 20th Century.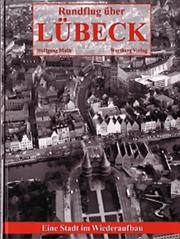 A FLIGHT OVER OLD LUBECK * was $16.99; now $ 3.99 until 31 May *
64-paged photobook has pictures and text about Lubeck, as seen from the air during the 1950s and 60s.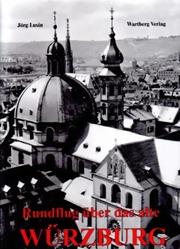 A FLIGHT OVER OLD WURZBURG BEFORE ITS DESTRUCTION * was $16.99; now $ 3.99 til 31 May *
This 64-paged photobook has photos and captions of Wurzburg taken from the air -- pictures mostly made in the late 30s and the 1940s -- before Allied bombs changed the landscapes of the city forever.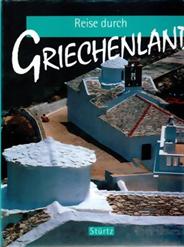 A JOURNEY THROUGH GREECE * was $15.99; now $ 0.99 til 31 May *
For anyone interested in traveling to Greece, this 128-paged, glossy photobook will more than give you an idea of what is waiting for you. The pictures are handsomely arranged and the text both interesting and practical.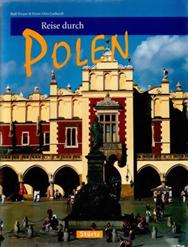 A JOURNEY THROUGH POLAND * was $15.99; now $ 0.99 til 31 May *
For anyone interested in traveling to Poland, this 122-paged, glossy photobook will more than give you an idea of what is waiting for you. The pictures are handsomely arranged and the text both interesting and practical.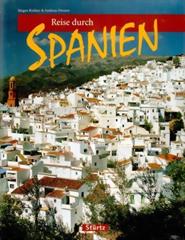 A JOURNEY THROUGH SPAIN * was $16.99; now $ 0.99 til 31 May *
For anyone interested in traveling to Spain, this 124-paged, glossy photobook will more than give you an idea of what is waiting for you. The pictures are handsomely arranged and the text both interesting and practical.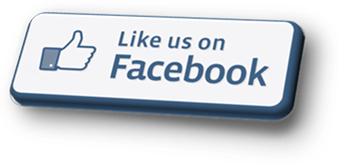 Thank you and the best to all of you,
RAREFILMSANDMORE.COM